There are so many cool things to see and do over the holidays! While the Radio City Holiday Spectacular and a visit to the Rockerfeller Christmas will always be on our list, there are so many other fun things to check out in Westchester and NYC that we think should be on your radar, too. Check out a list of some of our current favorites:
Holiday Events to Check Out in Westchester and NYC
1. Harlem Christmas
The Classical Theatre of Harlem is back for the second year with the holiday production, A Christmas Carol in Harlem. Based on the work by Charles Dickens, the production features a re-imagined version of the classic while allowing the drama of Scrooge's past to unfold. This includes a new set, music pieces, projections, costumes and casting that establishes A Christmas Carol in Harlem as a modern addition to New York City's annual holiday offerings.
Set in present-day Harlem, this holiday treasure is dramatized with CTH's signature style of infusing classic works with an uptown flair, playing Scrooge as a real estate mogul who has made his fortune at the expense of others. Scrooge foregoes using his wealth to affect positive change within his Harlem community and instead lives a life of miserly solitude. That is, until three unexpected visitors arrive on Christmas Eve to show him the value of family and how cooperation can lead to a healthy, thriving and prosperous community. This family-friendly production includes original and classic holiday carols tinged with gospel, hip-hop, pop and R&B influences to celebrate the spirit of the season the Harlem way. Check out our review from last year.
Get there: City College Center for the Arts' Aaron Davis Hall, Corner of 135th St. and Convent Ave. New York, NY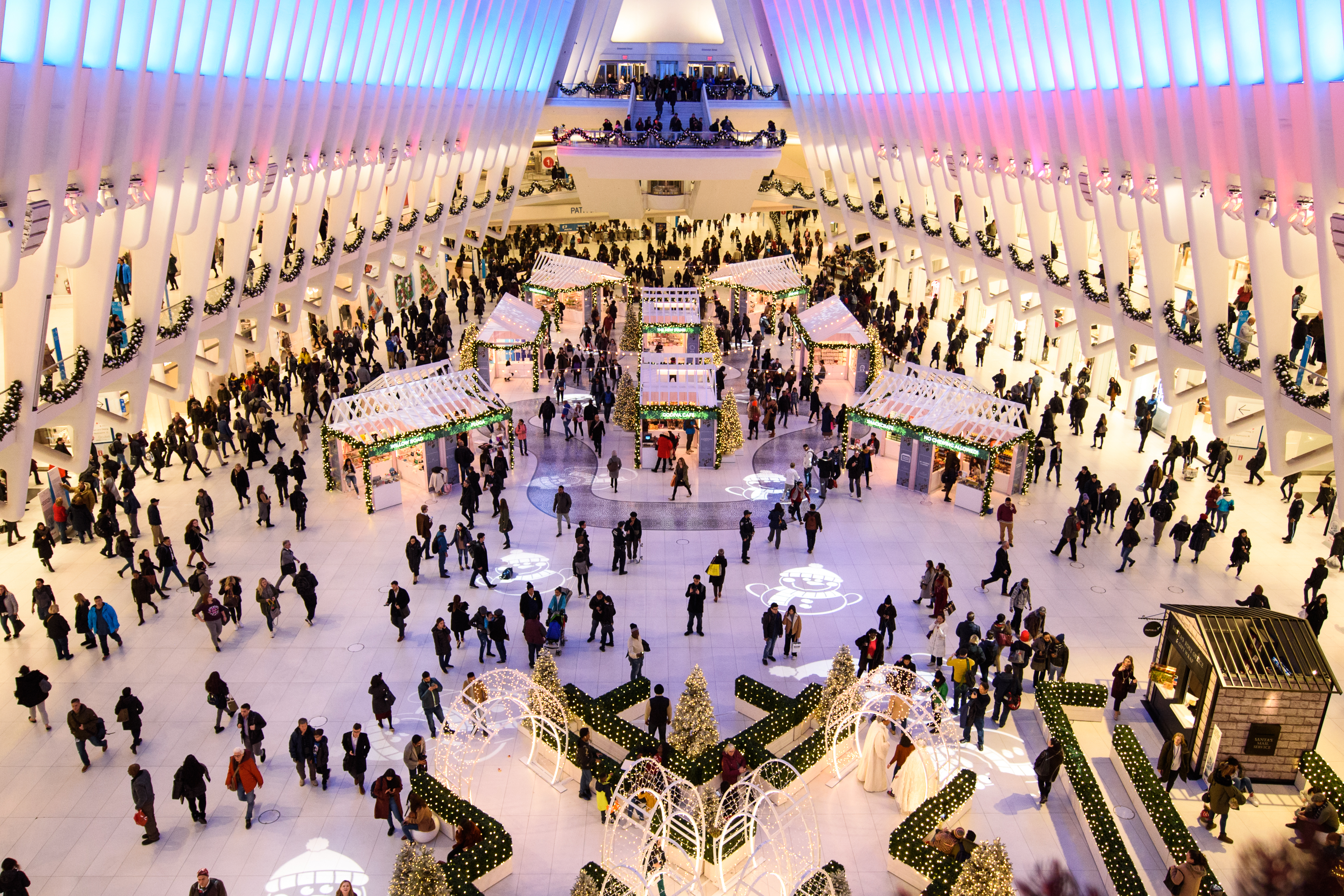 2. The Market at Westfield
Visit a modern town square with picturesque sight, sounds, and of course – wonderful shopping under one magical roof at the Market at Westfield. Inspired by Westfield World Trade Center's holiday market, the spirit of the season returns with a reimagined experience. This includes cobble stoned streets and glistening white lit garland throughout, "The Market at Westfield" will combine specially crafted holiday moments, the best of holiday shopping, engaging brand pop-ups, and festive entertainment all under one magnificent roof.
Guests can also see a life-size chrome Snowmen, a modern town square with engaging moments from carolers singing iconic holiday music, shopkeepers to assist with giftable products for friends and family, Santa's post office offering handwritten letters to Santa and beautiful gift wrapping service provided by Papyrus.
Open from November 23 – January 5, 2020, "The Market at Westfield" also includes curated shopping galleries, live music, tasty treats and festive experiences.
Get there: 185 Greenwich Street New York NY 10007
3. Bronx Zoo Holiday Lights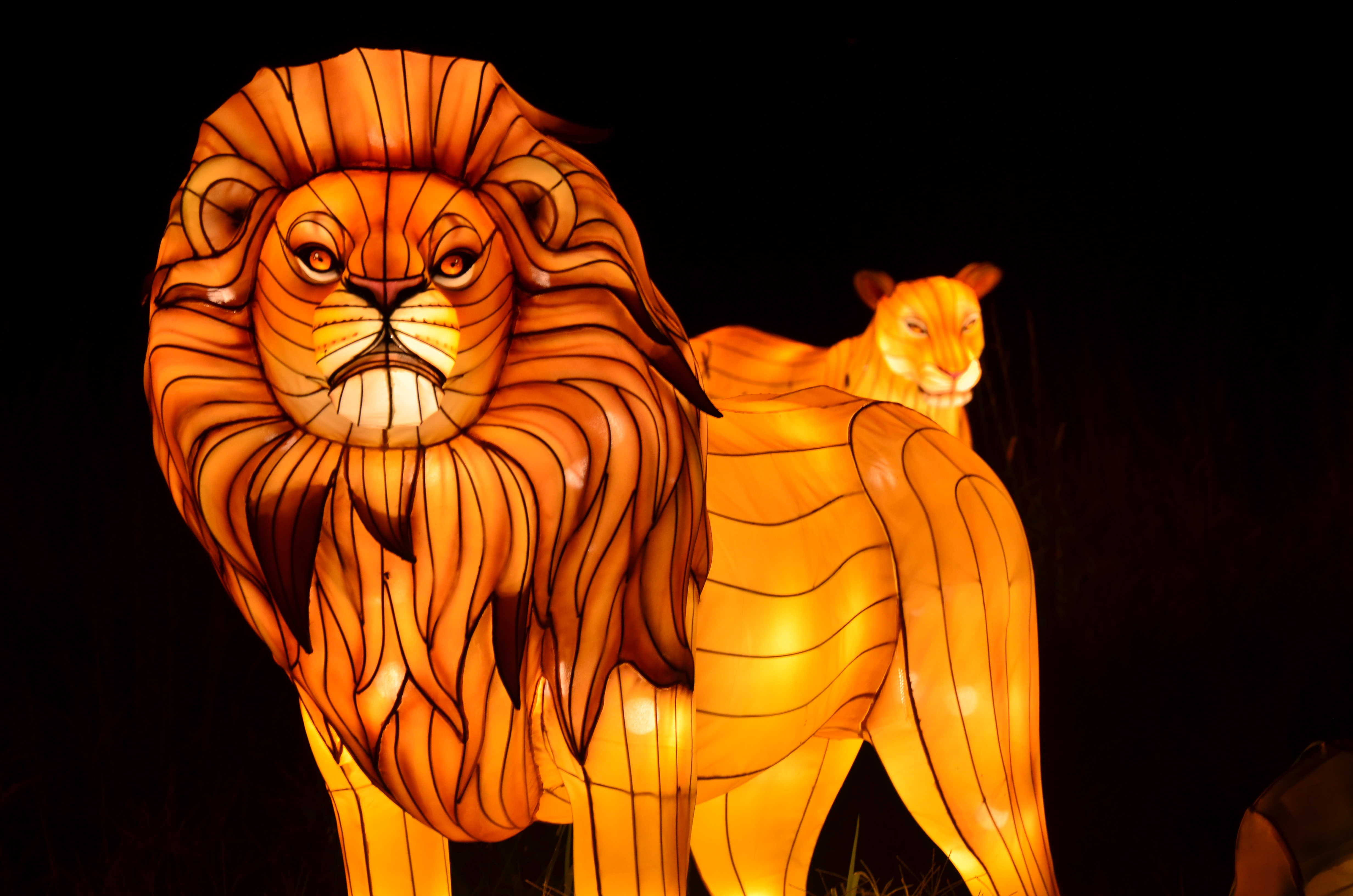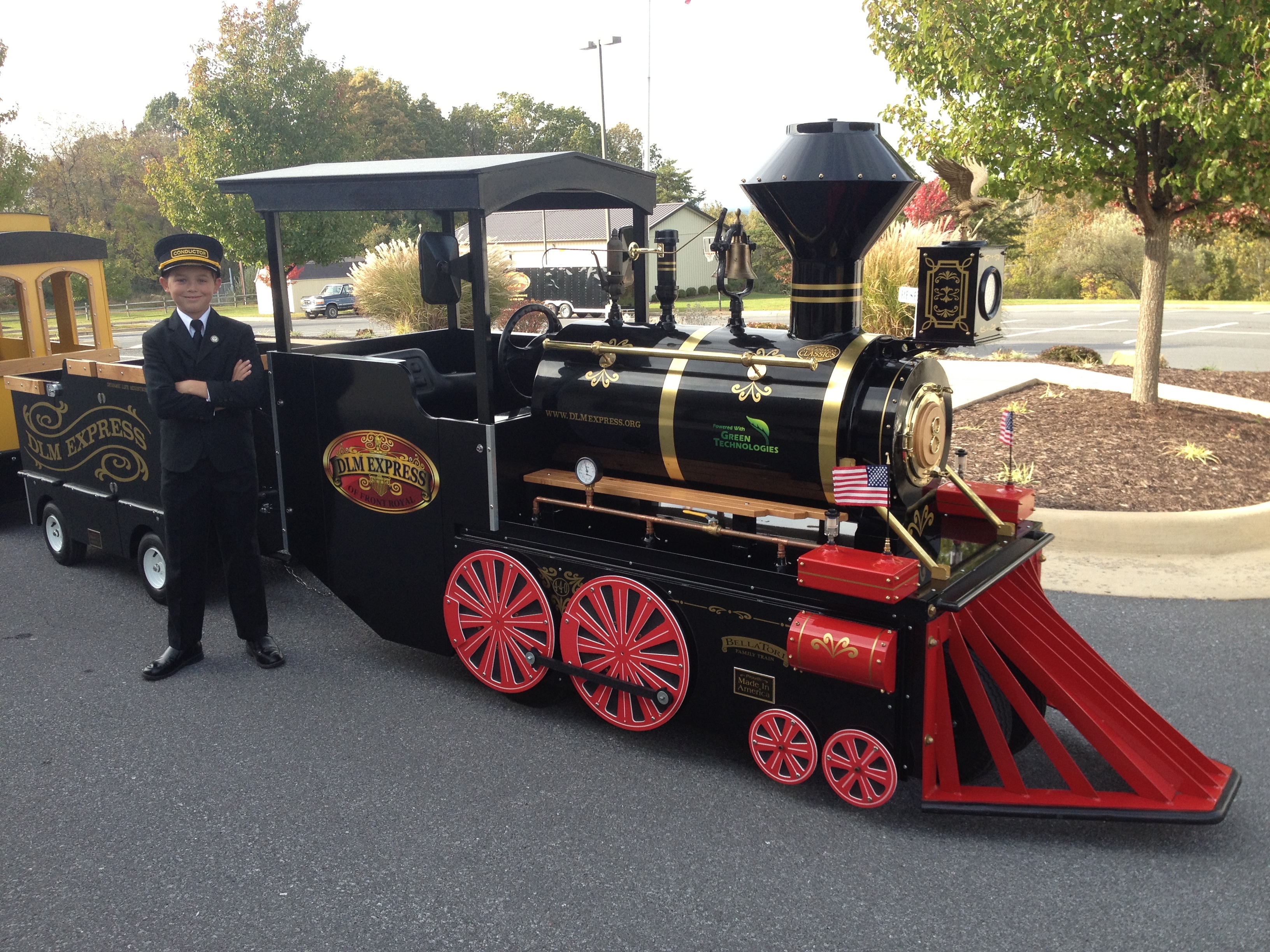 Visit a revamped and illuminated Bronx Zoo during the Bronx Zoo Holiday Lights. Featuring dazzling light displays that will cover and sparkle acres of the zoo, visitors will be able to walk-through the zoo to experience wildlife-themed LED displays, custom Asian lanterns, animated light shows on the historic Astor Court and more. They recently added their "Ice Jubilee" festivities to the show, featuring an ice bar for adults with seasonal cocktail favorites including eggnog, hot toddy or spiced mulled wine (menu here), as well as a giant ice throne and 20-foot ice slide for the perfect seasonal photo-op from December 20 to 31 (except 12/24 & 12/25.) Holiday Lights goes until January 5, 2020. Check out more info here.
Holiday Lights is underway at the Bronx Zoo and the beloved holiday tradition is introducing the Ice Jubilee to the holiday light show that will include an Ice Bar for adults as well as a giant ice throne and slide for the perfect seasonal photo-op.
Ice Jubilee festivities will run from December 20 to 31 (except Dec. 24 and 25). Holiday revelers can take photos siting upon an oversized throne made completely of ice or take a ride down the 20-foot ice slide. Visitors over 21 years old can take a break with a seasonal cocktail at the 12-foot ice bar which will be serving up traditional holiday favorites like eggnog, hot toddy, or spiced mulled wine.
Professional ice carvers will put their skills on display each night with wildlife-themed ice carving demonstrations. On Saturday, December 28, five of the talented ice carving pros will face off in an ice carving competition.  They will attempt 20 icy animal creations in an elimination style speed carving showdown. The winner will receive a cash prize provided by Sculpted Ice Works, a WCS membership, and the coveted championship trophy. All of the sculptures will be displayed for as long as temperatures permit.
Get there: Bronx Zoo, 2300 Southern Blvd, The Bronx, NY
4. LuminoCity Festival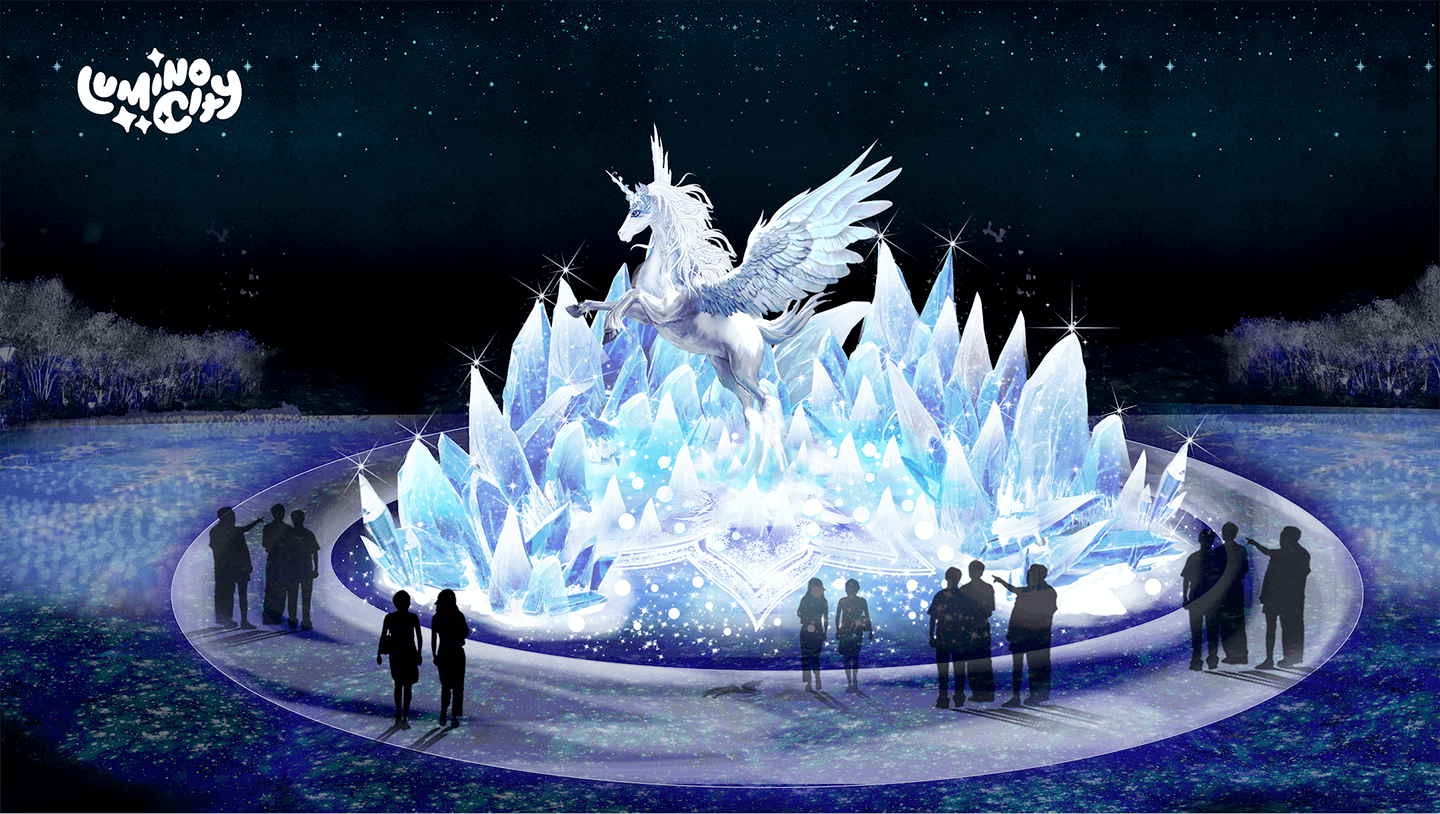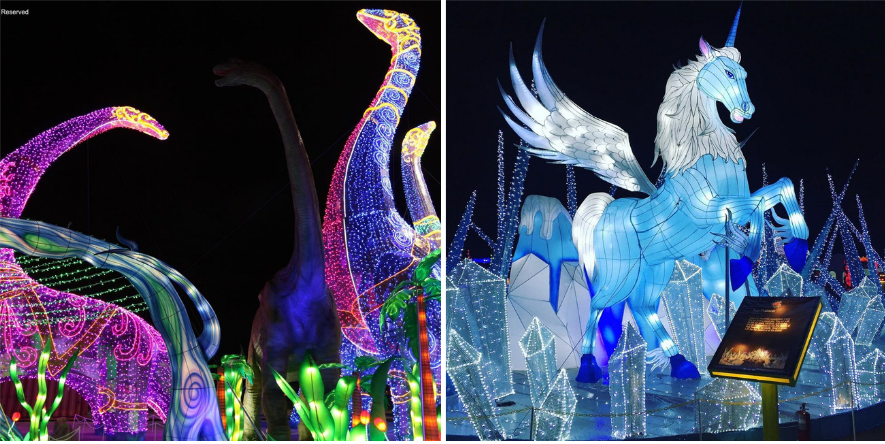 Enjoy 16-acres of light and 23 larger-than-life art installations at the LuminoCity Festival. Held on Randall's Island until January 5th, the LuminoCity Festival features themed worlds of Winter Fantasy (an arctic wonderland), Wild Adventure (rainforests, jungles, and land before time), and Sweet Dream (holiday cheer, desserts, and daydreams).
In addition to the visuals and interactive components, holiday shopping and popular
NYC food & drink vendors will be available for guests as they enjoy music, dance performances, and more at the festival stage.
Get there: Randall's Island Park
5. Holiday Train Show at Grand Central Station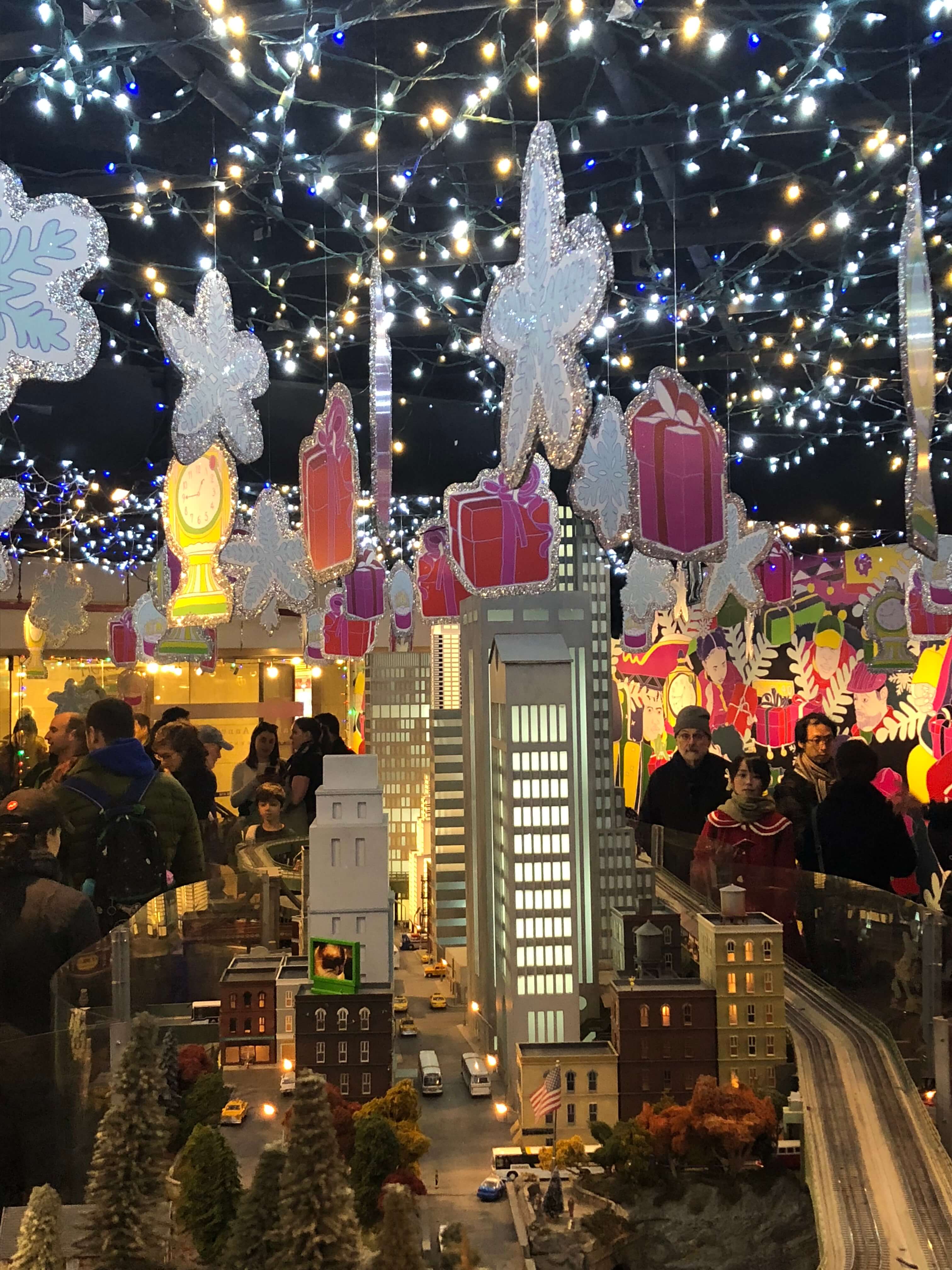 One of our favorite free things to do after a train ride into NYC is to visit the Holiday Train at Grand Central Terminal. During this free NYC event, guests can check out the iconic holiday images of a model train, whirring by as it circles the base of a brightly-lit tree, evokes feelings of warmth and wonder in children and adults alike. This year's Holiday Train Show is set against artwork by acclaimed cartoonist Julia Wertz. Commissioned by the New York Transit Museum, the large-scale mural sets the stage for the Holiday Train Show and celebrates New York's past and present through Wertz' signature black-and-white streetscapes.
Get there: Grand Central Station
6. Holiday Train Show at The New York Botanical Garden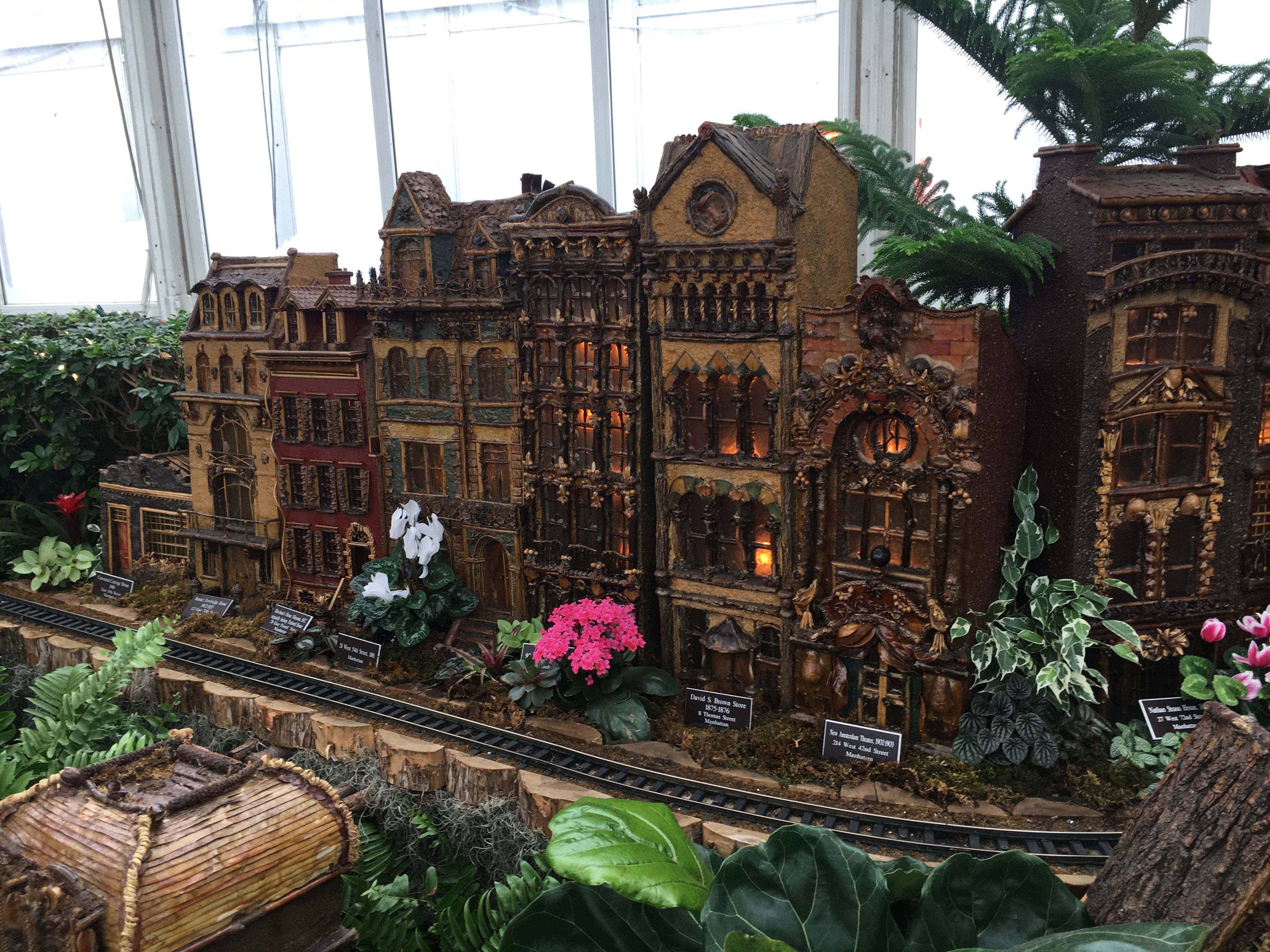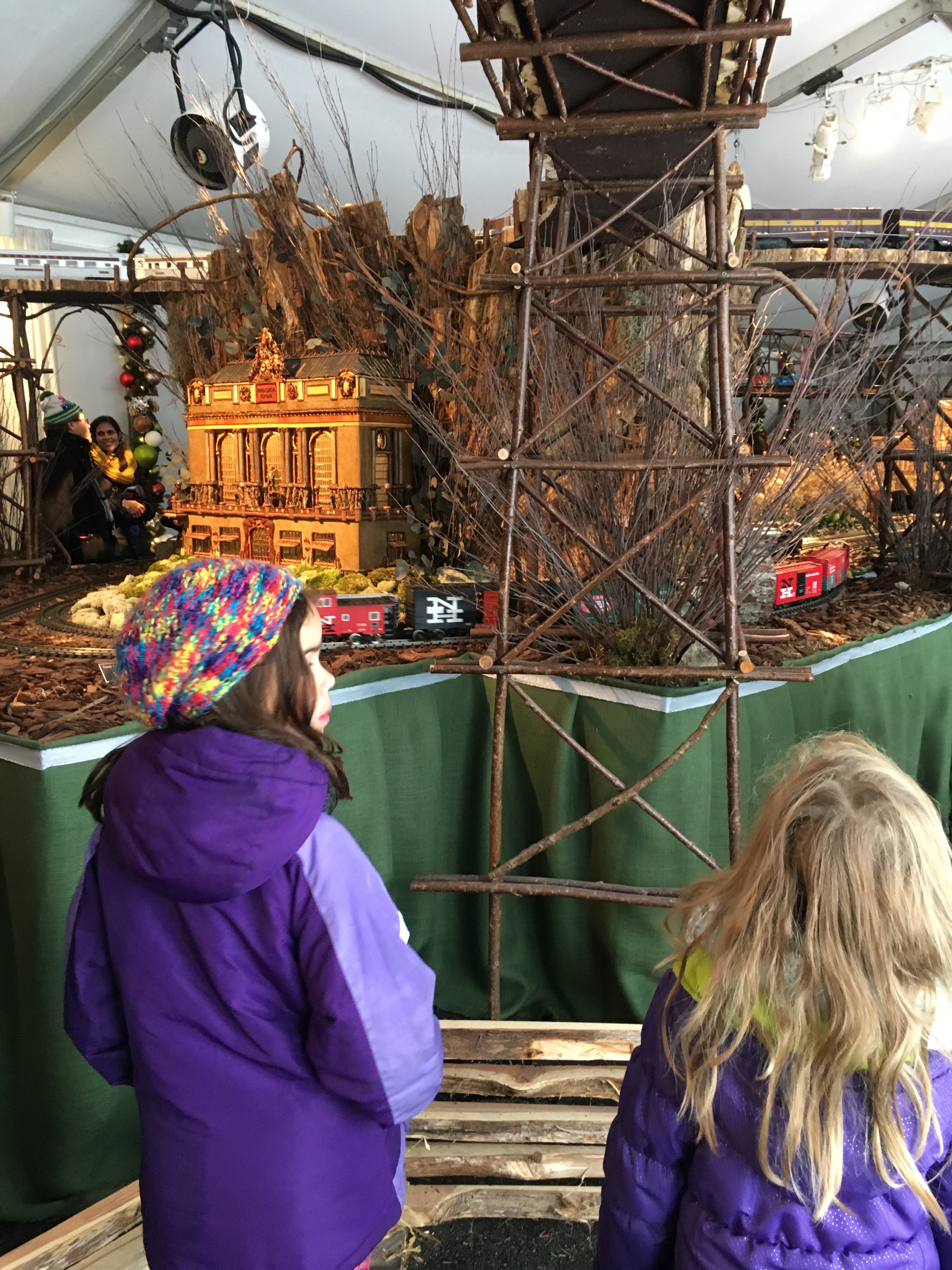 A holiday favorite! We love checking out the magic and wonder of these beautifully crafted trains that reimagines over 175 NYC landmarks. Get your tickets today!
Get there: New York Botancial Garden, 2900 Southern Boulevard, Bronx, NY
7. Westchester Winter Wonderland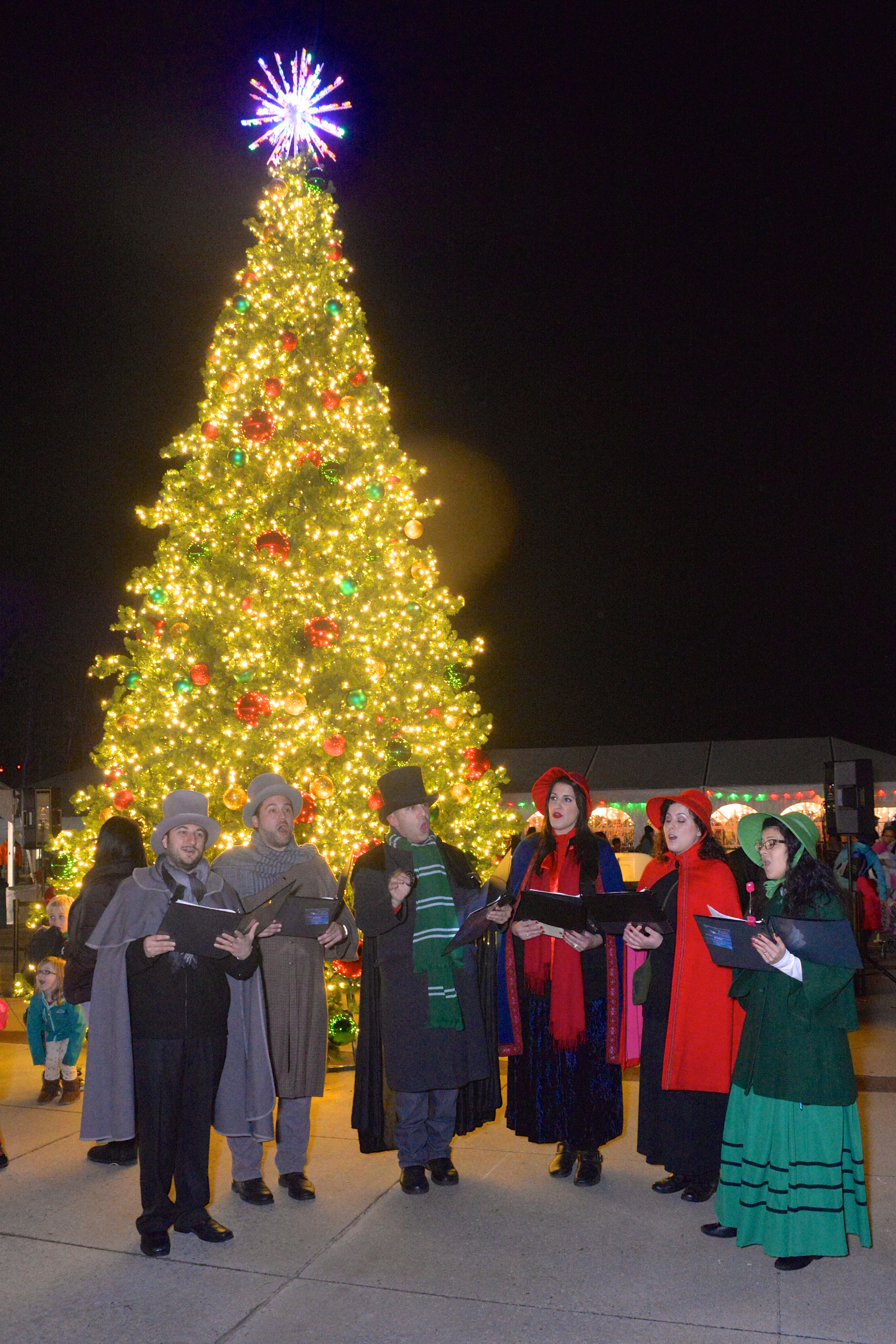 A Westchester classic!  Celebrate the holidays, during Westchester Wonderland where you and your family can enjoy a visit to Santa, a lively circus, ice skating, festive rides, food trucks and much more! Located at the Kenisco Dam Plaza, this holiday spectacle is going on now until 1/4/20.
Get there: Kenisco Dam Plaza, 1 Bronx River Parkway, Valhalla, NY
8. Holidays at Lyndhurst
Mr. Dickens Tells A Christmas Carol, December 13th to 30th
Mr. Dickens Tells 'A Christmas Carol' is a recreation of Charles Dickens' own readings of the classic tale that brings the travails of Ebenezer Scrooge, Bob Cratchit and Tiny Tim alive. This adaptation by M&M Performing Arts Company is performed throughout the rooms of the main floor of Lyndhurst mansion and pays homage to Dickens' original readings.
Classic Mansion Tours, Thursdays through Mondays, December 2nd through December 30th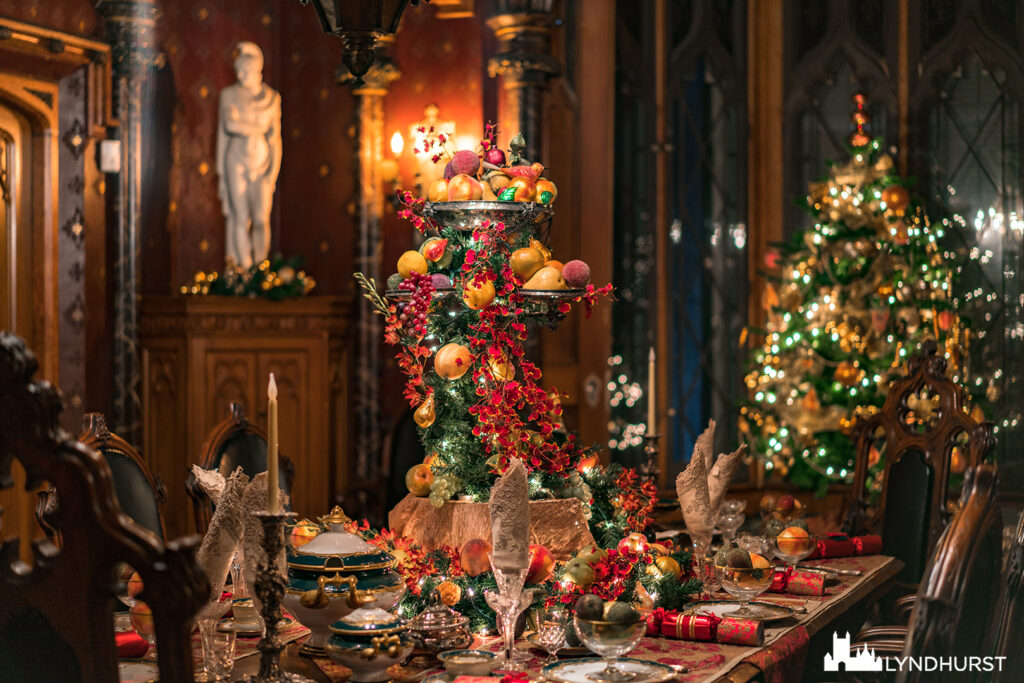 This Classic Mansion Tour includes a visit on the first and second floors of the mansion that's decked out with holiday decorations. Guides will be on-hand to retell the mansion's history and you'll have the opportunity to see some of Gould's glittering possessions that their curators bring out specifically for the holidays. Tours are scheduled from 10 am to 4 pm on Thursdays through Mondays.
Get there: 635 South Broadway, Tarrytown, NY
9. A Christmas Carol at Muscoot Farm
Enjoy the beloved Christmas tale at one of our favorite places in Westchester. This year's version will be abridged that will take attendees in and out of different characters homes as Scrooge examines his life. Muscoot advises all that attend to dress warm. Performances are held throughout the month of December. Check out their website for the complete listings.
Get there: 51 NY-100, Katonah, NY
10. Sawyer x Union Square Play Holiday Pop-Up
Evoke some play into your holiday madness by checking out the
Holiday Pop Up with the Sawyer x Union Square Play
. Held throughout the month of December in the 5,000-square-feet Kellogg space, New Yorkers and visitors will have the chance to shop for the best in kids apparel, toys, and clean beauty, complete with programming from some of New York's best children's activity providers. This includes: parent and beauty brands like Giggle, Lalo, Stride Rite, Tiny Beans, Aniche, Pink Moon, and Strange Bird; programming from top kids activity providers, including: Tiny Beans, Tot Squad, Culinistas, Ramblin' Dan, and the Dough Project; culinary events from Du's Donuts, Sunday Suppers, and Babies Who Lunch, and photos with Santa!
Families can browse and book their visit to the Holiday Pop-Up at unionsquareplay.com/holiday, or drop by the event at 36 E 18th St in Union Square.
Get there: 36 E 18th St in Union Square.
11. Macy's Santaland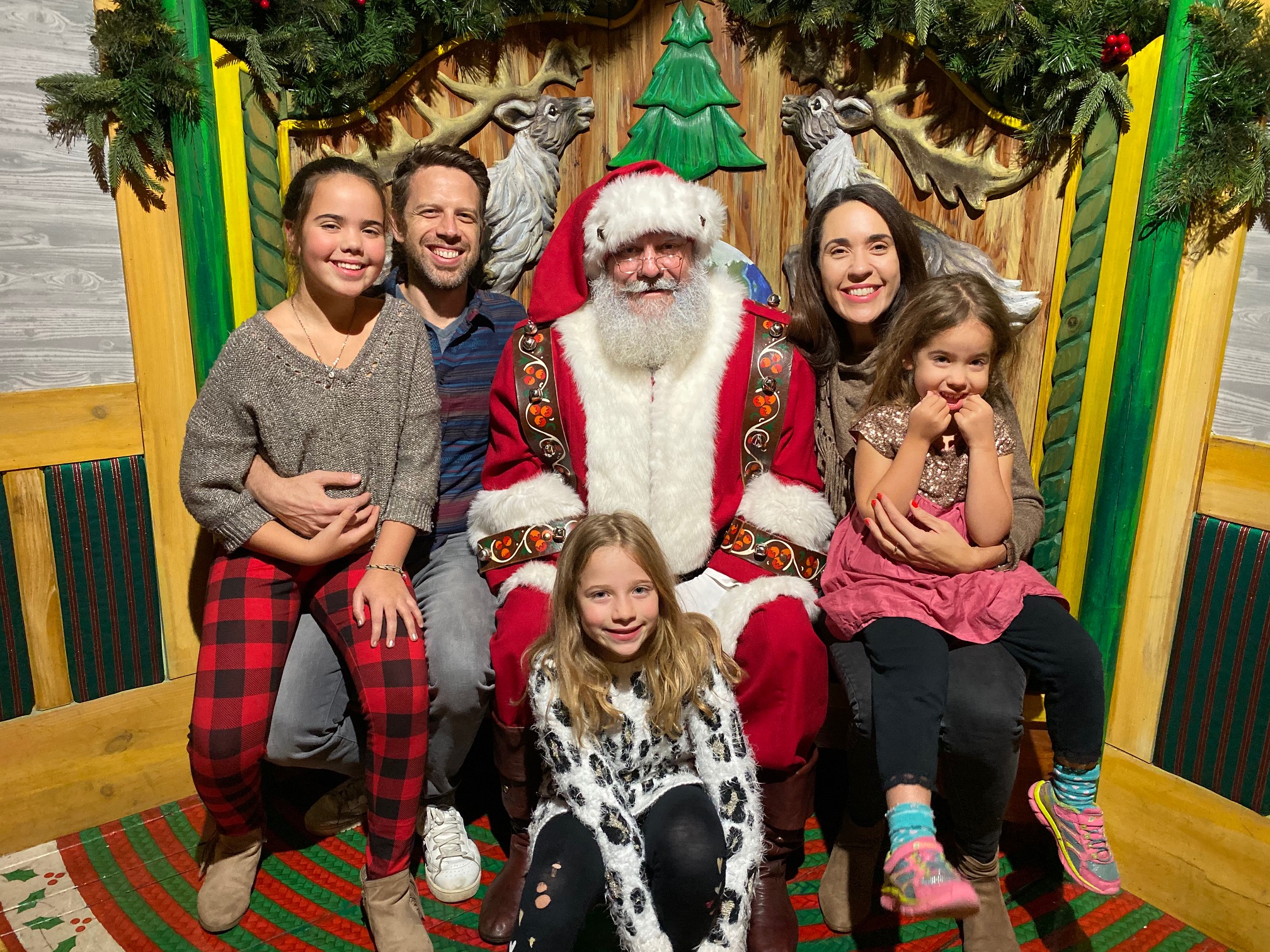 We've actually never been to Santaland (!!!) but we crossed that off our NYC holiday buck list this year when we enjoyed a visit to Macy's Herald Square.
Held on the 6th floor, the spectacle transported us through Santaland where we "hopped" onto the Santaland Express as we were instantly transported into the North Pole villages and snow-covered fields to meet Mr. Kringle. Along the way, we saw elves at work ad had the chance to take family pictures (score!) before we took the Granddaddy of all pictures with Santa. Be sure to check out the magical holidays windows after this mini NYC adventure.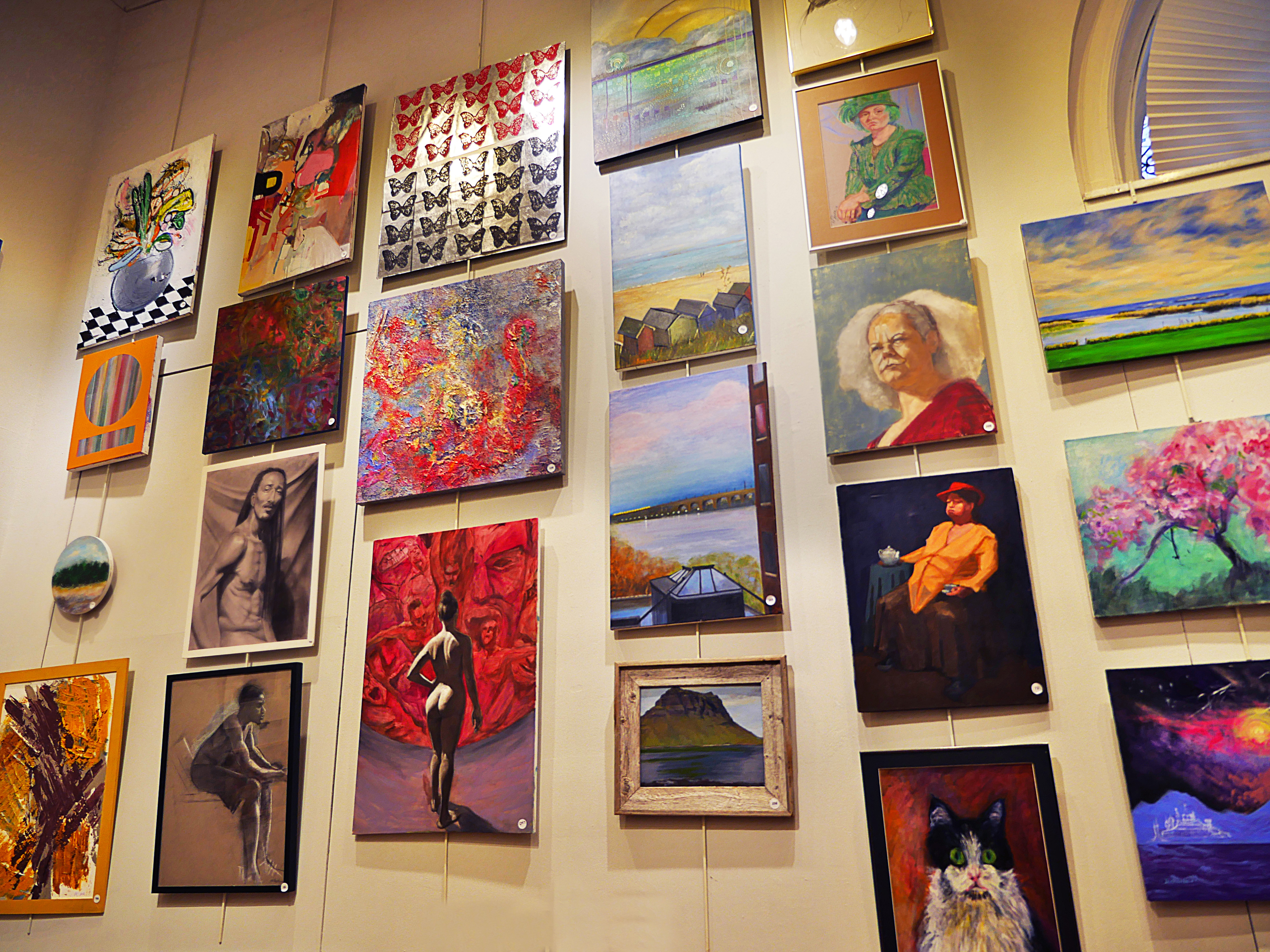 12. Art Students League of New York
The Art Students League of New York is one of the most important art academies in the United States. For over a century, the League has served as an incubator, school, creative haven, studio and gallery for artists, dedicated to fostering independence and non-conformity and providing affordable and high-quality education and instruction in the fine arts. From now until December 22nd, you can check out The Art Students League's annual holiday art sale for free!. The sale rotates more than 500 works of art for as little as $50. Paintings and prints — landscapes, portraits, still lives, and abstractions — sell for no more than $1,000. Prices for sculptures do not exceed $1,500.
Get there: The Art Students League of New York's Phyllis Harriman Mason Gallery
215 W. 57th Street (between 7th and 8th avenues), 2nd Floor. Gallery Hours: Mon-Fri, 9:00 am – 8:00 pm & Sat-Sun, 9:00 am – 4:00 pm
What's your favorite thing to do over the holidays?