One of our favorite places to learn and explore is at the American Museum of Natural History. A favorite since my own childhood, I love taking my kids there to check out some of the 'old school' favorites (we can't get enough of those dinosaurs and the big whale) and some of their new exhibits (the mummies is a must-see!). With the summer coming up, we will definitely be making a few trips to the Upper West to the museum, but until then the girls have been soaking in the world of nature in the brand new new reference book, The Nature Timeline Wallbook.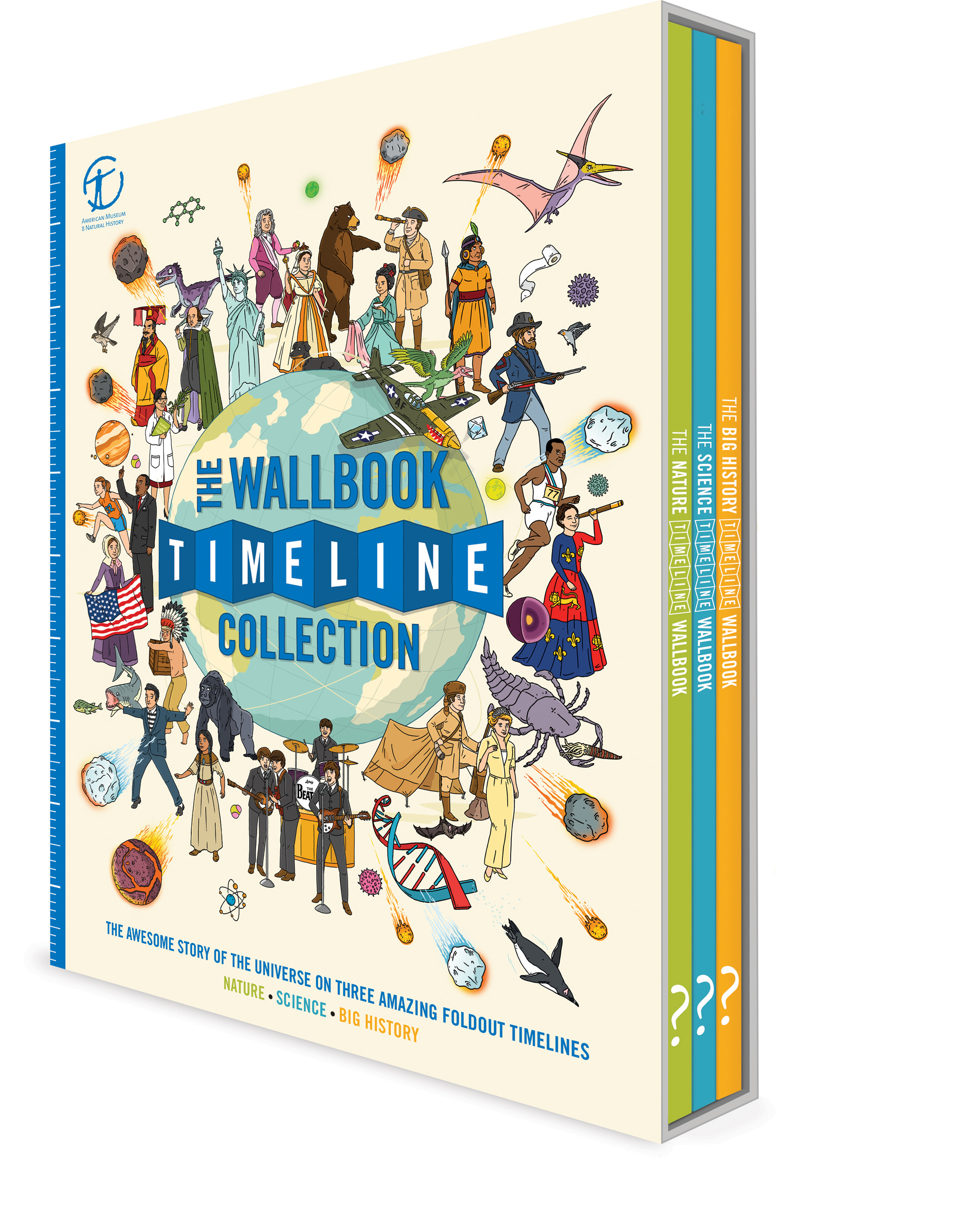 Created as a three-part series from (the next two books: The Science Timeline Wallbook and The Big History Timeline Wallbook will be released on August 2017 and then on September 2017, respectively), this first one features an incredible 6-foot long fold-out detachable timeline wall chart with 1,000 beautiful hand-drawn illustrations by Andy Forshaw and text by Christopher Lloyd. Through this wall chart, kids (and adults!) can learn more about the story of life as it unfolds, complete with the evolution of all of its species, plant life, people, and various industries. The kit is accompanied with a magnifier so that kids can really inspect the history on the wall book as the beginning to the present unfolds right before their eyes.

The wall book also newspaper style guide that accompanies the wall chart called "The Wallbook Chronicle." Here kids can read stories, depicted from the moments in the past, such as stories written by various museum editors covering topics throughout history. A great way to evoke wonder and learn something, kids will love checking out the stories on nature, dinosaurs, climate change and more. The section also includes a quiz to test your knowledge of what you learned and a fun section featuring commentary from would-be readers.
A unique format for a book, I loved this incredible tool that allows kids to see and better understand history, science and nature through a detailed, beautiful and thought-provoking narrative. A gorgeous collection to evoke wonder and learning, this book is a must-have for learning and discovery!
The Wallbooks will be distributed in the U.S. by Ingram Publisher Services and will be available in museum gift shops and bookstores nationwide, as well as from major online booksellers. The wall books will be published individually and as a boxed set. All titles are suitable for all ages from 6 to adult.
Check out https://www.whatonearthbooks.com/us/shop/wallbook-of-nature/ to get your copy!
We were provided with a sample for review. All opinions are our own.