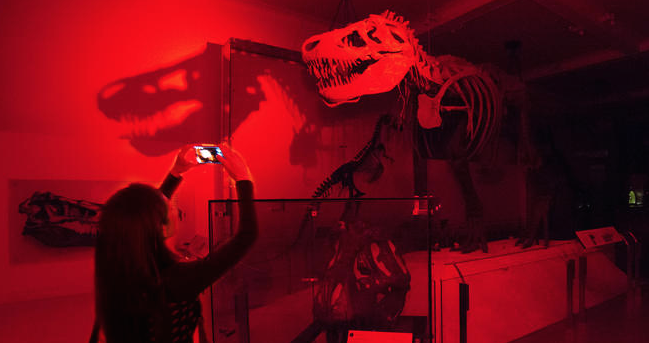 The warmer weather is giving us motivation to go on more local adventures, and one of our favorite places to explore is at the American Museum of Natural History. This May they have tons of cool offerings for both kids and adults like the ¡Cuba! Exhibition, a night at the museum for adults and much more! Read on to check out even more of their May programs and how you can score your tickets.
May Programs at the AMNH
SciCafe: Ghost Snake Stories in Madagascar
Wednesday, May 3
Cullman Hall of the Universe
Doors open at 6:30 pm
Program begins at 7 pm
Seating is available on a first-come, first-served basis
Free with cash bar
21+ with ID
Enter at 81st Street
Join herpetologist and Museum Curator Frank Burbrink on a journey to the remote forests of Madagascar, where his team recently discovered several new species of reptiles, including the elusive "ghost snake." Hear tales of life in the field and discover how DNA analysis helps identify new species in the lab.
Cuban Dreams/Cuban Histories
Thursday, May 4, at 6:30 pm
¡Cuba! Exhibition, Gallery 3
$15 ($13.50 seniors, students)
Free for Members
Explore mythologies and lived experiences of Cubans with renowned contemporary poets Nancy Morejón and Derek Palacio, while immersing yourself in an after-hours discovery of the American Museum of Natural History's exhibition ¡Cuba!.
A Night at the Museum Sleepover for Grown-Ups
Friday, May 5, from 6:30 pm-9 am
$350 per person (Members: $300 per person)
Built on the successful A Night at the Museum sleepover program, adults ages 21 and up will enjoy a more sophisticated version of the popular event. The overnight adventure will begin with a champagne reception and music provided by the 12th Night Jazz Trio in the Theodore Roosevelt Memorial Hall. Explorers can expect to roam through the nearly empty halls of the Museum, where they might run into a herd of elephants in the Akeley Hall of African Mammals or come face to face with looming dinosaur skeletons, including a 65-million-year-old Tyrannosaurus Rex. Visitors will also get to see the newest exhibition, Mummies, which features the largest collection of Egyptian and Peruvian mummies in North America.
Identification Day
Saturday, May 6, from Noon–4 pm
Theodore Roosevelt Memorial Hall
Free for Members or with Museum admission
Inspired by the legacy of Theodore Roosevelt, the Museum celebrates natural history collections by inviting visitors to bring in their own specimens to the annual Identification Day. Scientists will attempt to identify your discoveries while showing you rarely seen specimens from the Museum's collections.
Los Sueños del Caribe (Dreams of the Caribbean): People, Land, and Place
Saturday, May 13, from Noon–5 pm
Milstein Hall of Ocean Life
Free for Members or with Museum admission
Celebrate the natural and cultural diversity of the Caribbean at a family-friendly festival featuring activities and the premiere of a new work of music and poetry co-developed by Grammy-winning Cuban-American jazz legend Paquito D'Rivera and students from the Celia Cruz Bronx High School of Music.
Frontiers Lecture:  Deep Life: The Hunt for Hidden Biology of Earth, Mars, and Beyond
Monday, May 15, at 7:30 pm
Hayden Planetarium Space Theater
$15 ($13.50 seniors, students)
$12 Members
Princeton University geoscientist Tullis Onstott provides an insider's look at pioneering fieldwork on Earth's thriving subterranean biosphere—a place where scientists once thought life could not possibly exist. Onstott reveals how astonishing new discoveries by geomicrobiologists exploring Earth's most extreme environments are furthering the search for life elsewhere in the solar system.
Origami Folding Fun Sessions
Sunday, May 21
Morning session: 10:30 am–12:30 pm; Afternoon session: 2:30–4:30 pm
$35 per class
Members $20 per class or $35 for two classes taken on the same day
Join OrigamiUSA at the Museum for special origami classes. Both morning and afternoon sessions will be held and several class options are available for each session.
Astronomy Live: Unsolved Mysteries of the Universe
Tuesday, May 23, at 7 pm
Hayden Planetarium Space Theater
$15 ($13.50 seniors, students)
$12 Members
Is there life spraying out of the geysers of Saturn's moon Enceladus? How did our solar system end up with just one habitable planet? What is dark matter and why doesn't it interact with any other matter? Astrophysicist Jackie Faherty and Museum educator Ted Williams tour the universe exploring these unsolved mysteries and discuss how scientists seek to solve them.
Manhattanhenge
Tuesday, May 30, at 7 pm
Hayden Planetarium Space Theater
$15 ($13.50 seniors, students)
$12 Members
As the Sun sets on May 30, it will be perfectly aligned with Manhattan's east-west numbered streets, offering the opportunity to capture cinema-worthy photos of Manhattan's brick-and-steel canyons. Astrophysicist Jackie Faherty will be your guide to the history and astronomy behind this fascinating phenomenon in a special presentation at the Hayden Planetarium.
American Museum of Natural History Information
The Museum is open daily, 10 am–5:45 pm.
Suggested general admission, which supports the Museum's scientific and educational endeavors and offers access to the Museum's 45 halls, including the Rose Center for Earth and Space, is $22 (adults), $17 (students/seniors), $12.50 (children). All prices are subject to change.
For more information, please visit amnh.org.