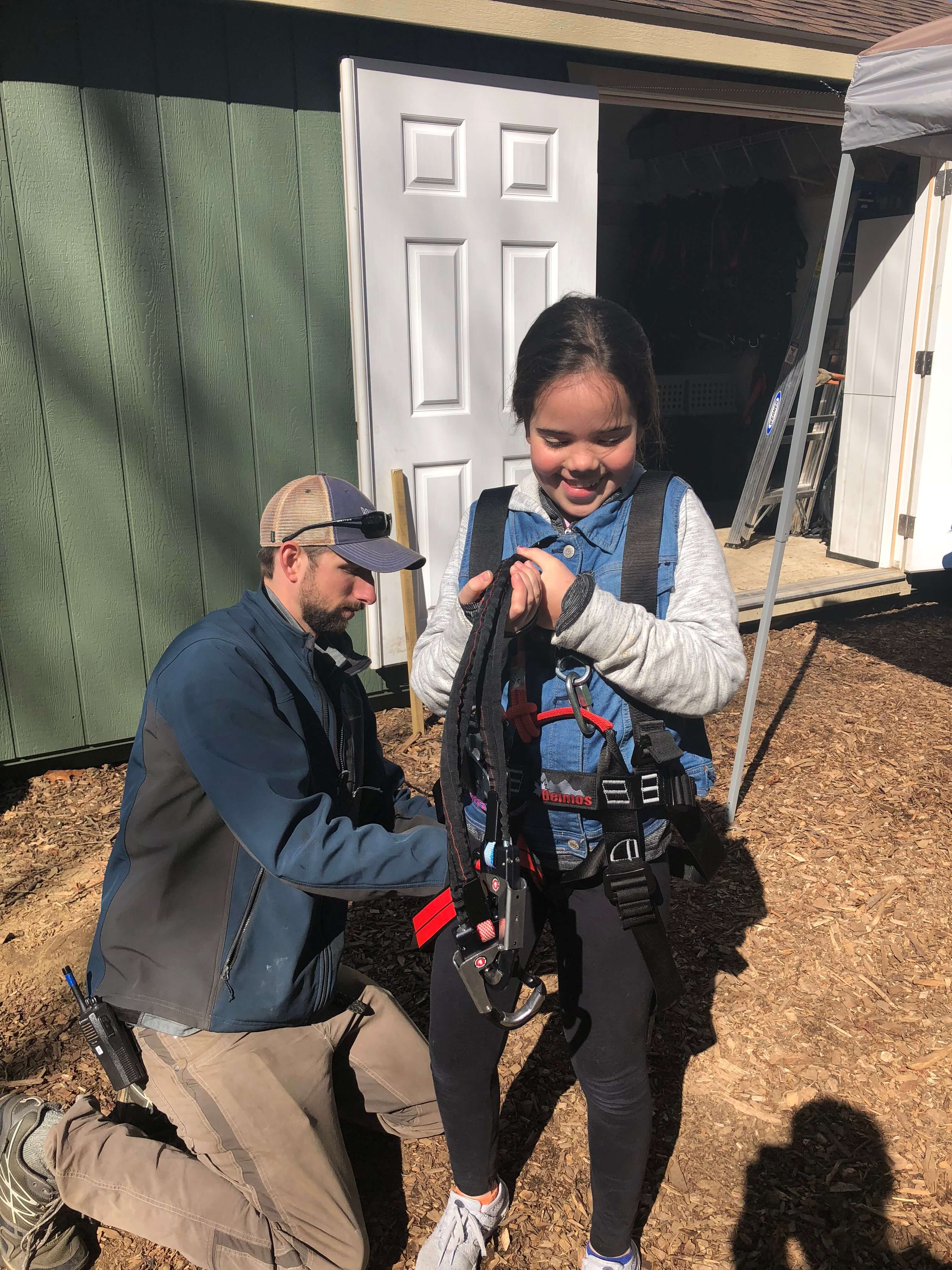 A few weeks ago, my older daughter and I were literally experienced quite the aerial adventure during our visit to opening day of Boundless Adventures. Located in Purchase, New York on the Purchase College campus, we had a blast checking out this new playground in the trees where we went swung, climbed, walked, balanced, and, yea, wobbled, our way through a few of their obstacle courses.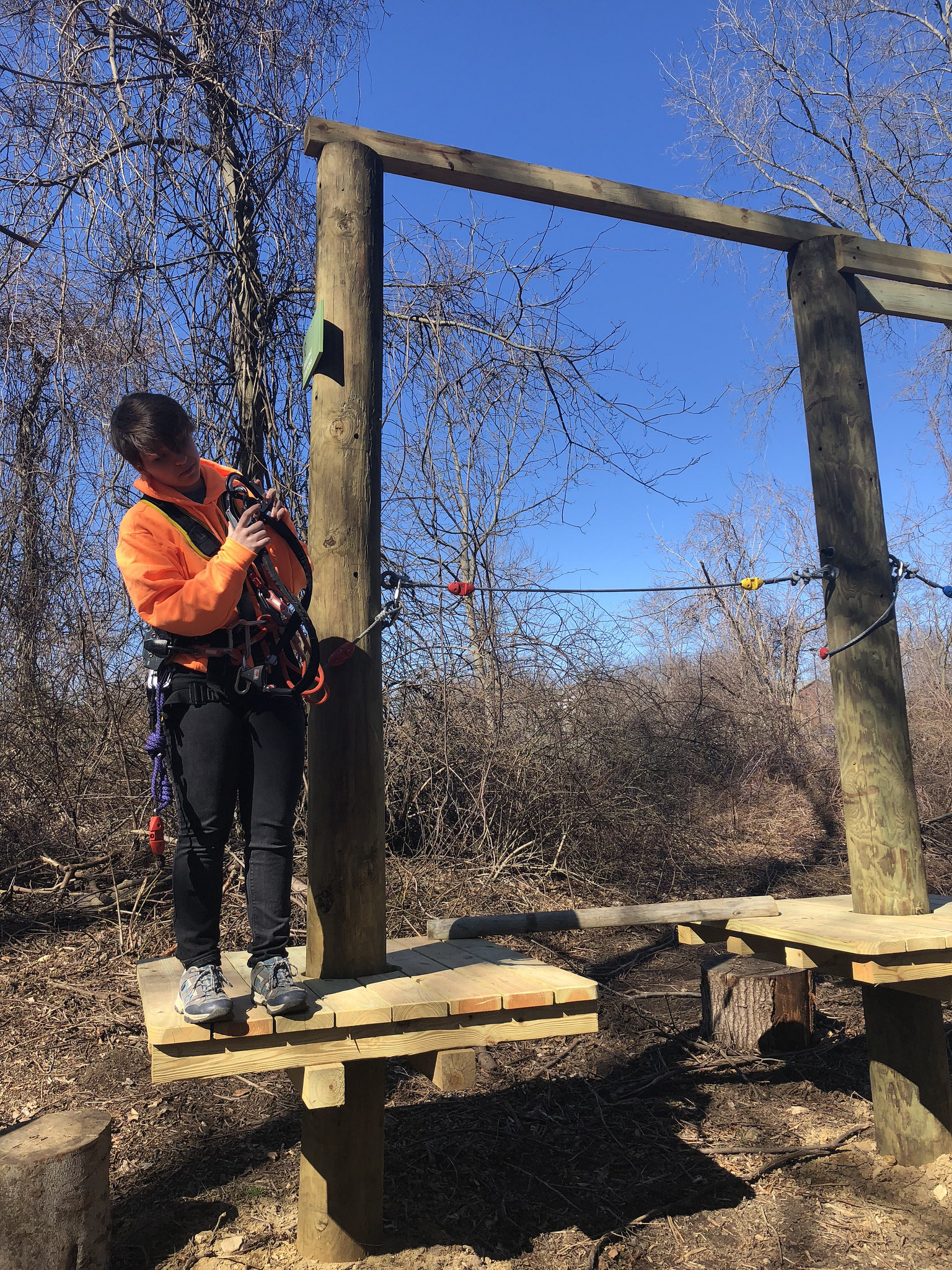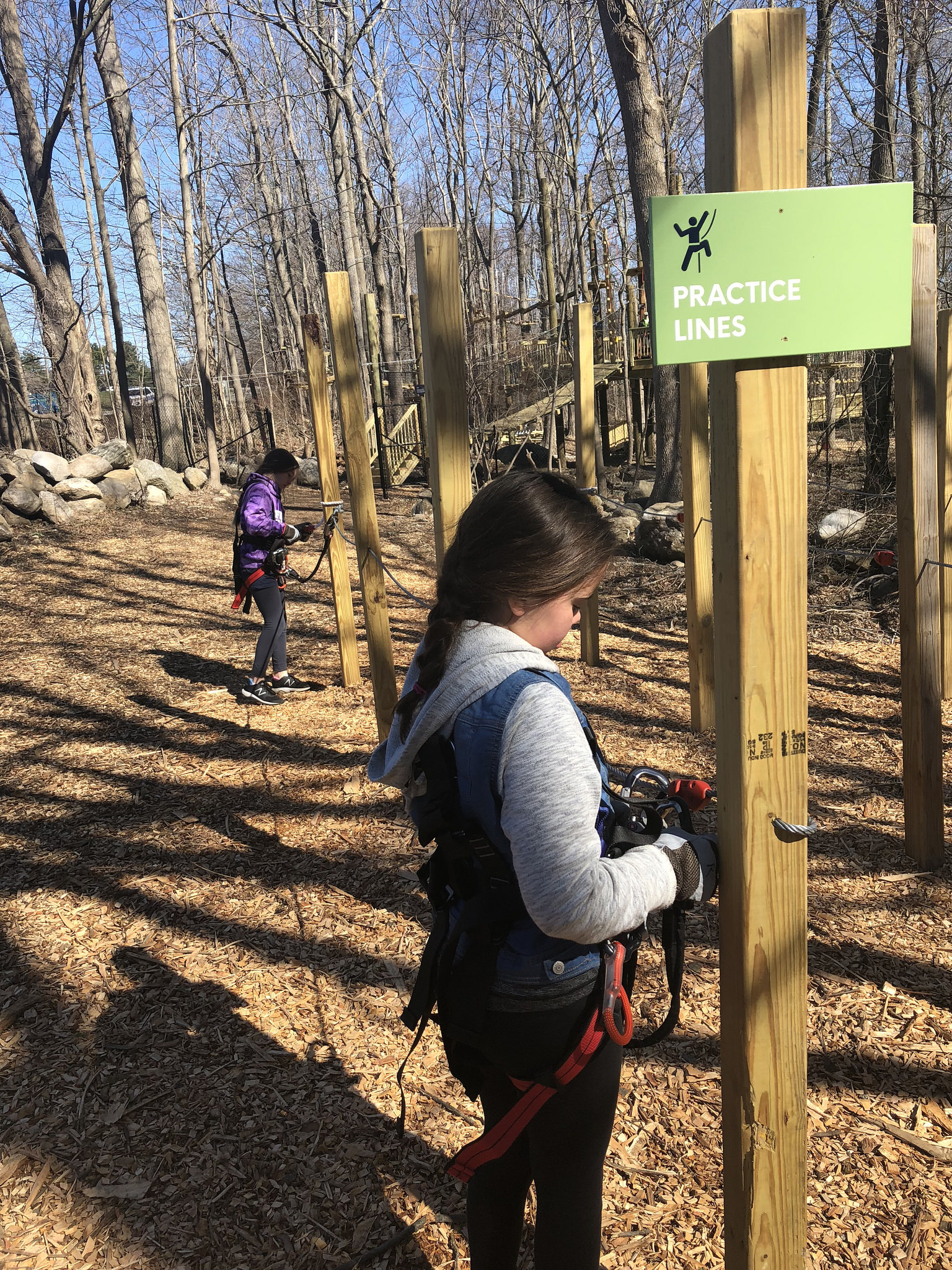 Upon arrival, I filled out a waiver where the team at Boundless Adventures suited us up in a variety of safety equipment, including a full-body harness and an "on belay" system that's always locked. After we suited up, we were given a demo on how to get around the obstacle course, using our new harness and attached safety line. A team members showed us how to disconnect and connect on the attached ropes and how to use the zip line. There is also a practice area where we could attach and unattach our hooks, just as we like we would on the course.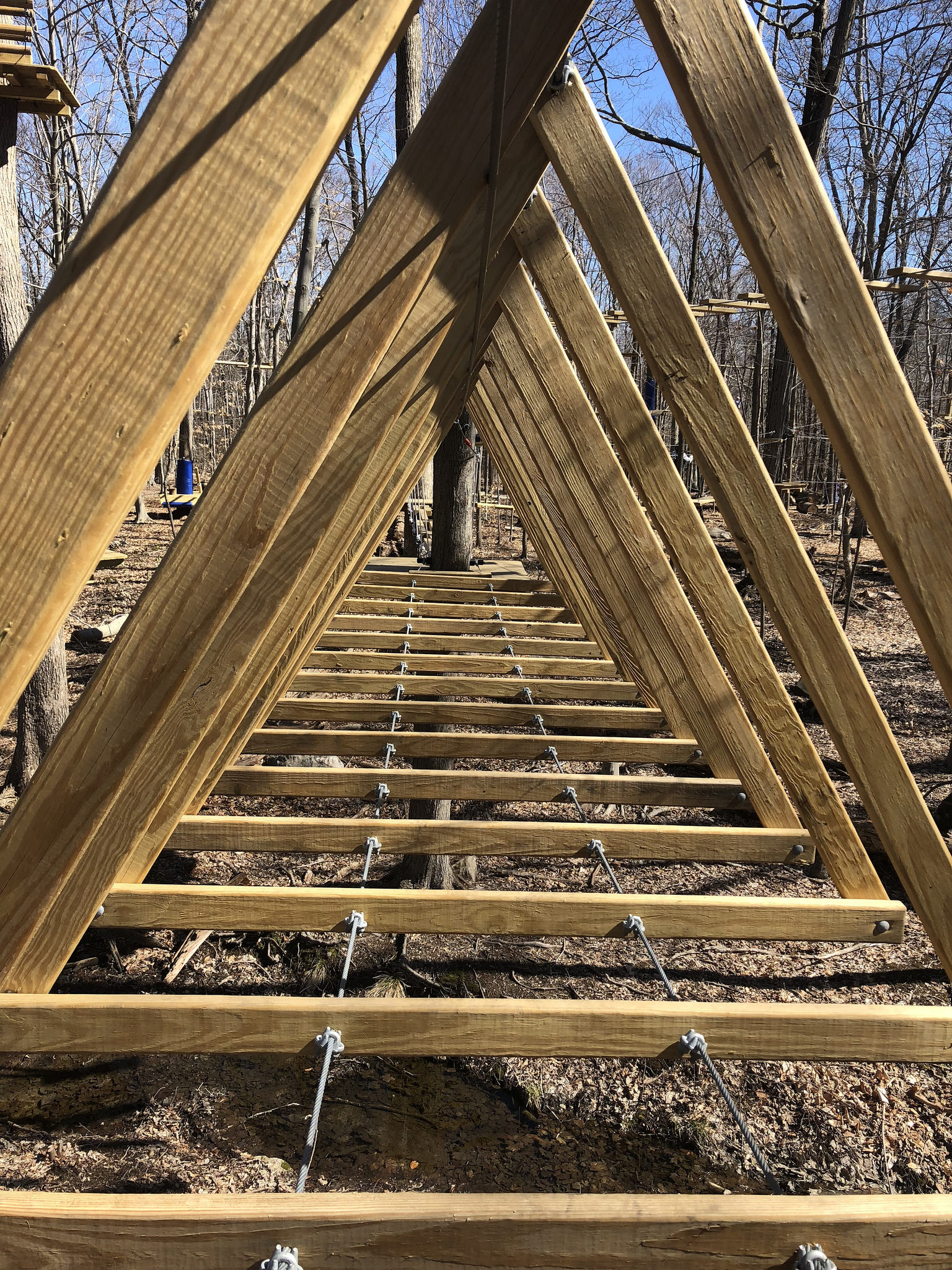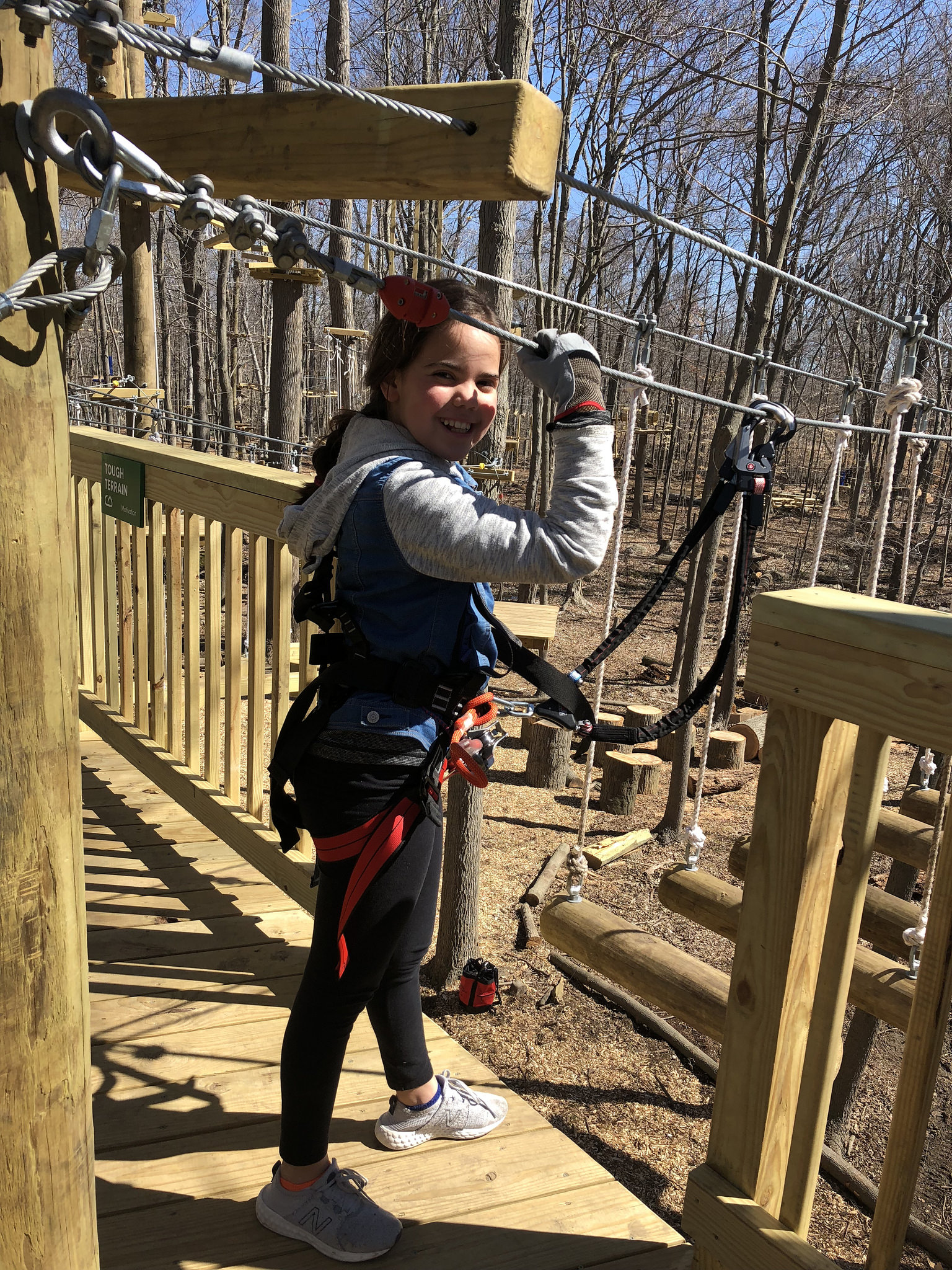 Once ready, we walked over to the main course area, which is divided into four colors based on height, age, and fitness level. The Exploration Courses (designed for ages 7-9) are in yellow, the Motivation Courses (designed for ages 10-11) are in green, the Strength Courses (designed for ages 12-13) are in blue and the Conqueror Courses (designed for ages 14 and up) were in black. Some of the courses, like the Exploration Courses and the Motivation Courses, require supervision from an adult to either guide kids from the park ground or be there to accompany your child on the trail with a maximum of two children per adult. While I did do all of the course with my daughter, except one, I did see some kids getting upset that they couldn't go to another level because their parent wasn't on the course with them. Just double check which ones you or your partner will have to be on before you go to avoid any uncertainty.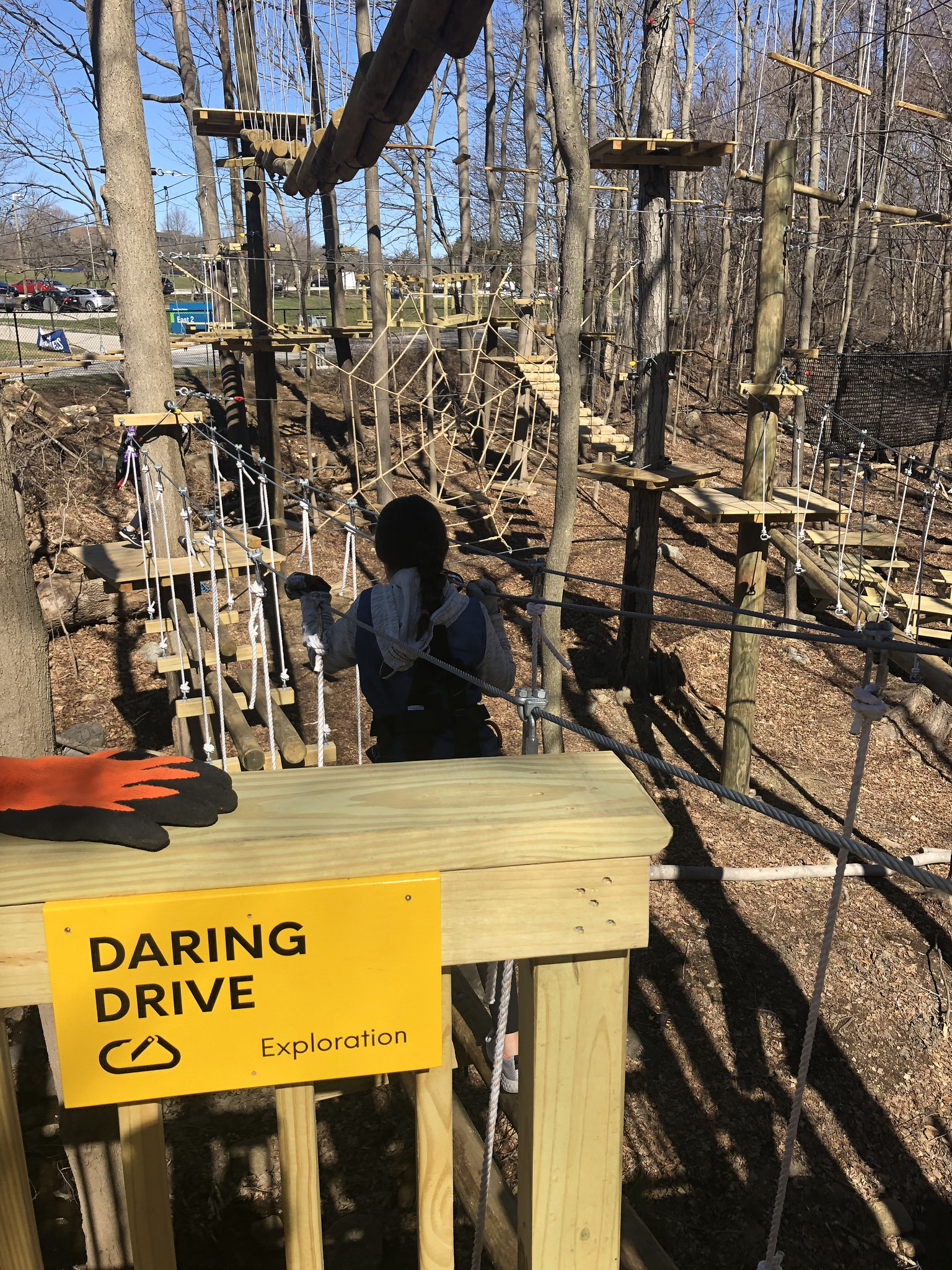 We started with one of the (yellow) Exploration Courses, which was perfect since I was actually a little scared myself! At 10 feet elevation, these courses took us through a variety of wooden bridges and balance beams as we zipped through the forest. The scariest part for me having the course to go through the zip line! I followed my 10-year-old who was laughing and screaming as she made her way to other side, which I did as well, with way more screaming.
Another cool part of Boundless Adventures was looking at all of the cool craftsmanship that went into the design of the course. Everything was made using roped and wood, which were configured into a variety of different shapes and sizes.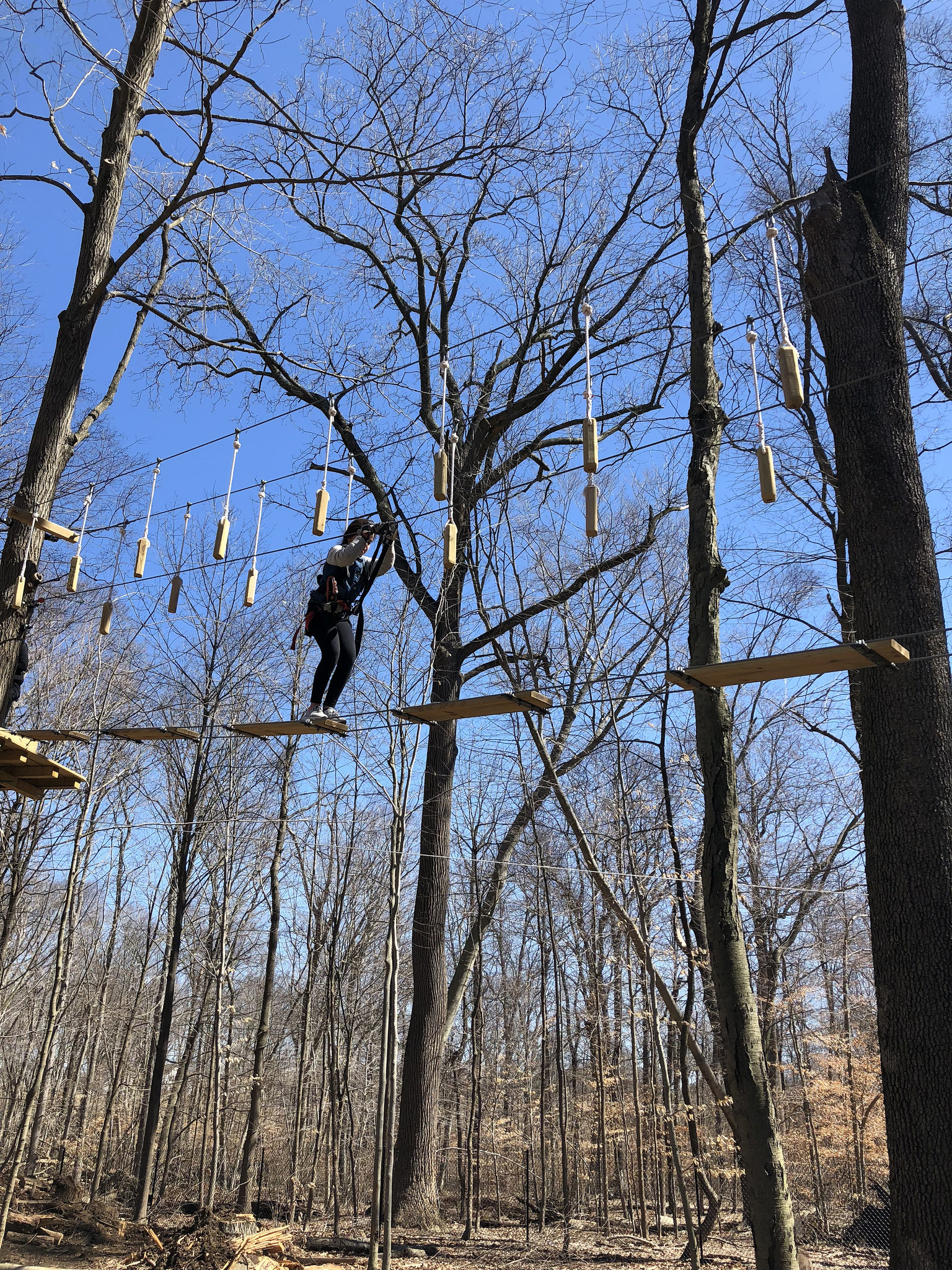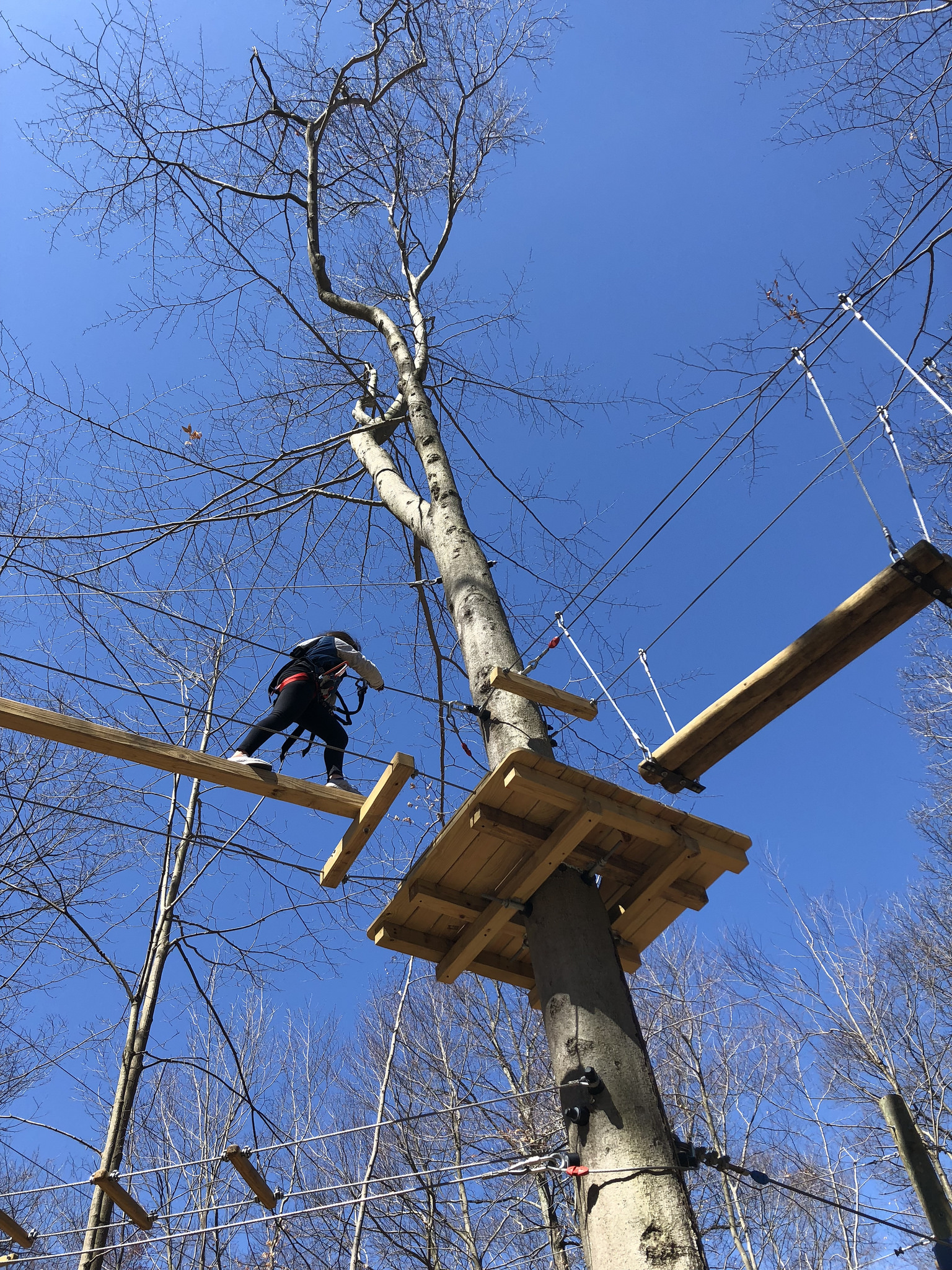 We tried another yellow course as we were building our confidence, while also testing our strength and ability. My daughter and her friend were ready for a challenge where they explored the (green) Motivation Courses. I sat this one out, watching and guiding from the ground as she went through the course that was 15 feet above. These courses were all about more (and faster!) zip lines, intricate and shaky ladders, and quicker movements (eg: jumping to platforms). As she went through the course, I was cheering her on and encouraging her to keep going as some parts were really scary and challenging. However, she used the tools and insight she learned from the previous courses where she felt accomplished but also ready to take a break.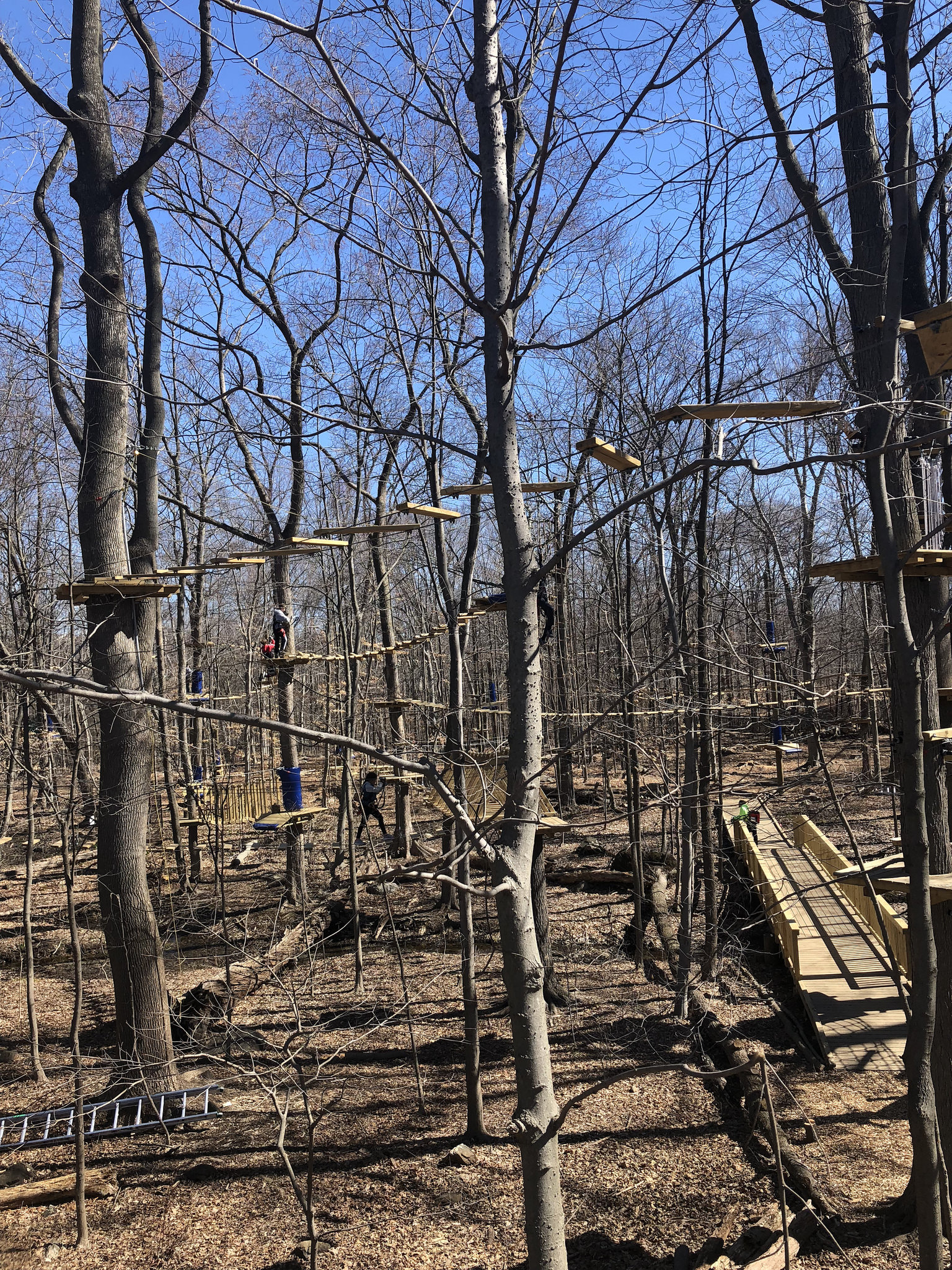 After this course, we sat at one of the benches on the premises, watching others go through the courses. It was so cool to see families of all ages and abilities go through the courses and zip their way to the other side.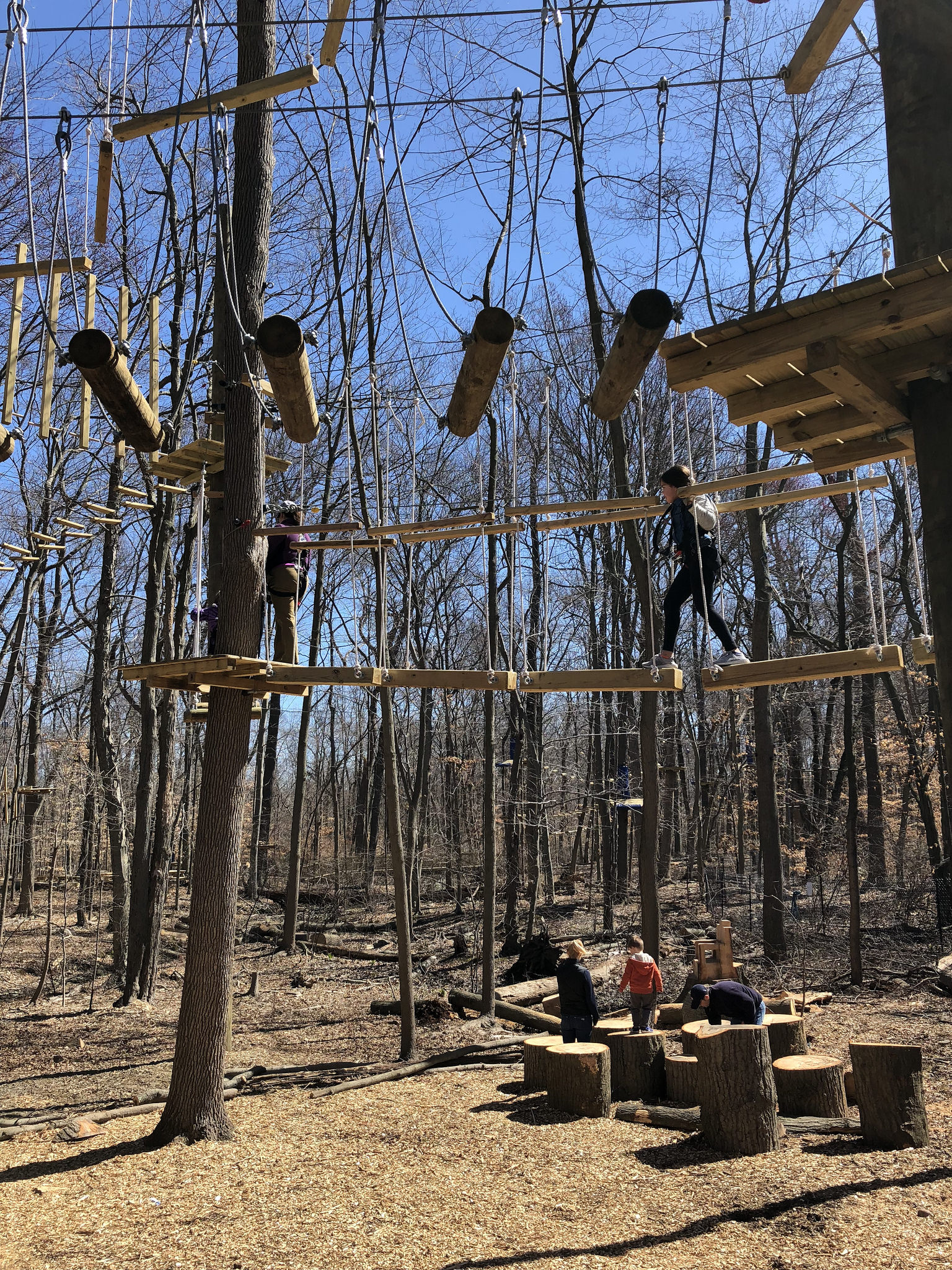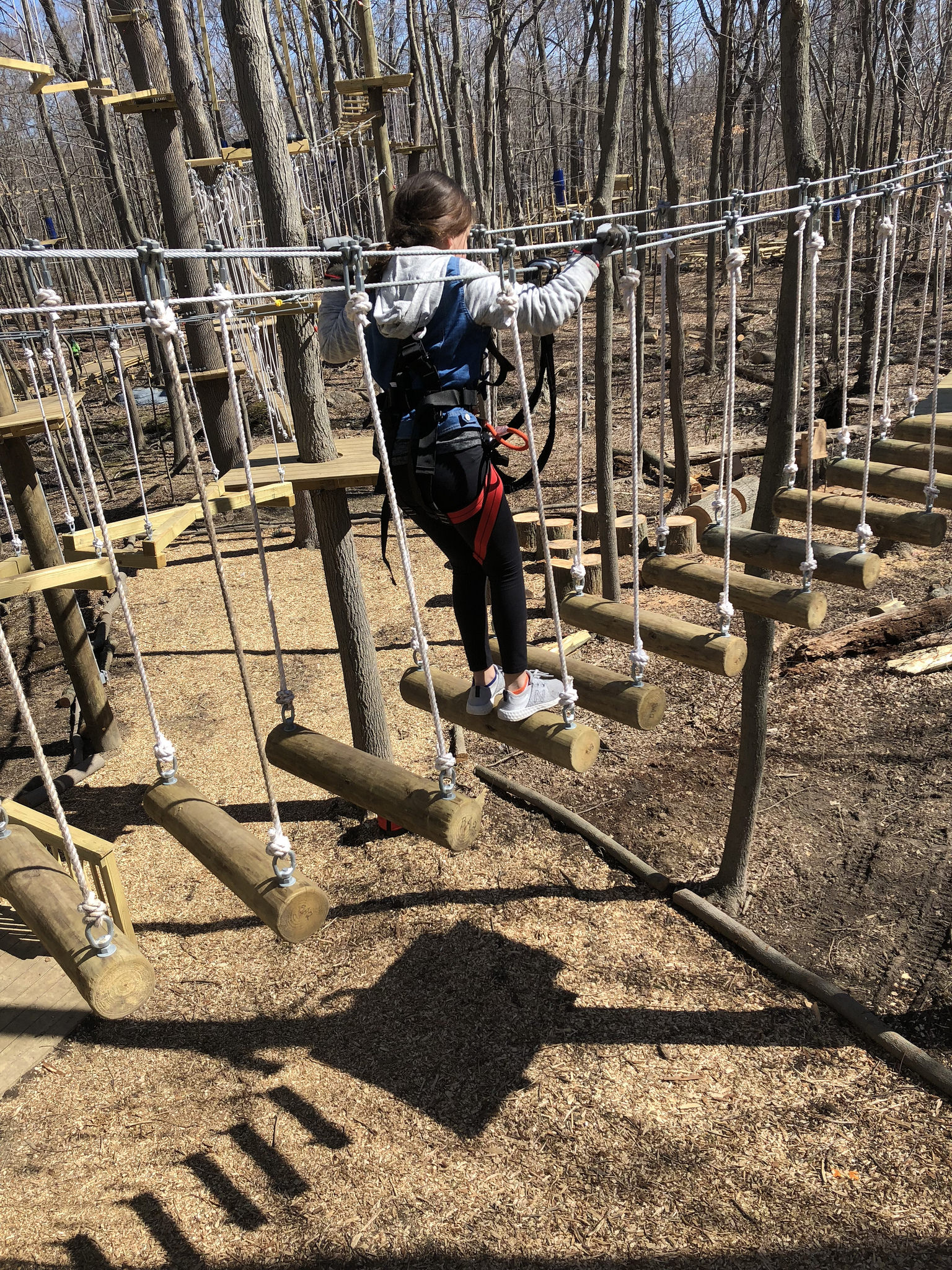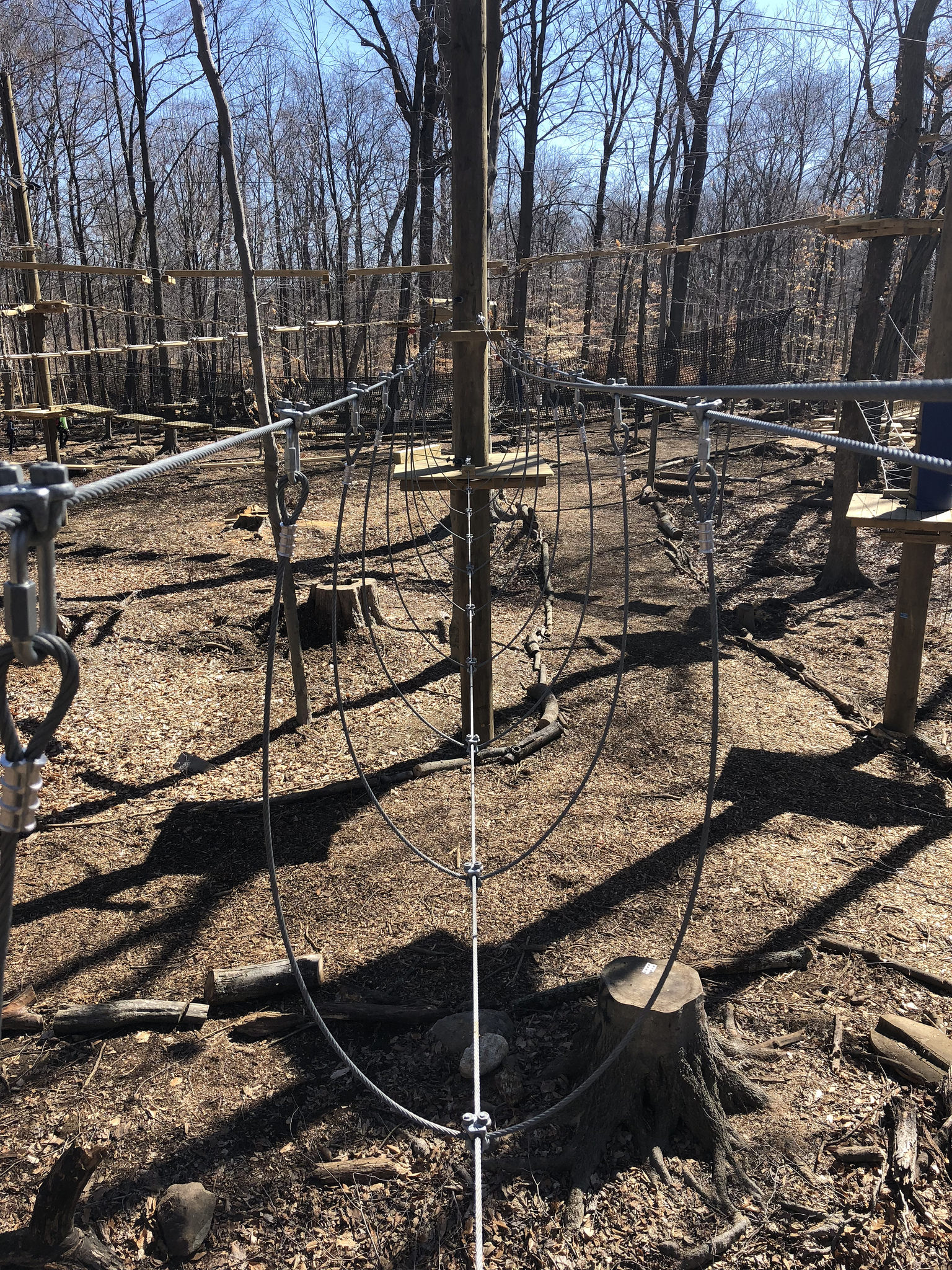 After the break, we finished up our experience with another yellow course, which felt a lot easier from when we started. After we were back on the ground, it felt so awesome to have accomplished such a challenge together. I loved watching her confidence and strength as she went through each course with ease and determination. And while she isn't old enough for the blue or black courses yet, I'm sure, it's just a matter of time before she's ready to rock the black course that would take her 30-40 feet off the ground!
An much different weekend adventure, we had the best time getting out of our comfort zone as we tested our abilities, strength. and will through the challenging and exhilarating obstacles at Boundless Adventures. A must check out experience for families, you'll leave feeling stronger and accomplished as you enjoy a bonding experience like no other.
Ready to have your own adventure at Boundless Adventures? A few more things to know before you go:
1. Kids have to be at least 7 years old to climb.
2. Wear leggings or really comfortable pants. You and your kids will be moving and will need something stretchy.
3. Wear sneakers or hiking shoes to help you get around. They only allow closed-toe shoes.
4. They don't have lockers but did let me leave my backpack (unlocked) in the harness area. If you aren't comfortable with that, you can leave your belongings in your car (the parking lot is right outside of the course area).
5. Drink water in-between climbs! They have water jugs located at the base of the main climbing area.
6. Ask questions! There are Boundless Adventures' employees nearby and walking around (though not on the top where you will be). Ask them anything as you go through the courses, especially if you're unsure or scared.
7. Sign your waiver beforehand to avoid any waiting.
8. Expect to spend around three-four hours at Boundless Adventures.
9. They suggest reservations.
10. Find more rules and polices here.
Updated COVID-19 Safety Standards at Boundless Adventures
Reservations will be required. Indoor registration will not be happening. All reservations and waivers must be completed 3 hours in advance of your visit.
Social distancing will be enforced. Upon opening, they will be limiting the number of guests to just 25% of our normal capacity. They will still allow up to 3 family members to share a platform, but strangers will need to wait on the preceding platform to ensure appropriate distancing.
Sanitation practices. They will no longer have communal gloves. You can purchase from us or you can bring your own. Equipment will be disinfected after each use and the course will be cleaned regularly. Hand sanitizer will be readily available. Staff will be wearing face shields when in close proximity to guests and will have appropriate PPE at all times.
Be considerate. All guests must come with a mask to be worn (if practicable) at check-in and if you are going to be in close proximity to anyone.
Updated COVID-19 procedures can be found here.
I received tickets to review Boundless Adventures. All opinions, as always, are my own.