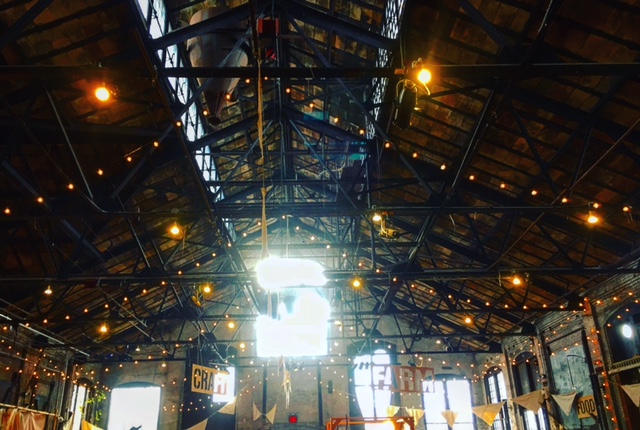 This past weekend in-between gorging and Christmas tree shopping, we went over to Hudson to check out the annual Basilica Farm and Flea Holiday Market Market.  Located in a cool repurposed factory, I was literally in awe of all of the artistans and makers who were selling their local, vintage and handmade goods for the holiday season and beyond.
From cool vintage frocks to tasty local treats, I love exploring and checking out this massive market that takes places every Thanksgiving Day weekend. Born out of an Anti-Black Friday movement in 2013, the marketplace as since grown that drew in 12,000 visitors last year! While walking around this 10,000 square-foot space, I loved checking out local cider makers, cool kids' clothes, old books, jewelry, furniture, home goods, vintage clothing, and more. There was also tons of delicious food at the market, including oysters, chocolate, syrups, pizza, local produce and dairy, amazing sweets and more.
While the Thanksgiving Day market is over, Basilicia Hudson has tons of other events throughout the year including Spring Market during Mother's Day weekend; a 24-hour drone weekend with musicians; the Basilica SoundScape, a weekend-long music and art event that's been called "the anti-festival" for its range of offerings including live musical acts, sound performances; Basilica Screenings Series; (FREAK) FLAG DAY; a Back Gallery visual arts series; and  Basilica Pioneering People, a bi-annual program celebrating John Waters.
Check out this awesome list of vendors and makers that were in attendance at the market: https://basilicahudson.org/farmandflea/2016-vendors/
For the complete events listing, please visit: https://basilicahudson.org/events/