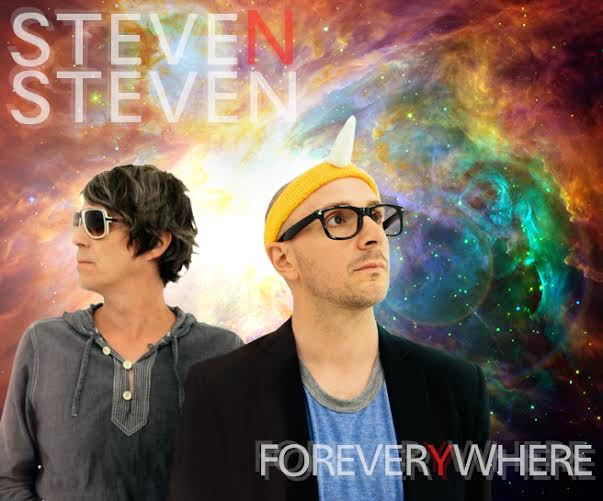 We are always psyched when we discover cool music for our kids that we can that's enjoyable and fun for everyone! Enter the exciting new music project STEVENSTEVEN, a  collaboration between Steve Burns (original host of Blues Clues) and Steven Drozd (of The Flaming Lips).
Launching on February 24th, their album, Foreverywhere is a part-concept album that combines narration and rock music that's filled with lively and energetic songs that both kids and parents will love.As described by STEVENSTEVEN themselves, Foreverywhere is inspired by, "Wondering, Burt, Black Sabbath, Cephalopods, Grover, Toy Commercials From The 1970's, Harry Nilsson, Dr. Seuss, Science, Bill Conti, Queen, Futzees, Rocky Balboa, Harcourt Brace Jovanovich, True Love, Neil Diamond, The Zoo, Holly Hobbie, Fairy Tales, David Bowie and Mister Rogers."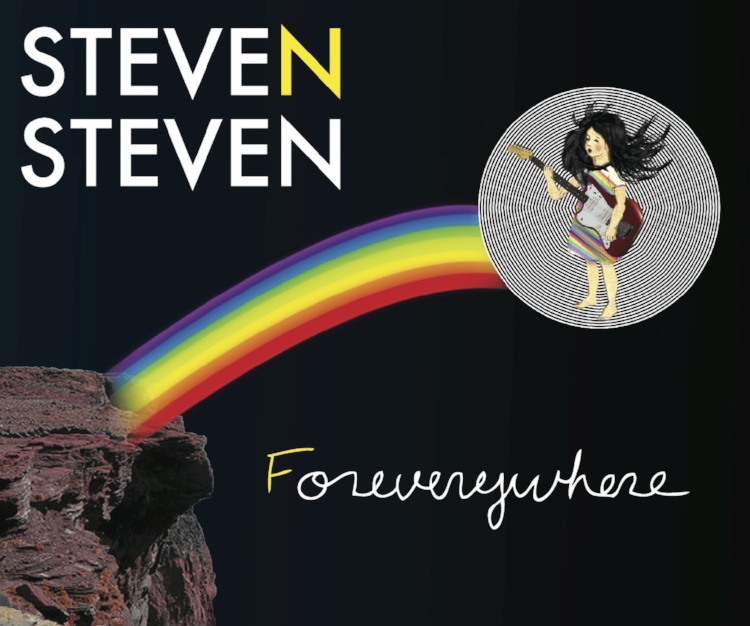 We had the chance to listen to their upcoming album and loved the melodic album  that kicks off with "Unicorn and Princess Rainbow" about a unicorn who falls in love with a guitar shredding princess. Of the song (and trilogy), Burns says, "I love narrative rock music. This is the expository first song in our attempt at a mini concept EP for kids adults and everybody- a three song narrative detailing the story of a unicorn who falls in love with a Rainbow Princess with incredible guitar chops, joins her band, and then loses her to cosmic forces beyond his control. We wanted it to be expressive and wistful and dramatic and even tragic in its way, full of themes you don't often hear in children's music. We wanted to make a little legend here, sort of Puff the Magic Dragon meets Ziggy Stardust."
Other tracks on the album include the psychedelic "Mimic Octopus (Secret Wizard of The Sea)" segueing into the "A Fact is a Gift You Give Your Brain" while rounding out the album with the potty-training positive "OK Toilet Bowl," the marching snare of "The Lonely Unicorn is Never Giving Up" and the comedic "If You're Ginormous and You Know It" amongst some of the fun tracks on the album.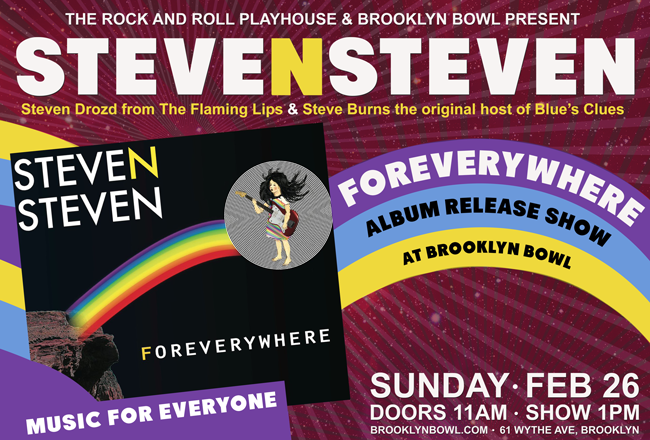 And they are coming to the NYC-area on February 26th for a fun family-friendly show at the Brooklyn Bowl. To learn more about the album, we chatted with Steve Burns and Steven Drozd of StevenSteven.
Interview with Steve Burns and Steven Drozd of StevenSteven
The Weekend Jaunts: How did the collaboration for StevenSteven come about?
BURNS: Nick Jr. asked me to write a song about a groundhog for Jack's Big Music show, and I asked Drozd if he'd be interested in collaborating. We got together at his place in Oklahoma City and it came together so fast and it was just so much fun…I'm pretty sure we decided to do a whole album even before the song was finished!
DROZD: Burns and I met in 2001 to work on his record "SONGS FOR DUSTMITES", and hit it off immediately. At the time we remarked that we should make up silly kids' songs someday in the future. Years later, after staying in touch and doing other projects together, he was asked to do a song for Nickelodeon (about groundhogs!) and he called me up. We worked on that together, had so much fun- we kept the thought alive of doing a whole LP. Fortunately, we were able to take the time to do it!
The Weekend Jaunts: Tell us about the album, Foreverywhere?
BURNS: We're calling it "everybody music". We don't think there's necessarily a big difference between what makes music great for kids and what makes music great for adults- there's lots of overlap- and that's what we're trying to explore with Foreverywhere.
DROZD: One of the earlier titles for the record was "Foreveryone": the idea being that ANYONE could enjoy this music, children and adults alike. But, that is too vague a description. Our goal was to make recordings that were interesting enough and catchy enough to make a "grown up" want to hear them again and again, and maybe remind them of their own childhood, while at the same time having subject matter and lyrics that would jump out at a young person and fire their imagination and teach them some interesting facts along the way. That might be oversimplifying it, but the idea was for all of the songs to be fun and memorable and happy and sad for children and adults. Mom and son and daughter and dad all rocking out together…. which I have literally done with my family.
The Weekend Jaunts:   What do you love about narrative rock music?
BURNS: Oh wow…everything. I think at its best music tells us stories, even when it doesn't have words. I've always appreciated rock songs that aren't afraid to take us on a deliberative narrative adventure…Bowie did this so well. The Flaming Lips hit this idea out of the park on much of The Soft Bulletin.
DROZD: When it's good, it connects parts of your memory in ways that non narrative music does not. There's also an emotional content to it.
I would have to babble about this for a while to come up with a decent answer!
The Weekend Jaunts: What are some of your musical influences?
BURNS: Well I would sincerely have to put Mr. Steven Drozd at the top of my list. I think he's a living human genius and I'm still beside myself that I get to work with him on all this fun stuff. I love Bowie, as I mentioned. Steven and I both really liked The Unforgettable Fire by U2 and I remember that was a real bonding point when we first met. Other for me, new and old: M83, Sigur Ros, Lou Reed, Fugazi, Echo And The Bunnymen, Magnetic Fields, Genesis, Bill Conti, The soundtrack to Taxi Driver, Mozart (really the requiem and the C minor mass, the "poppy" stuff gets on my nerves after a while), Bach, Beck, Black Sabbath, The Smiths, The Cure, Depeche Mode, Policia, The National.
DROZD: Wow, that is tough. I grew up around so much music of different styles… the list goes on and on. I was raised on my older brothers' rock records (BEATLES, STONES, LED ZEP, PINK FLOYD), my older sister's disco and top 4o records (BEE GEES, BLONDIE, DONNA SUMMER), my mom's Motown and Soul and RnB stuff (STEVIE WONDER, SUPREMES, ROBERTA FLACK), my dad's old country and western records (MERLE HAGGARD, WILLIE NELSON, WAYLON JENNINGS,RAY PRICE) and my own PEANUTS then KISS then RUSH then U2 then REM then DINOSAUR jr. The list goes on and on. I do share all of those loves that Steve has on his list. Again, a lot of stuff.
The Weekend Jaunts. It's exciting that you created an album both kids and parents can enjoy! Was that your intention from the start?
BURNS: Yes! As the host of Blue's Clues I sort of made it my mission never to talk down to kids. I wanted to bring that same respect to this record and that meant that the songs had to move me, or make me laugh, or inspire me in order to make the cut. Doing it this way, we sort of ensured that if any of the songs appealed to kids, they'd also appeal to at least two adults (StevenSteven).
DROZD: Yes, I kind of mentioned that before. We very seriously set out to do just that. I have a son, 11 and daughter, 9, so, were able to test all this stuff out on a focus group! haha!
Be sure to check out the video for the Unicorn and the Princess (below) and check them out in Brooklyn on the 24th.
STEVENSTEVEN ALBUM RELEASE SHOW
BROOKLYN BOWL
Saturday February 26 @ 1:00PM
Tickets: https://www.brooklynbowl.com/event/1394514-stevensteven-steven-drozd-brooklyn/
For more info, please visit: https://www.stevensteven.com