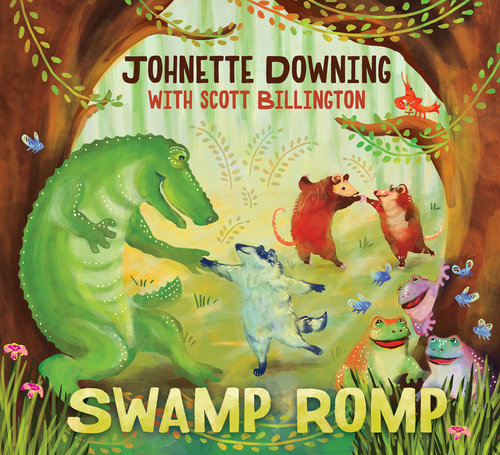 Get ready for Mardi Gras by having a foot-stommping and toe-tapping good time with Louisiana-based musicians' Johnette and Scott's Swamp Romp. Winner of the 2019 National Parenting Product Award, this lively 15-track album features a variety of musical styles, such as Cajun, zydeco, and swamp pop of South Louisiana; to the rhythm & blues, gospel, jazz, brass band, and street music of New Orleans; to the rock 'n' roll of North Louisiana. The girls and I loved listening to the album, while also learning more about Louisiana's rich musical heritage, and of course, having a fun new album to dance to.
The laissez les bon temps roulez spirit comes alive with the first title track, a jaunty harmonica-laced "swamp pop" party song. From there, Johnette and Scott take listeners for a ride through the landscape of Louisiana roots music, from New Orleans R&B to Cajun to traditional jazz.
Supporting musicians on the album include Irma Thomas, Roddie Romero, Joel Savoy, James Singleton, Doug Belote, Lee Allen Zeno, Matt Perrine, Wilson Savoy, Jake Eckert, C.R. Gruver, "Washboard Chaz" Leary, members of the Dirty Dozen Brass Band (Roger Lewis, Kevin Harris and Kirk Joseph), members of the Dukes of Dixieland (Kevin Clark, Craig Klein and Tim Laughlin), the McCrary Sisters and members of the ReBirth Brass Band (Keith Frazier and Derrick Tabb).
Check out their YouTube page for some of their videos, including the fun Bamboula Rhythm"