We may or may not have a snack addiction in our house, but with three kids it's hard to get through, well, anything, without someone being hungry! With our upcoming road trip, I wanted to share a few of our favorite healthy-ish packaged snacks. All of these snacks have been kid-tested and approved for their ease to travel with as well as featuring some health benefits. Read on to check out our on-going list of snacks:
Packaged Snacks for the Road: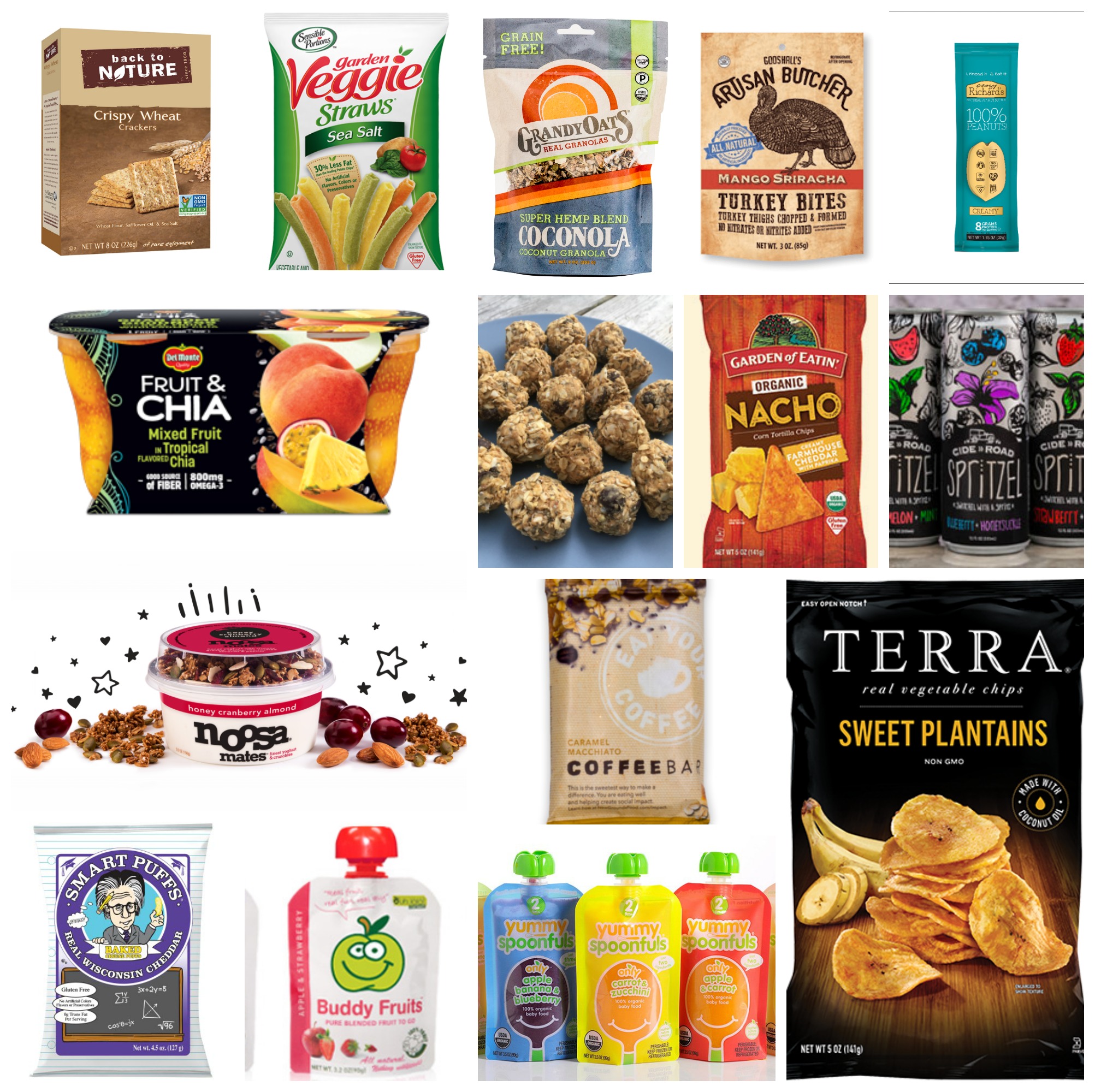 Back to Nature Crispy Wheat Crackers: Love this combo of sweet/salty that's an awesome snack with cheese, PB, or as a standalone option.
Smart Puffs: A long-time favorite, my kiddos are borderline obsessed with these cheesy/corn puffs.
Godshall's: For a meaty craving (literally), check out their All Natural Turkey Bites featuring yummy flavors like Mango Sriracha, Korean BBQ, and Pineapple Teriyaki! They also have some All Natural Snack Sticks featuring hearty Beef, Turkey, and Pepperoni.
Crazy Richard's Peanut Butter: We are huge peanut butter fans and love the convenient options from Crazy Richard's. Bonus: This yummy peanut butter spread is literally just peanuts and has no added sugar, salt, fat, or fillers! Slather it on a rice cake, some crackers, or bread for a healthy PB sandwich on the road.
Garden of Eatin's USDA Organic Corn Tortilla Chips: I've been a fan of their blue chips for years so I was pretty excited about their latest flavors, featuring yummy nacho and ranch flavors. A great alternative to Doritos.
TERRA Plantains Chip: Favorite new chip alert! I've been going bonkers for the new plantation chip line from TERRA featuring Sweet Plantains and Plantains. Made with only a few ingredients (green plantains, coconut oil and sea salt), this has become a new savory favorite that I'm sure will have you crunching your way through the whole bag in no time.
Sensible Portions Garden Veggie Straws: A favorite of the kids, the Sea Salt, Zesty Ranch, and Cheddar Cheese varieties are a great way to snack on veggie sticks on the go. Featuring convenient, single-serve pouches, these savory veggie straws are also a non-GMO product, gluten-free, preservative-free, and kosher.
Yummy Spoonfuls: A fantastic travel food for babies and toddlers, Yummy Spoonfuls feature 15 plus delicious organic fruit and veggie options, from simply apple to blends like sweet potato, carrot, and broccoli, that are a super portable way to ensure that your little one gets proper nutrition during travel. My favorite part is that this line is made with zero preservatives and 100% organic fruit and veggies, essentially what I would be making at home without having to deal with the lengthy food-making process.
Del Monte Fruit & Chia: I love adding chia seeds to yogurt and another new Del Monte Fruit & Chia. Packed with chunks of real fruit and chia seeds, it's a delicious, hearty snack that's perfect for breakfast, a mid-morning or afternoon snack. In addition to the benefits from the fruit, the chia seeds are filled with fiber, omega-3 fatty acids, calcium, protein, iron, and antioxidants. It also comes in four flavors such as Strawberry Dragon Fruit Flavored Chia, Mixed Fruit in Tropical Flavored Chia, Pears in Blackberry Flavored Chia and Mangos in Pineapple Flavored Chia with no high-fructose corn syrup, artificial flavors or sweeteners. They are also a good source of fiber and omega-3's. To learn even more about chia seeds and its benefits, check out Health Ambition's post on the benefits of chia seeds.
Trader Joe's Sweet, Savory and Tart Trek Mix: Love this sweet/salty combo featuring heart-healthy almonds and cashews mixed in with some treats from the mixed chocolate chips and cranberries. A kid and adult favorite that probably won't last you your entire road trip.
No Bake Coconut and Peanut Butter Bites: If you somehow have time before your road trip to cook (ha!), these are a tried and true favorite that you can make a week before, freeze and have ready to pop in your mouth on the road. Full recipe here.
Grandy Oats: One of my favorite snackable granolas, GrandyOats features a delicious new line of grain-free Coconola. This includes flavors like Original, Super Hemp Blend, and Chocolate Chunk Coconola –all of which are certified organic, gluten-free and paleo; non-GMO; small batch; high protein; oil-free; salt-free; kosher; low sugar; and socially responsible.
Quinoa Meals: For something a little more hearty, I've been digging the ready-to-eat Quinoa Meals from Cucina & Amore: Kitchen & Love. This no-cook quinoa option comes complete with a fully-cooked cup of Quinoa, a delicious sauce and s spork for easy mixing. You don't have to prepare or cook anything and it can be eaten cold (how easy is that?!) Bonus: the means are gluten free, not from GMO, preservative free, and vegan (except the pesto flavor). They are also TSA-friendly and can be enjoyed on any airplane.
Noosa Mates: Noosa Yoghurt stepped up their yogurt game this season, and now offers their creamy 

yoghurt with 

premium crunchy granolas, nuts, pretzels and chocolate. A great serve and go option, Noose Mates comes in yummy flavors like banana chocolate peanut, coconut almond chocolate, honey cranberry almond, honey pretzel peanut and maple ginger.
Buddy Fruits: Another squeezable option that we love are the convenient fruit pouches from Buddy Fruits. Made in small batches with some organic offerings, Buddy Fruits includes a variety of all-natural fruit and vegetables with some favorites being the cinnamon, apple and mixed berries fruit tubes.
CideRoad's Spritzel: The newest drink on the block is something quite delicious and very unexpected! CideRoad's Spritzel sweetens the deal with organic ingredients like organic fruit juices, botanical essence, and a tangy kick of apple cider vinegar that's a great way to mix up your water and/or seltzer drinking. With flavors like Watermelon and Mint, Blueberry and Honeysuckle, and Strawberry and Basil, Spritzel is sure to be a hit with kids of all of ages.
Eat Your Coffee Bars: There's no getting around this: A car ride with three kids is going to be challenging. And while we're packing activities, and of course, tons of snacks, I'm also going to have to amp up the caffeine for the drive and the amount of energy that I'll need. Enter Eat Your Coffee, a Boston-based food company that's on a mission energize life through naturally caffeinated snacks. This includes a new line of delicious Eat Your Coffee Bars energy bars featuring Mocha Latte, Coconut Mocha and Caramel Macchiato, all caffeinated with real coffee. My favorite is the Coconut Mocha that supplies the perfect combo of organic coconut, vegan chocolate, and coffee.
Go Organically Fruit Snacks: Fruit snacks have come a long way over the years, and one brand that's at the forefront of this change is Go Organically. Featuring three flavors (fruit medley, mixed berry and tropical), the line is made with real fruit, contains no preservatives and can supply your kiddos with a healthy dose of vitamins A, C and E, plus they taste pretty awesome! Be sure to stock up this GMO-free and organic snack when you hit the road.
Made Good Snacks: We are obsessed with the selection of snacks from Made Good! Their sweet product line includes granola minis, granola bars, cookies, and crispy squares featuring products that are made in a facility free from the most common allergens; peanut, tree nut, soy, dairy, egg, fish, shellfish, gluten, and sesame. Bonus: their snacks are organic, gluten-free, non-GMO project verified, made with whole grains, low in sugar and the granola bars even include a full serving of vegetables. Oh, and they're delicious and super easy to carry around for school or whenever you are on-the-go. Get these delicious snacks online and exclusively at Target.
hummingbar from Humming Hemp: It's really hard to find a granola bar that tastes great and isn't loaded with sugar so I was thrilled when I had the chance to sample a collection of nutrient-dense bars from hummingbar. Made from soft and chewy 

hemp

hearts and sweetened with raw USA honey sourced from Humming 

Hemp

's sister company humble honey co., the bars feature the perfect combo of taste, texture, and nutrition! This includes bars that include 11-12 grams of raw, plant-based protein that's also paleo, dairy-free, Non-GMO, grain-free and gluten-free. A great way to get some serious nutrition on-the-go, we love the Lavender Pistachio & Blueberry hummingbar, seed and date and the almond and chocolate, which is perfect when we need a chocolate fix!
Organic Dark Chocolate Peanut Butter Puffs: For a chocolate fix, we are all about the Organic Dark Chocolate Peanut Butter Puffs by Puffworks. The peanut butter and dark chocolate combo is a great way to get a sweet treat that also happens to be low-sugar. Bonus: they are vegan, gluten-free, and USDA-Certified Organic.
Monkey Bars: For a healthy bar, we highly recommend Monkey Bars. Made with three simple ingredients (apple, banana and cashews), these clean bars pack a punch in flavor that's satisfying and delicious. A favorite all around when you're on the road, beach, pool – or whatever adventure you venture to this summer.
Some samples were received, but all opinions, as always, are our own.