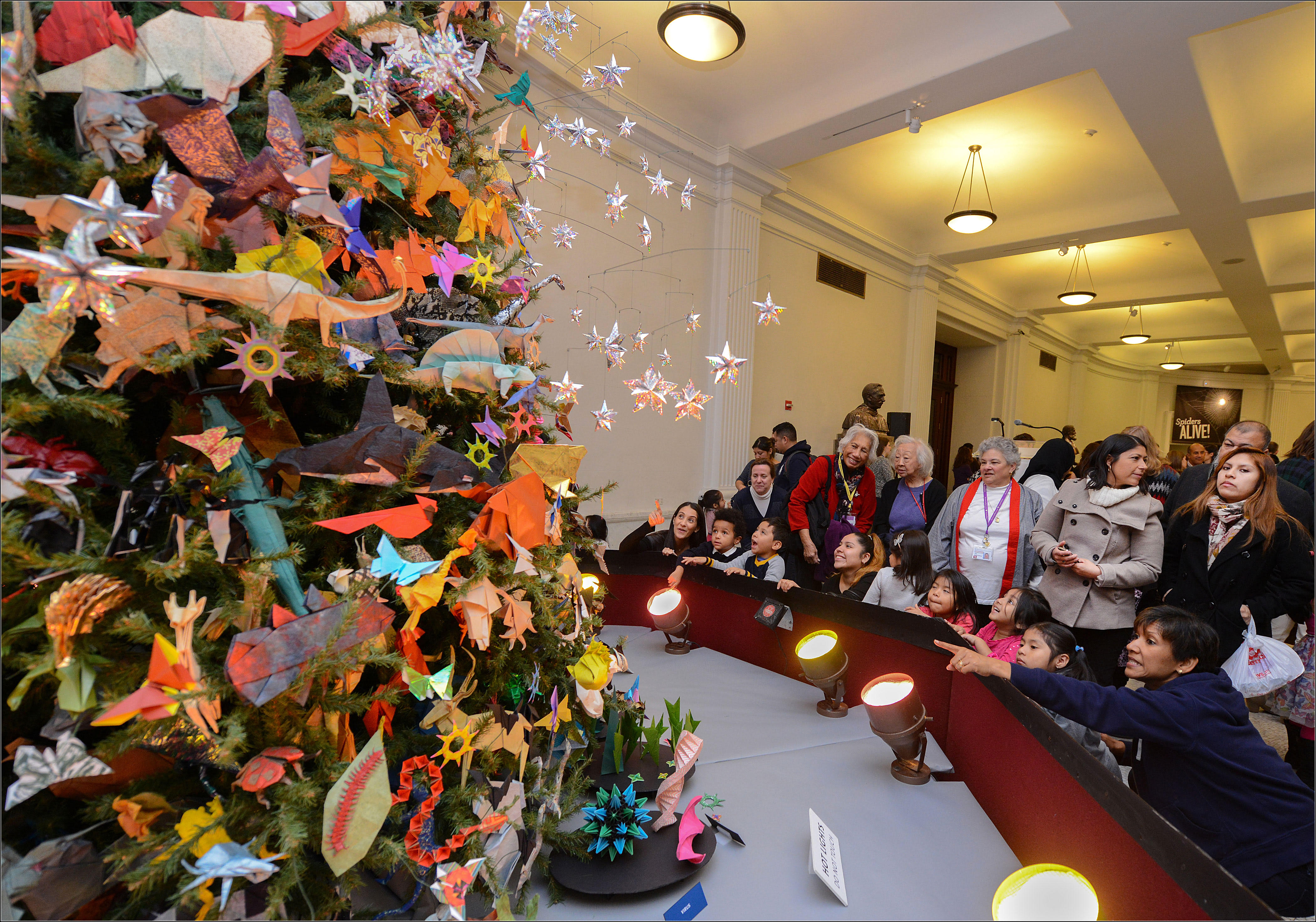 Yes, the  tree at Rockefeller Center is one of the most renowned trees in NYC but we are equally excited to check out the gorgeous Origami holiday tree at the American Museum of Natural History.
An annual Museum tradition, the Origami Holiday Tree features two 19-foot Holiday Barosaurs that'll welcome visitors to the Museum throughout the holiday season.
The theme of this year's 13-foot tree is Origami 'Dinosaurs Among Us,' with models inspired by the upcoming exhibition 'Cuba!' as well as the current exhibition 'Dinosaurs Among Us.' Attendees can expect to see feathered dinosaurs and stunning modern birds among other treasured models.
To set the Origami holiday tree up, volunteers, including local, national, and international origami artists, fold year-round, contributing to a collection of over 1,000 models.  The two Holiday Barosaurs, which greet visitors to the Museum on the front steps throughout the holiday season, are made of openwork stainless steel and festooned with pine boughs and lights. Illuminated at night, the whimsical dinosaurs flank the Museum's Central Park West staircase and echo the Barosaurus mount in the Theodore Roosevelt Rotunda.
Each year the 13-foot-tree features a different theme relating to the Museum's special exhibitions or to its collections, which includes more than 33 million artifacts and specimens. Past themes have included Mighty and Microscopic Life; Origami Night at the Museum; Wicked, Wild, and Wonderful; The Museum's Biggest and Best; Fantastic Creatures: Mythic and Real; Origami in Flight; Under the Sea; Flowers for New York; Origami A to Z; and Origami Safari. During the holiday season, volunteers will be on hand to teach visitors of all ages origami, the art of paper folding.
For more info, please visit:  https://www.amnh.org/explore/origami-at-the-museum/origami-holiday-tree