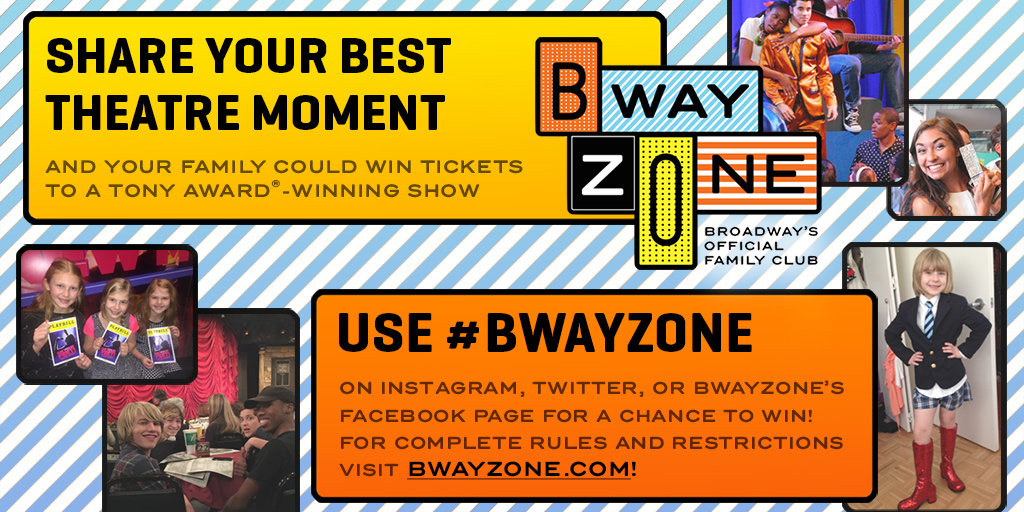 I love experiencing theater with my kids. This incredible privilege connects children to the world of music, words and dance that you just can't find in a screen. To celebrate theatre, Bway Zone, a family-friendly initiative set up by the Broadway League, where you can discover cool videos, photos, quizzes, and other Broadway-related content. This online/social media conversation focuses on what's happening on Broadway in NYC, as well as on national tours throughout the US and Canada. Users are connected with Broadway shows, stars, and each other and get a behind the scenes peek at those who make magic on and off stage.
And to celebrate Broadway, they are asking theatre fans to submit entries for a chance to win FOUR TICKETS to a past Tony Award winning Broadway show in NYC or on a national tour.
To enter:  Take a photo of your best personal Theater Moment and then share it on Instagram or Twitter with #BwayZone, or through the Bway Zone Facebook page. A Theatre Moment must be a personal photo that is related to live theater, including pictures in front of a theatre, marquee, poster or with a program; meeting a cast member at a stage door or photos of friends and family at a school play.
For more information, please visit: BwayZone.com.