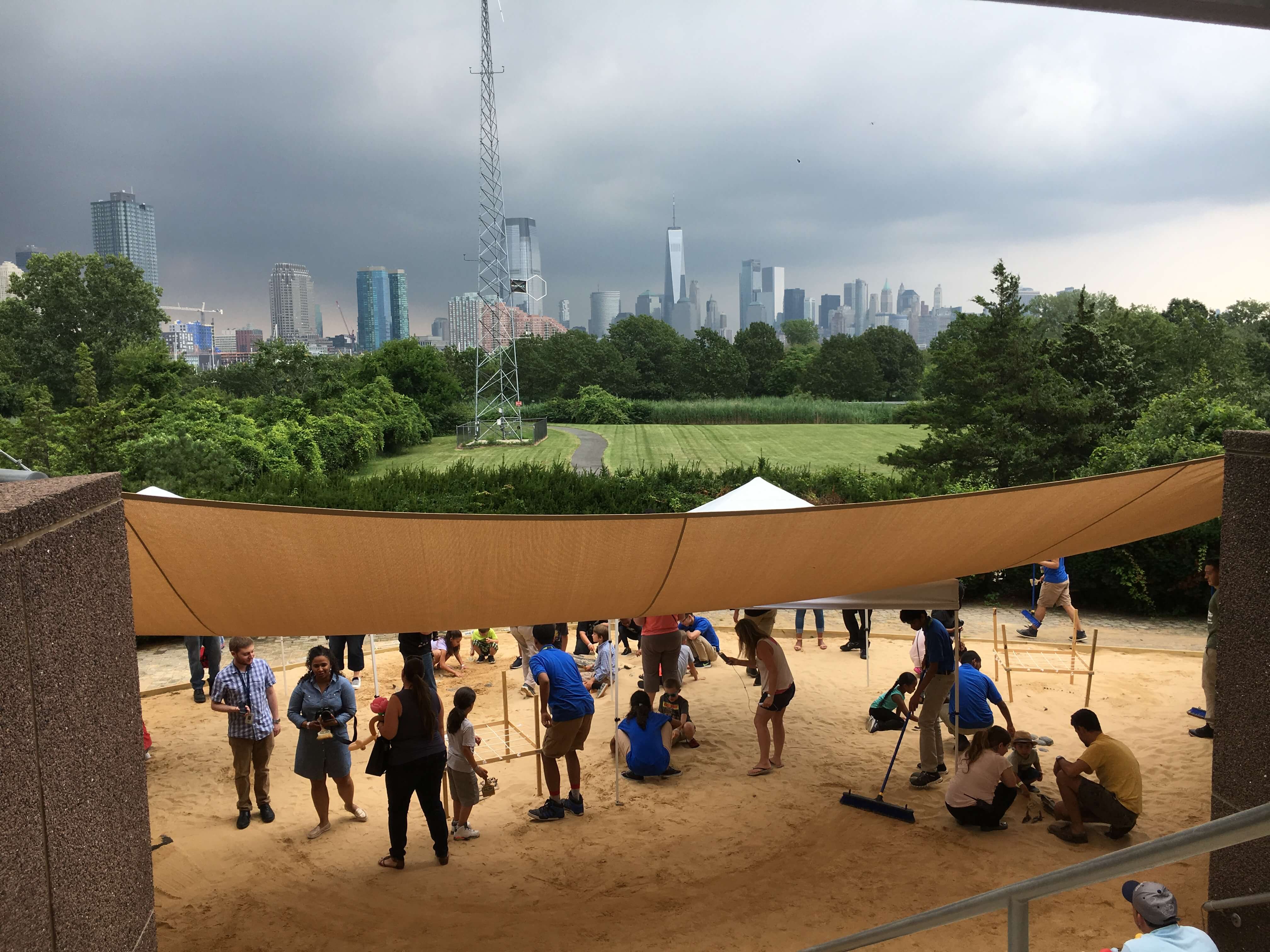 As much as my kids might hate to admit it, I think that summer can still be a time of discovery and learning. While I'm all about making the most of their time off and having fun, I also think that they can be learn a lot, in a non-traditional sense, through play and interactive activities.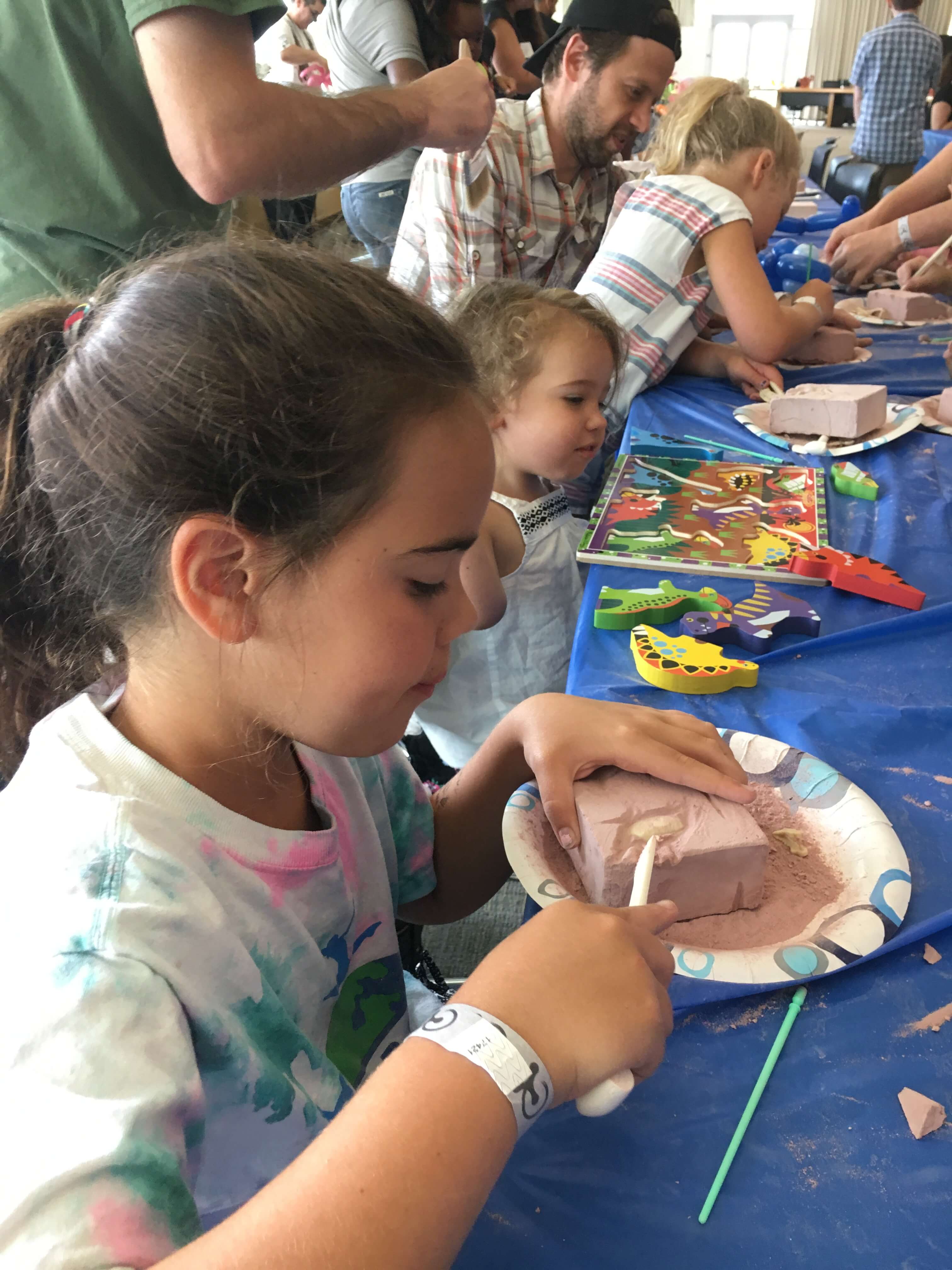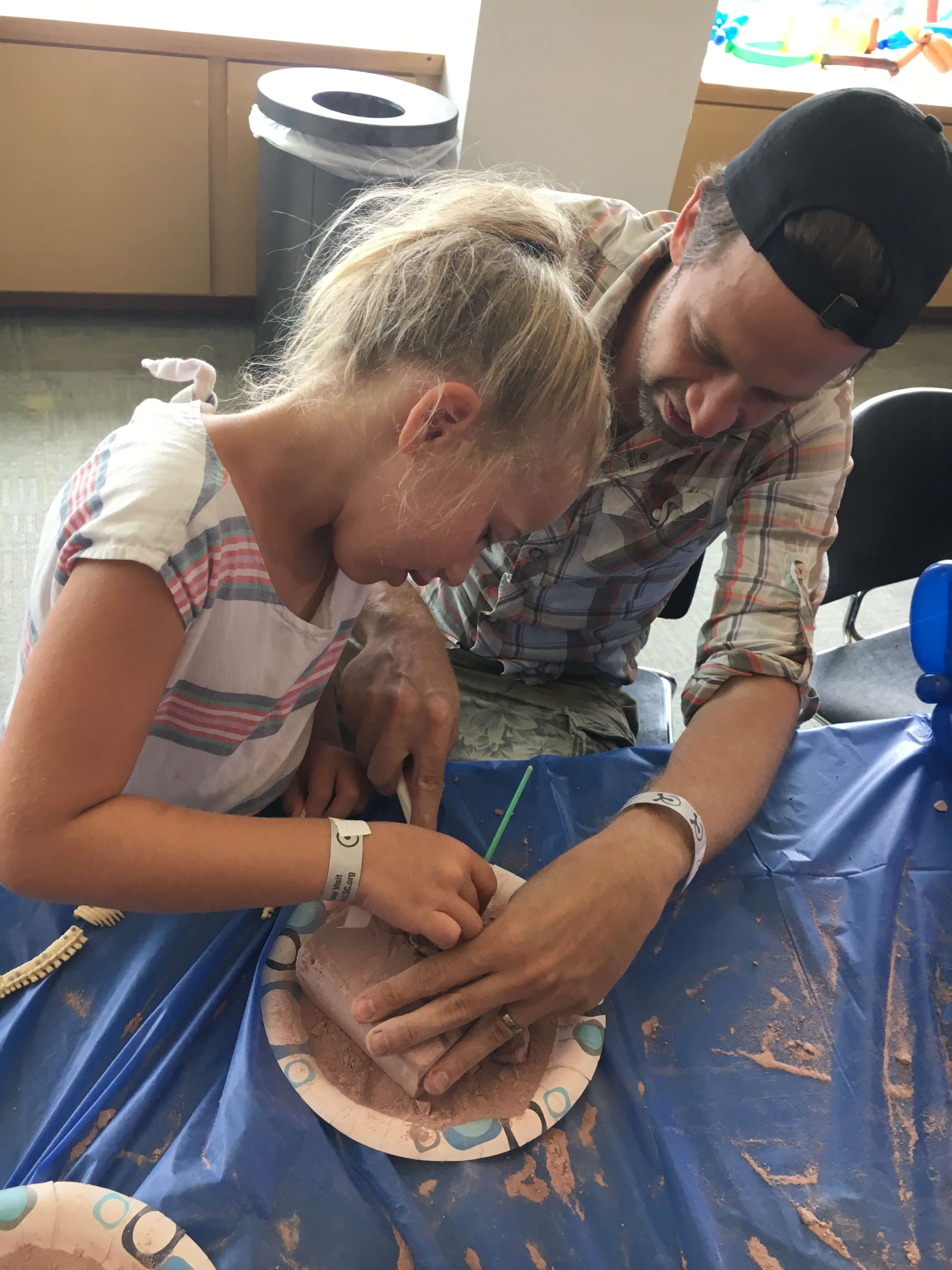 This weekend, we had a chance to do both when we checked out the second year of Jack Horner's Dino Dig over at the Liberty Science Center. A tribute to legendary paleontologist Jack Horner, the inspiration for the Michael Crichton novel and Steven Spielberg film Jurassic Park, the dig is designed to evoke the renowned fossil-rich Hell Creek Formation in Montana, a site of field study from Horner and his colleagues.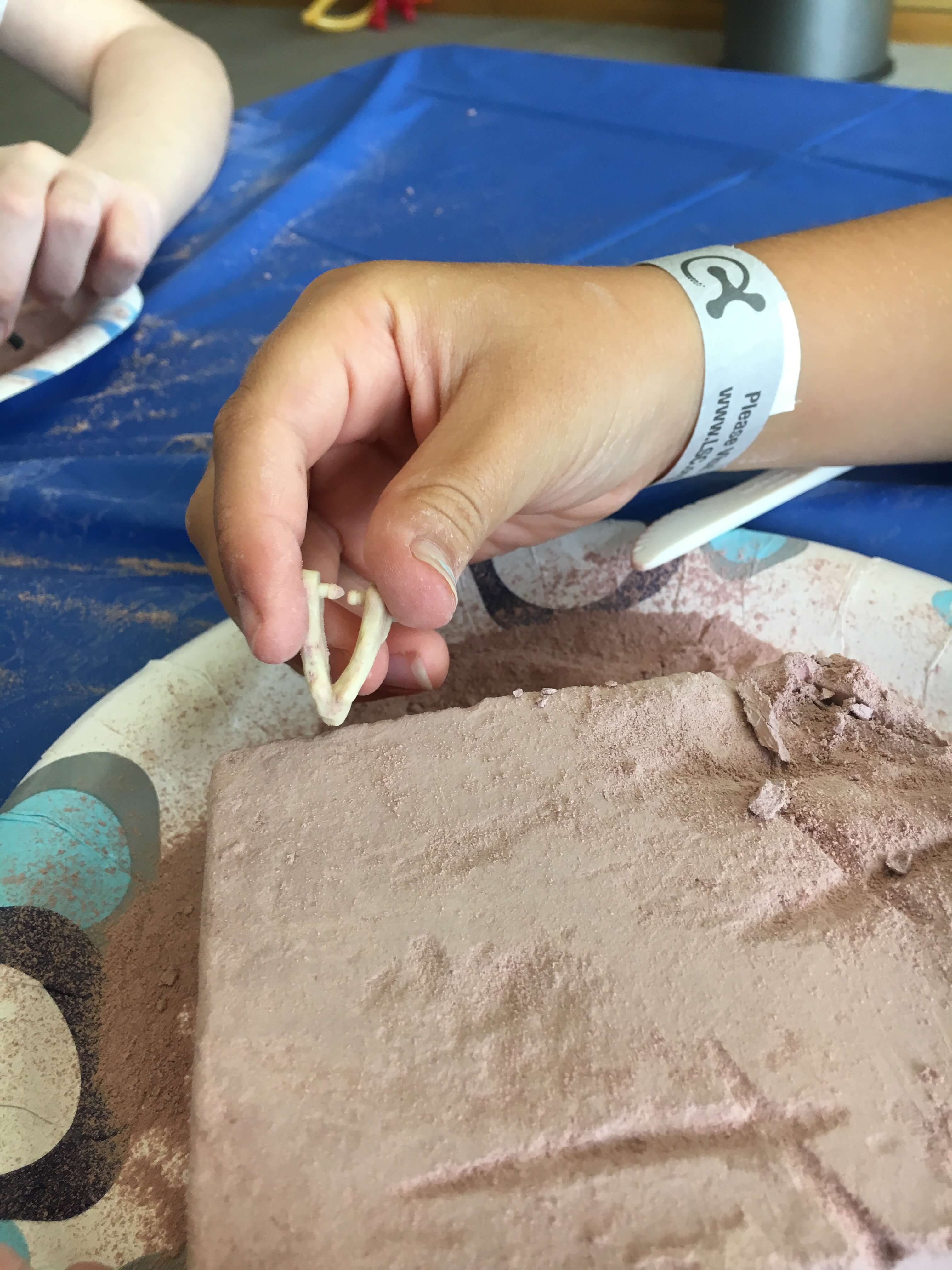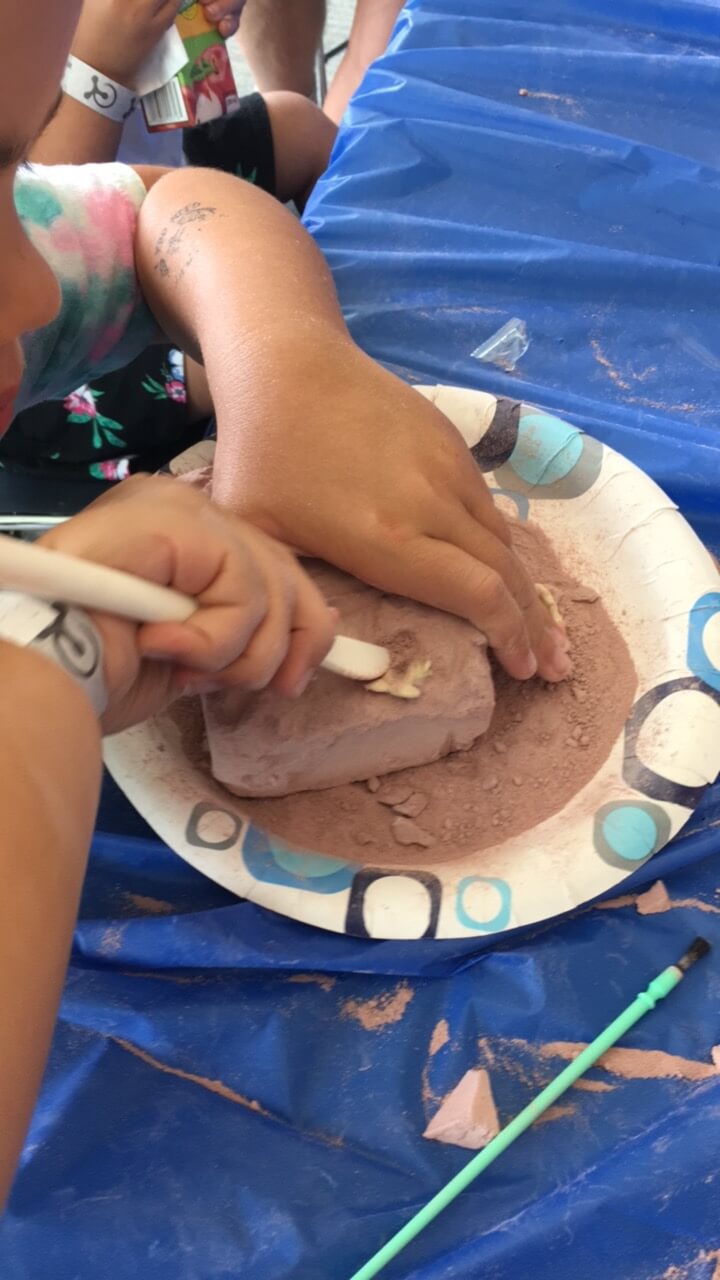 Prior to entering the outside dig site, my kids and I attended a preview where they were given a clay brick and were instructed to dig, using some tools and a brush, to reveal replicated fossils within their brick. Team members were there to help us along the way as they explained to look for any pieces that may be peaking out and to focus on uncovering those areas. Our guide explained that this was how real paleontologists started the dig process.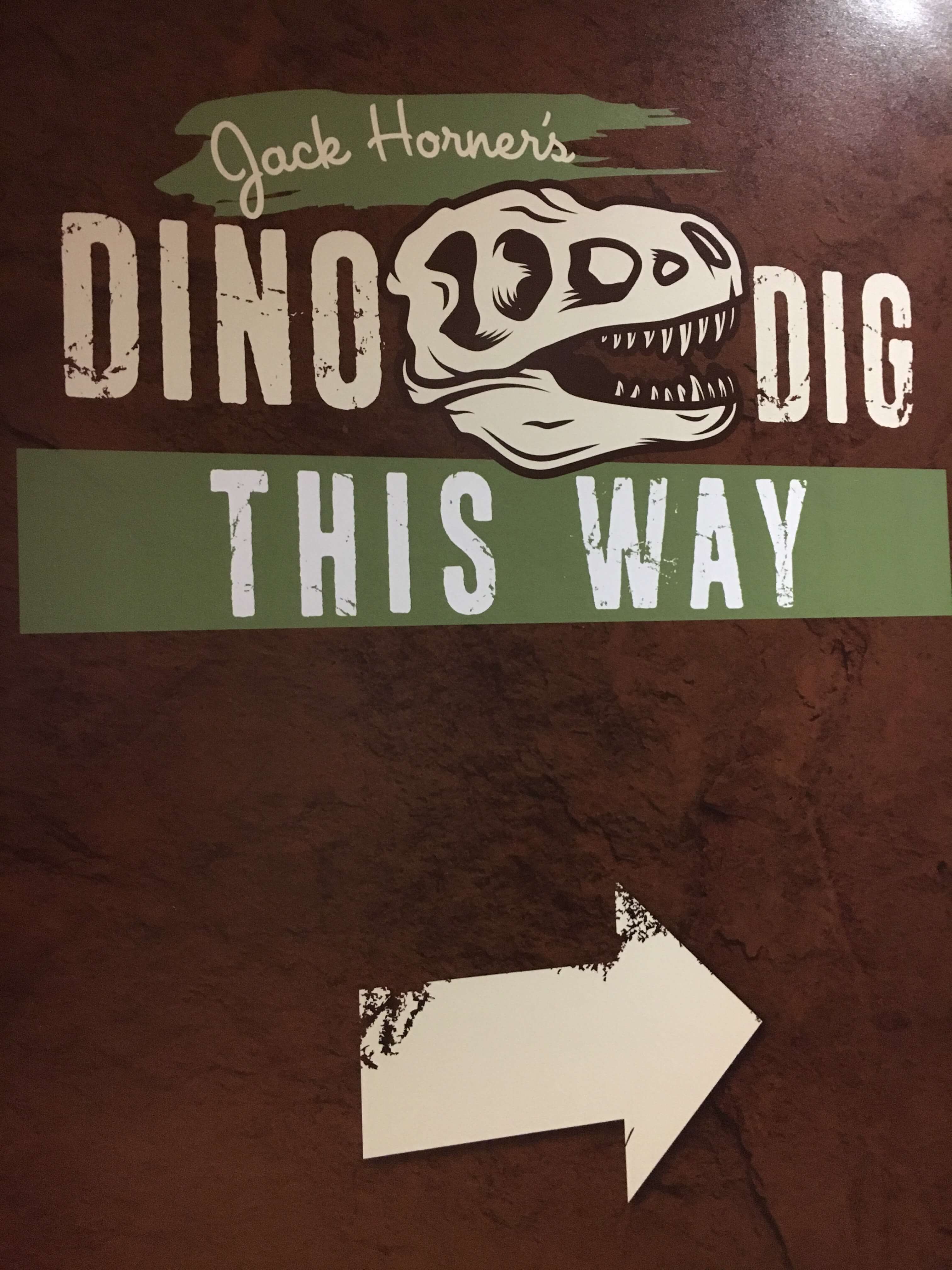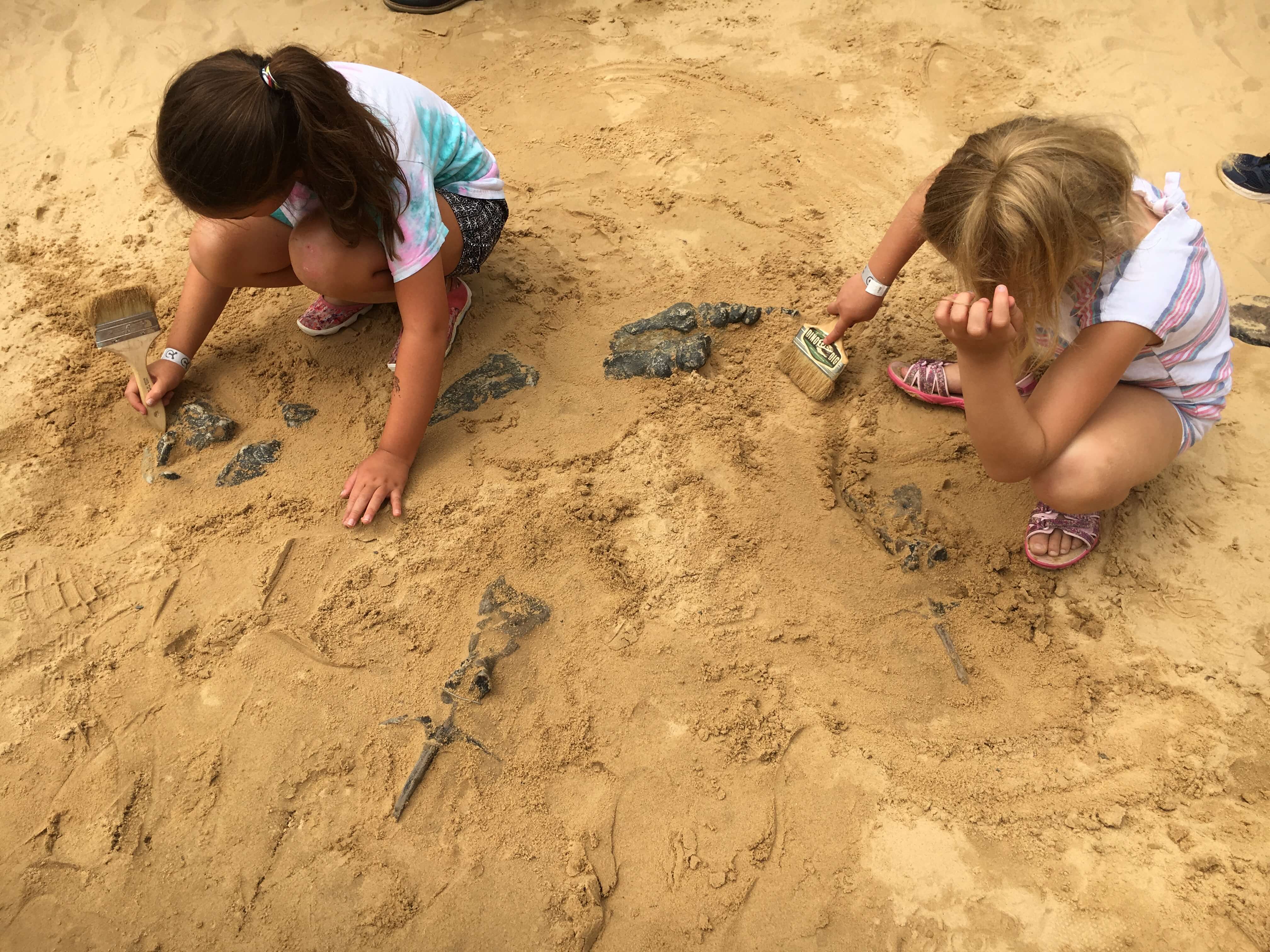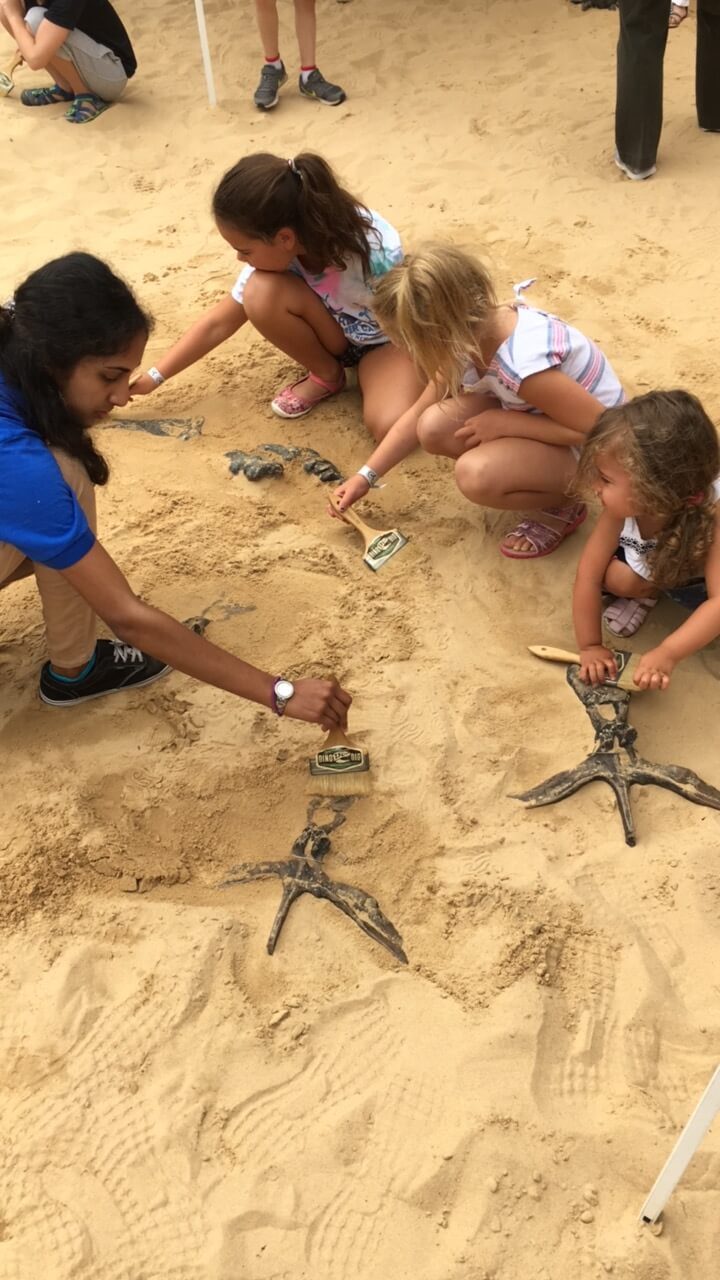 We then went downstairs to the outside dig area where my kids were each given a brush so that they could dig and uncover more than 50 replicated fossils, including the T. rex, a 72-inch long Triceratops, and Horner's discovery, Maiasaura, buried in 35 tons of sand.  As they were brushing away the replicated bones, they received help and insight from LSC's Dino Dig Guide Team as they asked them questions about what they were finding, revealing what type of dinosaur was located underneath as well as their characteristics, what they ate, and how big they were.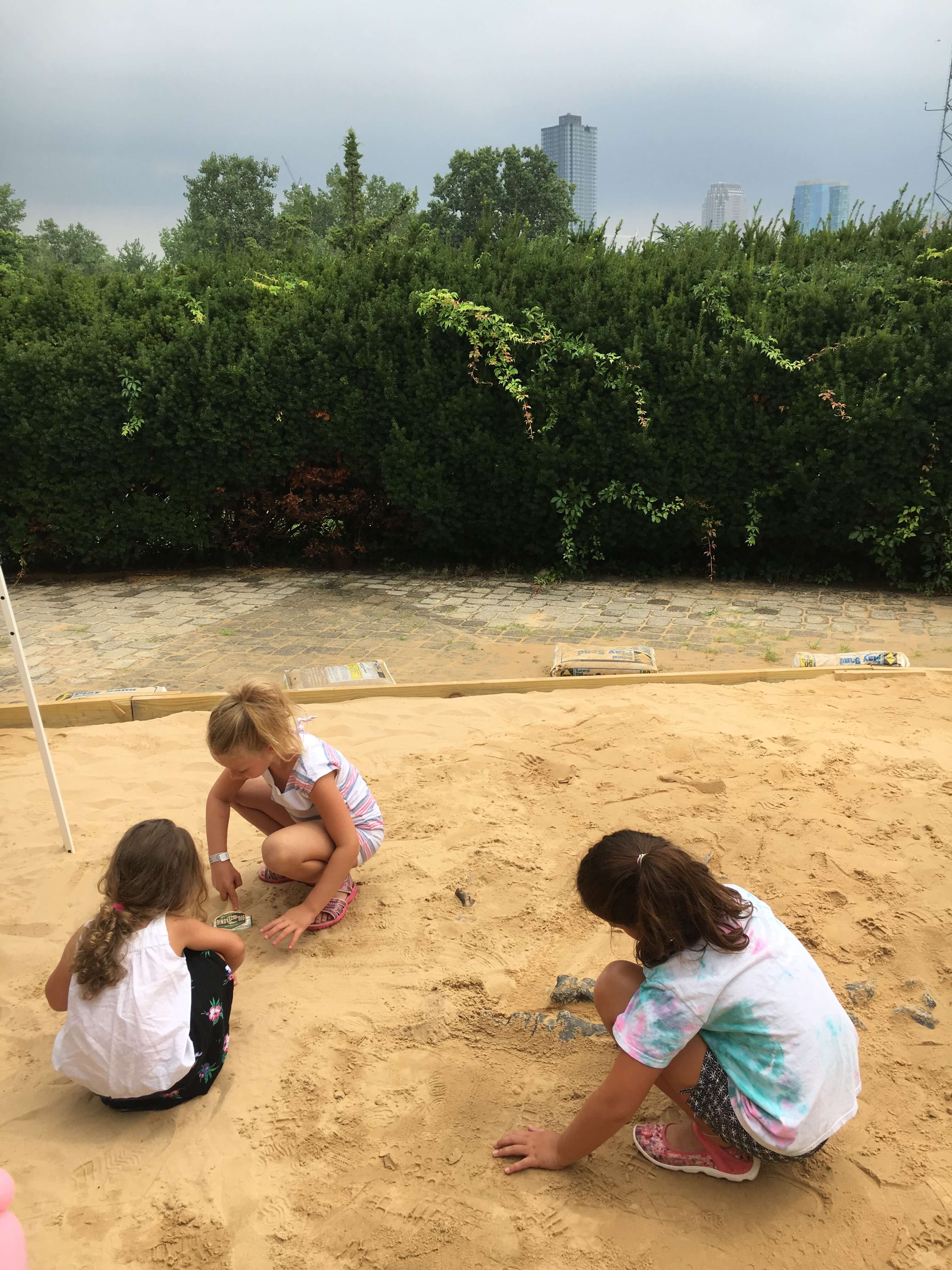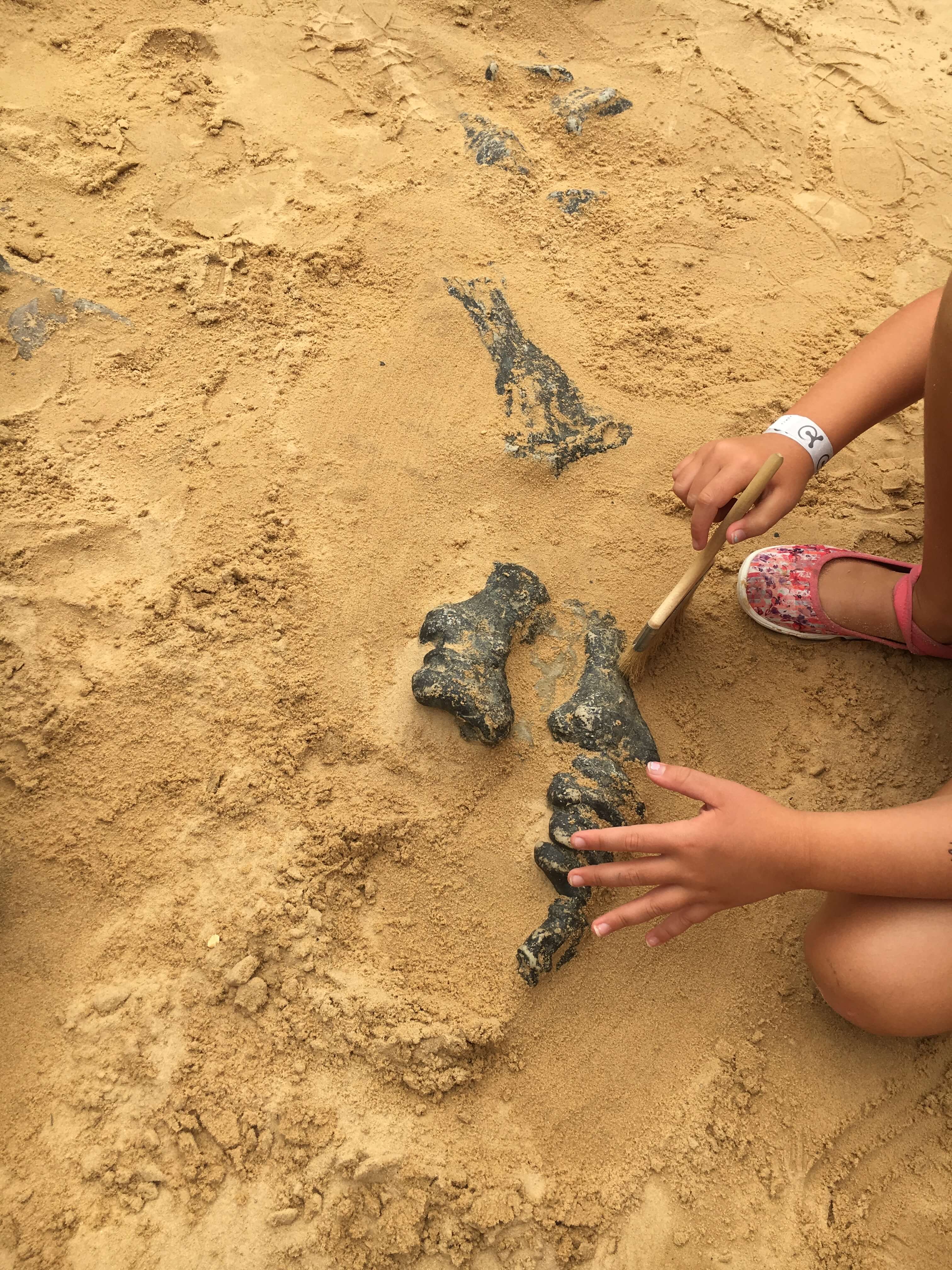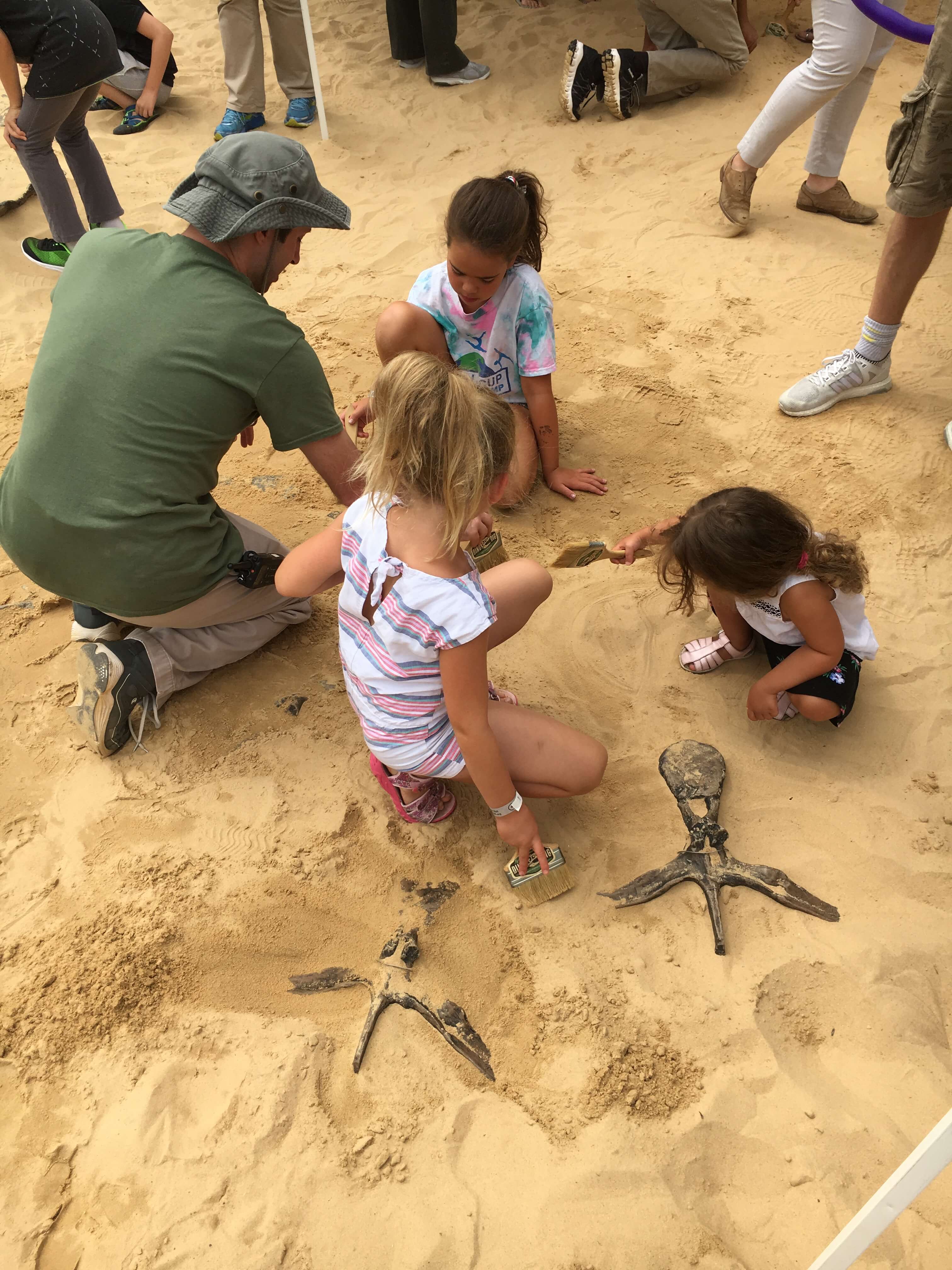 In addition to the dinosaur fieldwork that kids can get involved in, they also offer ways for kids to win big during the visit where they can participate in locating the resident stuffed dinosaur, Rex. Every week during Dino Days of Summer, the team at Liberty Science Center will hiding him in a new location and if you locate him, you'll be entered in a raffle to win dino surprises. They also have dinosaur facts posted throughout the building and a Dino Tales story time for young learners (check the schedule when you arrive).
Open from now through September 4th (Labor Day) and weather permitting, this fun new exhibit is a great way to get kids involved in the digging process as they learn more about dinosaurs, fossils, and the extravasation process. And guess what – everyone learned something and had a blast, too!
Dino spirt is appreciated at the Dino Dig, and always! **Kids wearing dinosaur-themed clothing can save $5 on a child's admission ticket.
Get there: Liberty Science Center, 222 Jersey City Boulevard; Jersey City, NJ 07305
Web: Liberty Science Center
WIN IT: We are so excited to partner up with Liberty Science Center to offer a family 4-pack of tickets. To enter, simply tell me what your favorite dinosaur is in the comments section. I will pick one winner, at random, on August 11th at 12am EST. Winner must reside in the US and be at least 18 years old.
**The dino spirit deal is good for up to 4 children per transaction and not valid for groups, for online purchases, or with any other discount. ​