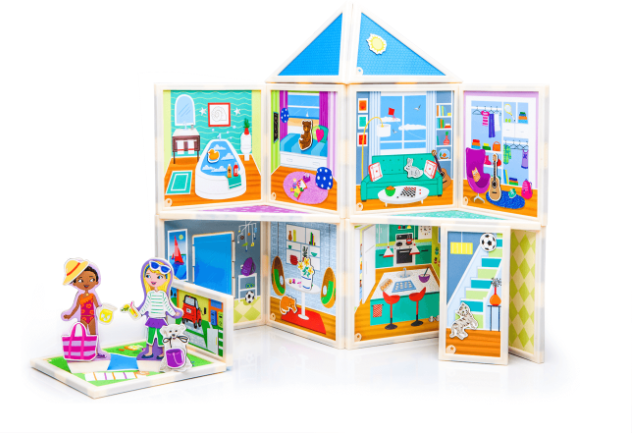 A dollhouse is a beloved toy of childhood. With most of lives being in various Brooklyn apartments, the idea of large dollhouse was daunting. This also increased as we had more kids and less and less room. Recently, I discovered a new magnetic dollhouse from Build & Imagine, allowing the girls to create  and change up their dollhouse structure (and story) every time they play. Bonus: it fits in a box!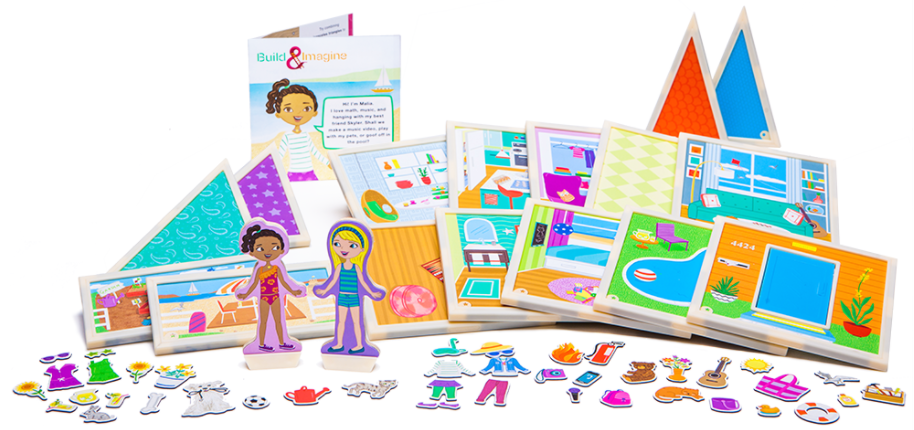 Founded by Laurie Peterson on the belief that "what we play with matters," I was excited to test out the Build & Imagine magnetic play sets with my daughters as a way to inspire building and storytelling. These sets include an incredible collection of illustrated building sets, such as Fairytale Theater, Marine Rescue Center, Pet Portrait Studio, and our favorite Maila's House. Featuring 58 pieces, kids ages 4-8 years old can design the house anyway they wish as they use some of the props to inspire and guide your story. This includes a vegetable garden, Maila's bedroom, a garage and more.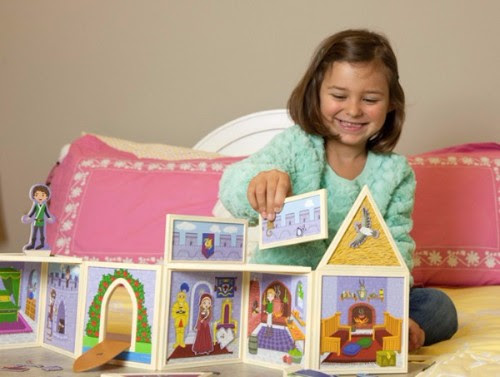 The coolest part of this whole experience is that each building panel is magnetic, so that the story and the rooms can change every time. As kids build their creative skills, they are also developing early engineering skills, building skills, STEAM skills, reasoning and even communication skills. My girls love the fun accessories (the kit includes 40)  and placing the girls (and their pets) in various rooms. In addition to the compact nature of the kit, I also love their are no rules and limits to what my daughters can create and imagine. Rooms can be mixed and matched or followed it order, it really doesn't matter because the world is all up to the child that creates it!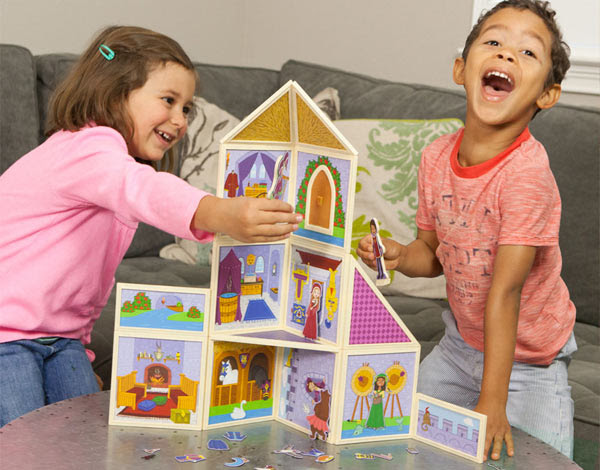 Another favorite feature is the Build & Imagine StoryWalls are travel friendly. Since they stack flat, they are easy to transport and store, which will hopefully, squash boredom when you're on the road.
The company recently released another StoryWall play-set, called Creativity Castle, which is scheduled to be sold exclusively on QVC this holiday season. The magnetic castle scene building set with wooden dolls joins Build & Imagine's growing line of magnetic play-sets that inspire storytelling. The Creativity Castle building set encourages boys to play, too. There are two wooden characters, Willow and Dane, as well as 63 magnetic accessories that attach to the dolls and walls. Additionally, Build & Imagine has won more than 25 awards for its five existing toys in the last two years, and its line will grow to nine items by fall.
For more info, please visit www.buildandimagine.com.
We were provided a sample for review. All opinions are my own.