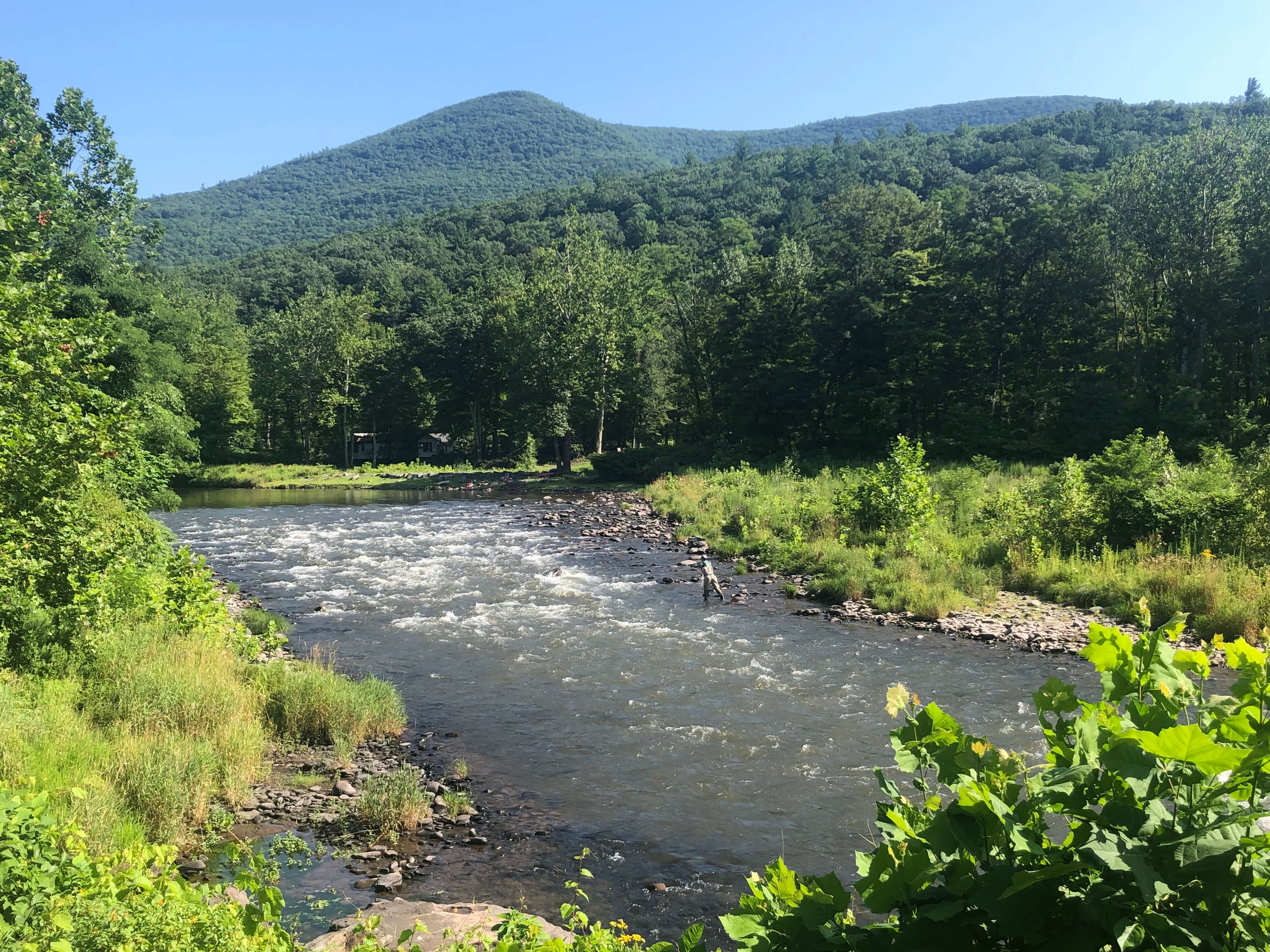 The summer has been so busy with the kids all over the place at camps that it was nice to finally slow down and enjoy a weekend away in the Catskills  amongst the mountains, luscious greenery, and open-aired spaces.
Having spent some time in the Catskills over the years, this trip open us up to even more ways to soak in its beauty and rediscover this special area that's only around 1.5 hours from Westchester.
Check out a few our favorite things to in the area, including more about our stay at the Emerson Resort & Spa.
Family Travel Adventures to the Catskills: What To Do
Emerson Resort & Spa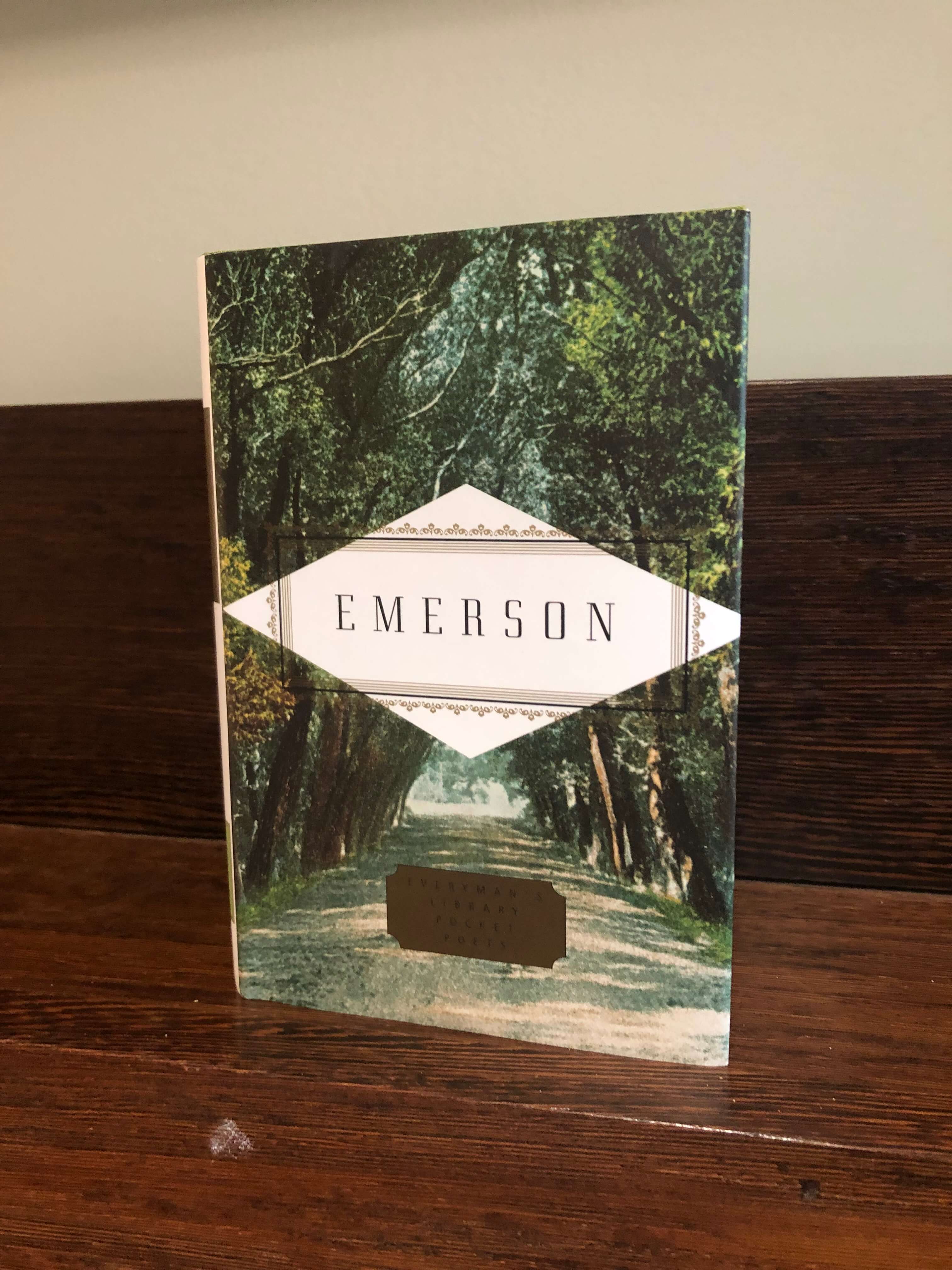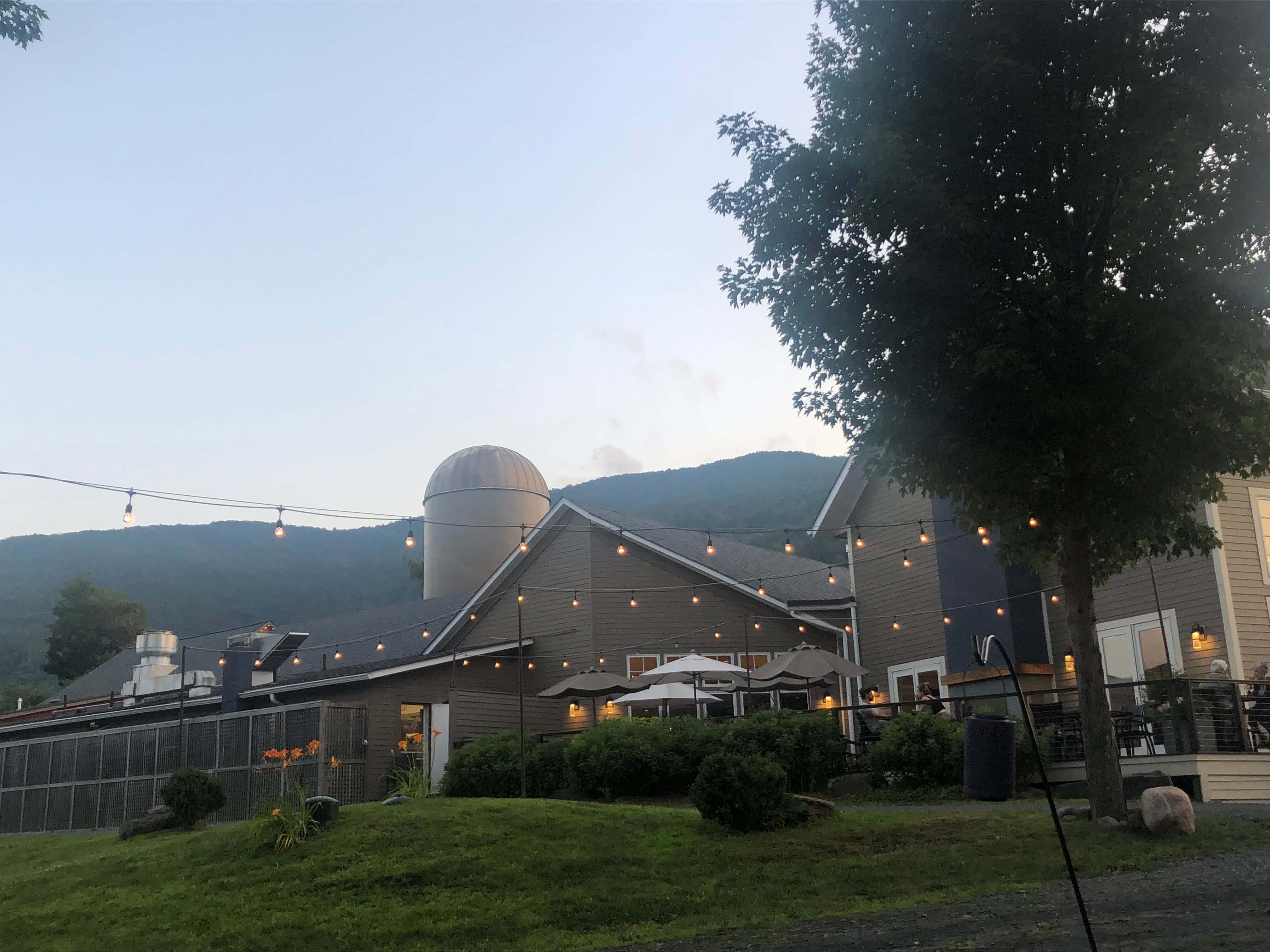 Named after the poet, Ralph Waldo Emerson, the Emerson Resort & Spa is a boutique hotel located on a sprawling 20-acres of land, overlooking the lush Mount Tremper and the Esopus Creek.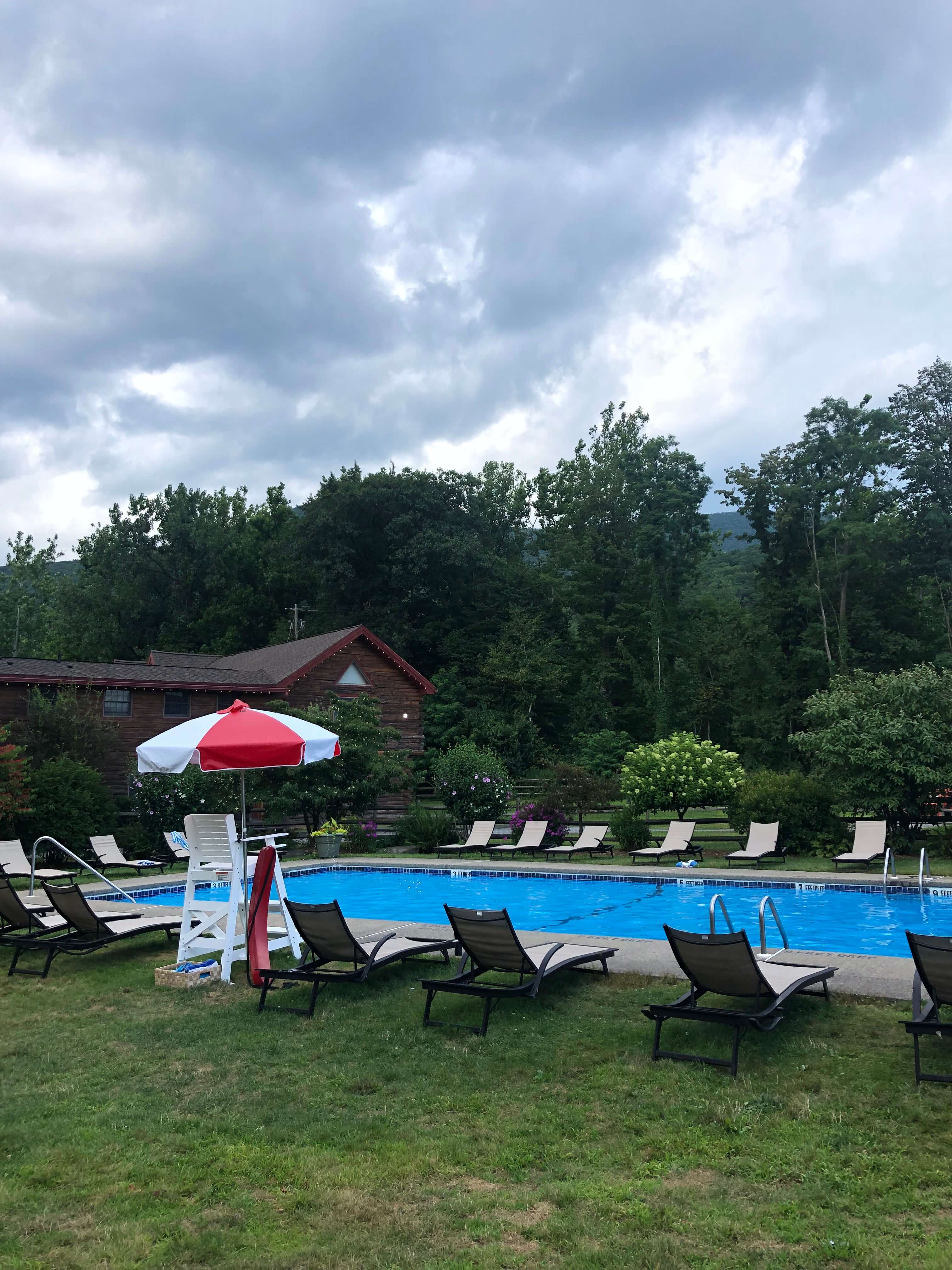 After check-in, we quickly unpacked and headed for the outdoor pool. Being a connected resort, the pool was basically in our "backyard" where the girls excitedly jumped in, and, of course didn't want to come out. The pool house also had floates, goggles, noodles, etc so there's no need to pack that extra stuff or rest assured if you happen to forget them (like us!).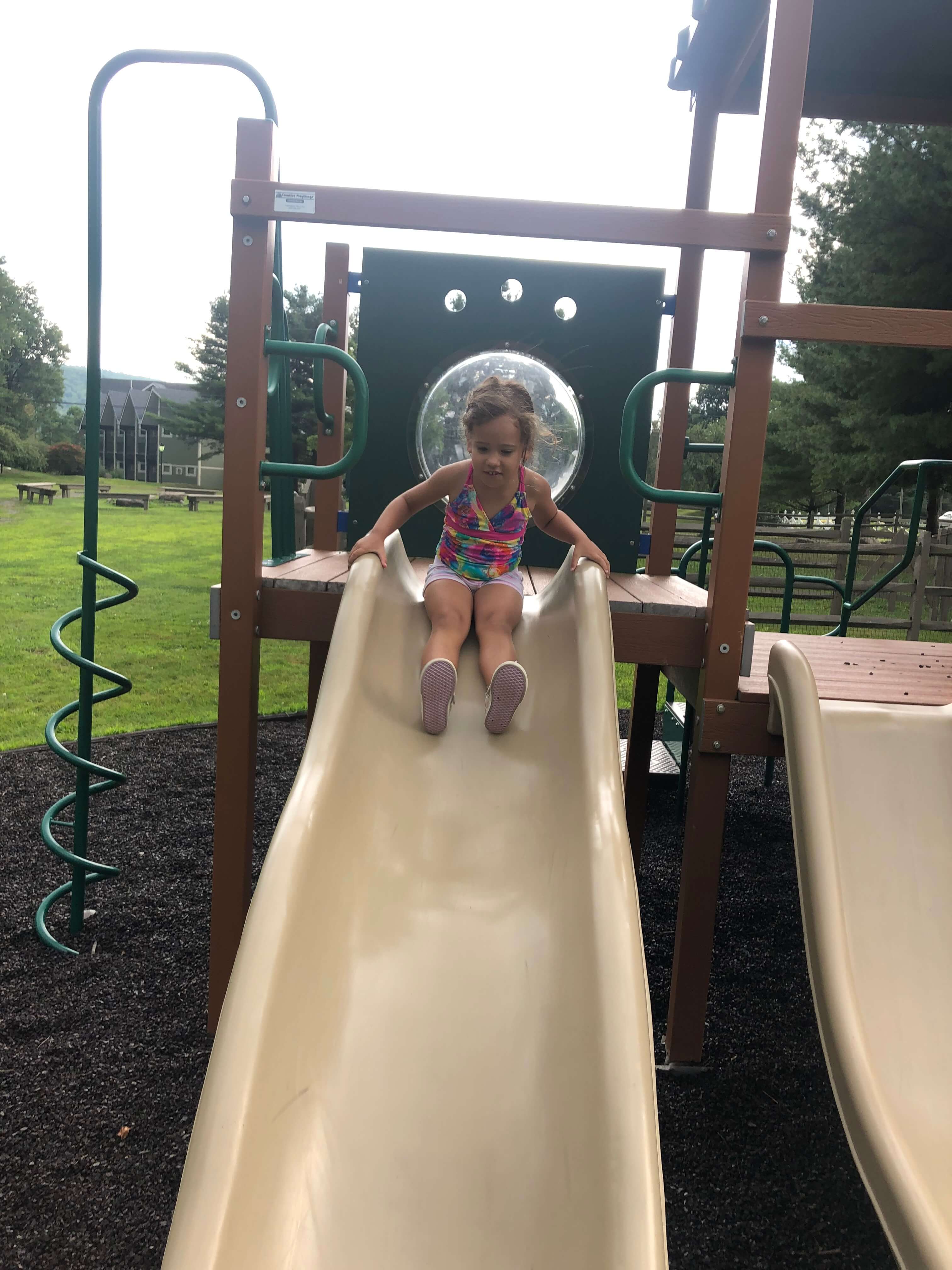 The pool is also located next to a playground area which was awesome for my four-year-old who loved climbing and going up and down the slide. There was also a dog park area in this area, and logs for s'mores.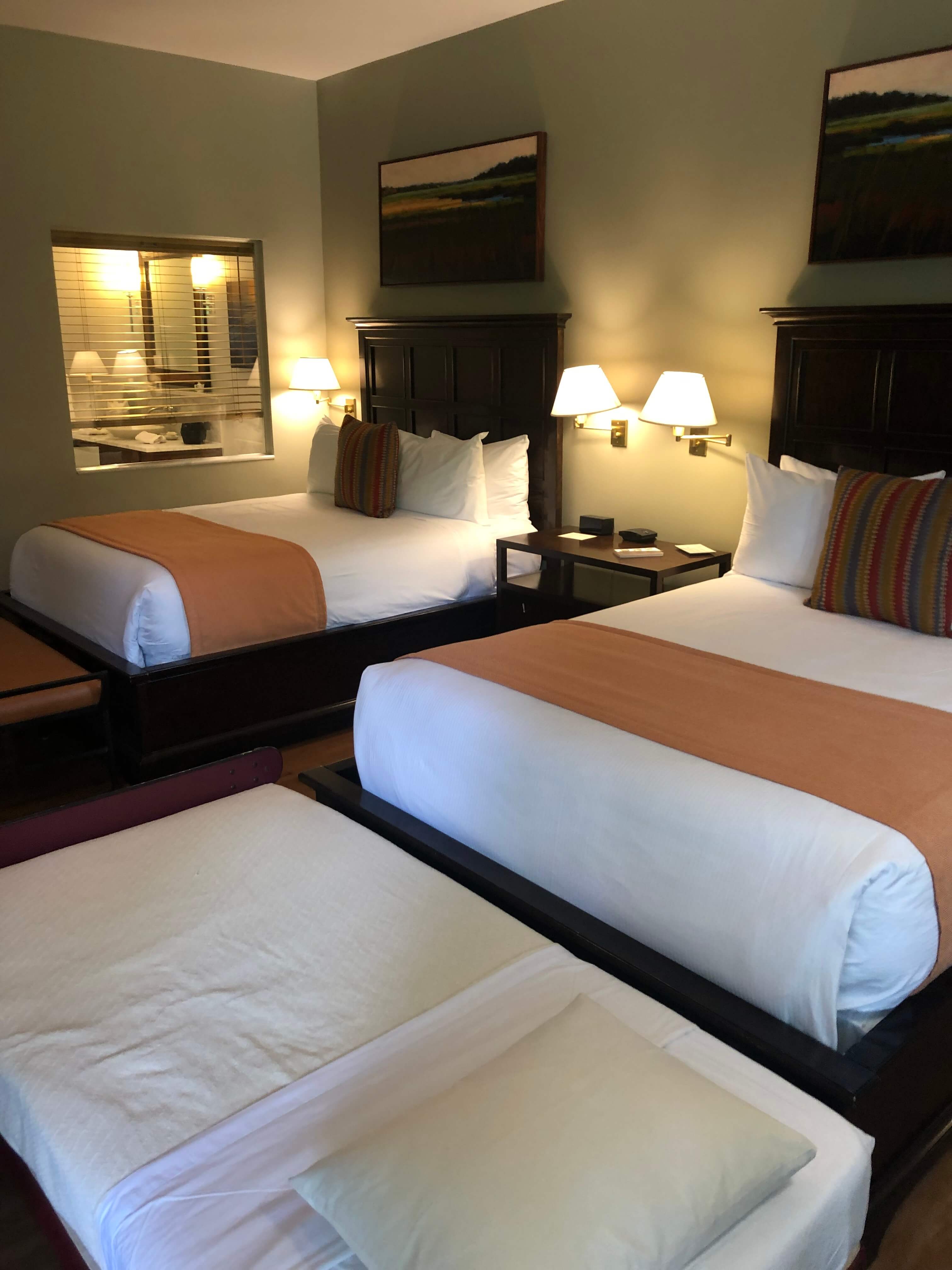 The rooms themselves were also really cozy and peaceful. With all five of us in one room, the hotel provided us with a cot, which was perfect for my four-year-old, and we had special amenities like a fireplace and outdoor seating. The Queen beds were also incredibly firm and comfortable and the bathroom was grand with a huge tub and separate shower that we all loved. The rooms also came with a fridge, which I always appreciate when I travel with kids for all of the fruit and drinks that I like to bring with us.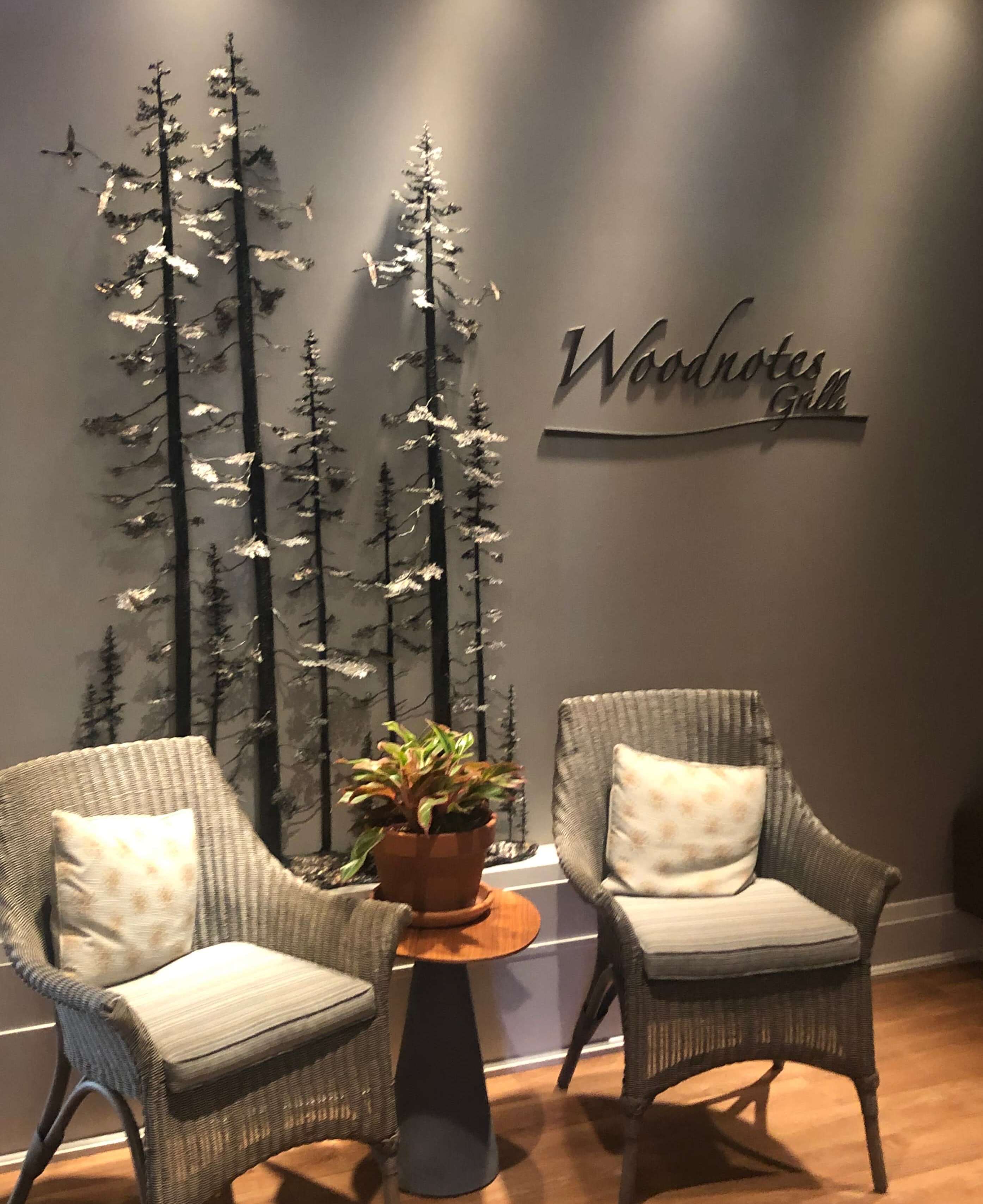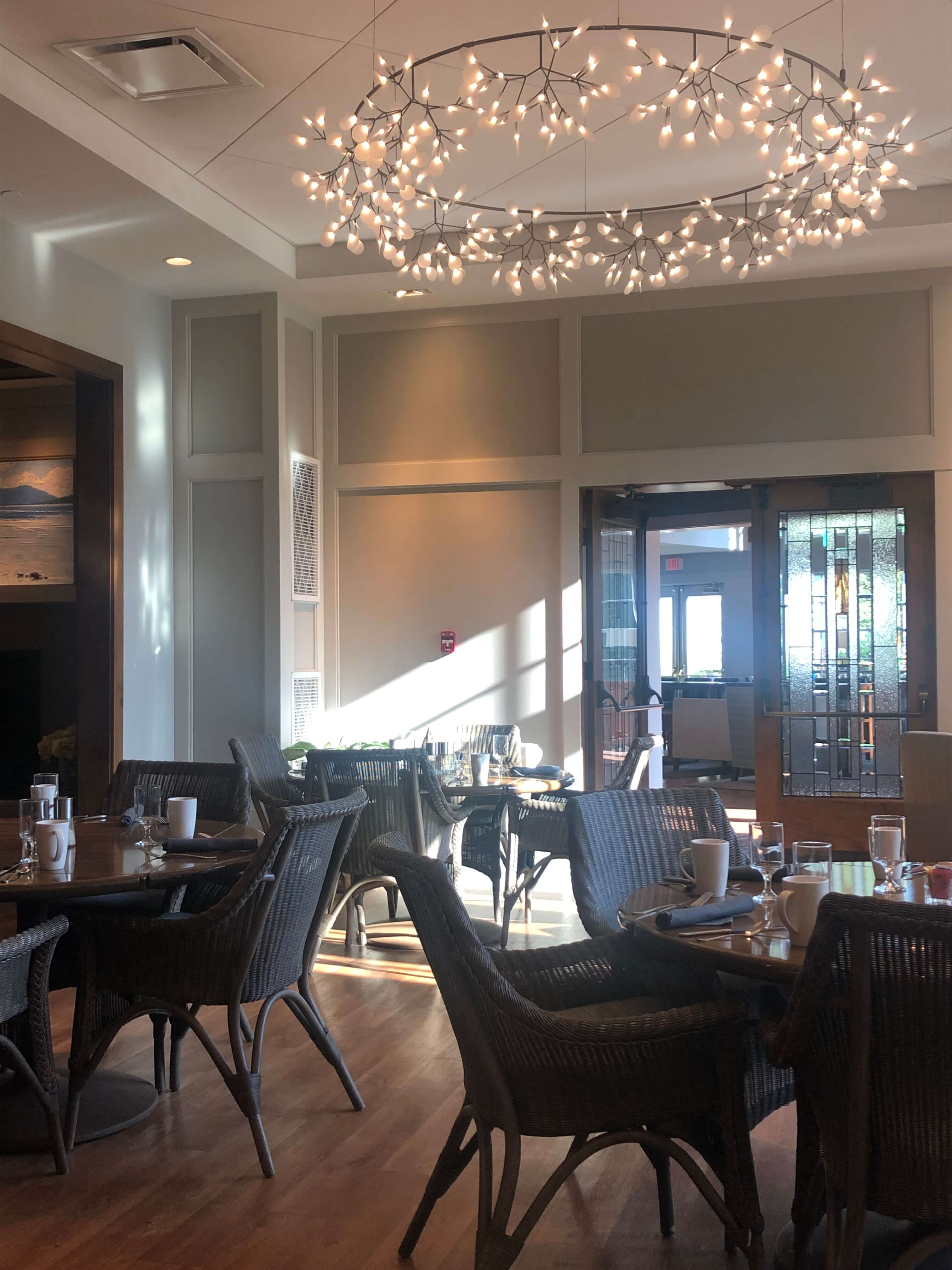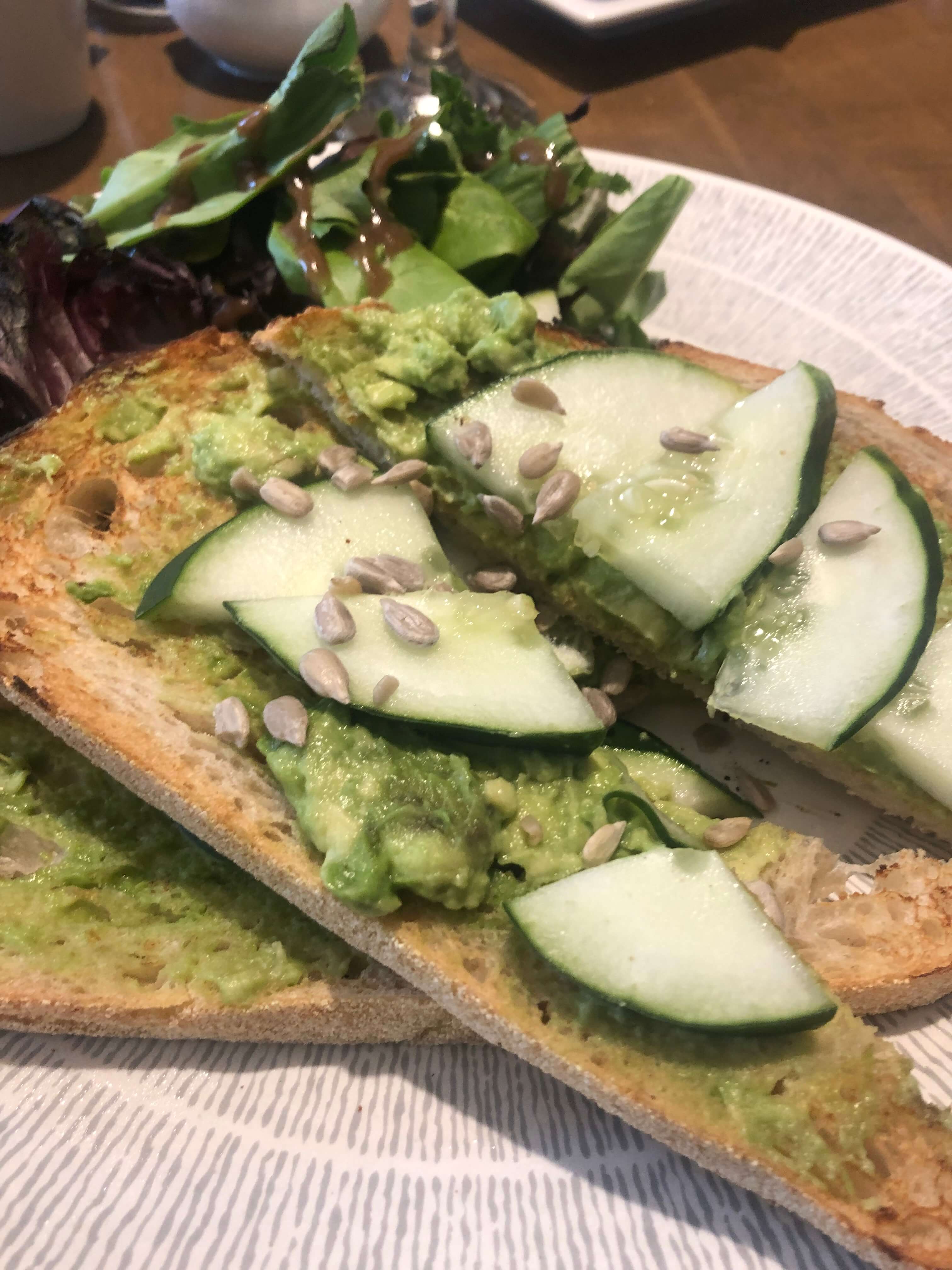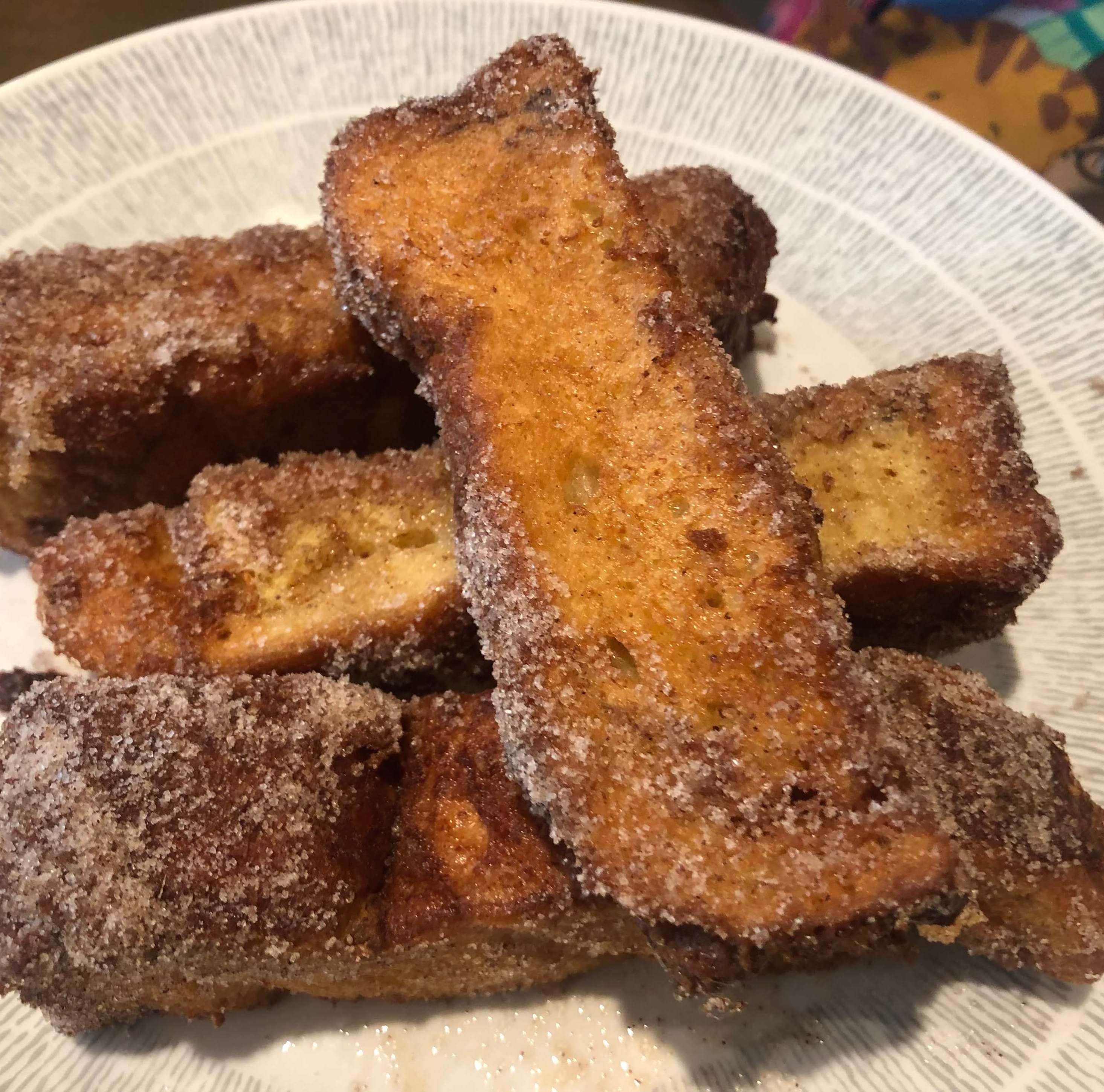 While staying at the Emerson we also enjoyed breakfast at its on-site restaurant, Woodnotes Grille. The menu included a little bit of everything like an egg sandwich on a brioche roll, homemade corned beef hash, quinoa granola, omelettes, and tons more. We opted for the pancakes, french toast sticks, and avocado toast, and pots of coffee that did not disappoint!
We also enjoyed some light breakfast bites at Ralph's of bagels, croissants, and yogurt parfaits as well as coffee, which is complimentary for all guests at Emerson.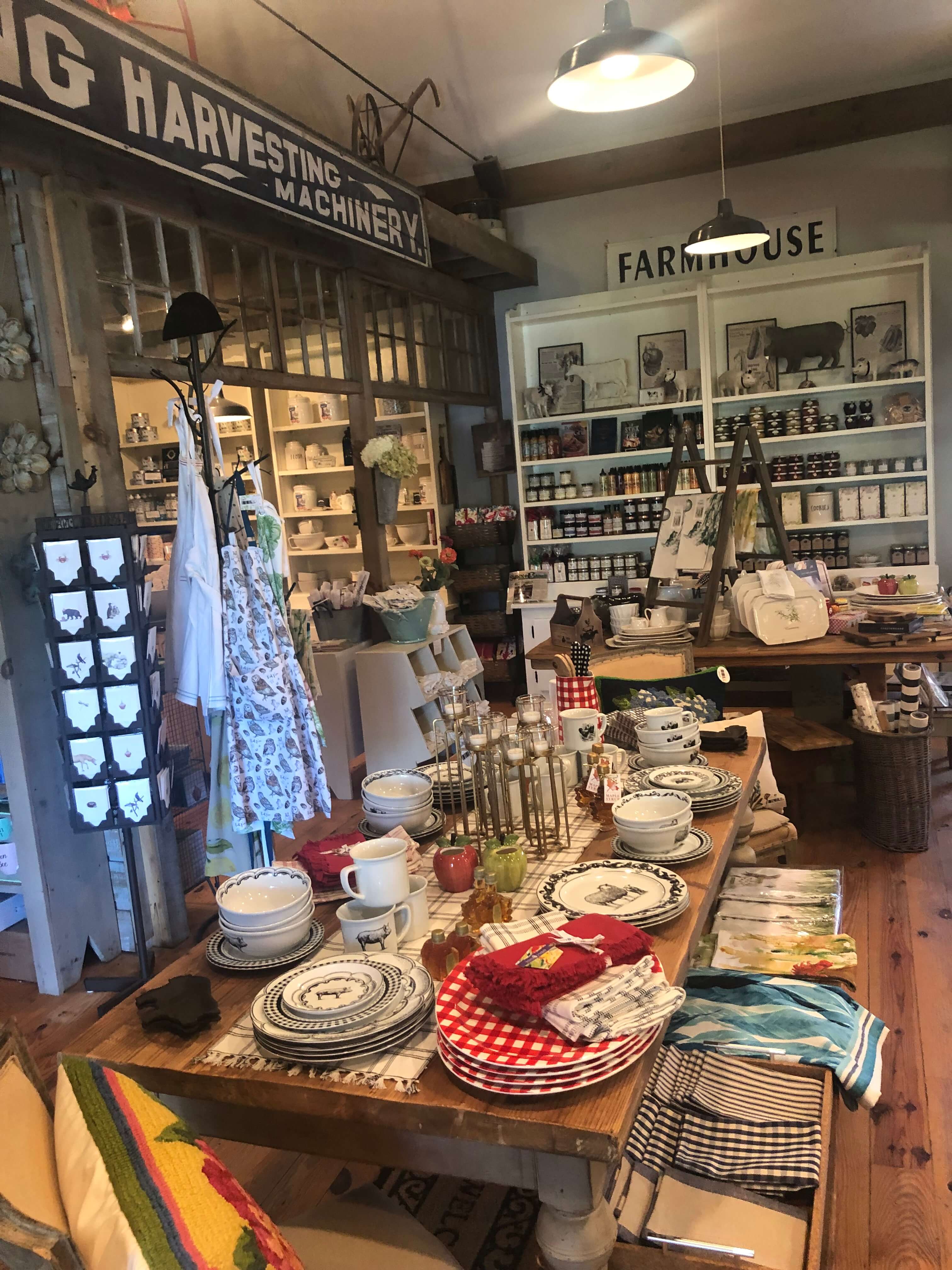 Connected to Ralph's, you'll find a series of country stores in the barn, which was actually in 1860, and converted to stores 20 years ago. Emerson Country Stores includes Emerson's Toy Chest,  the Kaleidoscope Store, the Emerson Men's Shop, Melina's Boutique, Waldo's Trading Post, and Emerson Home and Garden. Here, you'll discover local products as well as a mix of curated brands for gifts, or items that you might have forgotten.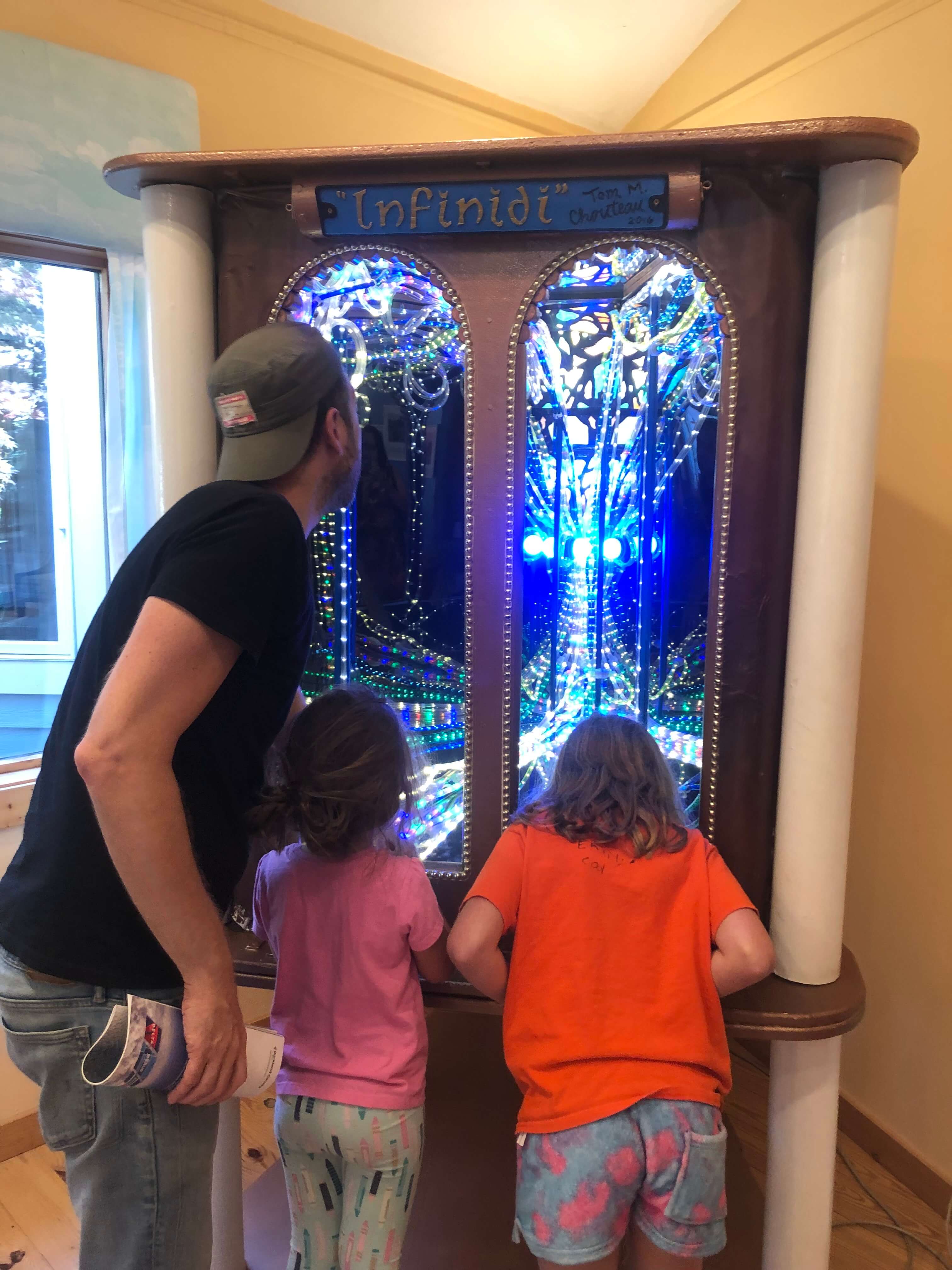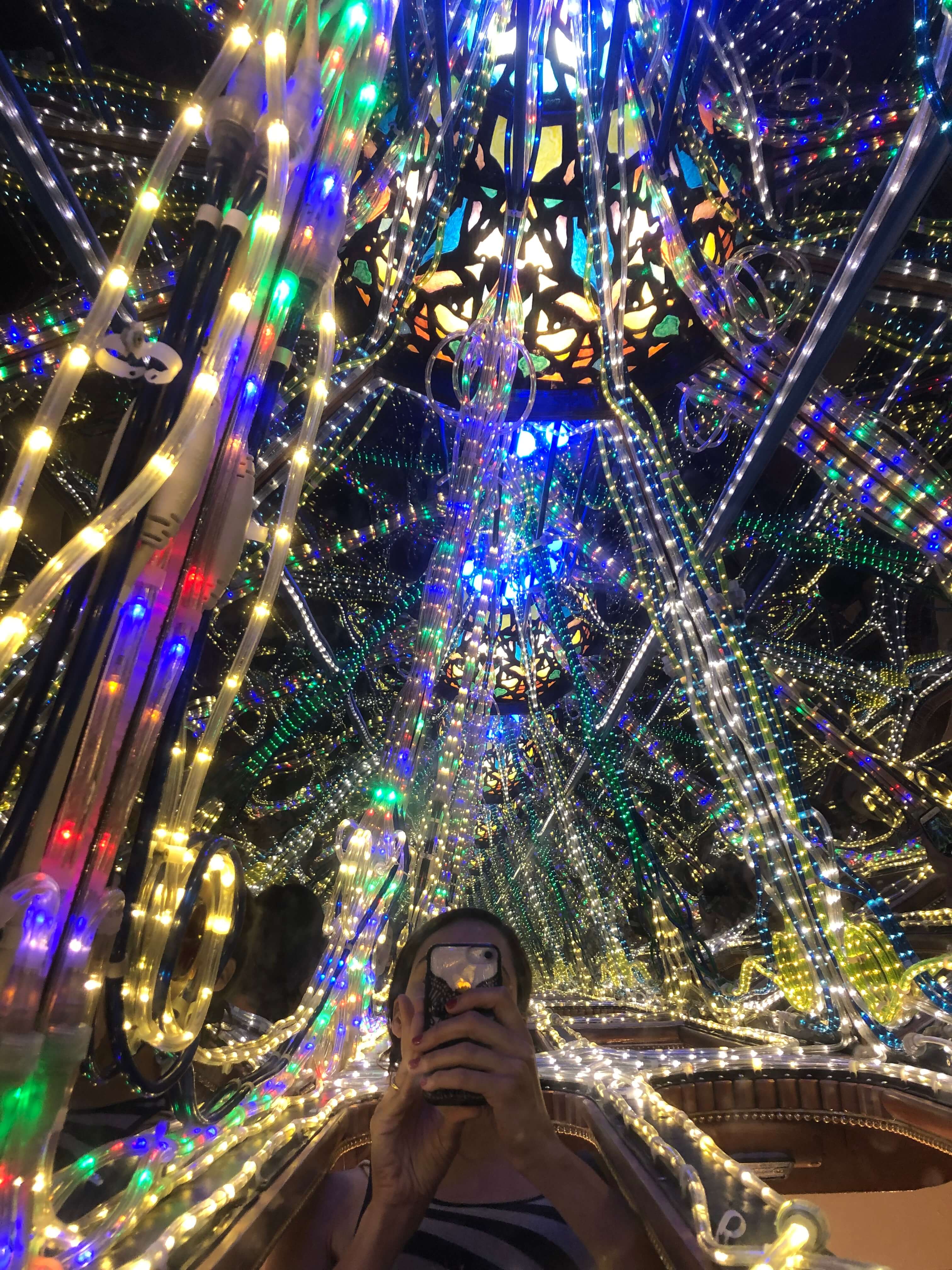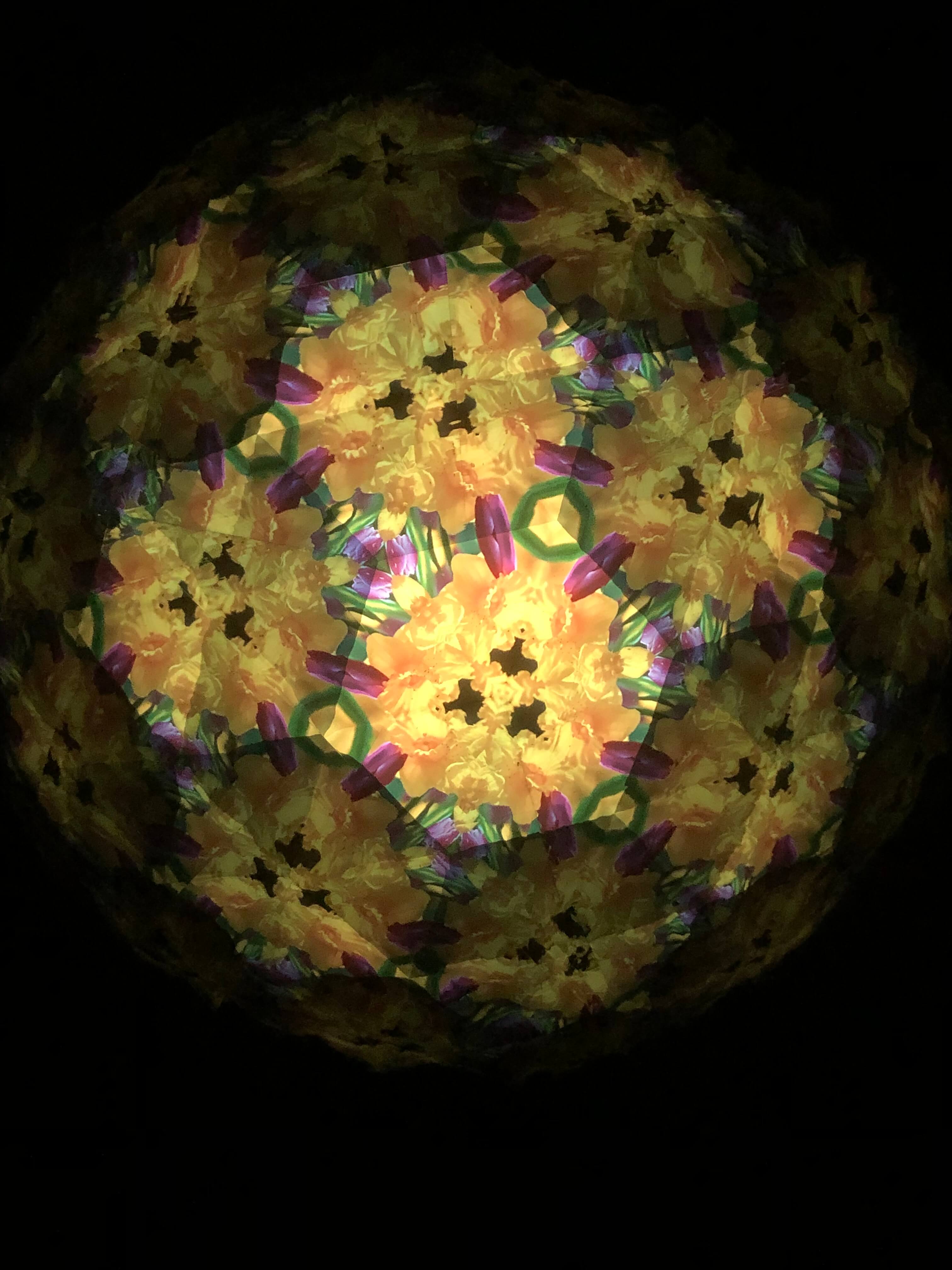 In the Kaleidoscope Store, we loved checking out the World's Largest Kaleidoscope, where we viewed a 56-feet tall and 38-feet silo of ever-changing colorful images. Certified by the Guinness Book of World Records as the world's largest a kaleidoscope, the 10-minute show with theater-quality surround sound that was incredibly relaxing and mesmerizing that creates "a precise pyramid tapering from 15 feet at the bottom to five feet at the top, which reflect a constantly evolving virtual sphere with a 50-foot radius."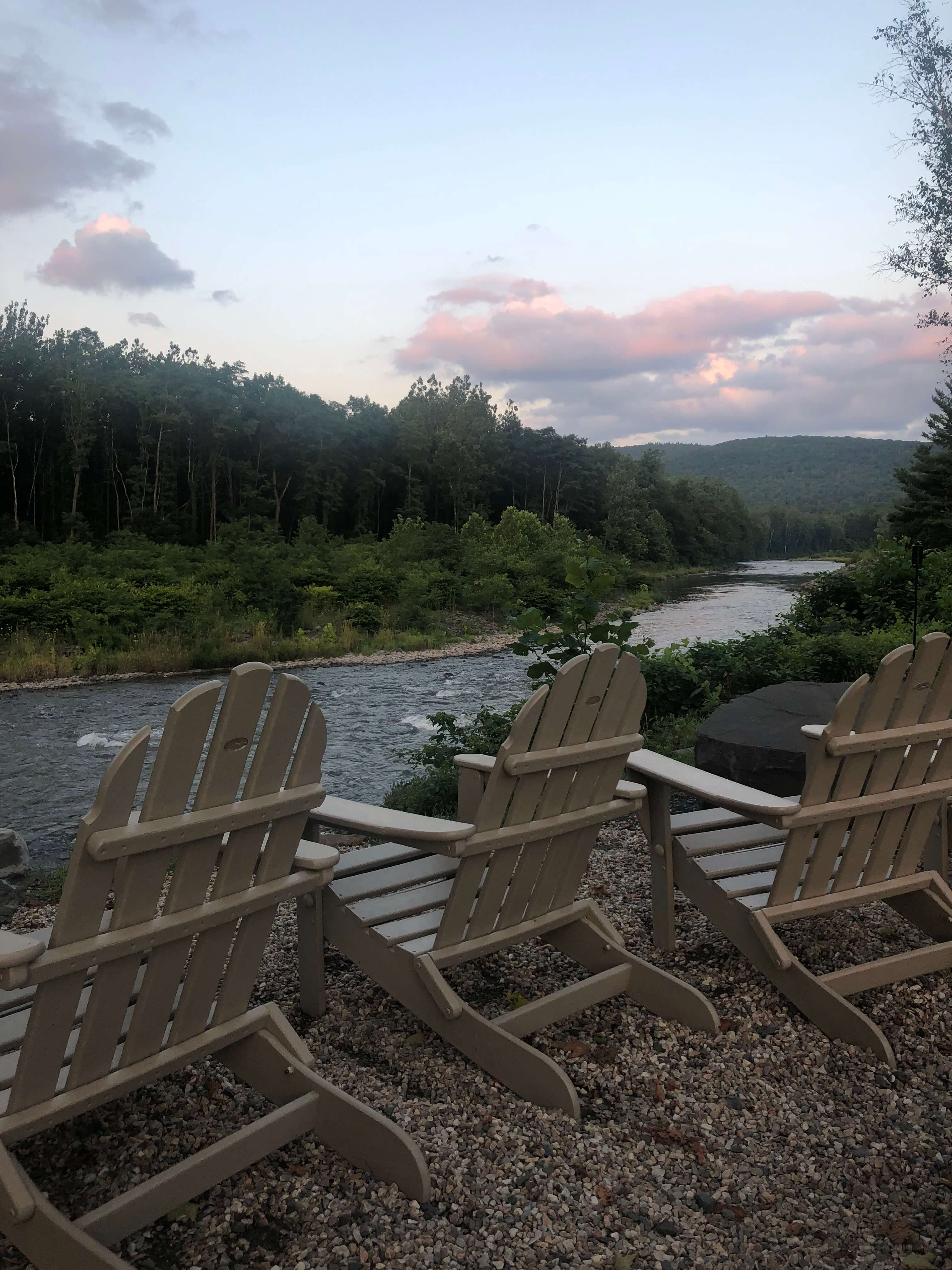 After our day of adventures in the Catskills (more on that below), we found peace in the mountains by making s'mores right outside of Woodnotes Grille. The team at Emerson provided us with a s'more kit where the girls loved roasting and making their sweet creation by the rolling waters. It was the perfect end of the day and a little detail that meant so much to the girls.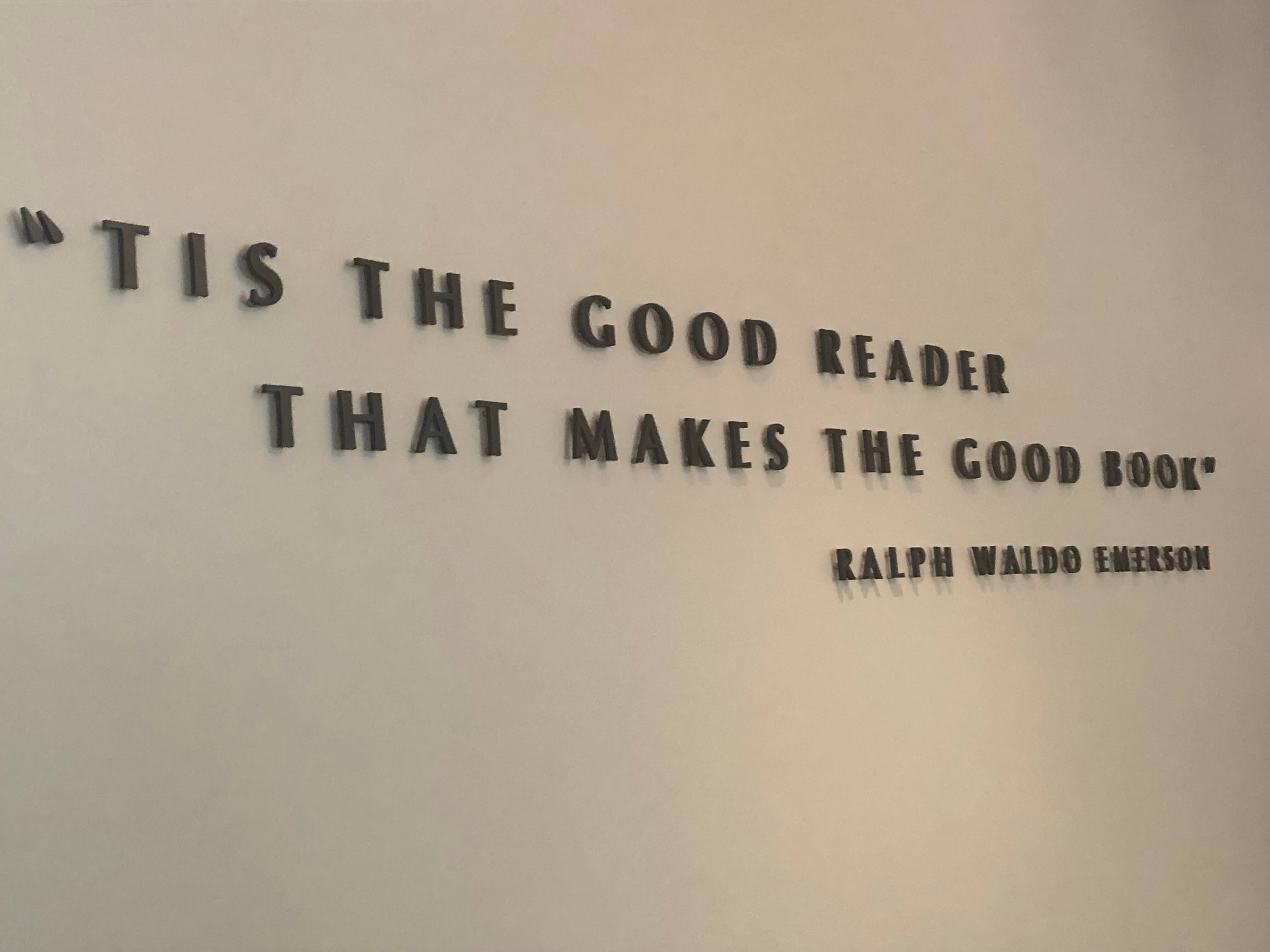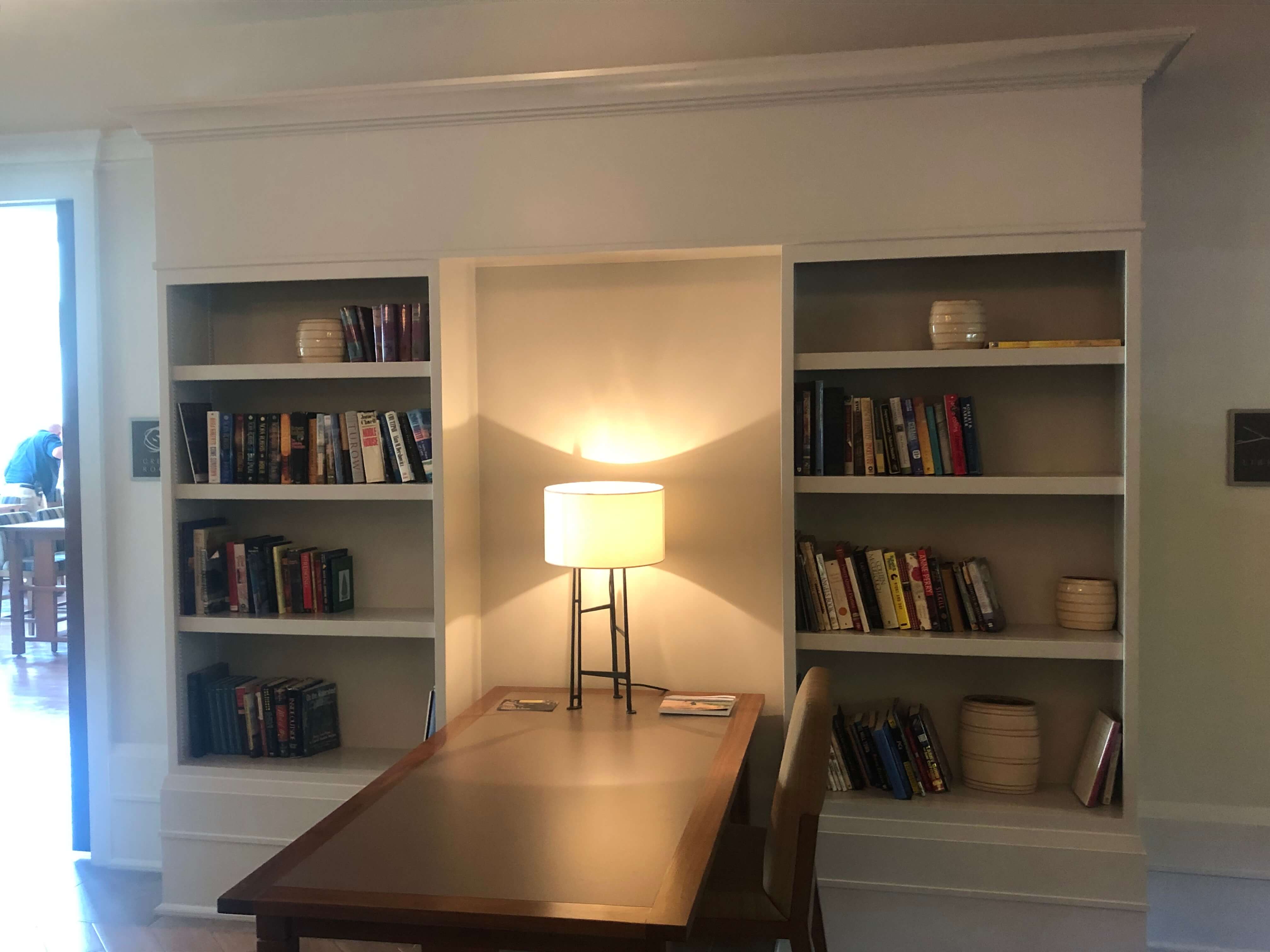 The Emerson also has a lot of special nooks and crannies throughout the property, including The Great Room where you can read one of the books in their library, relax or work, or stare at the massive chandelier. They also have an on-site luxury spa where you can receive a variety of treatments such as a massage or soak in the hot tub; a nail room for manicures and pedicures; a hair and make-up room; a spacious fitness room, and fitness classes where you can take Yoga, Core Workouts, Pilates, and more.
Personally, I loved how the Emerson Resort & Spa wasn't your typical kid hotel, offering a little something for everyone. We loved how peaceful and calming it was that served as an incredible base for all of our nearby activities. And the calming quotes from Emerson was a welcome addition to the overall vibe and ambiance of the resort.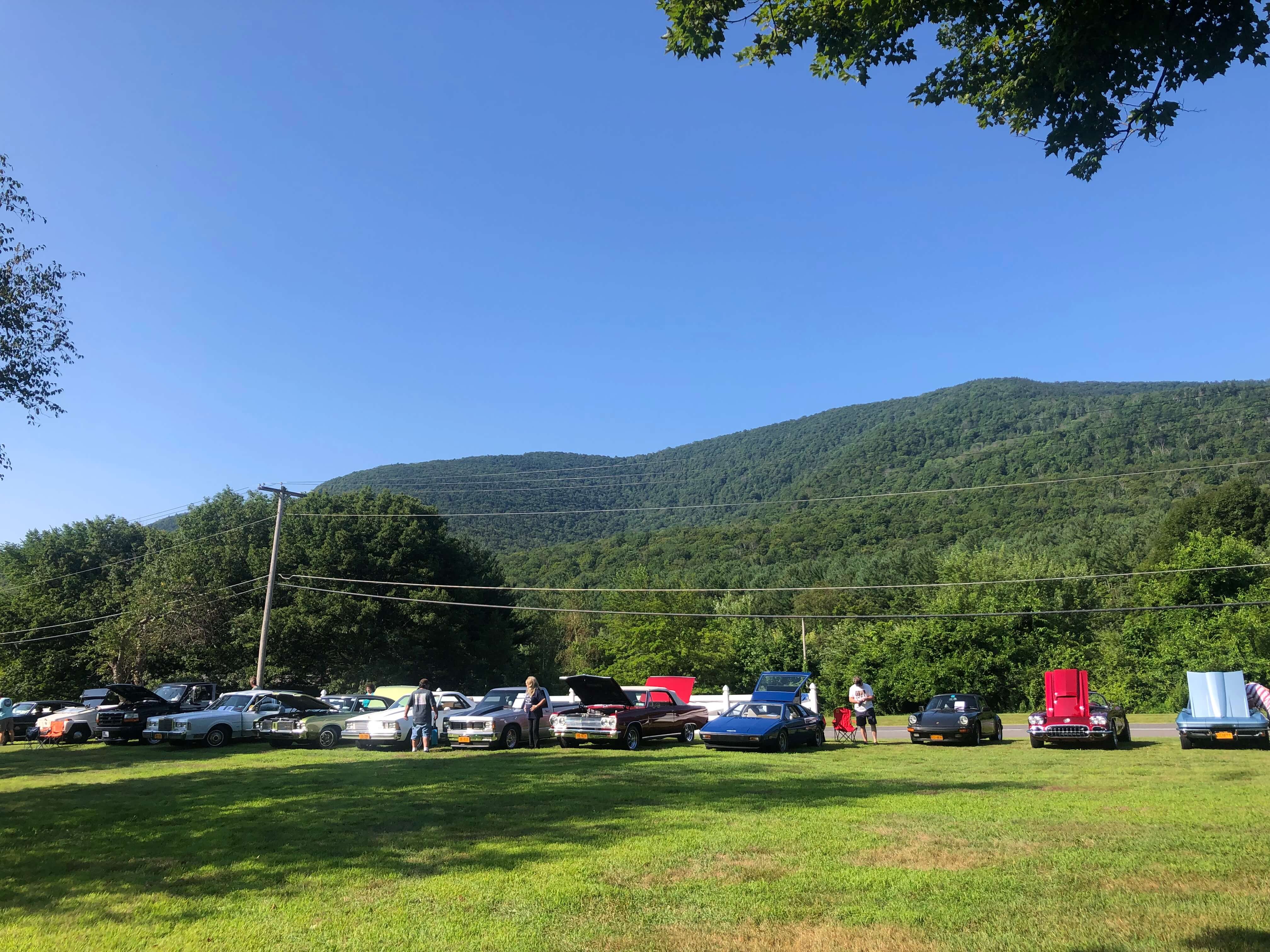 They also have a ton of events (there was a car show when we were there) and things to do throughout the summer, such as Kids Movement Classes for ages 4-8 on select Saturdays. The class encourages kids to explore and express creative movement in a safe and playful environment, while learning basic dance techniques, healthy exercise habits and spacial awareness.
They also have a "Camp Emerson" which includes indoor/outdoor pop-up play tent, lantern and a ghost story book for $70, as well as the "Wishin' I Was Fishin" amusement which includes rod, tackle box and camp chair.
They also offer nature hikes on the property and have tons of other events throughout the summer like Open Mic Nights, Trivia, Music, and more.
Hiking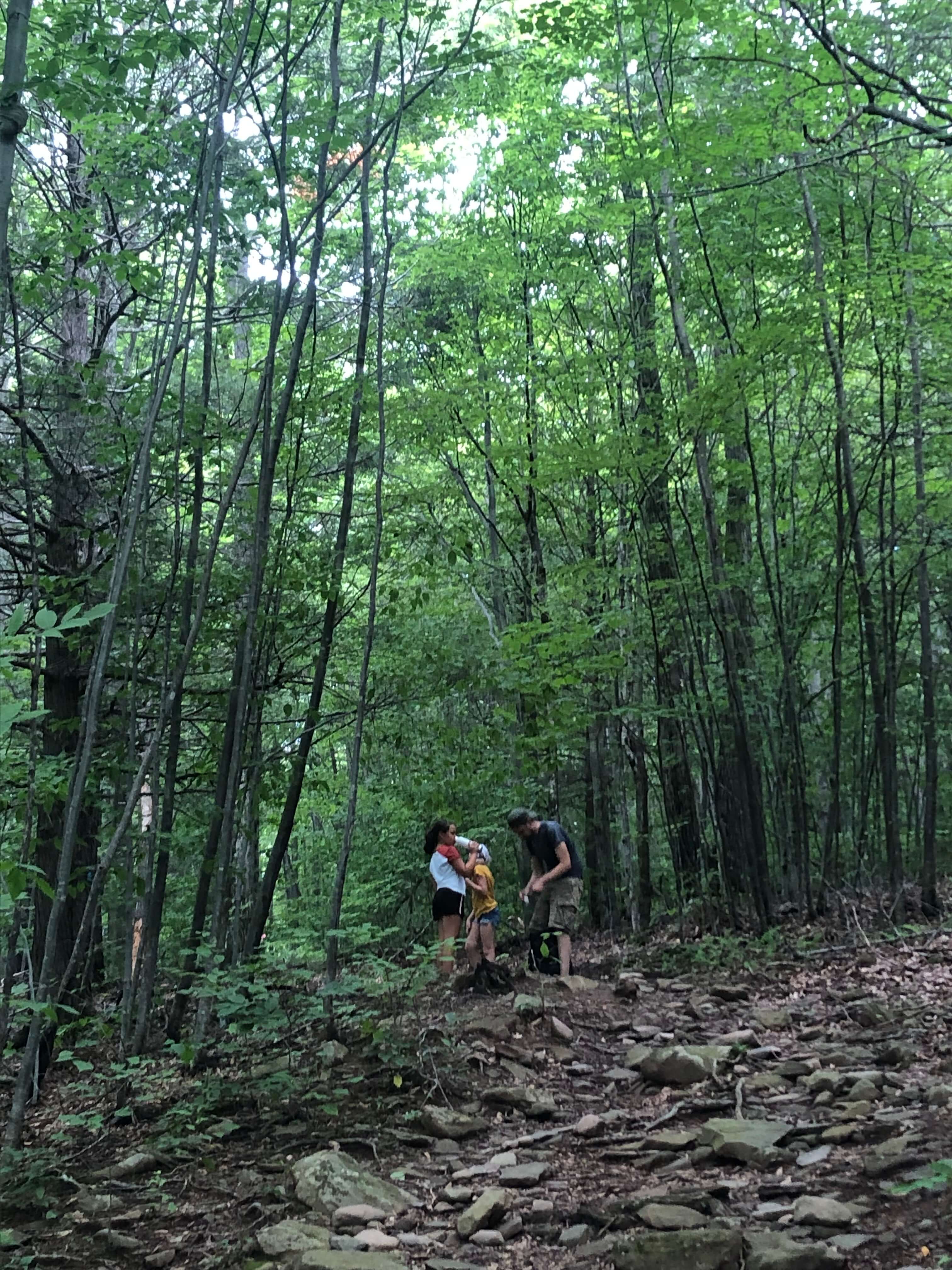 Being in the Catskills, we thought it was the prime opportunity to hike with the girls. We have done a bunch of hikes in Westchester over the years but never anything too intense. Well, that all changed during our recent adventure where we climbed the Tanbark Trail in Phoenicia.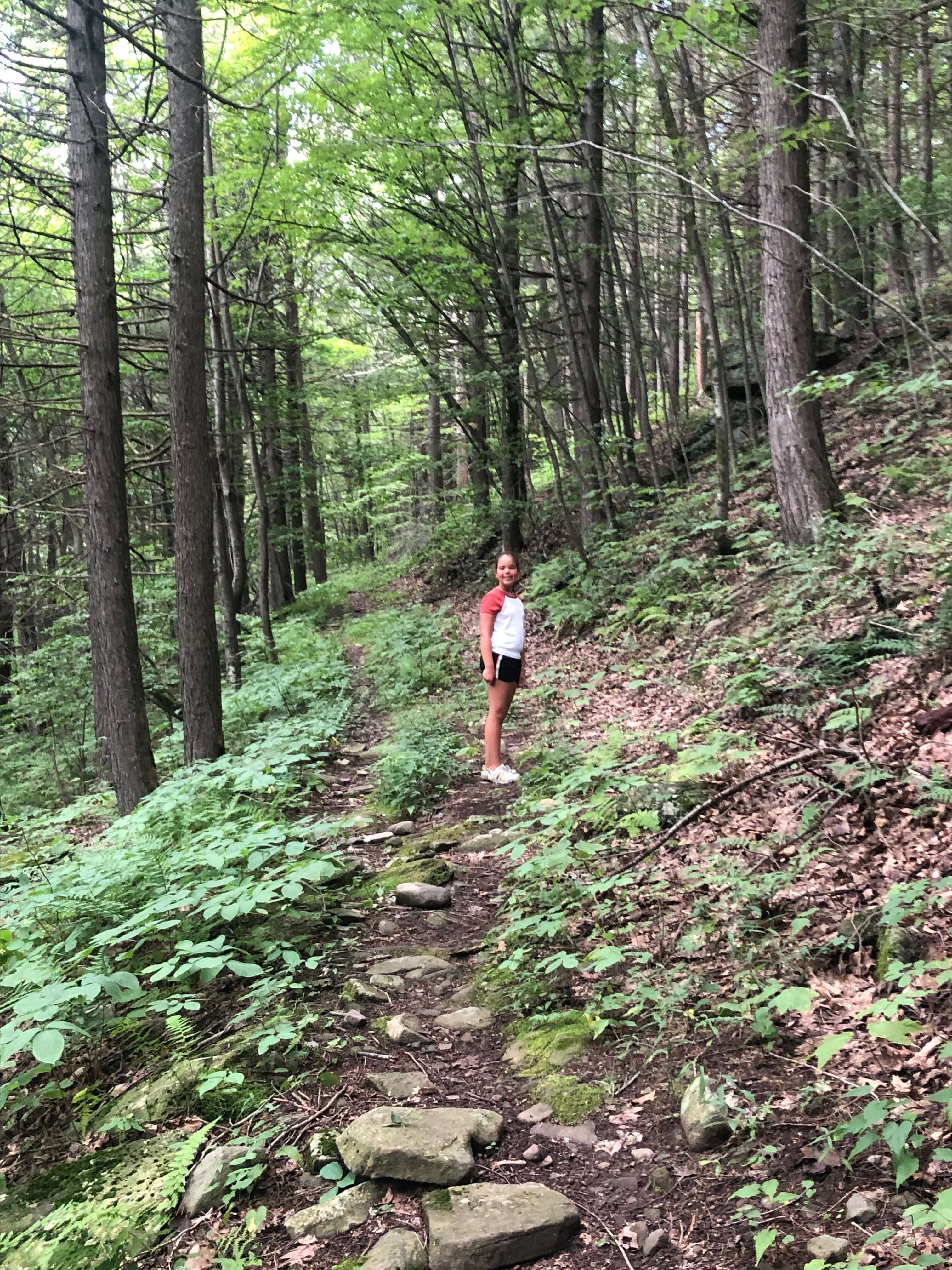 A 2.1 mile loop, the hike was described as mild, which we thought would be a good fit for the kids. We should have realized that we would have an adventurous experience when we started and the trail was incredibly narrow and steep. After a few minutes, the trail did let up with more room to move and it was well-shaded–making the temperature incredibly comfortable.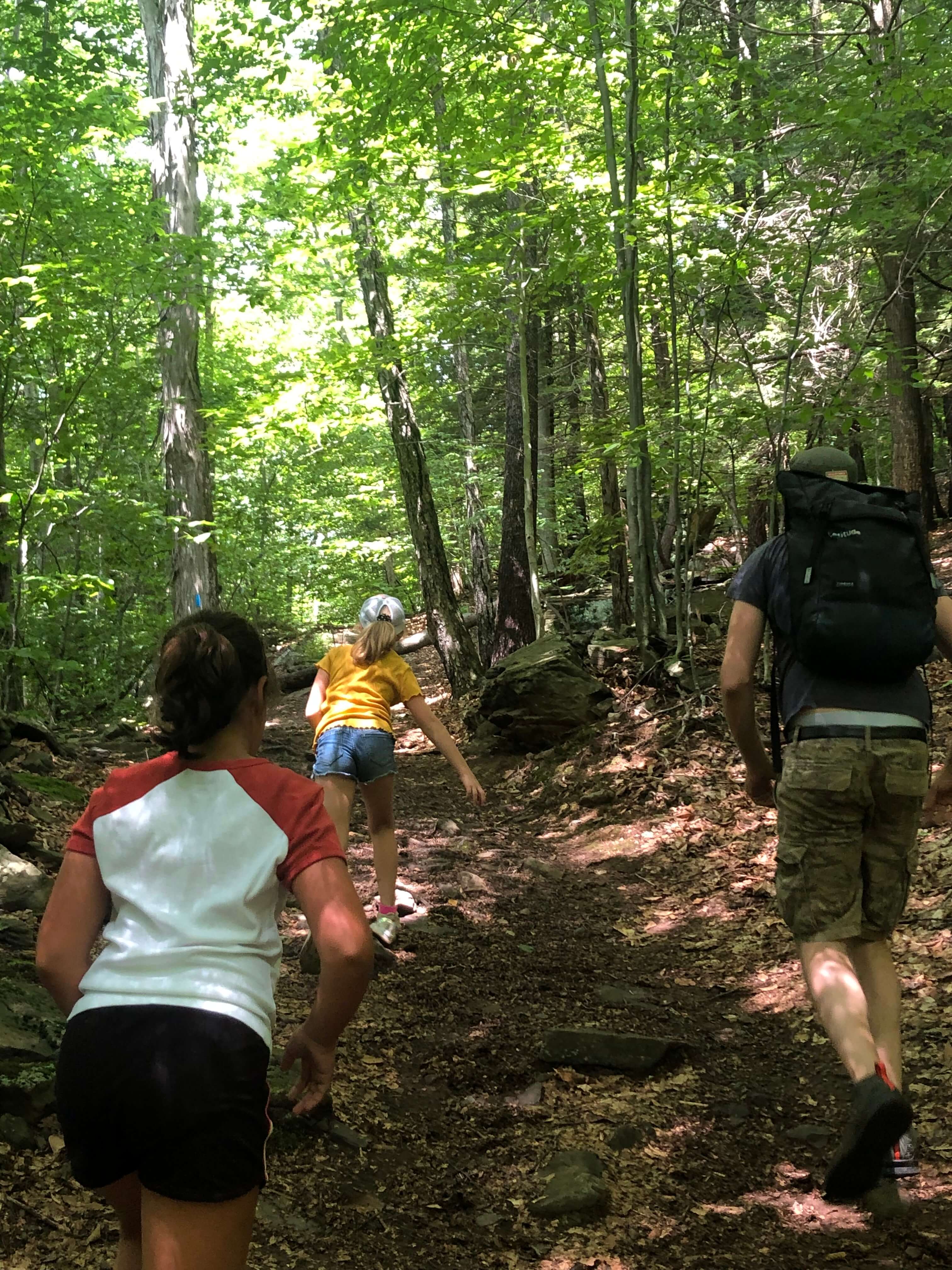 The views from the top were breathtaking and magical that overlooked the mountains. When it finally finished, the trail let out at Phoenicia Park which the kids were excited to see and play in as we looked up at the hike, amazed at what we just accomplished.
Where to Eat
In the past, we have loved the Phoenicia Diner and Sweet Sue's (highly recommend both) but this time around we ventured to Kingston to try Ole' Savannah and Woodstock Brewery for two of our dinners.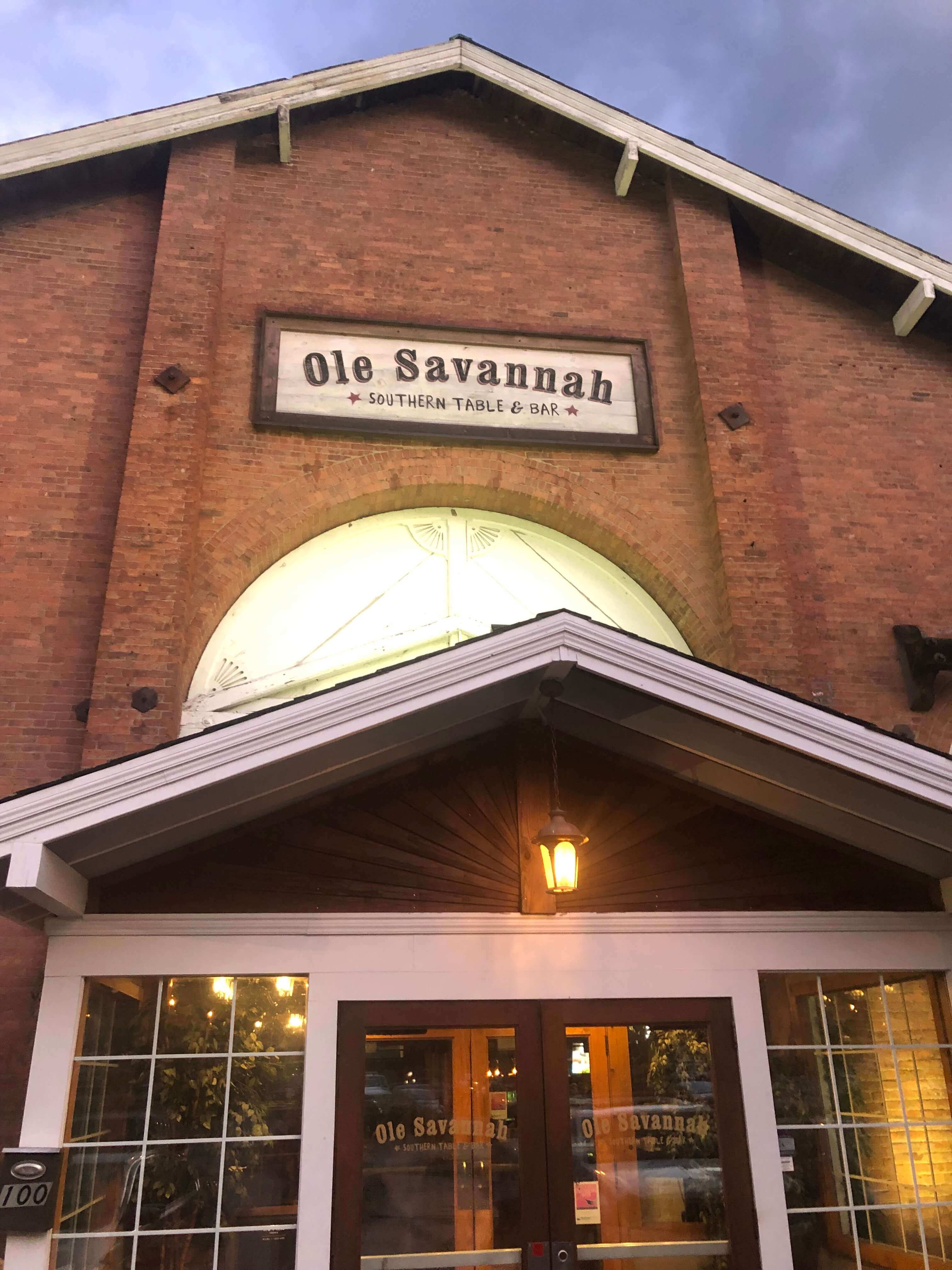 An open-aired restaurant, Ole Savannah was a fun place for the kids to enjoy some classic BBQ, and surprisingly healthy fare. I opted for the chickpea and kale ragout and the roasted brussels sprouts, and the kids had mac and cheese and chicken fingers where my husband opted for the pulled pork. The building (and location) was also really cool and would make a great backdrop for eating outside.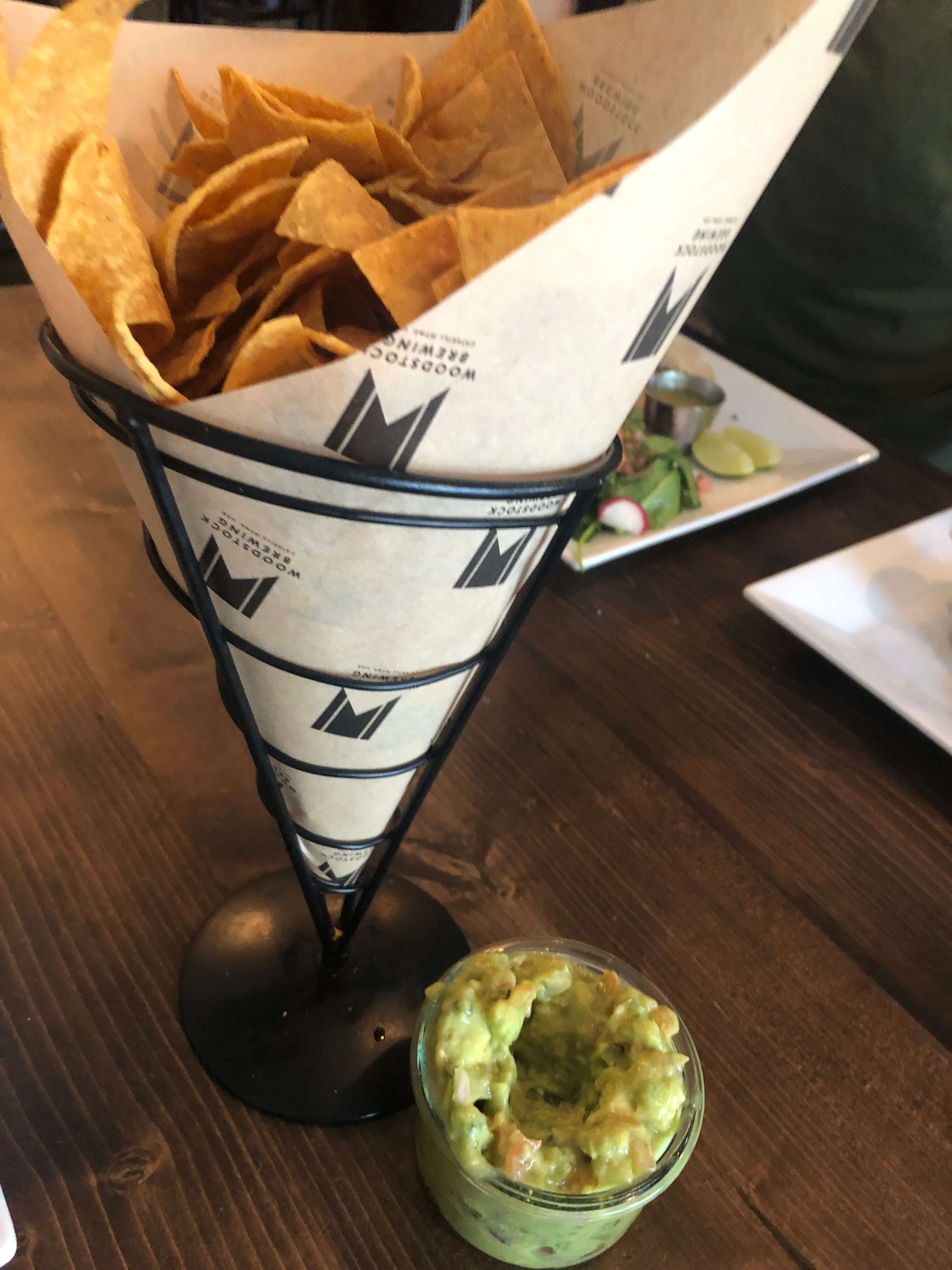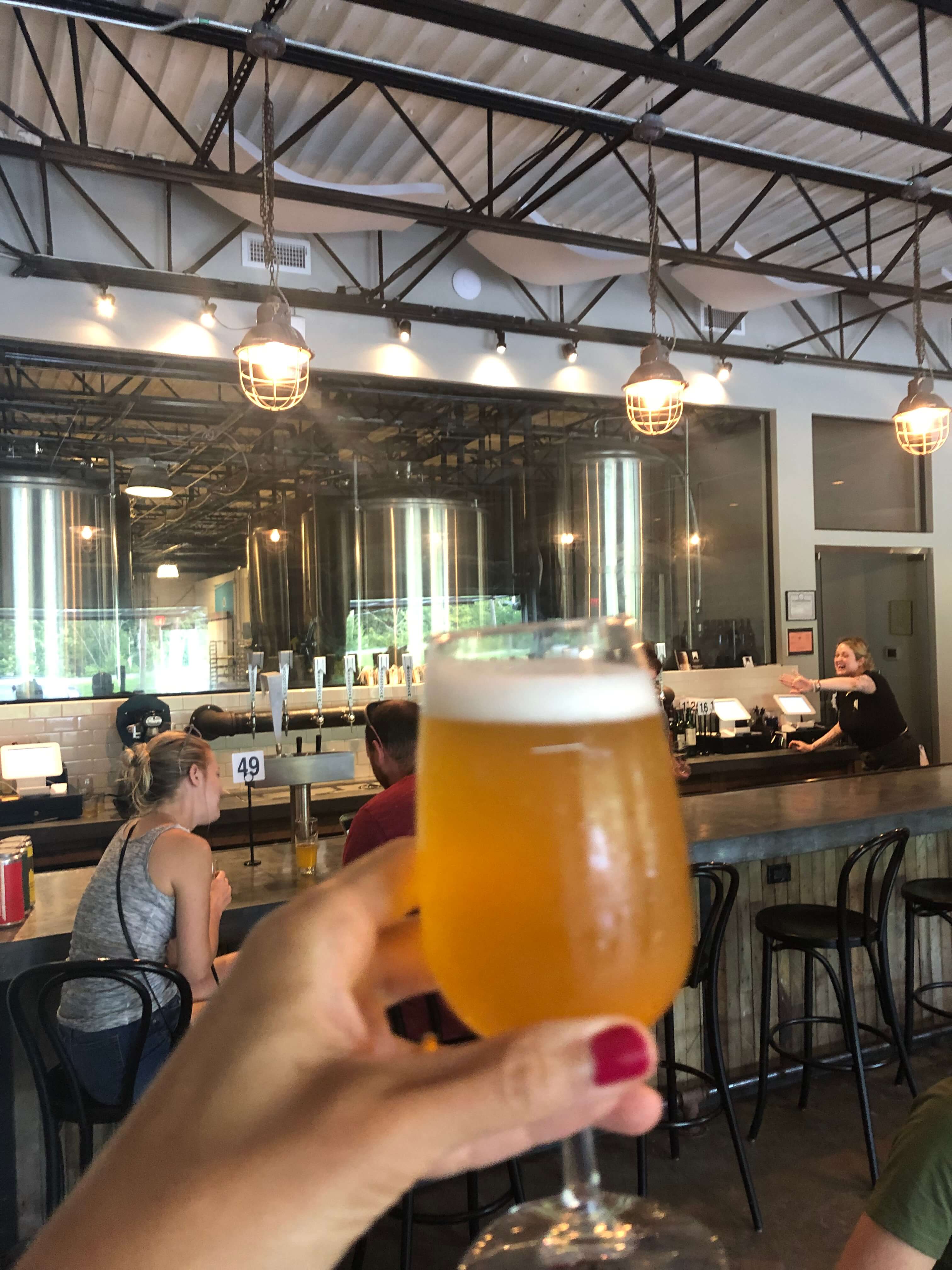 We also loved checking out Woodstock Brewery (minutes from the Emerson) for beers and food. I was surprised by how good the food was where we had guacamole, a veggie burger, cheese quesadilla, and tacos. As for the beers, I tried the Zen of Anxiety, a citrusy Saison brewed with Pilsner malt and Flaked Wheat and hopped with German Magnum and lightly dry hopped with Cascade and Mandarina Bavaria and my husband tried the Overdubbing, a pale ale.
The vibe was also really cool, complete with tons of board games, outdoor games, and live music to unwind after a long day.
Visit Emerson Resort & Spa
Emerson Resort & Spa
5340 NY-28
Mt Tremper, NY 12457
For additional information, please visit: https://emersonresort.com/
Updated COVID-19 Safety Info
The Emerson Resort & Spa will welcome back guests and reopen on Thursday, July 16, 2020. During this new normal, the Emerson announces several new changes to their daily operations including launching their "Stay Save Pledge" procedure which outlines the details of their new health and safety protocol; offering complimentary breakfast which will feature a variety of options including their farm fresh egg sandwich, oatmeal with Catskill mountain maple syrup and more, which will now be included in an overnight stay prepared by their signature restaurant Woodnotes Grille; and that the Emerson will remain closed Tuesdays and Wednesdays until further notice to allow for weekly deep cleanings and sanitizing throughout the entire property.
The Emerson Resort & Spa's new "Stay Save Pledge" outlines new operational details for the various amenities and experiences at the Emerson, including Emerson Spa which will be open Thursday to Monday with a limited massage treatment menu, as well as the nail salon and hair salon with reduced occupancy to adhere to social distancing; Fitness Center that will be open Thursday to Monday with reduced occupancy; Woodnotes Grille that will be open for outdoor table service starting this week, as well as takeout and delivery of orders to guest's room, serving breakfast, lunch and dinner; Ralph's Café which will be available for takeaway items; and The Shops at Emerson which will be open Thursday to Monday. At this time, the World's Largest Kaleidoscope, steam room, sauna, hot tub and pool will remain closed until further notice.
Following the recommendations and guidelines from health and elected officials, Emerson's thorough social distancing and health safety protocol for employees and guests will include and are not limited to:
Temperature points of entry for staff, vendors and guests using no-touch thermometers, as well as one entrance for guests checking in via the main lobby of the Inn.
All guests will be given a mask and hand sanitizer for use prior to checking in.
Hand sanitizer stations will be placed at key locations throughout the property.
Hand washing protocol for all staff, using Theraworx, a cutting-edge hand sanitizer product used in hospitals that provides a protective coating on the skin and kills any virus for up to four hours after applied.
Frequent cleaning and sanitizing in all public spaces and individual guest rooms with an increased focus on all high touchpoints.
Guests will be advised to practice social distancing by standing at least six feet away from other groups of people not traveling with them while standing in lines or moving around the property.  Physical layouts have been arranged to ensure appropriate distancing. All property venues/departments will comply with, or exceed, local or state mandated occupancy limits.
Health, hygiene and social distancing reminders will be placed throughout the property including the proper way to wear, handle and dispose of masks.
Personal Protective Equipment including face masks worn by all employees and in adherence to state or local regulations and guidance. Gloves will be provided to employees whose responsibilities require them as determined by medical experts including housekeeping, food and beverage staff and public area attendants in direct contact with guests.
Ongoing guidance on COVID-19 safety and sanitation protocols and training for all staff and staggered employee arrival times.
For more information, visit http://emersonresort.com. Follow the Emerson on Facebook at Emerson Resort & Spa, Twitter @emersonresort and Instagram at EmersonResort.
Weekend Jaunts was provided with a complimentary stay for the purposed of this review. All opinions, as always, are our own.