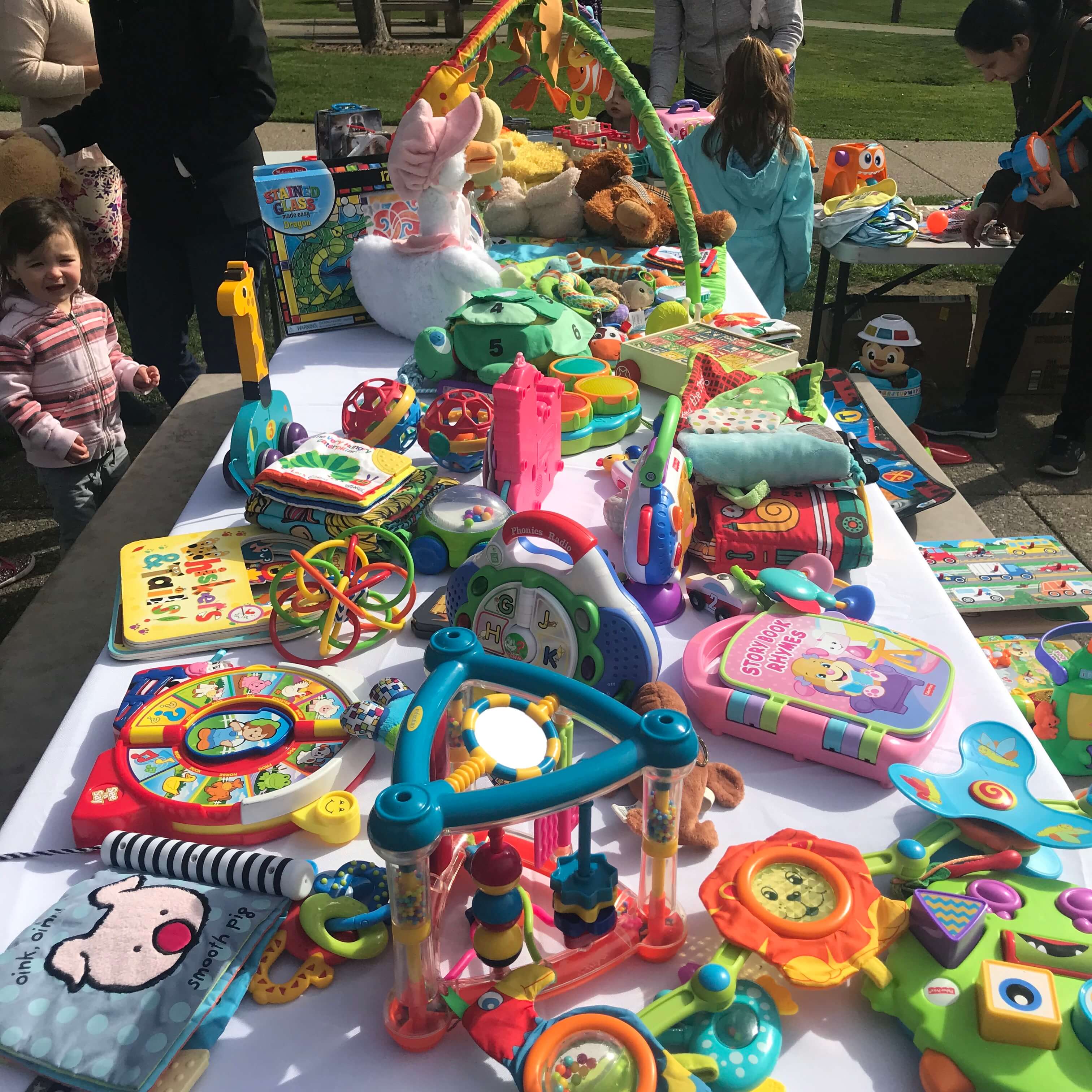 When you become a parent, there's suddenly more toys than you know what to do with. One way to pass along toys and/or find gently used items is via TOYCYCLETOYCYCLE.  An innovative app, TOYCYCLE works within a user's local community and allows families to give, get, or exchange free used games and toys.
Dubbed as a collective toy library, TOYCYCLE allows a user to pass along something on that their child has outgrown (or has simply tired of) by posting the offer online to their local group. Arrangements are made to pick up or exchange, which should be easy given the fact that the groups will remain relatively small, geographically speaking. A sustainable and green option, there's no shipping, packaging, or payments involved! Read on to learn more about TOYCYCLE and how it works from our recent interview with its CEO.
Interview with TOYCYCLE
Weekend Jaunts: How did the idea for TOYCYCLE come about?
Rhonda Collins: Nine years ago I had twin daughters. I still remember how overwhelmed I felt by all the stuff in those early years. Bouncy chairs, swings, jumperoos, stuffies, blocks, musical toys, and so on. I laugh now because at the time it was the primary colors that really jarred me. My husband and I lived in an apartment in Oakland, CA and our living room went from a minimalist natural earth-tone scheme to wild, crazy, cram packed, loud and plastic. I'm guessing many moms can relate to that experience.
But really it was later, when I started trying to clear out some of the toys and stuff we were no longer using that I came up against the challenge of doing that in an environmentally friendly way. I hadn't realized that many of the big thrift chains don't accept toys and certain baby gear items. And many other local charities are completely saturated with toys. So it's really hit or miss. I belonged to a twin group and that helped us a lot. But I thought, this is a problem that really needs to get solved. That percolated for a few years–I'm a crazy-busy working mom, what can I say? Then I started wondering what if we had a local sharing community that all families could belong to and recirculate these perfectly good items? It's all so expensive and takes up so much space! And that was the birth of the idea for TOYCYCLE.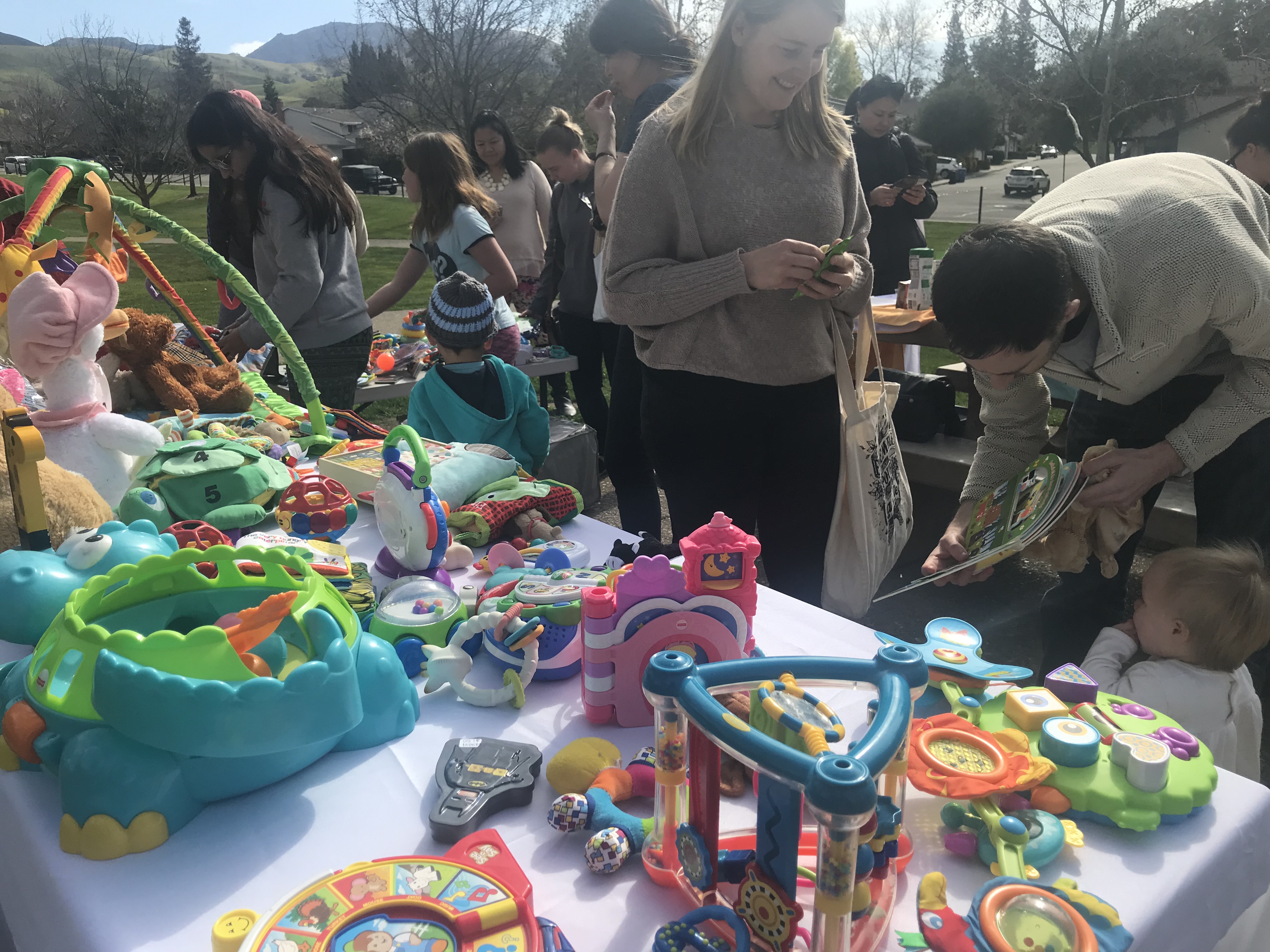 Weekend Jaunts: Tell us more about how it works.
Rhonda Collins: As I said, I'm a busy mom myself, so I wanted to make convenience our app's design priority. And I think we've succeeded at that. It's really simple, you just subscribe to the service using your zip code and you're placed in a local group. You can then post items your family has outgrown or is no longer using and others in the community can get them from you. Posting involves snapping a photo with your phone and typing a brief description. Another member can then message you and arrange to come pick it up, usually from a convenient location like your front porch. You'll also receive email or push notifications of things posted by others in your local group or you can browse the available items in the app or on the website. If you like something you see you can message the person who posted the item and arrange to go get it.
Since all the toys and gear are free, there is no money changing hands, no need to schedule a specific time for pick up. And everything is local, so you'll never be dealing with packaging or shipping. Also, our app's features allow you to search by keyword and filter by age group which is really handy.
Weekend Jaunts: What sort of items do you accept?
Rhonda Collins: When we started we accepted just toys. Now we accept gently-used baby gear as well. This again is a convenience issue. Baby gear presents families with the same problem. And all those toys and all that gear can really add up in terms of cost and clutter. So now we accept just about everything baby or kid-related. High chairs, strollers, diaper bags, clothing, toys of all varieties, sports gear, musical instruments, and so on. If it's something you need for your child, our hope is that you can find it on TOYCYCLE. Because we all know that plastic waste is an increasing problem for our environment and the habitability of our world. Reduced consumption through reuse is a really important way to address it. Each family can actually have a positive impact by choosing to reuse. And it's really nice that you save money while doing it.
Weekend Jaunts: How can communities utilize TOYCYCLE?
Rhonda Collins: We're really excited about the local focus and community-building possibilities with TOYCYCLE. I'm a member myself and I've developed a friendship with a local mom whose kids seem to like all the stuff I offer up, and my kids like the stuff she offers up. So we've swapped a number of items between our households. And another mom I met on my porch was wearing the coolest eye glasses! I know it may seem silly, but I was looking into getting new frames at the time and she gave me a referral. I love that aspect of our community.
We're also starting a pilot this spring with an elementary school in Oakland. We're creating a closed group for families, teachers and staff. We've seen over the last months that often items posted on TOYCYCLE could be of use to teachers, especially in primary and lower elementary classrooms–things like floor puzzles, and math puzzles, crafting equipment and materials, soccer balls, things like that. But also, a sharing community is just perfect for schools. It can help in all the ways a regular community helps–saves families money and helps them to reduce waste–and it can really facilitate community building within the school. Of course we want members to be able to participate in their own neighborhood groups as well, so in the pilot members can belong to both groups.