While we love covering what's going on in NYC and Westchester, there are a ton of nearby destinations that you can explore only a few hours away. This summer we are going to be going on short road trip to Philadelphia with my kids. Since we don't have much time there, I enlisted the help of Visit Philadelphia to provide us with a list of the best of things to do when your visiting Philly with kids. Check out some of their must-see things to do, and be sure to follow-back when we provide a more detailed recap in a few weeks.
Where to Explore in Philadelphia with Kids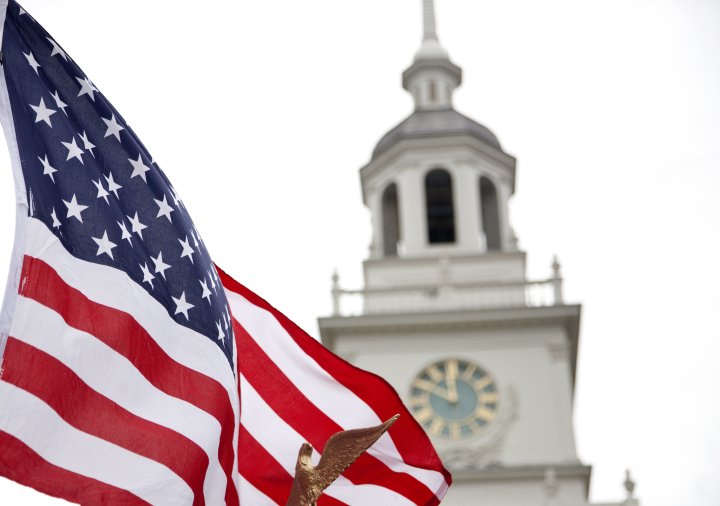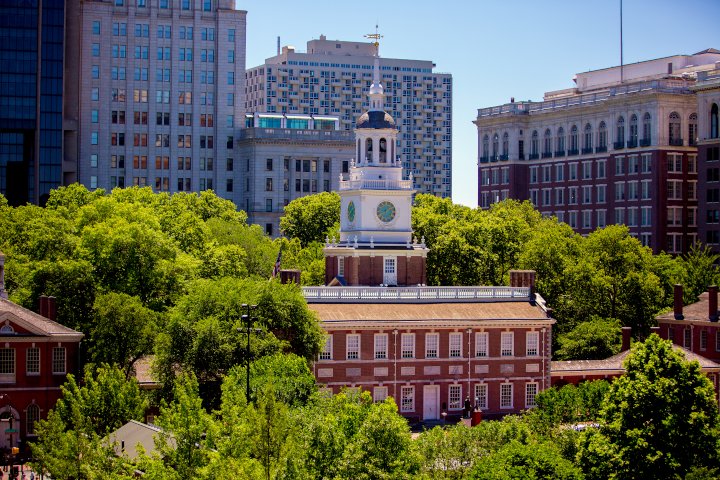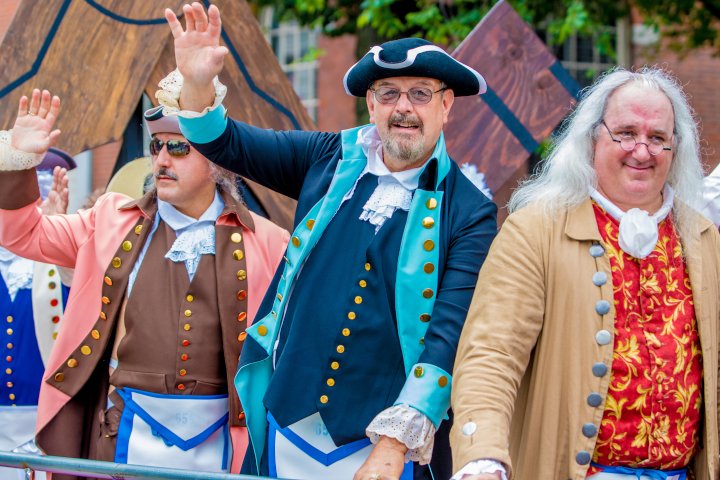 Historic District Attractions in Philly: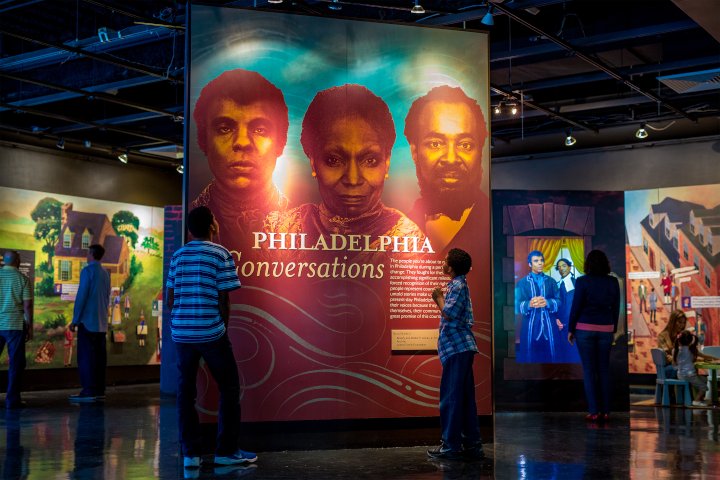 The African American Museum in Philadelphia: Now in its 40th year, this groundbreaking museum takes afresh and bold look at the stories of African-Americans and their role in the founding of the nation through the core exhibit Audacious Freedom. Children's Corner, an interactive installment for ages three through eight, lets kids explore the daily lives of youth in Philadelphia from 1776-1876. Other exhibits examine contemporary issues through art and historic artifacts. Weekend family workshops and special events take place throughout the year. Get there: 701 Arch Street. Web: aampmuseum.org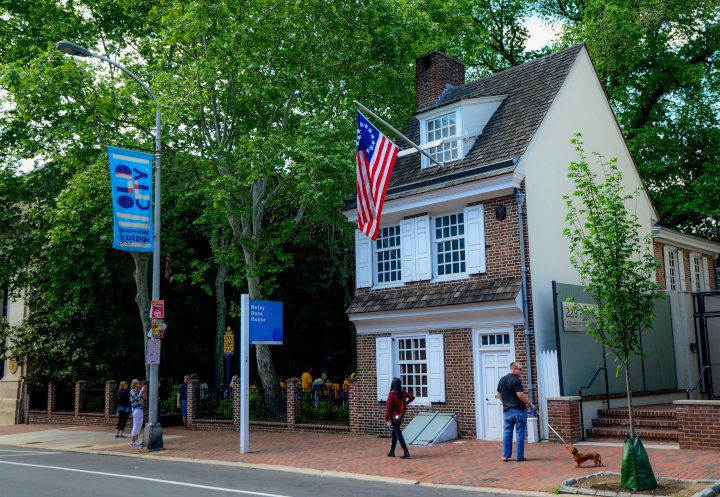 Betsy Ross House: America's most famous flag maker greets guests in her interactive 18th-century upholstery shop. Visitors learn about Betsy's life and legend from the lady herself and Phillis, an African-American colonial who explains and shows what life was like for a freed black woman in the 18th century. An audio tour caters to four-to-eight-year-olds, offering lessons in Colonial life and the opportunity to solve "history mysteries." Get there: 239 Arch Street. Web: betsyrosshouse.org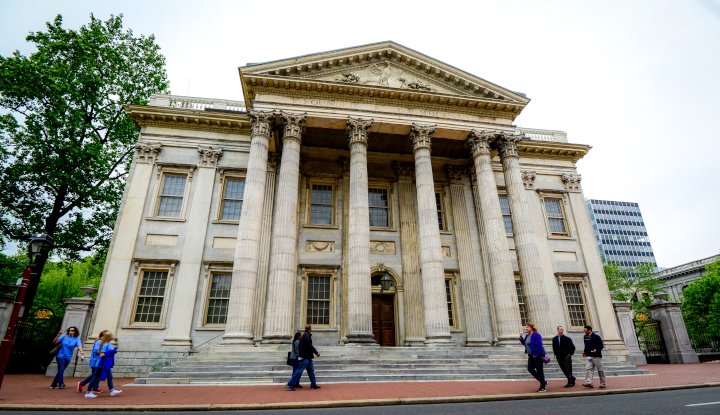 Federal Reserve Bank of Philadelphia: Everyone handles money, but how does it arrive in people's wallets? The Federal Reserve's hands-on Money in Motion exhibit at explains it all. Plus, games invite visitors to "Match Wits with Ben," and an impressive collection of old and rare currency is on display. Get there: 6th & Arch Streets. Web: philadelphiafed.org
Fireman's Hall Museum: Future emergency responders get a head start at this restored 1902 firehouse, home to some of the nation's earliest firefighting equipment, including hand, steam and motor fire engines, as well as a 9/11 exhibit and an interactive kiosk that teaches kids about 9-1-1 services. Visitors can try on fire coats and boots, man a bucket brigade and learn about fire prevention. Get there: 147 N. 2nd Street. Web: firemanshallmuseum.org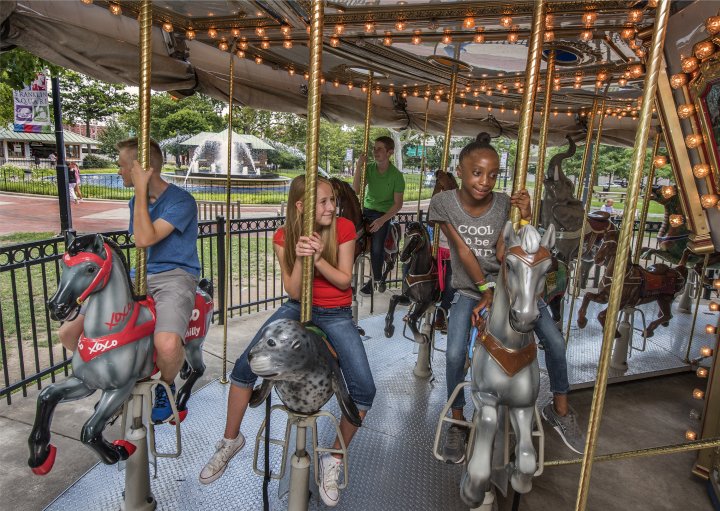 Franklin Square: One of William Penn's original five squares is a modern and fun family park, with a Philly-themed miniature golf course, restored marble fountain, two playgrounds and an old-fashioned carousel featuring some famous Philly horses. When hunger strikes, SquareBurger delivers with burgers, fries and Cake Shakes.Get there: 6th & Race Streets. Web: historicphiladelphia.org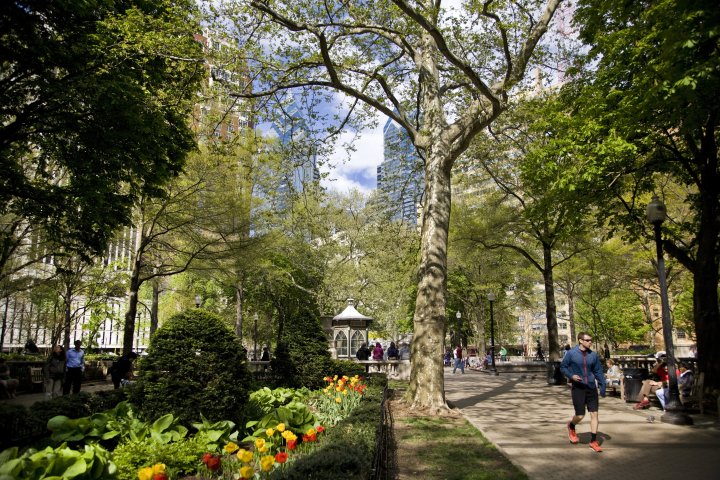 Independence National Historical Park: The Liberty Bell Center, Independence Hall, Congress Hall, the Benjamin Franklin Museum and the Bishop White House are just some of the attractions that make up America's most historic square mile. In the summer months, the park offers ranger-led walking tours,which have in recent years included Dr. Franklin's Philadelphia, History Beneath Our Feet and Underground Railroad. Web: nps.gov/inde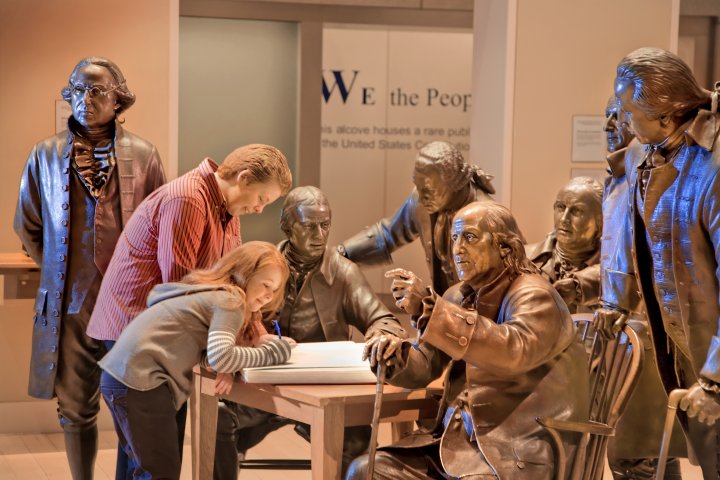 Museum of the American Revolution: Offering free admission to children under age five and discounts to older kids, the Historic District's newest attraction, delving into the citizens' conflict that created the United States of America, invites all ages to join the Sons of Liberty, board the deck of a privateer ship and play soldier throughout. Get there: 123 Chestnut Street. Web: amrevmuseum.org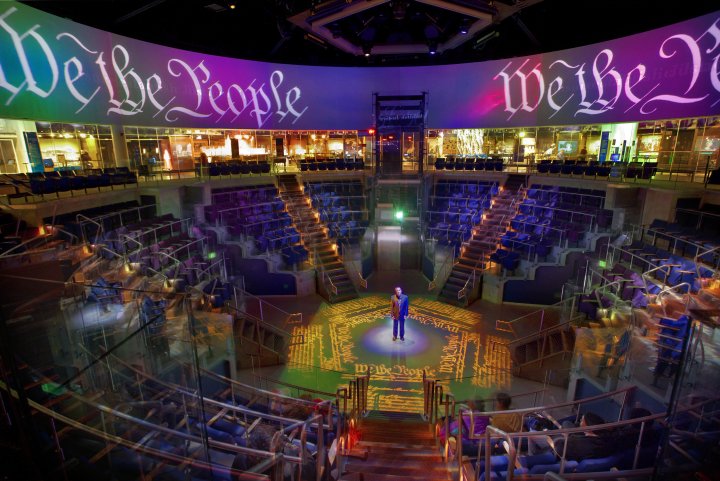 National Constitution Center: At America's first and only museum dedicated to the U.S. Constitution,highlights include interactive exhibits; the powerful, multimedia Freedom Rising performance; Signers' Hall, filled with life-sized statues of the signers of the U.S. Constitution; and nationally touring exhibitions. Special family-friendly programs take place throughout the year on civic holidays, including Presidents' Day, Veterans' Day, Tax Day, Earth Day and more. Get there: 525 Arch Street. Web: constitutioncenter.org
National Museum of American Jewish History: Independence Mall's modern, four-floor tribute to Jewish-American history and traditions showcases the lives of history makers (Albert Einstein, Golda Meir, Jonas Salk) and industry giants (Estée Lauder, Barbra Streisand, Steven Spielberg) through exhibitions young visitors understand. The second Sunday of each month means kid-friendly story time, crafting and holiday celebrations, always free with admission. Get there: 101 S. Independence Mall East. Web: nmajh.org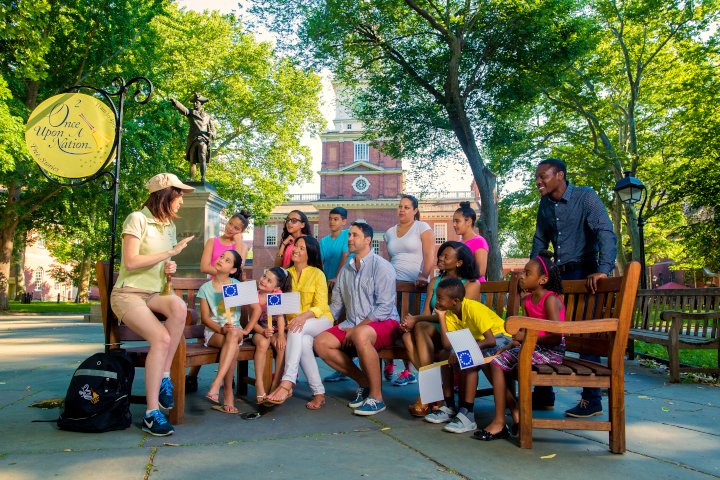 Once Upon a Nation Storytelling Benches – Spread throughout the Historic District—including just outside the new Museum of the American Revolution—13 benches beckon with free, five-minute tales of Philadelphia's history and even some forgotten secrets, told by professional storytellers. Story benches are marked with Once Upon a Nation signs. Children who collect star stamps at all 13 benches earn a free carousel ride at Franklin Square. Web: historicphiladelphia.org
Delaware River Waterfront Attractions: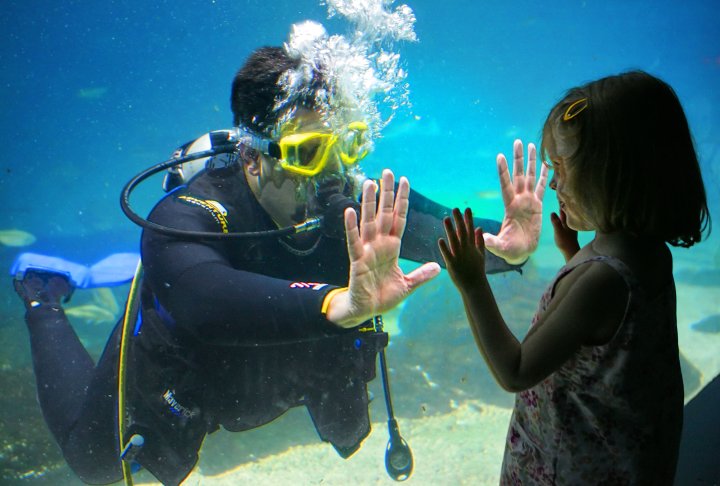 Adventure Aquarium: With two million gallons of water and 8,500 animals, this Camden Waterfront destination guarantees a day's worth of activities, animals, exhibits—and unforgettable moments. Visitors can walk over a Shark Bridge; explore a virtual playground under the sea aimed at ages six and under; and meet a pair of underwater hippos in Hippo Haven. The 760,000-gallon Ocean Realm is home to sea turtles, stingrays, schooling fish and sharks, including the only Great Hammerhead on exhibit in the country. Adventurous types can roll up sleeves to pet and feed stingrays or touch horseshoe crabs, starfish and sharks. Get there: 1 Riverside Drive, Camden, NJ, Web: adventureaquarium.com
American Swedish Historical Museum: Telling the story of Swedes in America, this South Philly gem appeals to kids through special events throughout the year such as Viking Day and Midsommarfest. Every third Tuesday of the month, the smallest of visitors can enjoy Toddler Time, featuring interactive stories and activities that explore art, science and literature. Get there: 1900 Pattison Avenue, Web: americanswedish.org
Battleship New Jersey: Nautically and militarily inclined kids visit the nation's most decorated battleship for tours, rides in the 4-D flight simulator, a look inside the onboard helicopter and sleepovers in the sailors' bunks as part of its award-winning Overnight Encampment program. Get there: 62 Battleship Place, Camden, NJ. Web:  battleshipnewjersey.org
Camden Children's Garden: April through December, Butterfly, CityScapes, Picnic, Fitness, Dinosaur and Storybook Gardens offer four acres of horticultural experiences for creative and imaginative play. The garden also includes three indoor attractions: the popular Butterfly House, the tropical Plaza de Aibonito and Ben Franklin's Workshop, as well as more outdoor attractions in a Tree House, Garden Carousel, Arrow River Train and Spring Butterfly Ride. Get there: 3 Riverside Drive, Camden, NJ. Web: camdenchildrensgarden.org
Independence Seaport Museum: On the edge of the Delaware River, little landlubbers can check out a boat-building shop and explore the Spanish-American War Cruiser Olympia and the World War II Submarine Becuna docked outside. Indoors, kids climb through a new, full-size reconstruction of the 1707 schooner Diligence, created onsite using traditional boat-building techniques. Families can also rent kayaks or museum-built rowboats to explore the calm waters of the basin and get a close-up view of the historic ships. Every Saturday brings Seafarin' Saturdays, featuring activities designed especially for children. Get there: 211 S. Columbus Boulevard at Walnut Street. Web: phillyseaport.org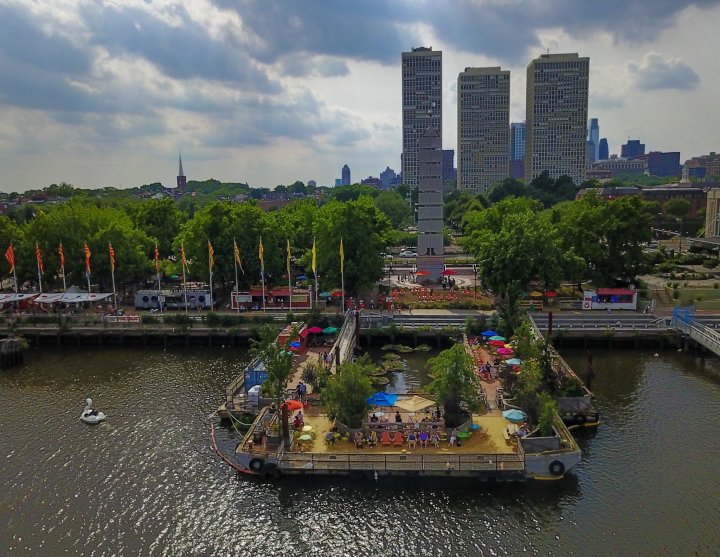 Penn's Landing: It's three times the riverside fun with seasonal pop-ups Spruce Street Harbor Park, Blue Cross RiverRink Winterfest and Summerfest. The first, with tree-slung hammocks, cargo container arcades and concessions, misting palm trees and planted barges (with bars for Mom and Dad), has become a summertime must-do. The latter two bring ice skating and roller skating to the riverside rink with special pop-up fire pits, indoor games, cozy couches and hot drinks in winter and air conditioning, rocking chairs on a wrap-around porch and cool drinks in summer. Get there: Spruce Street Harbor Park, Columbus Boulevard & Spruce Street; Winterfest and Summerfest, Columbus Boulevard & Walnut Street. Web: delawareriverwaterfront.com
Race Street Pier: The Benjamin Franklin Bridge towers abovethis finger pier reinvented as a multi-use, two-level recreational space now used for picnicking, yoga classes, concerts, fireworks-watching and simply catching the Delaware River breeze. Get there: Columbus Boulevard & Race Street. Web: racestreetpier.com
The Academy of Natural Sciences of Drexel University: Highlights of the oldest natural history museum in the Americas include Dinosaur Hall, with a fossil preparation lab and hands-on fossil dig site; live butterflies in a tropical garden; a children's nature center with live animals; and historic dioramas with animals from around the world. Changing exhibits are mounted throughout the year as well.Get there: 1900 Benjamin Franklin Parkway.
Visit https://www.visitphilly.com/ for event more travel ideas to Philly!