There is limited content out there for the teen market so I will really excited to learn more about BRIGHT LITE, an independent, reader-generated publication that features submissions, such as personal photos, essays, drawings, comics, letters, stories, journal entries and more, from readers 18 years old!
Their ninth edition features Alyssa Carson on the cover, who, at just 18-years-old, is the world's youngest astronaut-in-training and is the only person to have completed the NASA Passport program. dedicated to the topic of fear featuring essays highlighted by everything from "Encountering Fear," a fictitious short story; to "If Neil Patrick Harris Can Die, I Can Too," about thanatophobia; to "Queer Fear," an anonymous coming out story. Read on to learn more about this exciting publication from our recent interview with Ami Komai, Founder/Editor-In-Chief of BRIGHT LITE below:
Interview with Ami Komai, Founder/Editor-In-Chief of BRIGHT LITE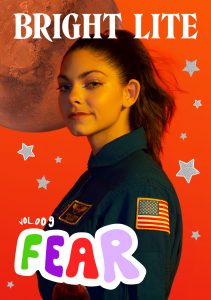 Weekend Jaunts: How did the idea for Bright Lite come about?
Ami Komai: When I had my daughter Lola, it brought up all this stuff that I hadn't quite dealt with from my childhood. All these things that made me realize where some of my deepest insecurities came from, specifically those relating to gender and my "place" in the world. I was terrified to be a mom to a little girl and I think Bright Lite was my way of coping with that.
By creating a platform which is essentially a giant journal for all girls and female identifying adolescents everywhere, my dream was to establish a place to communicate and support each other while navigating some of these incredibly influential and scary times growing up. A time in life that, for myself and so many people I know, feels confusing, embarrassing and most of all lonely. If I can remove any of those words from someones adolescent experience — even for just one person — I would consider it 'job done'.
Weekend Jaunts: What has been the response (so far) to the publication?
Ami Komai: Incredible. It was incredible from day one! I receive daily emails from all over the country expressing how much Bright Lite means to our readers and parents. It is something I will never get used to. I'll be honest, starting a publication on your own is not easy, you have to be every part of the wheel and it can get very challenging; however, when I hear they are reading each issue over and over again, taking a copy everywhere they go and that they feel like they finally have something to read that truly feels like it is their own — that is absolutely enough to keep me going! So thank you to everyone who has taken the time to send us those kind words!
Weekend Jaunts: What is the process like when you are planning content and the topics per issue?
Ami Komai: We are always seeking inspiration from our readers! When planning and considering topics, we've found that the secret to our success is allowing the content to be guided by them. We are constantly engaging with them and listening closely to truly understand their opinions, perspectives and interests. That has been the key to creating an open platform which allows readers to safely explore topics that are important to them. We cover a wide range of content in each volume so we tend to move all the submissions with some kind of unique viewpoint to the top of the list. Picking what will be published is one of the hardest parts of the job! We get hundreds of submissions and all the work is so special to me. I hope anyone who has submitted in the past and has not made it into print will keep trying because there is always going to be a next one!
Weekend Jaunts: Tell us more about the upcoming issue and its topics related to fear.
Ami Komai: Well, fear is one of those topics that really resonates with everyone. We felt an incredibly strong calling to open that door for our readers. Growing up in the world today comes with many heavy challenges, so it felt like it was more important than ever to offer a space for them to collectively share their very different fears and unapologetically express what that looks like for each of them. The essays cover everything from a young girls fear of dying in "If Neil Patrick Harris Can Die, I Can Too," to a poem about a teenage girls fear of being outside because of the unwanted attention she receives in "I'd Prefer to Stay Inside a Little Longer." I think it's important that we remember that everyone has their own fears and I believe this particular topic will really connect our readers, help them better understand each other and ultimately feel supported. That's why Vol. 009 means so much to me, and based on the submissions that we received from girls around the world, to our readers too.
Weekend Jaunts: Tell us about Alyssa Carson, who is on the recent cover!
Ami Komai: Oh man! She is amazing. She's 18, she's the youngest astronaut-in-training in the world and she's the only person to have completed the NASA "Passport to Explore Space" program! She has been dreaming and training to be an astronaut since she was 8 and she's probably our best bet to Mars. I've followed her career for awhile now and we were so excited when she was just as excited to work with us. Being able to sit down and talk to her about fear and how to conquer / move past those fears was so enlightening. She truly is amazing!
Weekend Jaunts: How can people submit their essays to Bright Lite?
Ami Komai:
They can submit it to us via email at 
submissions@brightlitemag.com
! We accept all kinds of submissions — recipes, drawings, comics, photos, journal entries, poems — anything you want really. We will be announcing our next theme in a few weeks but submissions are always open and we are always looking for essays and content to go on our website as well!
Weekend Jaunts: Anything else to add…
Ami Komai:
We are available at Barnes and Noble, BAM, Urban Outfitters online and always on our web store at 
brightlitemag.com
! You can also subscribe there so you never miss an issue! Check us out on Instagram too
@brightlitemag
!