What's on your NYC holiday bucket list? There are so many things to see and do in NYC that it can be challenging to tackle it all. To help us out we asked Evelyn Kanter, author of 100 Things to Do in New York City Before You Die and founder of NYC on the Cheap! to share her must-check out NYC holiday activities featuring fun things to do with kids. Read on for some inspiring ideas to explore and get out there!
Must-Check Out NYC Holiday Activities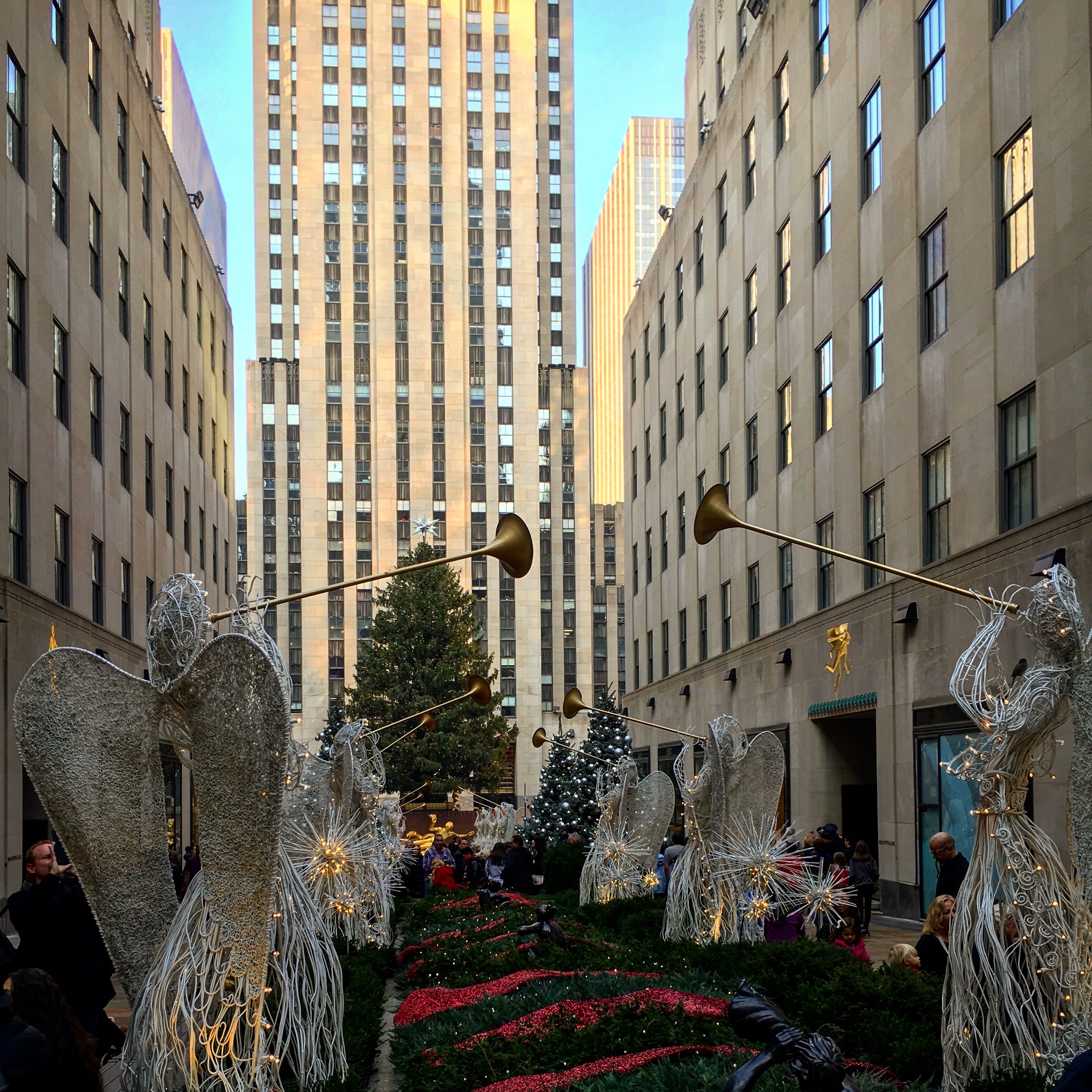 Weekend Jaunts: What are your go-to things to experience during the holidays?
Evelyn Kanter: The holiday trees and decorated department store windows are at the top of everybody's list, whether you are a visitor or resident. Go early in the day or late in the day to avoid the thickest crowds, and try to avoid weekends, too.
The world's most famous tree, in Rockefeller Center, is just one block from Saks Fifth Ave, which has both wonderful windows and a digital light show that covers the entire store facade. I also love the Origami Tree at the American Museum of Natural History – it's decorated with thousands of little folded paper ornaments. This year's theme is dinosaurs, honoring the museum's fabulous T. Rex exhibit.
Weekend Jaunts: What are some of the best things to do with young kids during the holidays in NYC?
Evelyn Kanter: Besides visiting Santa in Macy's Herald Square? Luminaries in the Winter Garden in Brookfield Place is an interactive light show that's back for its third or fourth year. Kids can press buttons on kiosks to change the colors of the lights above. It's free, as is the annual model train show in Grand Central Terminal, where miniature trains zip around miniature versions of NYC buildings.
There's also a ticketed holiday train show at the New York Botanical Garden, equally magical, because who doesn't love trains, The Swedish Marionette Theater in Central Park is one of the last places in the USA to see fully staged marionette shows, with performances year-round.
The holiday offering is Yeti, Set, Snow!, the story of a young girl named Widget, and her friend, Twig, who encounter a yeti named Pascetti and a cat, Tinsel Kitty, on the first snow day, and become friends on an adventure. It's one of the best live theater deals in town – just $8 for kids and $12 for grown-ups.
Weekend Jaunts: Tell us more about the holiday nostalgia in NYC and where we can experience it?
Evelyn Kanter: Every Sunday in December, the MTA rolls out vintage subway cars that were in service from the 1930s to the 1970s, which you can ride for the price of a MetroCard swipe. These old cars have woven seats, ceiling fans and windows that open for a breeze in the days before air conditioning.
This year, they are riding along the a A, C, D, E F lines in Manhattan, with conductors dressed in vintage uniforms, and some passengers dress up in nostalgic vintage clothing, too
Weekend Jaunts: Anything else to add?
Evelyn Kanter: I believe it is important to be a tourist in your hometown occasionally, and visit places like the Statue of Liberty and the 9/11 Memorial Plaza, which mean so much to so many people throughout the world, who make a point of visiting them when they visit NYC. So we New Yorkers should do that, too, and the holiday season is a great time to do that.
Evelyn Kanter is a native New Yorker with over 30 years of experience as a journalist in her hometown, from being a news reporter on CBS Radio and ABC Television to writing for top national publications, including airline and travel magazines. Get Evelyn's book, 100 Things to Do in New York City Before You Die, available on Amazon, Barnes & Noble, and in NYC bookstore locations, and in independent bookstores in NYC, and check out her site NYC on the Cheap for more cool things to see and do in NYC!