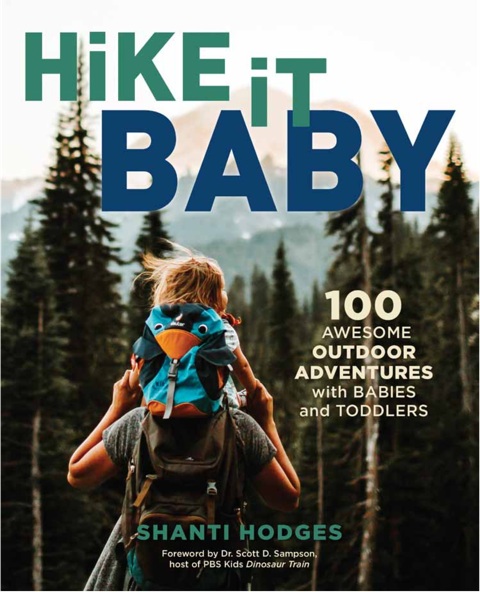 Life changes dramatically when you have a child (to say the least!). While this time amounts to many new challenges, it also presents parents with new opportunities to explore life and all of its adventures with a little one in tow. One such mama who is all about helping parents and their kids connect to nature through adventure is Shanti Hodges.
Founder of Hike it Baby, a nonprofit dedicated to helping families with babies and toddlers find each other in the outdoors as well as the host of an annual family camping festival (familyforestfest.com) in Oregon and the host of retreats in Southern Utah (hikingmyway.com), she all about "getting your kids out there." Hodges added, "One of the things about being a new parent is that you never know what to expect with a hike and getting your kids out there. I found that we often would show up at a trailhead that said "family friendly" in an online guide, only to find it was all switchbacks and waterfalls. When you have a 2 or 3 year old that is definitely not family-friendly. My hope is with this book I will help shed light on how to find trails, as well as introduce families to others who will help them get out there."
She also recently wrote a book, Hike It Baby: 100 Awesome Outdoor Adventures with Babies and Toddlers featuring 100 outdoor adventures across the U.S. that you can take with babies and toddlers, along with everything you need to know about exploring the natural world. Sourced from real families using Hike it Baby's trail-tested system, this book helps moms and dads get out there in their comfort zone, yet feel like hardcore adventurers! Whether you've always wanted to hike part of the Appalachian Trail, splash around in gentle Northwest waterfalls, or scramble up rocks in the desert surrounded by Joshua Trees, this book shows you how to plan a truly memorable journey together. Check out our interview to learn more about this awesome new book and mama who will surely inspire you to get out there with your little one.
Interview with Author of Hike It Baby
Weekend Jaunts: Tell us about starting Hike it Baby. How did that idea come about?
Shanti Hodges: When my son Mason was born I didn't have very many friends who had little ones. I was at a wonderful new mama group, but I wanted to be outside. So I asked a few women if they wanted to go walk with me the next week in Portland's beautiful Forest Park. That first week five women showed up. The next week 10 women showed up and then 15 and so on. I saw this was a way for people with little ones to gather. From there it evolved. Friends of friends would see pictures of hikes and want to learn how to start this in their part of the country. That's when I knew it was something that others wanted. My desire was to make it easier for families to get on the trail with their newborns, regardless of whether they were experienced hikers or not.
Weekend Jaunts: Has hiking always been a part of your life?
Shanti Hodges: It was always something I liked to do but it wasn't until Mason was born that it really became such an important part of my life and identity. Prior to that I always had to have a "tool" to get outside. So a bike, snowboard, surfboard. I guess having a baby is just a different kind of tool, but really hiking and getting out with Mason helped me really rediscover the outdoors in a different way.
Weekend Jaunts: What are the essentials someone needs when they are hiking with their babies/toddlers?
Shanti Hodges: Take the time to find a carrier that really suits your body. If you get a good one (and probably 2-3 from when your child is a baby to 5 years old) then you and your baby will enjoy hiking more. There are so many little things that can make hiking easier like a strap for the binky so you don't lose it on trail, easy to travel with snacks, a small mirror to look at your child from time to time. Really you don't need much though, just a desire to get out there.
Weekend Jaunts: How do you handle baby/toddler meltdowns on a hike?
Shanti Hodges: Snacks, bubbles, toys, hanging out with other families so they can divert attention. Somedays it's just going to happen and you might have to throw in the towel. On those days before I totally give up I try sitting down in the woods and reading a book or going into a nature center if you are near one. Also if you muscle through it sometimes the meltdowns just magically stop when you head around a bend and see something new like a bridge or a waterfall or more kids.
Weekend Jaunts: What are some of your favorite hikes?
Shanti Hodges: There are so many. Currently I am living in Utah so I love the Red Reed trail, Water Canyon, Canyon Overlook in Zion. I also live in Oregon for part of the year and anything in the Columbia Gorge is amazing. Going to the Washington side is the secret because it's less crowded. I really like trails that are quieter and have less people traffic on them. Kind of ironic considering I started a group to get more people on trail.
Weekend Jaunts: What advice would you give to someone who is hesitant about hiking with kids? or hiking with multiple kids?
Shanti Hodges: The hardest part is getting out the door. Plan for it the night before and pack the car up so you have less of a chance for an excuse. Look for trails that are easier to start and that you can let your kids run freely on so you won't worry if a 4 year old runs ahead. Find a community hiking in your area like Hike it Baby, Adventure Mamas or one of the many others out there.
Weekend Jaunts: Tell us more about the book.
Shanti Hodges: The book is a guide to help get you started in finding trails across the country. They were all recommended by the Hike it Baby community, so they have been tested by families with young children. I am excited because this summer I am headed out on tour for 5 weeks to hike a bunch of the trails that I wrote about, but haven't actually hiked. This book was a community effort and I have so much love for all that went into it and it was a testament on how it not only takes a village to raise a child, but also it takes a village to get everyone on trail.
Weekend Jaunts: What do you hope people will get out of the book?
Shanti Hodges: I hope people will use it when they travel around the US to help them find trails and to get a better sense of what kinds of trails work for families with young kids or multiple kids.
Weekend Jaunts: Anything else to add?
Shanti Hodges: Getting on trail with a baby can seem intimidating, but it doesn't have to be. Keep it simple and don't try to start with the hikes you might have done pre-baby. The outdoors world can make it seem like it's so simple to just throw a baby on your back and get out there, and while it's not rocket science, planning your hikes and getting tips from friends on gear and trails makes a big difference in a successful hike. I am so grateful to my community for helping show me the way to do things like nurse Mason on trail in a carrier to how to keep warm and dry while hiking on a rainy day.