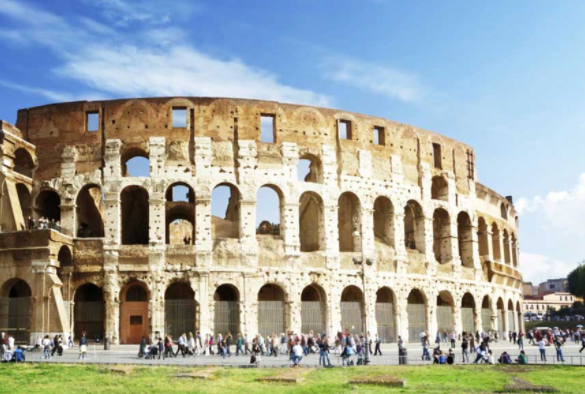 One of my travel dreams is to bring my kids to Europe. My first flight ever was to France when I was 19 and it was life-changing experience. But, I would imagine, traveling with kids to Europe (or anywhere!) can have its own set of challenges. With the long lines, crowds, snacks, boredom and ever-growing list, making things easier on this big trip is the name of the game, which is why I am super psyched about City Wonders, a European day tour operator that offers exclusive tours throughout Italy, France and the UK. They are now crafting entertaining experiences that are curated especially for families!
These new tours, created by a childhood education specialist, take families to top historic sites while skipping the longs lines and adding in a more interactive approach that keeps kids interested such as visual aids, props, entertaining games, prizes and re-enactments that get whole family involved. All the tours are in a relaxed environment of 25 people or less, all of whom will be families with kids of similar ages. Check out some of their family tours! Happy travels!
City Wonders Family Tours
ROME
Roman Colosseum for Kids: Families will experience the Colosseum and Roman forum from a child's perspective in this specially-designed fun and interactive family tour. This tour was designed with 7–12 year-olds in mind, but is designed to engage the whole family, for a truly fun experience that is sure to be the highlight of the vacation. The expert guide makes it fun with role-playing, visuals, and challenges that everyone involved. From $42.92 per child/ $48.29 per adult.
PARIS
Louvre Museum Highlights for Families: There's no experience quite like visiting Paris with your children and this 2-hour tour designed specifically for travelers with young children includes fun interactive visual aids to keep kids entertained. The expert guide will bring the masterpieces to life with amusing commentary and anecdotes created for kids. Plus, if a family still has interest, the ticket allows them to continue to explore the rest of the immeasurable museum on their own. Tickets from $75.11 per child/ $80.48 per adult.
Versailles Tour for Families from Paris: Make a hit with your kids on this carefully crafted tour designed to unveil the magic of Versailles for the whole family. Specially designed to keep children aged 5-12 eager to explore, families will see the Hall of Mirrors, Grand Apartments and Gardens of the famed Sun King, Louis XIV, and his descendants, all with skip the line access and private transportation from Paris. This tour is on sale now from $60.09 per child/ $64.38 per adult.
LONDON
Unique Fully Guided Warner Bros. Studio Tour London – The Making of Harry Potter: Families can enjoy a unique tour where an expert guide will reveal secrets and take guests through a behind-the-scenes journeys of the original sets, props and costumes from all eight of the films. Guests can take a look inside the Gryffindor common room, walk along the famous cobbled street of Diagon Alley, visit the original Hogwarts Express locomotive and Platform 9 ¾, where they can pose with a luggage trolley as it disappears through the platform wall, Hagrid's Hut and much more. Tickets from $36.13 per infant/ $148.25 per child/ $160.71 per adult.
Tower of London and River Thames Tour for Families: Parents and children alike will delight in this unique experience of Britain's capital, with a cruise on the River Thames, views of its most famous bridges, and an early entry tour of the Tower of London, not to mention specially designed activities for kids. This tour is now on sale at $59.80 per child/ $64.78 per adult.
For more information, visit www.citywonders.com.