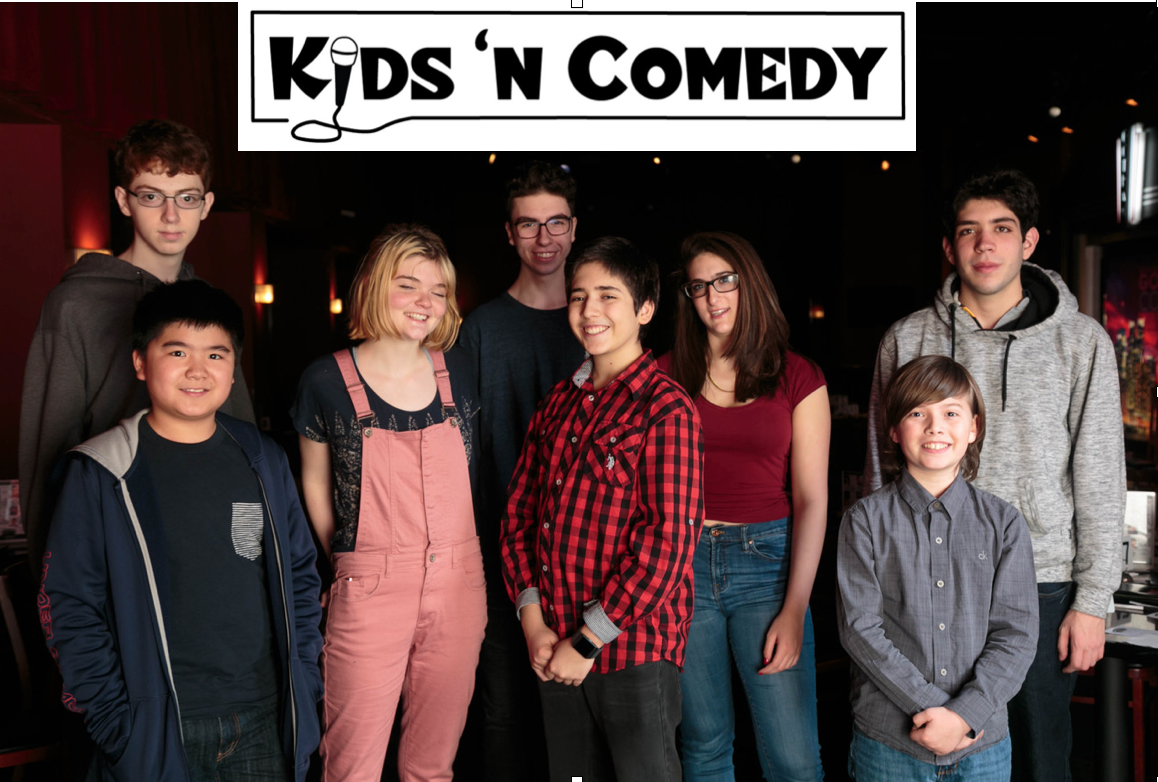 Kids sure are funny but can they be trained to be comedians? One school in NYC has been training young comics for the past 22 years through their classes and an intensive summer comedy camp, which even includes an opportunity to participate in a stand-up show! Designed for kids 10-18, the Kids 'N Comedy school returns this fall with a new season of classes for teens as well as monthly shows for families in the area.
Through this program, kids learn how to creatively write comedy by helping young adults find their voice, develop self-confidence, and express themselves at an age where they might find it difficult to clearly communicate their thoughts and observations. Class instructors are a mix of professional comedians and former and present students who help newcomers by providing guidelines but no rules, welcoming each student's individually and encouraging them to support one another. Additionally, each 8 or 9 week session ends with a graduation show where students perform a show at Gotham Comedy Club!
To learn more about the school and programming, we had the chance to interview Artistic Director Jo Ann Grossman, who developed the program with her husband, Stu Morden to serve budding comics. Read on to learn more about the programming at Kids 'N Comedy, plus the upcoming fall schedule.
Weekend Jaunts: How did the Kids 'N Comedy come about?
Jo Ann Grossman: Kids 'N Comedy evolved from a program that my husband ran with clowns, singers and magicians performing for kids and their families, ages 3-9. We held these shows in a space where my husband, Stu Morden was a part owner in a jazz club/restaurant that was dark during the day. Soon we opened at other venues, so as to reach a wider audience. We started doing our shows at a comedy club, where its owner wanted to hold monthly talent shows within our schedule. We had kids contacting us who danced, sang and did comedy. We sent out publicity to get an audience and were contacted by a producer from the BBC who saw us in Time Out NY and who wanted to come in to film us, but just the kids who were doing comedy. Through the process, we ended up filming at the music venue, the Knitting Factory in July of 1996, just the kid comics. We got so much publicity that not only did we get a good audience, but also got parents calling to say that they had a funny kid who wanted to be in our shows. Someone from Caroline's heard that we were doing this and came to see the show. He said "You don't belong here. You belong at Caroline's". So we moved to Caroline's. We stayed there for 2 years and when our time was up, I contacted Chris Mazzilli at the Gotham Comedy Club and told him what we were doing and asked if they were interested in us moving there. We have called Gotham home since the year 2000. We had many parents calling to ask if we had classes, as they had funny kids but the kids wouldn't know where to start to write a routine. That is when we began our classes.
Weekend Jaunts: Tell us more about the program.
Jo Ann Grossman: We have shows open to the public, monthly at the Gotham Comedy Club. These kids who are performing have been through our classes, summer camps and workshops to learn to develop and perform their material. These kids are the cream of the crop. We start by having classes for kids aged 10-13 and, separately, the older kids, ages 14-18. It teaches them to observe, write and perform their comedic material. We also have our summer camp where we have three intensive 2 week session for 4 hours a day, where kids can take 1, 2 or 3 sessions.
Weekend Jaunts: Why it is important to offer this program to kids starting at age 10?
Jo Ann Grossman: Kids at age 10 start to be ready developmentally to observe what is funny, about things in their lives and are then starting to be able to put it into words. That is not saying that at 10, they are all ready to do this. Often we interview kids or ask them to visit one of our classes at 10 to make sure that they are mature enough to do this. We always have parents calling to ask if their 8 or 9 year old cannot join the class, but we have found that most of them are not ready. We have to have a starting age. If they are too young, it is difficult for the younger child to keep up with the class. It is frustrating for them, for the rest of the class and for the teachers. We want this to be a great experience for the whole group. If a kid comes to see one of our shows and says "I can do that", I believe that they can. If they are less than ten, it's best if they come to see a few shows and wait until they are a little older to take a class.
Weekend Jaunts: Do kids really understand humor? Can it be taught?
Jo Ann Grossman: Stand up is an art form and like any art form there is technique. There is a big difference between kids being silly and actually understanding what is funny. I believe it really comes with maturity. We can take kids who are funny or quirky and show them how to take something and make it funny but it takes a kid with a sense of humor to turn it into funny.
Weekend Jaunts: What if a child has stage fright – would this program work for them?
Jo Ann Grossman: The program is great to help kids with stage fright to make it easier for them to get up in front of an audience. First of all it takes a kid who wants to get over stage fright and to be on the stage. I had someone call who wanted their child to take our classes to get over stage fright but this specific child did not want to be on stage. We can't do anything about that. We have kids who have taken our classes and then developed the strength to try out for a school play or talent show that they would never have the guts to do before. We don't want to force anyone to do anything.
Weekend Jaunts: Anything else to add?
Jo Ann Grossman: We start kids on the stage immediately in the first class. We make it a safe and encouraging environment. They get very comfortable by getting up there weekly in front of their classmates. By the time of their graduation show, they have lost most of their stage fright. There are plenty of performers who still feel that nervousness before a performance but they learn trust to get through it. The best feeling for these kids is to complete their routine and perform it in front of friends and family the last week and to feel the power of making the audience laugh. They are laughing with them not at them.
Kids 'N Comedy Classes
Saturday classes begin September 15 for 9 weeks
Ages 10-13: 11:30 AM -1:30 PM / Ages 14-18: 2-4 PM
Sunday classes begin September 16 for 9 weeks.
Ages 10-18: 10:30 AM -12:30 PM
FALL SHOW SCHEDULE
Monthly on Sundays at 1PM
September 30 "THE BACK TO SCHOOL SHOW"
October 28 "THE TERRIFIED OF EVERYTHING HALLOWEEN SHOW"
November 18 "THANKS, I GUESS?"
December 16 "CHRISTMAKWANZUKAH"
SEPTEMBER 30
"THE BACK TO SCHOOL SHOW"
Pencils, books and plenty of shenanigans are to be had at the kick off show to the fall season. Our class clowns will share their witticism and neuroses of back to school making you laugh and squirm until you feel as awkward as they do. Better pick out your outfit the night before.
OCTOBER 28
"THE SCARY PRE-HALLOWEEN SHOW"
At Kids 'n Comedy, they think it's okay to admit you're scared. Like, if the thing you're afraid of is flesh-eating zombies who can successfully navigate the subway (terrifying!). The funniest teenagers in the tri-state area discuss their deepest, darkest, most hilarious fears.
NOVEMBER 18
"THE PRE-TURKEY SHOW"?"
It's Thanksgiving, and that means being thankful for everything good in your life. Pilgrims, turkey, and long overbearing family dinners. What could be worse? Come down and watch our kid comedians give you their personal guidance in surviving this wonderfully painful holiday, and how best to enjoy the food!
DECEMBER 16
"CHRISTMAKWANZUKAH"
It's that time of the year again! Time to rediscover family togetherness and strange religious traditions! Come stop on by and chat with us about our very deep struggles with finding the joy in the holidays and how these feelings of anguish are great for family gatherings! Let us explain which Christmas sweaters are itchy, and what menorahs are tacky. Tis the season, right?
Shows are at 1:00 PM at Gotham Comedy Club, 208 West 23 Street
The information number is 212-877-6115 and online ticketing is available on the Kids 'N Comedy website, www.kidsncomedy.com.