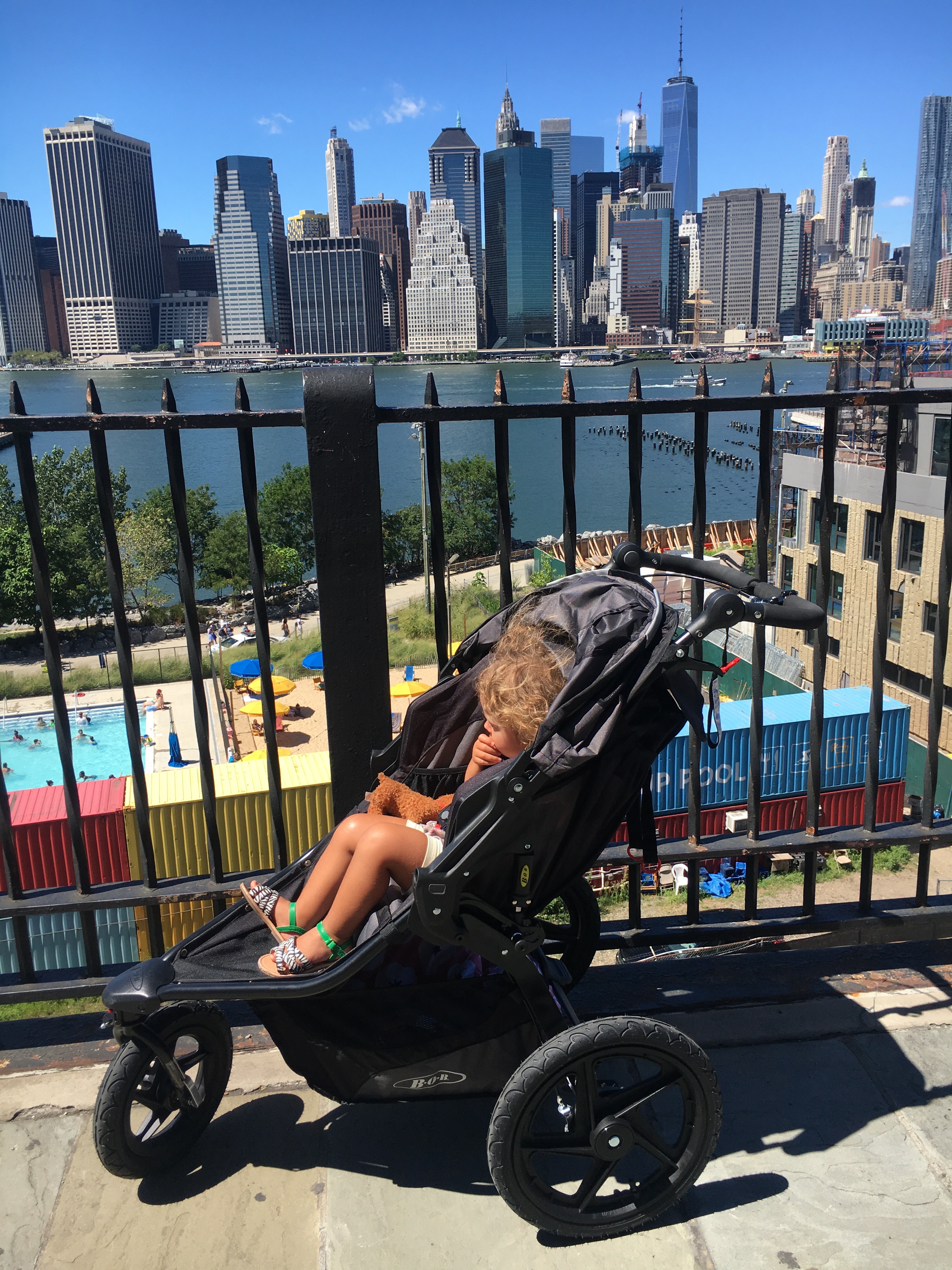 Exercising when you're a mom is really, really challenging. In my nine years of being a mom, I've ebbed and flowed with my workouts that was basically dependent on whether I felt guilty (or not) to leave. As a then Brooklyn mom, I walked all over the city so I was always moving but I did miss the release (of sorts) that I would get after a run. I got a little better about doing more for myself with the more kids I had where I now try to get a daily run in.  For the most part this involves running before work, or taking in an early morning jog on the weekends. However, this doesn't always work out all that seamlessly with three kids. Especially on the weekends where the guilt of leaving them for even 30 minutes is sometimes too much to bear.
Well, I also hate excuses and after nine years (!) of being a mom, I'm starting to realize that you can still go for whatever you want to do in life, including get a workout in, but it sometimes take a little help or rethinking of how you used to go about your routines. Enter the BOB Revolution PRO Stroller, a rugged jogging stroller that I've been using with my now two-year-old.
What's it Really Like to Use the BOB Revolution PRO Stroller
Prior to using the Bob Revolution PRO stroller, I was skeptical. I always saw joggers effortlessly holding their jogging strollers with their toddlers and babies in tow and never imagined that I could do that. It seemed too hard, and likely, challenging with a child in the seat who could cry/scream/have a fit at any given moment distributing the flow of the precious 30 minutes that I have to devote to working out. Yes, I'm being selfish here.
But that couldn't be further from the reality. The routine looks something like this – I ask my daughter if she wants to go on a run with me to see the geese and birds and she happily agrees. Armed with some snacks and her favorite doggy, I strap her into the stroller and we're off.  One of the first aspects of the jogging stroller that I loved was the handle bar feature, which includes nine adjustable positions that I can easily switch when I'm on the go. As a tall mama, I love that there is a higher option, which allows me not to slump down (as often) since the handle reaches close to my chest.
Another interesting feature of the stroller is its quick-release on front and back wheels. Our town is really hilly, so on those instances, I like having this feature that essentially slows down the stroller and serves as a light break. This swiveling-locking front wheel makes it easy to move the stroller as it maintains its stability.
With an active toddler, I also like how the stroller has very comfortable adjustable seating options that can take her from an upright position to a sleeping position, should that actually happen. It also has an large cover to protect her from the rain and sun.
Not just for getting my run in, I use the stroller all the time now. For our weekend adventures, it's an awesome option to handle everything from the rugged city streets to our suburban walks. The stroller is also equipped with some serious storage that I happily load up with all of my our daily essentials, which is basically snacks. And those instances when we are traveling, I really love how easy it is to fold this stroller. It is very intuitive how it folds in two easy steps (yes, just two). Essentially you take the handle bar and press it forward and then a red flap towards the back collapses with it.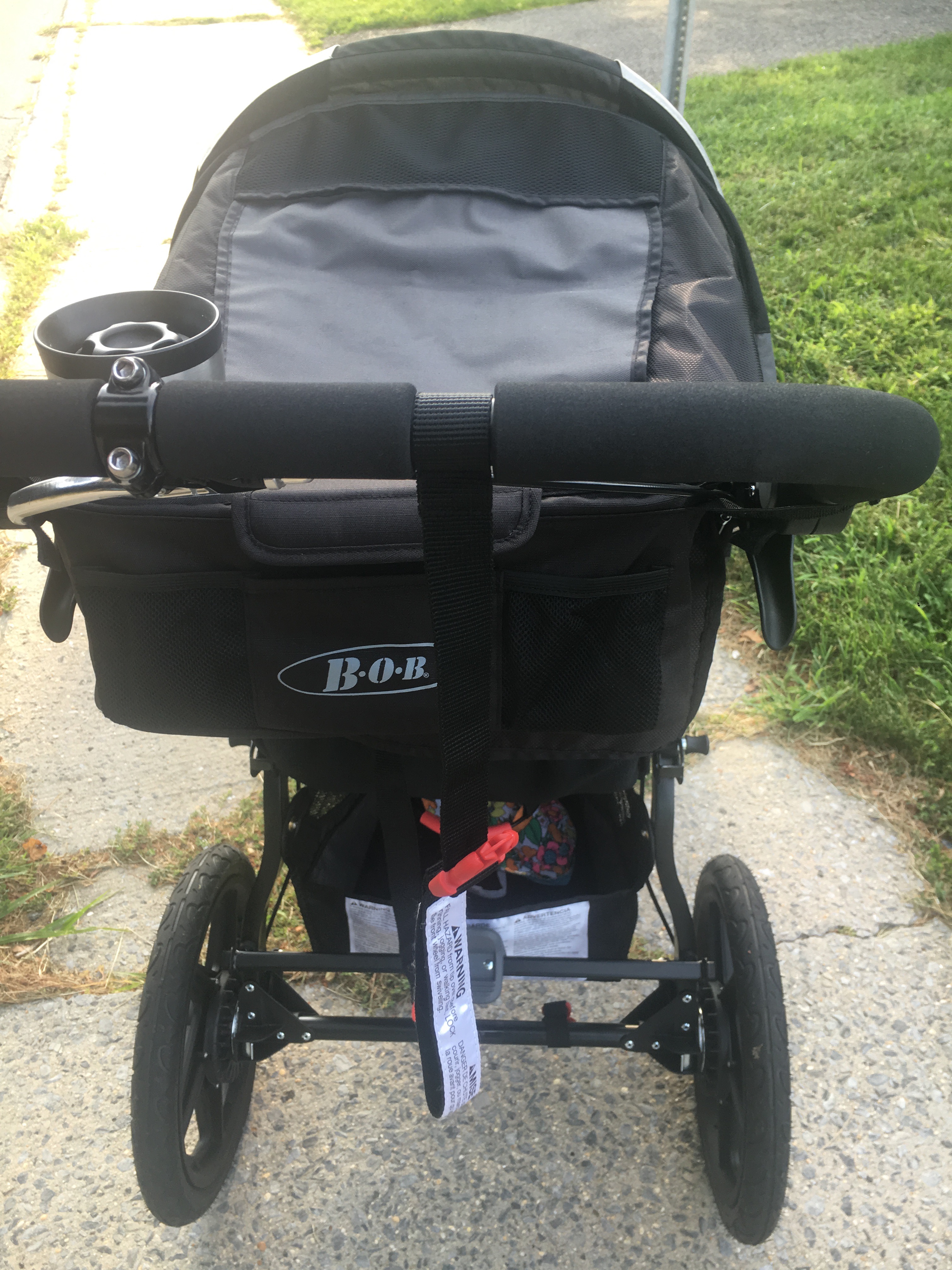 For additional storage, I attached the single handlebar console to house my water, phone and keys. I love having this nearby access that literally attaches in seconds thanks to some velcro. The kit also comes with a small pump, so that you can easily add additional air (when needed) to your stroller. Definitely a great and compact option for traveling and weekend adventures.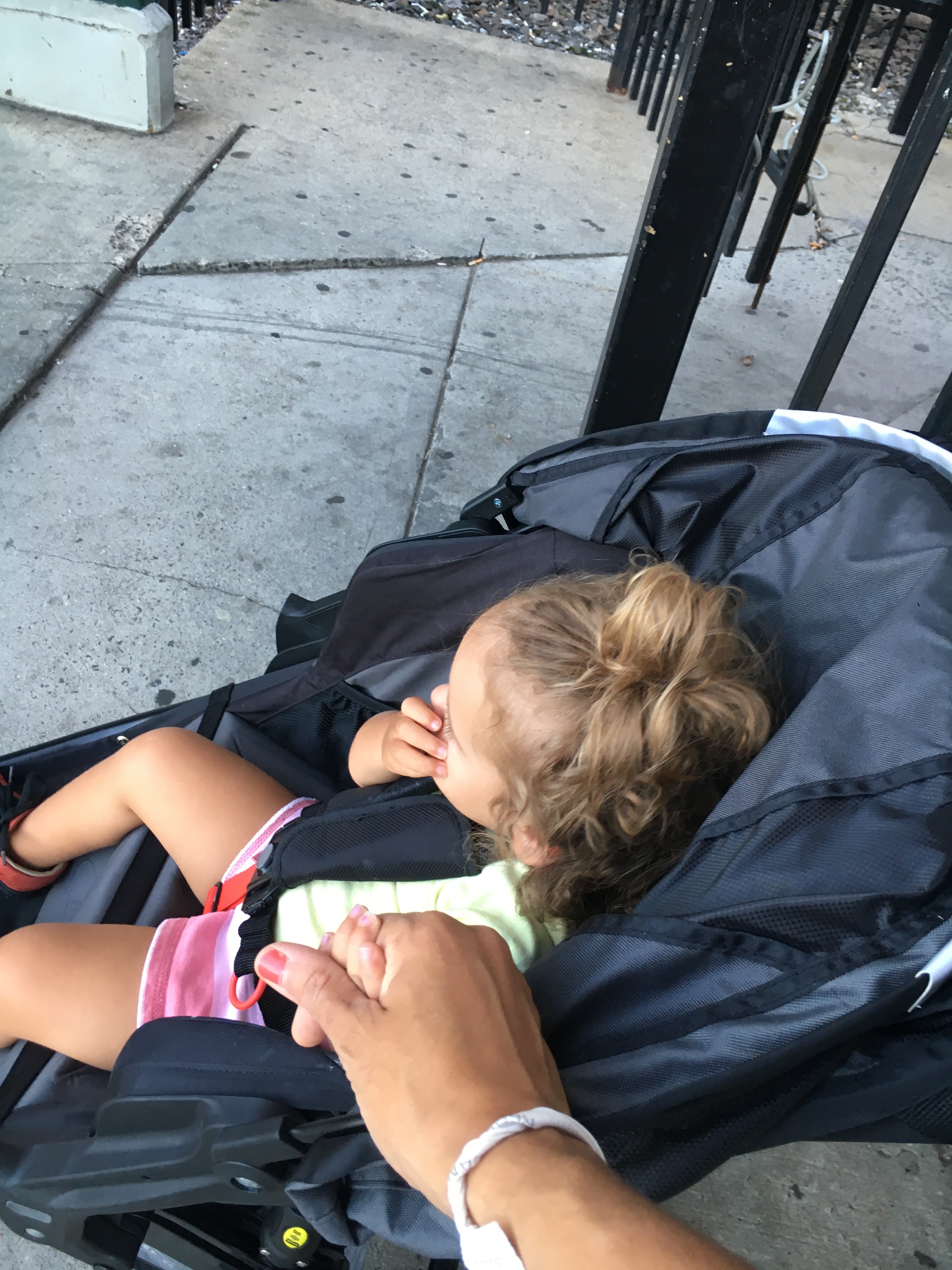 Available in Black and Meadow (a grassy green), with additional fashions, Lagoon (a bright turquoise) and Canyon (vibrant orange),  available in the spring, the stroller is a perfect option for parents who still want need to exercise. With the Bob stroller, you'll love your little one happily seeing their world and a major bonus: you'll be getting some time to do something for yourself. 
Note for parents of newborns from BOB: The stroller is suitable for walking when infants are eight weeks old, or from birth as a travel system when paired with a BOB Infant Car Seat Adapter (sold separately) and matching BOB B-Safe 35 Infant Car Seat.  Because most children don't have the neck strength for jogging motion until 8 months and develop at different rates, BOB recommends that owners limit the use of their stroller to walking activities until the child is at least eight months and never run or jog when the stroller is in travel system mode. The BOB B-Safe 35 Infant Car Seat by Britax (MSRP: $229.99) is now available in the Black, Lagoon, and Canyon fashions. 
For more info about BOB, visit bobgear.com, or find BOB on Twitter and Facebook.
I was provided with a sample for review. These opinions are my own.