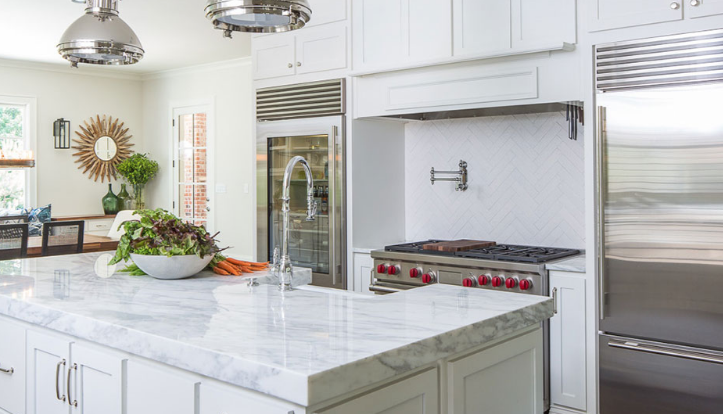 This is a sponsored post
If you live in a small apartment, it can be seem almost impossible to keep your kitchen as functional as someone that would have a large kitchen. Contrary to what you may think, you actually can keep it working to your needs as long as you have some tips and tricks as well as creative insight! I'm sharing a few fun tips and tricks to keeping your kitchen as functional and organized as you can without compromising a lot of space and also keeping up with your busy schedule!
Vertical Storage– Some may think that having a large kitchen is essential for the space but why not maximize the vertical storage your kitchen may offer. Thinking of your kitchen in a vertical way can help. Think of using hooks, magnets or rods to help create and organization central area to store certain and items that you use every day. These kitchen items can store neatly within a small contained space that might otherwise go unused if you think about it. This idea is great for kitchens truly of any size and it is customizable layout options are endless.
Stay On The Big Island– If you have a large center island, don't just use it to hold one or two things. It's really there to be the focal and greeting point for all of your family and guests to use when they come see you. You've heard that the kitchen is the heart of the home because everyone gathers there, so why not make your center island the focal point. If you're thinking that your island may need a bit of an upgrade, you want something that is durable and long lasting as the years continue. One company that offers products such as this is Premier Surfaces Buffalo NY. They are one of the nation's largest fabricator and installer of custom countertops and surfaces. They have 17 locations in 10 states and an umated selection of high-quality materials that include natural stone, quartz, engineered marble and solid surface and specialty materials. From commercial surfaces to countertops, facades, flooring and more, Premier is a proven, reliable and responsive partner to work with.
Hide But Don't Forget – Make sure that you clear off your countertops to give you more space and maximize the corner cabinet space if you can by installing a two-tiered carousel! This gives you ample amounts of options to use for tupperware or other items you'd like to store there. It also means you can keep both often-used and rarely used items to be tucked away but also within easy reach. As many people can often not enjoy having this corner cabinet, I look at is is a holding station for items that I can use when I need too get them.
Spice Up Your Spice Rack – This may seem so simple but to do but it also makes the biggest difference. Fill a designated drawer with spice inserts for an easy way to keep your cooking essentials handy. Personally, I put mine in smaller jars that all look the same for a more uniform approach as well as alphabetize them so I'm not constantly searching for the spice that I need. You don't have to worry about wasting days of various jars of spices because you'll be able to see all your spices and supplies at once.
Chalkboard Wall – One way to keep organized is make your own chalkboard wall so you can write down your items that you need for the week at the grocery store, or a message to a love one. It's super simple to do, takes zero effort to do as well. Instead of writing something down and hoping the other person will see it- write it all down on the chalkboard wall. Make sure it's in a spot near where you visit often such as the wall near where you walk in and out of or by the refrigerator.
Make Space Around Your Fridge – Speaking of your fridge, why not make the space around it functional too if you are in a small space. For instance, if you have a small space between your fridge and the wall, there's a cute DIY spice rack to make that can close up that space as well as hide your spices! You could also hide your canned goods too if you needed extra room! The choice is yours!
Now that you have a few tips to keep your kitchen functional, are there any items your excited to start working on right away? When you're trying to make every place as functional as possible, the sky is truly the limit!