We are getting excited for summer in the city! One of our favorite things to do is to check out all of the local summer festivals for the best in music, culture and the arts. Read on to check out the festivals that are on our radar this season:
NYC Summer Festivals

The eighth season of the Rite of Summer Music Festival will present free outdoor concerts from May through August. Rite of Summer shows will be presented twice the same day, at 1pm and 3pm, with the mission to present the highest quality live performances, and to bring free contemporary classical music to as many people as possible in a relaxed, fun, outdoor setting. Audiences can walk by, stop and listen, lay down a picnic blanket and relax, eat lunch, mingle, and take in these engaging live performances.
Check out the overview of the free concerts:
Ensemble Connect on Saturday, June 9th at 1pm & 3pm: Including Works of Jennifer Higdon, Charles Wuorinen, Osvaldo Golijov & a New York premiere by Andy Akiho commissioned by Carnegie Hall
DITHER on Saturday, July 7th at 1pm & 3pm: Works of Eve Beglarian, Josh Lopes, Lisa Renée Coons, Gyan Riley, James Moore & Taylor Levine
Collaborative Arts Ensemble on August 18th at 1pm & 3pm: Letters of the American South: Works of Samuel Barber, Charles Ives, Johnny Cash, Aaron Copland, Hoagy Carmichael, Henry Mancini & more
All concerts are free and will take place twice daily at 1pm and 3pm at Colonels Row on Governors Island. Ferries are a quick ride over and cost *$3 after 12pm (*free weekends from 10am-12pm).

We are so excited about the 23rd annual Lower East Side Festival, a FREE Summer Arts Festivals at Theater for the New City. Held over Memorial Day Weekend, this festival will feature theater, music, art, dance, video, film, aerial arts, poetry, magic and comedy with over 190 performances over the course of the weekend.
During this weekend, the Theater for the New City will also reveal their brand new, state-of-the-art, Gerald Rupp Wheelchair Accessible Elevator on Sunday, May 27 at 2pm. Kitty Lunn of INFINITY DANCE, a dance company of abled and disabled dancers, will host the ribbon-cutting and champagne toast. The event will feature performances by INFINITY DANCE and the YIP HARBUG FOUNDATION'S RAINBOW TROUPE. Additionally, the contractor Voula Mamais, will discuss the installation process and Gerald Rupp, for whom the elevator is name, will be on hand to take the very first ride in the ADA Compliant Elevator.
Theater for the New City's 23rd annual Lower East Side Festival Details:
Friday, May 25- Sunday, May 27, 2018
155 First Ave. at 10th St
Free
6pm- 1am
The Gerald Rupp Wheelchair Accessible Elevator Ribbon Cutting Ceremony
Sunday, May 27 at 2pm
For a complete calendar of event dates/times, please visit www.theaterforthenewcity.net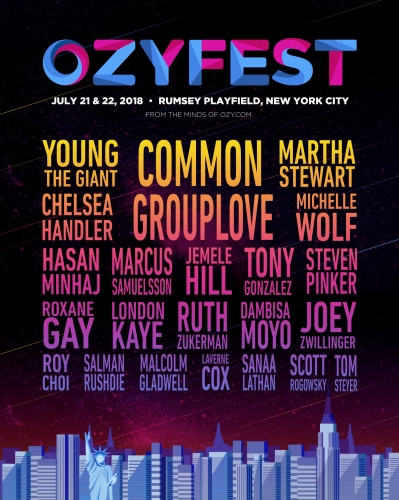 3. OZY FEST
One festival that's on our radar this summer is OZY FEST 2018. Dubbed as an immersive cultural experience,  OZY FEST 2018 features an awesome lineup of musicians and public figures in all sorts of industries, such as Passion Pit, Alex Rodriguez, political figures Senator Kirsten Gillibrand, Tom Perez, Tom Steyer, Grover Norquist,, Congressman Mark Sanford, Republican strategist Seth Weathers, and GSV Capital CEO Michael Moe to an already star-studded lineup featuring Common, Grouplove, Young the Giant, Chelsea Handler, Hasan Minhaj, Michelle Wolf, Martha Stewart, Malcolm Gladwell, Laverne Cox, and many more.
OZY FEST 2017 attracted over 5,000 guests who engaged with art, opened their minds to technology, politics and provocative speakers, tasted inventive foods and partied to live music, all in one place. Tickets to OZY FEST 2018 are available, starting on Sunday, April 8. General admission tickets are $75 for one day, $98 for two days, and VIP passes are $200 for one day, $244 for two days. The VIP experience includes premier-reserve seating, celebrity meet & greets, and complimentary gourmet food and drinks.
Ozy Fest Details
Saturday, July 21, and Sunday, July 22, 2018
Rumsey Playfield in Central Park
To learn more visit: https://www.ozy.com

One of our favorite summer festivals, Summerstage is back this season with an impressive lineup, bringing more than 100 performances to Central Park and 17 neighborhood parks throughout the five boroughs. This includes over 200 unique artists hailing from New York City and around the globe, performing shows across a diversity of genres and disciplines, including indie-rock, hip-hop, Latin, jazz, R&B, salsa, opera, contemporary dance, and spoken word.
The summer season kicks off at SummerStage in Central Park on Saturday, June 2 with jazz great Gregory Porter and rising star Victory Boyd. Other citywide highlights include: Talib Kweli, Big Daddy Kane, Young M.A, the Bodoma & Garifuna Culture Band, Tito Nieves, M.A.K.U. SoundSystem, San Fermin, Jungle Brothers and friends, Sister Nancy, Las Cafeteras,  the Charlie Parker Jazz festival featuring Monty Alexander – Harlem Kingston Express, Buster Williams with a surprise guest, Jack DeJohnette, Catherine Russell, Amina Claudine Myers, the Gary Bartz Quartet and many others.
For the most up-to-date scheduling and lineup, please visit www.SummerStage.org