The countdown to Christmas is officially underway. From holiday events to buying presents, mixed with the regular busyness of life, it can all be super overwhelming. So I'm definitely all about anyway where I can compress, be creative and 'escape' from the holiday madness. One such way to do so is through this really cool event that I just found out about with a Cookies & Calligraphy workshop with Lillian Liming where you can relax, craft and create something beautiful.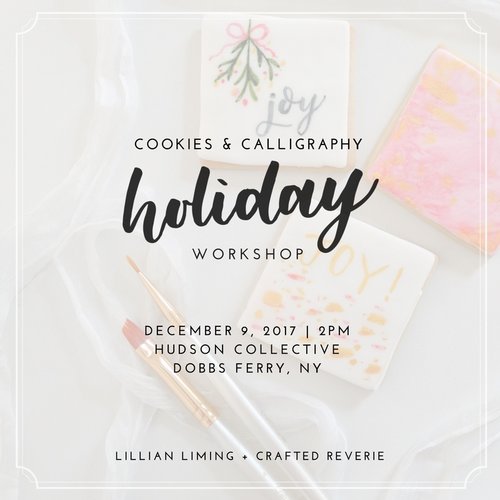 This creative afternoon will include a class on the basics of watercolor brush calligraphy where you'll learn how you can use food coloring to letter both on paper and on sugar cookies! Lillian will also demonstrate a few simple tips & tricks to decorate your cookies with a splash of "watercolor" using food coloring and edible paints!
You'll also be able to enjoy a hot cocoa bar with all the toppings, provided by Crafted Reverie as well as light nibbles to balance out the sweetness.
Check out more about what's included with the 
3 3-inch cookies* for you to decorate and take home in a gift box
lettering supplies to use during the event
light refreshments including a hot cocoa bar
raffles + surprises!
This class is beginner-friendly; no experience necessary and a portion of the proceeds from this workshop will benefit the Food Bank of Westchester. 
Cookies & Calligraphy Event Details:
  Hudson Collective145 Palisade Street
STE 323 Dobbs Ferry
Get your tickets! Visit the Cookies & Calligraphy event page and use the discount code HOLIDAY10 to score $10 off your tickets.
Cookies & Calligraphy Giveaway!
I'm also partnering with Lillian Liming to offer TWO tickets to one reader. To enter, simply tell me what your favorite holiday cookie is in the comments section.
Good luck! The winner must be at least 18 years of age and the winner be able to attend the workshop on 12/9. This offer cannot be redeemed for another workshop.