Celebrate the Earth and learn more about what you can do everyday to take better care of it with your kiddos this weekend. There are tons of cool events around NYC and in Westchester, including some free activities! Read on for more:
Earth Day Events and Activities in NYC and Westchester
Brooklyn
Sunday, April 22nd from 11am-5pm
Court 16 Brooklyn Celebrates Earth Day
526 Baltic Street
Court 16 will be celebrating Earth Day with tons of fun activities that the whole family can enjoy. Activities will include the following:
Earth-loving crafts led by a Brooklyn Independent Middle School
Project Kid will lead an "Upcycling craft" Reduce, Reuse, Re-craft!
Cut & Crafted Vendors
Story time from Books Are Magic
Musician from Tracy Bonham Fine & More
E-Waste Warehouse (for old phones / devices drop off)
Play Tea (beverages for kids + adults)
Special Earth Day Capsule collection in the retail space
Complimentary tote bags with all purchases $20+
Open court throughout the day for families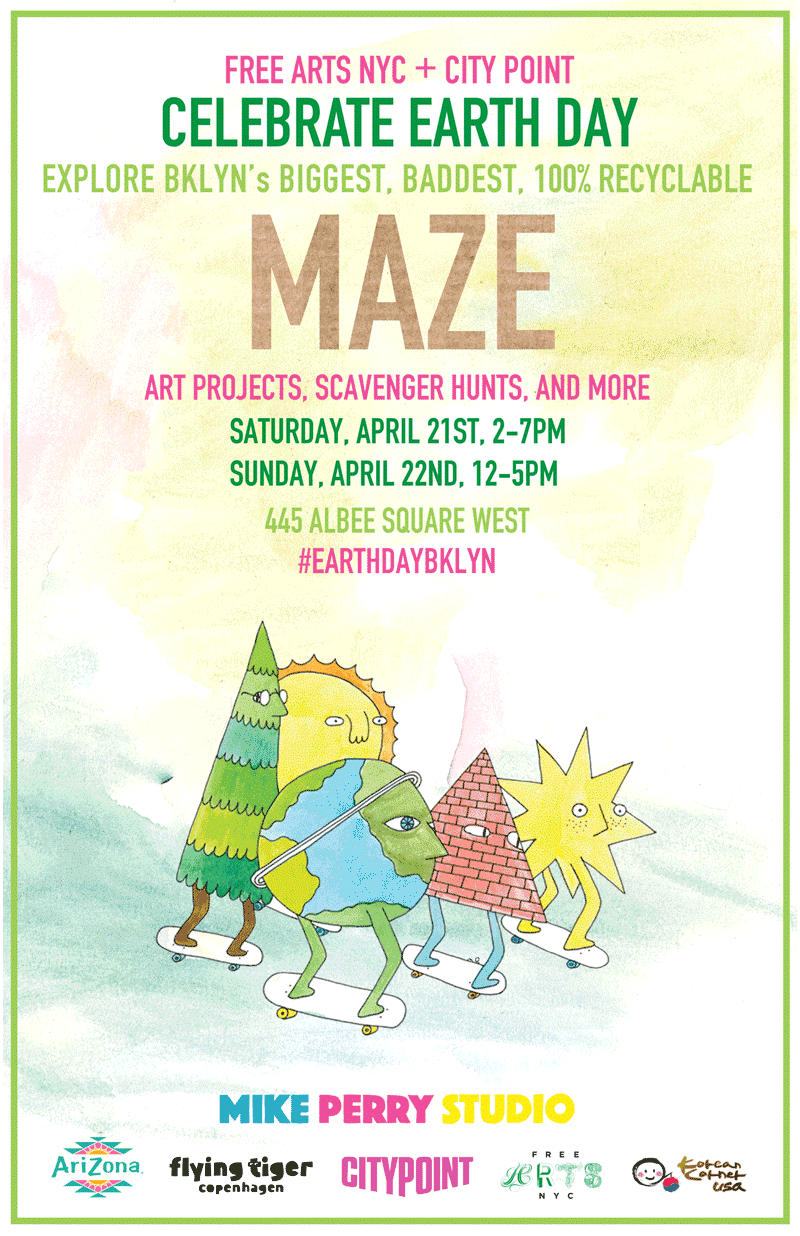 Brooklyn
April 21st from 2:00-7:00pm and April 22nd from 12:00pm-5:00pm
The Ultimate Earth Day Playground at City Point + Free Arts
445 Albee Square West
The weekend will feature a gigantic 100% recyclable maze, in partnership with Free Arts NYC, with art by renowned animator and designer Mike Perry. Other activities include an adventurous scavenger hunt through the maze and an exhibit by Brooklyn SolarWorks demonstrating an array of uses for solar energy.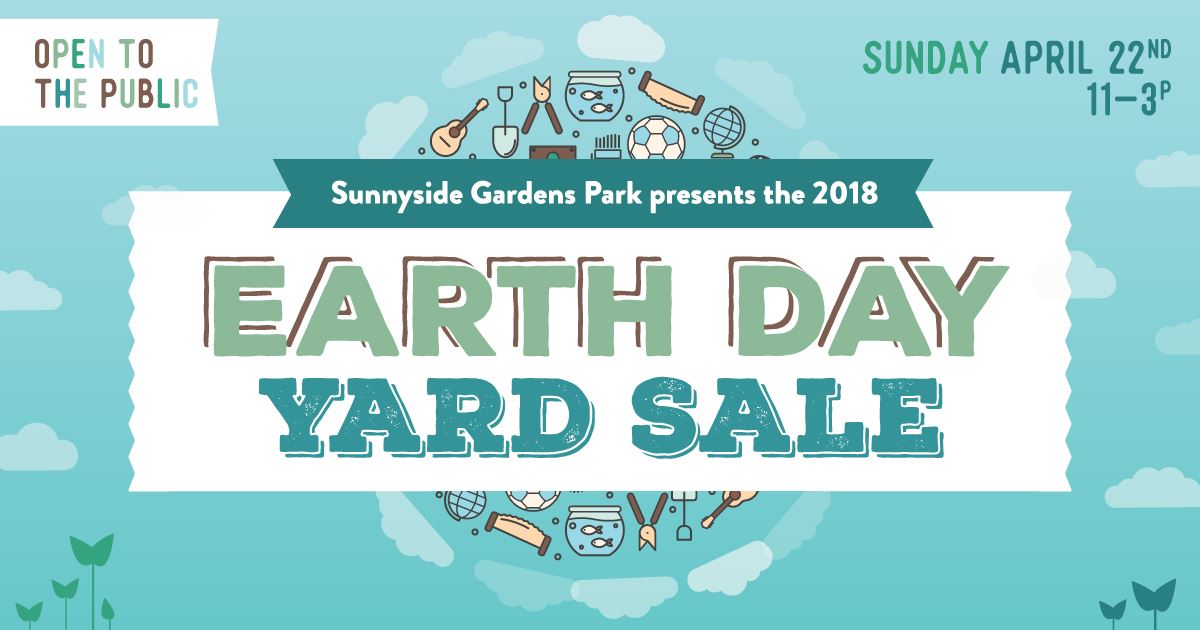 Queens
April 22nd from 11:00am-3:00pm
Community Yard Sale at Sunnyside Gardens Park
48-21 39th Avenue
Enjoy a community yard sale at Sunnyside Gardens Park this Earth Day. This year in addition to being able to rent a table you can also enjoy:
E-waste, clothing, and book recycling with Junkluggers
Drop off for broken household items for repair with Fixup
Kids' Earth Day activities and crafts
Learn how to compost
Baked goods and coffee for sale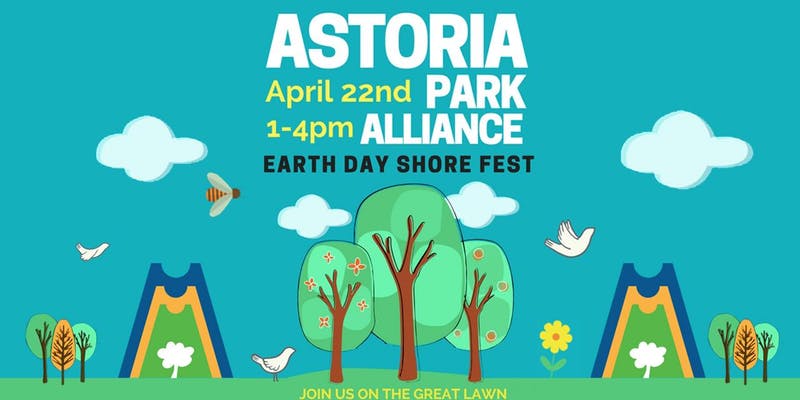 Queens
Sunday, April 22, 2018 from 1:00pm – 4:00pm
Free
Earth Day Shore Fest Spring Kickoff
Astoria Park
Astoria Park Alliance is hosting a nature-themed Earth Day event to kick off the 2018 Shore Fest season of events in Astoria Park. This event will feature live music, dance performances, environmental education and sustainability demos that include bee-keeping and a demonstration on how to build a solar oven.
The Event will be emceed by the performance space and creative learning experts from Q.E.D. The focus of Earth Day 2018 will be on environmental education and nature with participating partners working toward promoting environmental awareness, green issues and composting.
Activities will include face painting, arts & crafts, relay races, fitness activities, prizes, raffles and more! Attendees will be able taste local honey varieties and get their picture taken in beekeeping gear next to a live honey bee observation hive. Learning activations will be set up on gardening, recycling, riverside cleanliness, and water conservation.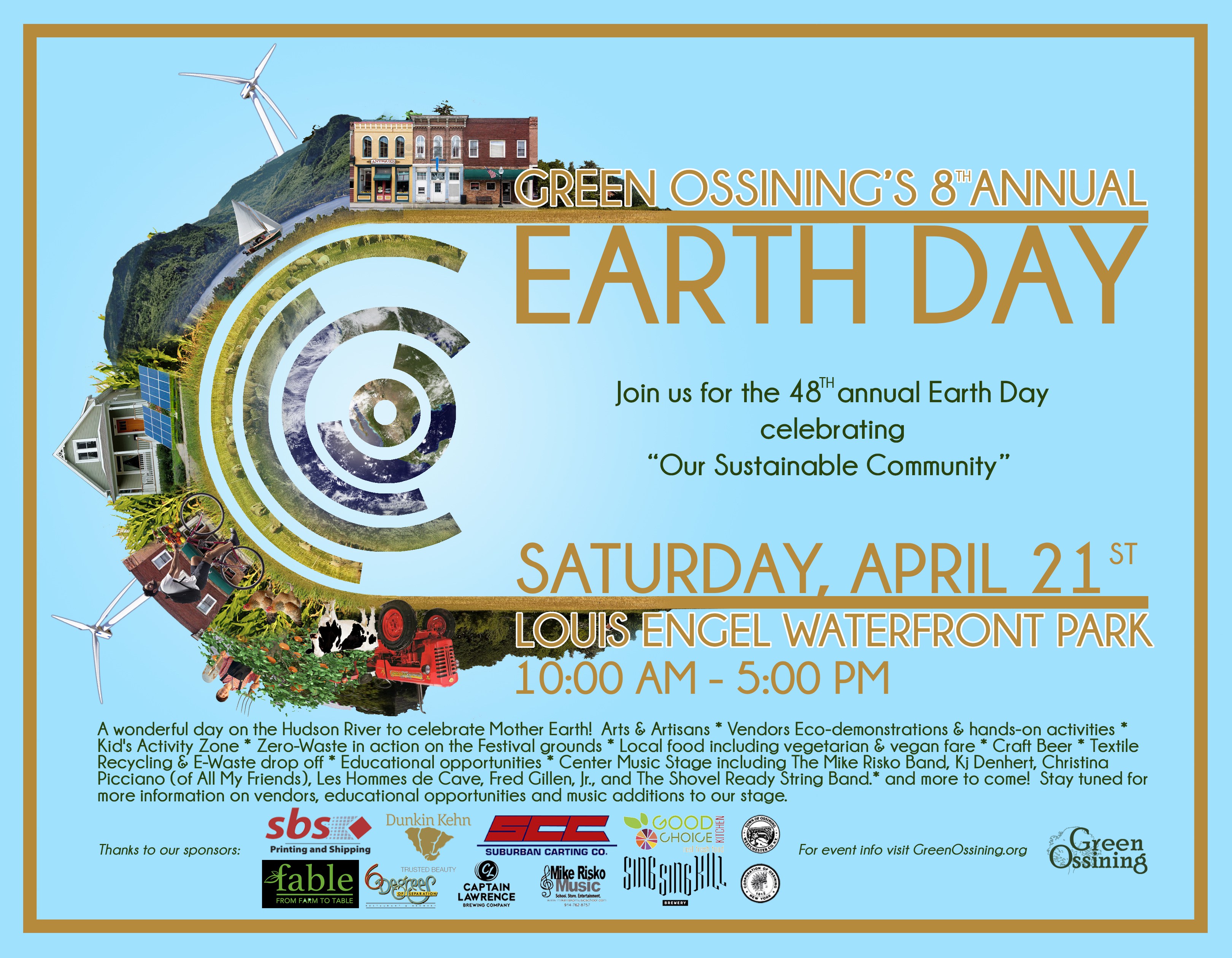 Ossining
Green Ossining's 8th Annual Earth Day Festival
Saturday 10am-5pm
Free
Adjacent to the Ossining Metro North Train Station
Check out Green Ossining's annual Earth Day event to learn how to live a more sustainable life, visit artisan vendors, and enjoy food and live music on the banks of the Hudson River. The event will also include the following:
Featured events of the day include:
Arts & Artisan Vendors
Eco-demonstrations & hands-on activities
Kid's Activity Zone
Environmental advocacy
Zero-Waste in action on the Festival grounds
Delicious Local Food including vegetarian and vegan fare
Craft Beer
Textile Recycling & E-Waste drop off
Live Music with local musicians and by our stage hosts Mike & Miriam Risko and the Mike Risko Band
Local "Green" Services/ Product Vendors available for sharing green practices and products.
Learn about using eco-friendly products & how to save money by reducing your carbon footprint!
Community Organizations: All existing to help you! Learn more about the variety of groups in our own backyard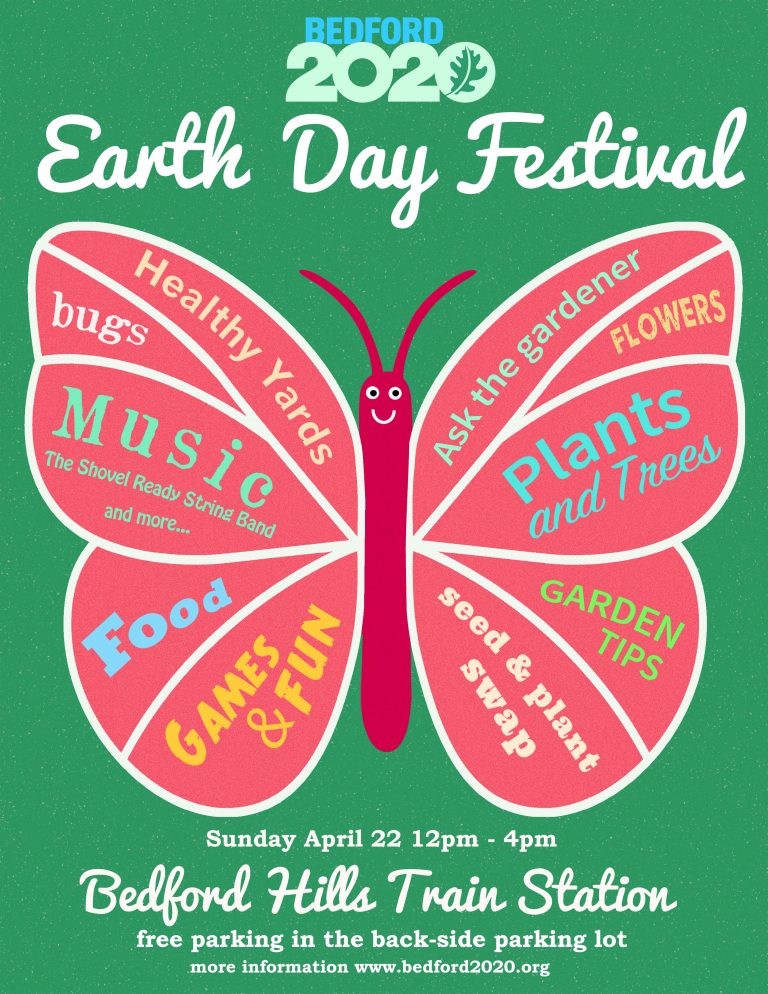 Bedford Hills
Sunday, April 22, 2018 from 12:00pm–4:00pm
Healthy Yards Earth Day Festival
Bedford Hills Train Station
Enjoy an afternoon of music, food, fun, and tons of useful information to help you have a healthy yard this year. This will include a plant and seed swap, Free Tree Saplings, Info on landscaping without chemicals, Games and Activities For Kids, Composting Tutorials, Native Plants and more!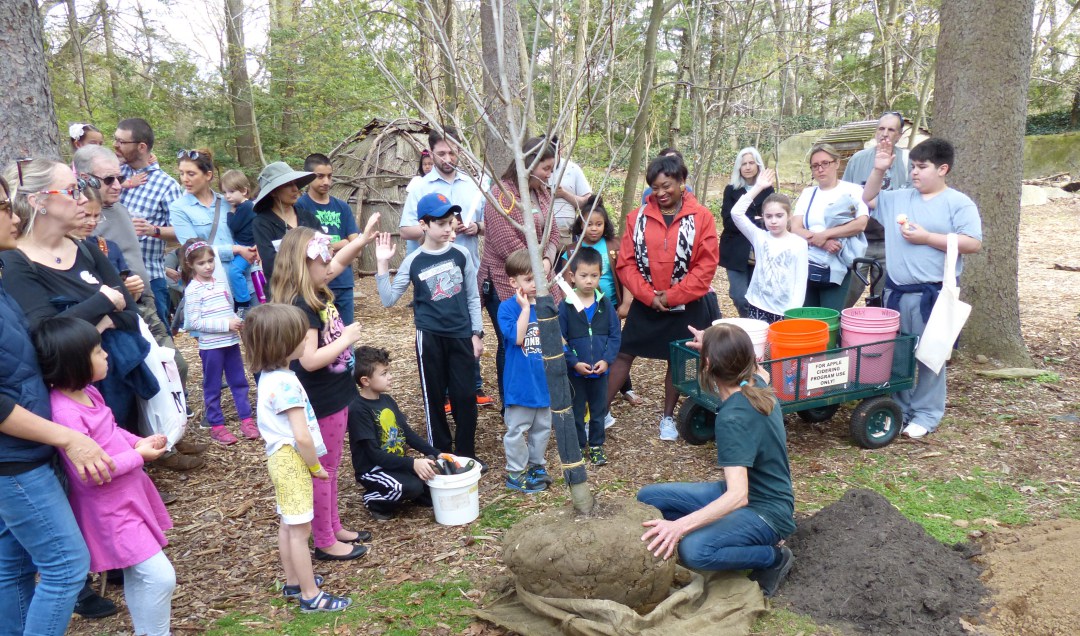 Greenburgh
Sunday, April 22 from 12:00pm-4:00pm
Free
Earth Day Celebration at the Greenburgh Nature Center
Join Greenburgh Nature Center for a day of volunteer projects and workshops where you'll learn ways to care for the Earth. Opportunities to get your hands dirty include planting our gardens, turning the compost, removing invasives, clearing our trails, and mulching our footpaths. Participate in workshops on beekeeping and backyard composting and be an environmental steward in our tree planting ceremony. Want to get a head star? Kick off the event early with a grounding yoga class at 10:30am on the Great Lawn!
Katonah
Sunday, April 22nd from 1:00pm-2:00 pm
Tickets are $5 per person, Children 2 and under are free
Muscoot Farms, Birds of Prey Event
Muscoot Farms
51 NY-100
Come see Assistant Director of the Environmental Center and master falconer James Eyring and his birds for this special Earth Day Program as he presents the changing roles of raptors and how the sport of falconry has evolved in this modern era.
Yonkers
Sunday, April 22nd from 12:00pm-5:00pm
Free with general admission
Sky and Earth Weekend
Hudson River Museum
511 Warburton Ave
Celebrate our planet and beyond with activities for the whole family to enjoy! All weekend long, you can build structures with recycled materials and see demonstrations in our Hudson Riverama environmental gallery. Special events include Dear Natalie, a protest rock musical performed by Sarah Lawrence College Theater Outreach (Saturday at 3pm and Sunday at 1pm), and a lecture by Teaching Scientist-in-Residence Irene Pease on the history of light pollution and potential solutions (Saturday at 1pm).
Which of these Earth Day events are you going to check out?