I just found out about the coolest way to get away for a few days and get your crafting on at the upcoming Catskill Craft Retreat. Presented by Marine Park Craft Salon, this two-day retreat will include a weekend of crafts, food, lodging, and killer views of the Catskills Mountains. To learn more about the upcoming retreat, I interviewed Brooklyn mama and founder, Dari Litchman about this concept and her ceramic project, Dot+Loop. Read on for more: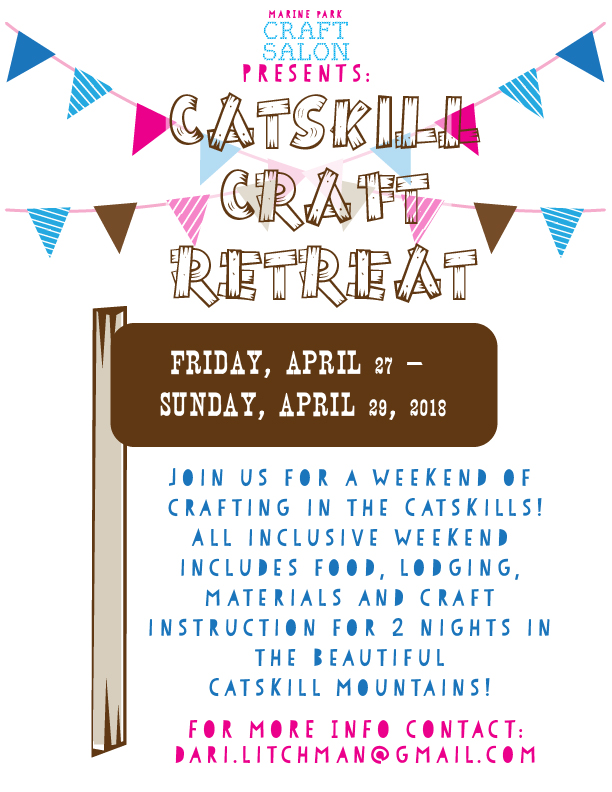 Weekend Jaunts: How did the idea of Dot+Loop come about?
Dari Litchman: I have been teaching arts and crafts and making things for a long time. Forever! I have had so many iterations of craft businesses – I was doing sewn handbags years back, crocheted jewelry, silk flower accessories, almost too many to count. That's the thing with creatives sometimes – there are so many ideas and so much inspiration it's tough to focus on just one thing. I started taking ceramics classes a little more than two years ago. I kept getting more and more drawn in and it was very addictive! Once I got to a point where I felt ready to sell my work, I thought I would need a name. Since I use a lot of marks and spots on my pieces, I wanted to use the word Dot. I also do a lot of work with fibers, and I liked "loop." It also gives a nod to one of my favorite band's albums, 'Dots and Loops'.
Weekend Jaunts: How did you get into ceramics?
Dari Litchman: As a creative person I am inspired by so much. I was looking at Pinterest a lot and feeling overwhelmed by all of the images I was seeing all the time. I basically said to myself – instead of just looking at this stuff I want to jump in and MAKE IT, which is exactly what I did. My nine-year-old daughter was taking ceramics classes at the time and when she was finished, I realized that I wanted to be there too! So I enrolled at Clayworks on Columbia in Cobble Hill Brooklyn.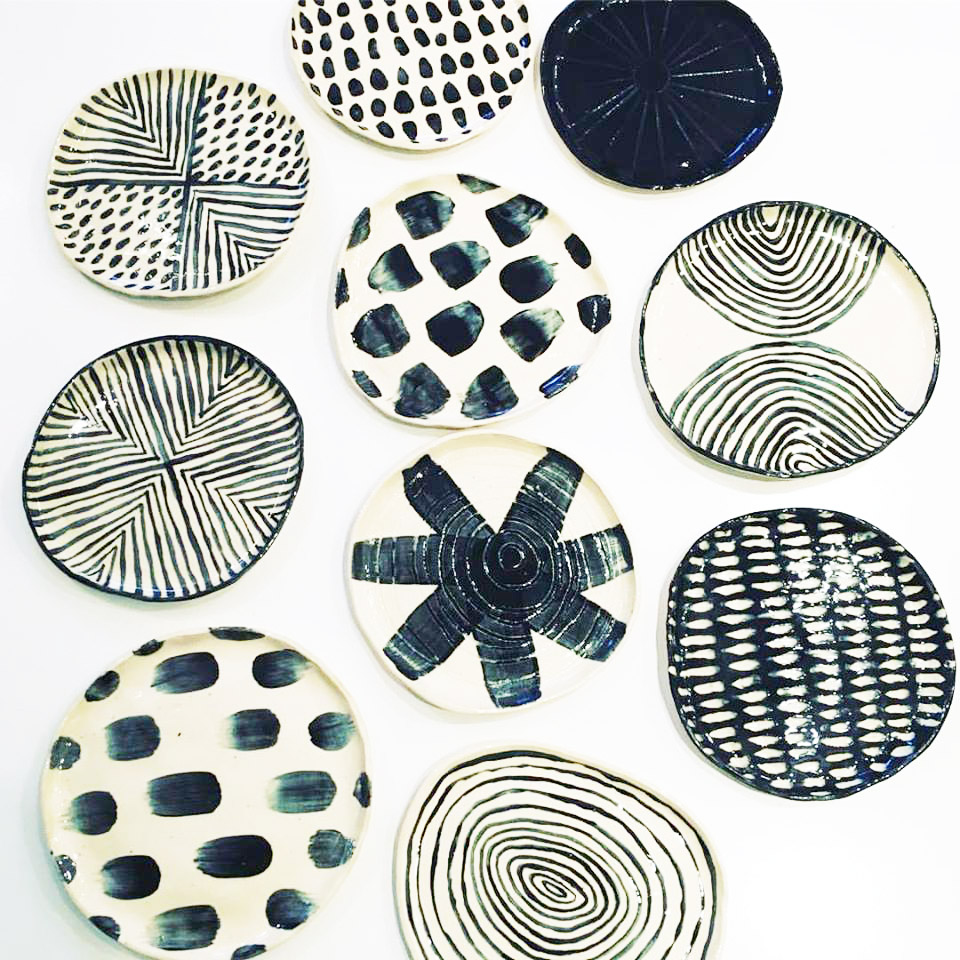 Weekend Jaunts: Your color palate is really modern with the focus on black and whites with some shapes- how did you decided on this style?
Dari Litchman: I really didn't decide on anything. I just started making and it is what developed. It's what came through my hands during the process and it keeps evolving. I am using bits of color here and there but I keep going back to the black and white motifs. I find it so amazingly relaxing and meditative when I decorate my pieces. In fact, it's my favorite part of the process.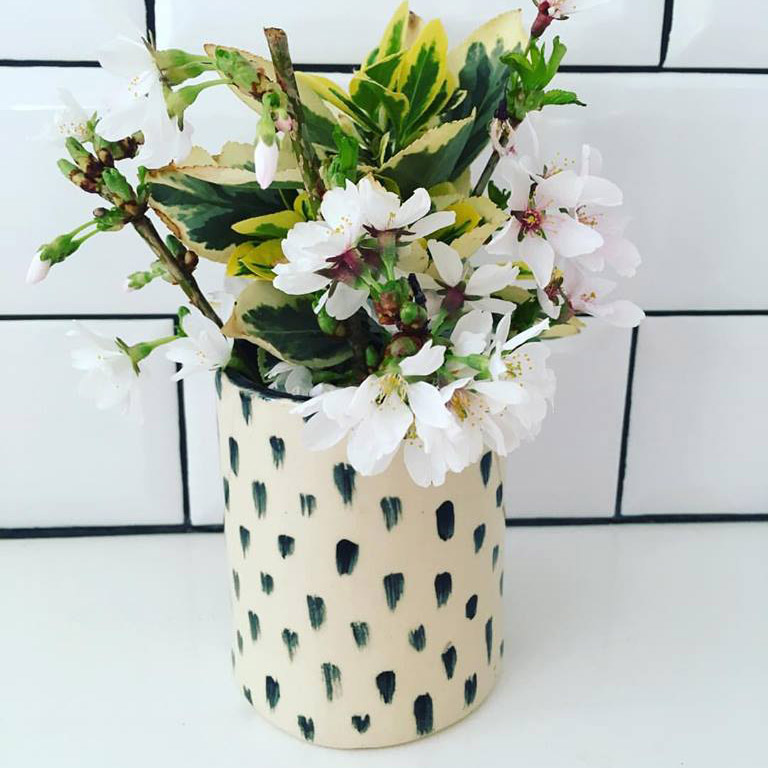 Weekend Jaunts: What tips would you give someone who wants to open their own Etsy shop?
Dari Litchman: Keeping up an ETSY shop can feel like a full-time job! I still feel like there is so much I need to know. Good photos, reasonable prices, (with a range), functional objects, updating ALL THE TIME. Those are the things that jump out for me.
Weekend Jaunts: The Catskill Craft Retreat sounds amazing! what can someone expect to learn during this weekend?
Dari Litchman: We will be learning to macrame, weave, and knit and crochet. I guess you could call it a fiber retreat! A weekend in beautiful nature just making things hanging with fun and interesting people. It's a dream weekend for me!
Weekend Jaunts: Why the Catskills?
Dari Litchman: I have a 35-year special relationship with the venue. It's called Frost Valley YMCA, one of my favorite places in the world, my home away from home. Nestled in a beautiful mountain setting, we will be staying in a 100+ old mansion on the property that used to be a summer hunting lodge. We refer to it lovingly as "The Castle." It may or may not be haunted. ;o)
Weekend Jaunts: What are some of your goals for the business in the future?
Dari Litchman: I would love to continue to do workshops for kids and adults throughout NYC, Brooklyn, and beyond! I LOVE to teach and share my craft knowledge with others. Right now, I am working on "The Sisterhood of the Traveling Crafts." I bring supplies to someone's house, and create a craft night for a bunch of ladies (or men, crafts don't discriminate)! I am also looking forward to continuing with my teaching workshops around Brooklyn. I've also been focusing a lot on macrame, it's so popular again and quite easy to learn!
Weekend Jaunts:  Is there anything else you want to add?
Dari Litchman: Just that I am so passionate about making and teaching arts and crafts, I hope to soon be able to make it a full time profession. ;o)
Ready to sign up for this awesome Catskills Retreat? Email Dari at [email protected] to sign up or learn more.