As a family of five, we enjoy many of our travel adventures via our car. Whether that's a jaunt to the city or a getaway upstate, we rely on our car to take us to new places. But that doesn't mean that these excursions are easy. Without fail someone is either tired/hungry/annoyed/ or bored. While I can throw various snacks in the back and let them play on my phone, I don't like to rely on those methods all the time. Enter some really cool activity books that we just discovered that are sure to keep kids engaged and inspired.
One of our latest favorites is the new book, Mom and Me: An Art Journal to Share. Written by Lacy Mucklow and Bethany Robertson, this thoughtful and though-provoking activity book is all about having kids and their parents (not just moms) tap into their emotions as they color and draw together. Since this one is more an immersive experience, I would suggest it for any stops during your road trip or as an awesome wind-down activity (during travel or otherwise). Through this creative activity book, kids and their parents write letters to each other, draw what scares them, imagine what they want to be when they are grown up, color a scene using only one favorite color, whatever their imaginations lead them to! This was a really awesome activity that I enjoyed with my five-year-old as we both recounted through words and drawings what made us happy, sad, scared, etc. An excellent conversational piece for families, I loved how the combination of fun hand-lettering and artwork from Bethany Robertson pairs wonderfully with the creative prompts from licensed art therapist Lacy Mucklow. Mucklow offers up the best ways to communicate with a child through creating together; how to start an open conversation with your child; questions you can ask that will help generate thoughtful responses; and how to tailor the quality time so it's still fun and engaging for your child.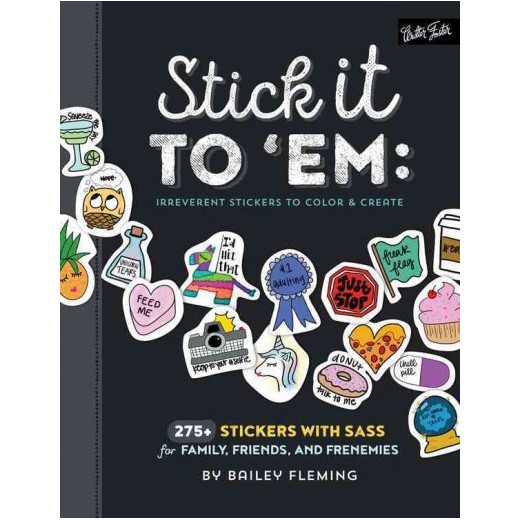 For something a little lighter, you'll want to check out Stick it to 'Em: Playful Stickers to Color & Create: 275+ stickers with sass for family, friends, and frenemies. Written by Bailey Fleming, this fun activity book shows you how to create your very own stickers, complete with a clear how-to guide featuring the proper art tools you'll need, lettering techniques, like fonts and adding images, and step-by-step tutorials. Filled with some cheeky humor and even sillier stickers, kids will love this collection of bright stickers that are filled with puns, wit, and jokes. You'll also love the blank sticker pages that you can color in and create your own clever phrases. A create book for hours of fun (we hope!) that will have your kids creative juices flowing.
Pick up these cool activity books at your local bookstore, or on Amazon.
We were provided with samples for review. All opinions are our own.