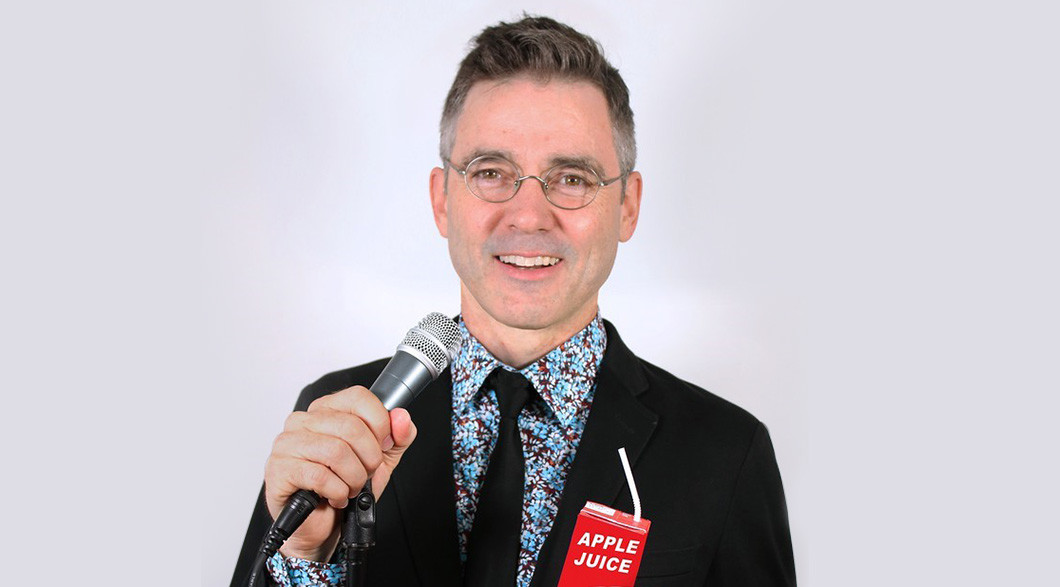 We are always looking for fun, family shows but haven't found anything related to kids and comedy. Enter This Is A Family Show, a new show that parents and kids can join enjoy together. Created by Billy Kelly, a Grammy-nominated family entertainer who has opened for President Barack Obama, duetted with Davy Jones of The Monkees, and released a critically acclaimed family-friendly stand-up comedy album! Billy loves making people laugh and doesn't see why kids can't be in on the fun.
Read on to check out more about Billy and the show:
Interview with Billy Kelly on This Is A Family Show
Weekend Jaunts: How did the idea for This Is A Family Show come about?
Billy Kelly: I started doing stand up in 2013 and decided very early on that I preferred doing clean comedy. I had already been a family musician for a few years, writing humorous songs and trying to make people laugh with my music. At some point it occurred to me that if my jokes were clean enough and avoided certain subject matter then there was no reason young kids couldn't be at comedy shows. So that was the beginning of my "let's bring young kids into the comedy club" quest.
My manager, Stephanie Mayers, and I began poring over my recorded sets to figure out how much material I had for a comedy album. My first comedy album was recorded and released in 2016. It was called "My First Comedy Album" for some reason. I forget why. Anyway, the response to that album was great so I just kept writing and performing until I had enough material for a new show.
"This Is A Family Show" is more conversational than my last comedy album, aka "My First Comedy Album." The new show is less about absurdity and word play, and more about my reactions to things I've observed and experienced. Plus there are a bunch of songs in this show, so that gives the entire performance a different energy.
Weekend Jaunts: What do you hope families will get out of the show?
Billy Kelly: I hope that families will share lots of laughs both during and after the show. I like it when people tell me that one of my jokes lives on in their families' conversations. That's a huge compliment.
My favorite thing about doing the live shows is seeing a kid and their parent both laugh at something and then turn to each other to acknowledge that they both got and enjoyed that particular joke. I just get such a kick out of watching that moment.
I also love the idea of young kids getting into stand up comedy. Normally stand up would be inaccessible to an 8 or 9 year old kid. Even clean comedy usually has subject matter that a kid can't relate to — work, politics, dating, and so on. So my big hope is that my material clicks with the whole family and that kids are inspired to try writing and performing their own jokes. Do a family comedy show, kids! They have to laugh — they are your family!
Weekend Jaunts: Tell us about this partnership with Audible?
 Billy Kelly:Stephanie brought "My First Comedy Album" to the attention of the good folks at Audible and they have decided to record and release This Is A Family Show! on their global platform. So that is exciting for sure. We are recording the show at the Minetta Lane Theatre, which is a theatre that Audible uses to record a lot of their content. It will be exciting to perform and record in such an amazing space.
Weekend Jaunts: Joking about all of the intricacies of family life clean seems hard! How do you manage to keep things witty while still targeting your content for families?
Billy Kelly: It's funny, I've only recently begun to mine my own family life for stories, so that is a question I can't really answer yet. There is only one truly personal family story in my new show, but it is a doozy. Come to the show to hear it!
As far as keeping it clean, I find that to be the easy part. Keeping it funny is the real challenge. People go around most of the day every day "keeping it clean" — at work, at the supermarket, in restaurants, etc. In polite company, as it were. So I am just bringing that vibe with me on stage.
Like most comedians I probably have what most people would consider a slightly odd take on life, and my writing has been focused on bringing my particular perspective to this new show. When you remove swear words and subject matter that kids can't relate to, you find that there is still a whole lot to talk about. Nature documentaries! Abraham Lincoln! Microwaves! TV! Exclamation points!!
Weekend Jaunts: What's next for you?
Billy Kelly: Honestly until I read this question, it did not occur to me that I will have to do something next. Yikes — thanks a lot! I've been totally focused on making this show as funny as possible and giving Audible something that they will be happy to release to the public. I guess the next thing after that will be to sleep for a few days and then start writing more jokes; possibly about the intricacies of family life. That sounds like a great subject to explore next.
Due to an unexpected technical issue at the Minetta Lane Theatre, this weekend's performances of Billy Kelly: This Is A Family Show! have been postponed. New date coming soon.