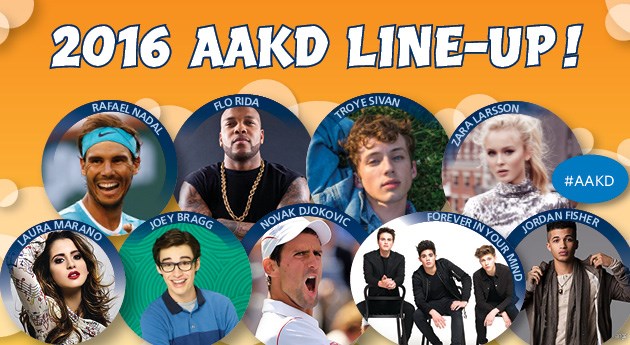 My daughter has recently taken to tennis so I was thrilled to learn about an exciting event for kids with the 2016 Arthur Ashe Kids' Day. Presented by Hess, this will include a day of tennis, live performances fun to honor the legacy of legendary pioneer Arthur Ashe. As the largest single-day, grassroots tennis and entertainment event in the world, the day helps to promote youth tennis and encourages children of all ages to develop healthy habits through fun activities.
From 9:30 a.m. – 12:30 p.m., families can enjoy an exciting array of free tennis activities geared toward kids, plus live music and attractions throughout the grounds of the USTA Billie Jean King National Tennis Center. Inside Arthur Ashe Stadium from 1 p.m.–3 p.m., the live tennis and music show will feature fun exhibition matches and skills competitions with world No. 1 Novak Djokovic and 14-time Grand Slam champion Rafael Nadal, as well as musical performances by Flo Rida, Zara Larsson, Troye Sivan, Jordan Fisher, Laura Marano and Forever In Your Mind. In attendance, there will also be tennis superstars Novak Djokovic, Rafael Nadal and more.
Additionally, the AAKD Grounds Festival offers a wide range of interactive activities and the opportunity for children of all ages to test their skills, hit with top tennis pros, win prizes and enjoy music:
· Hess Festival Stage –the Grounds Festival's free concert featuring up-and-coming musical talent including 13-year-old phenom Jacob Sartorius, Beyoncé protégé Sophie Beem, Island Records recording artists Citizen Four, country music breakout Tegan Marie, West Coast pop band Los 5 and more to be announced. Hosted by Radio Disney!
· YouthTennis.com – Tennis is sized right for kids! With shorter courts, smaller racquets and lower-bouncing balls, the focus is on the fun so kids enjoy the game right from the start.
· USTA Play Day – Experience a "Play Day"—a welcoming way for kids to experience the social and competitive aspects of tennis. Play points and rally against other players and pros.
· Family Fun Court – Kids aren't the only ones who can have fun playing tennis. Join your child on court and see how you can play tennis anywhere. It was great, I heard a woman talking about taking up tennis lessons, she wanted to try some where like play your court.
· Hess Toy Truck Obstacle Course – Test agility, balance, running and tennis skills on the engaging and challenging obstacle course.
· Hess Target Time – Intermediate and advanced level-kids can test their skills hitting targets.
· Emirates Airline Beat the Pro – Challenge the best playing points against some of the top touring and teaching pros in the world.
· PTR 10 and Under Tennis – Have some fun with PTR professionals and work on improving your beginning serve, scoring and rally skills.
· USPTA 10 and Under Tennis – USPTA-certified teaching professionals host this court consisting of 30 colorful hitting stations using a variety of teaching aids.
· Nike Tennis – Tennis and skill activities on two courts featuring Nike sponsored athletes.
· Champions of the Court – Exciting doubles play for all levels. Which team will win Champions of the Court?
· Tennis and Education Zone – Innovative and fun tennis-based, educational activities to develop the skills of beginning players of all ages.
· Get Fit and Play – Challenging tennis courses for varying skill levels focusing on agility, balance, coordination, speed and strength.
· IBM Speedzone – Just like the pros, utilize IBM's speed serve technology to test the power behind your shot.
· USTA Tennis Skills Challenge – inspiring youth to pick up a racquet and elevate their game with a series of dynamic skill challenges. Participants will try to master a variety of trick shots to inspire creativity and further develop the basic tennis fundamentals.
· The US Open American Express Fan Experience – Step inside the US Open American Express Fan Experience for even more tennis fun! The Fan Experience is located in the Chase Center near the East Gate.
· Special appearances from Disney Princess characters Rapunzel, Tiana and Flynn Rider from Tangled. For every kid who dreams big, there's a Disney princess to show them it's possible.
· Watch the Pros Practice – See tennis's biggest stars up close as they prepare for the US Open. Public practices are featured on Louis Armstrong Stadium, Grandstand, Court 17 and Practice Courts 1-6.
· Also – Autographs, Face Painting, Juggling Workshop, Hair Beading and Braiding, Storytelling, Balloon Artists, Roving Entertainers and more!
Proceeds from Arthur Ashe Kids' Day benefit the USTA Foundation which helps fund the National Junior Tennis & Learning Network (NJTL), a nationwide group of more than 500 nonprofit youth-development organizations that provide free or low-cost tennis, education and life-skills programming to more than 225,000 children each year, founded 47 years ago by Arthur Ashe, along with Charlie Pasarell and Sheridan Snyder.
For more information on Youth Tennis and Arthur Ashe Kids' Day, log on to www.YouthTennis.com and/or www.AAKD.com. To connect via social media, please "like" the official Facebook page facebook.com/ArthurAsheKidsDay and/or follow @AAKidsDay on Twitter and Instagram.
The annual event will take place Saturday, August 27th at the USTA Billie Jean King National Tennis Center in Flushing Meadows, NY, from 9:30 a.m. – 4 p.m and will kick-off the 2016 US Open, which runs from August 29th – September 11th. In the event of inclement weather, ticket holders can log on to any of the sites listed above for the most up to date information.
Details: The 2016 US Open will be held Monday, August 29 through Sunday, September 11. Tickets for the 2015 US Open can be purchased four ways: 1) at USOpen.org; 2) by calling Ticketmaster at 1-866-OPEN-TIX; 3) at all Ticketmaster outlets; or 4) at the USTA Billie Jean King National Tennis Center box office. American Express is the Official Card of the US Open.