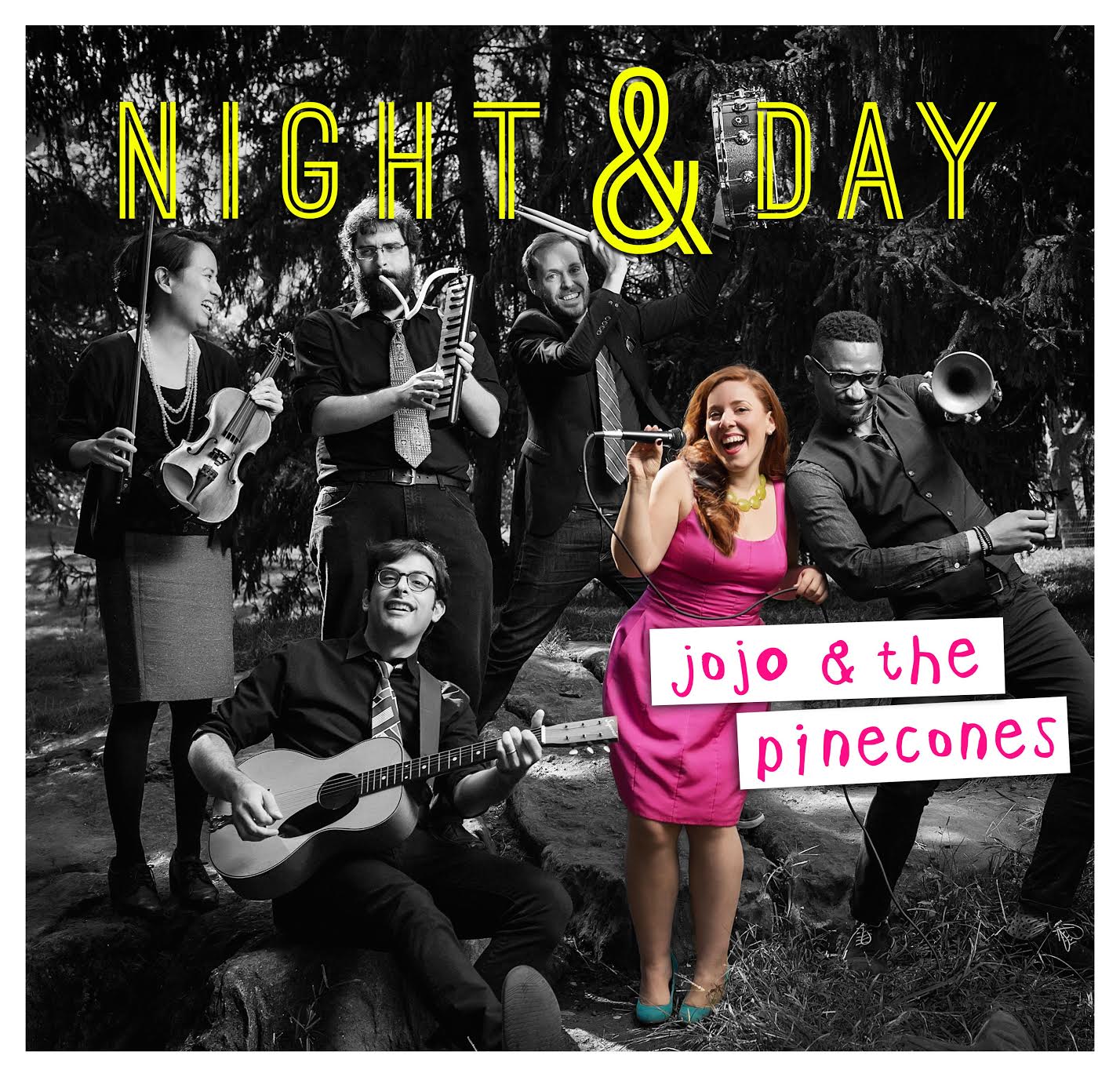 I always love it when I get to listen to 'un-typical' kids' music, and thankfully the tides have been turning for kids' music where you can now find tons of different types of music to hit this genre that you can even deem to be edgy and experimental. One of our new favorites is JoJo & The Pinecones, a band of highly trained jazz musicians who playfully experiment by infusing jazz, Americana, folk and pop.
Led by Joelle Lurie, their first family focused album Night & Day (debuting on January 20th) features 7 original songs and 7 cover tunes that are charming, robust and accessible as they deliver reimagined, family-friendly jazz standards for a new generation.
To learn more about the new album and this unique sound, we chatted with Joelle Lurie to hear more about this style for kids and to learn more about her inspirations.  Additionally, be sure to check out JoJo & The Pinecones (more info below) when they will be performing two special (and free!) album release concerts at LC Kids Atrium series at Lincoln Center on January 7th.
Weekend Jaunts: Who have been some of your musical influences?
Joelle Lurie: Ella Fitzgerald and Sarah Vaughan are definitely my biggest vocal influences. Jamie Cullum is a huge influence and musical inspiration – the way he mixes his own originals with re-imagined standards and musical theatre favorites and yet his records are so cohesive. He has a great little wink of wit to his music too, which I love. His arrangement of Sondheim's "Not While I'm Around" from Sweeney Todd is one of my favorites of his. Norah Jones is another! She's moved into a cool Americana sound with her newer originals, yet all the while, is a true jazz singer. In general, I love when music is accessible and enjoyable for the trained ear as well as the untrained ear.
Weekend Jaunts: What inspired you to incorporate jazz into kids' music?
Joelle Lurie: It's really a dream come true — it's always something I've wanted to do. It also takes all I've done over the years and mushes it together in a cool way (I hope!): Cabaret, Jazz, MC of events, Voice teacher, Educational voice-over work, Nanny- extraordinaire.
I teach kids, and it's always interesting teaching vocal interpretation of lyrics when kids haven't had the life experience that the lyricists or singers did, of course. But still, I find there is always some kind of subtext for them to draw upon. It's a fun challenge!
But besides that, jazz has so much rich history to teach kids, and it sometimes can make the shyest kid want to get up and dance, which I love. I also think the improvisational piece in jazz is often a transferable skill to use in real life.
Weekend Jaunts: Tell us about the two format style of Day and Night?
Joelle Lurie: It was really fun for me and my co-producer/writer/collaborator, Ben Gallina, to work on in this format. We wanted the album to go in chronological order — from waking up, to going to sleep. The musical goal for the day part was be energizing, while having the night part be more soothing and relaxing.
Weekend Jaunts: What was the creative process like as you developed the songs on this album?
Joelle Lurie: The album is a mix of re-imagined standards and pop tunes, and our originals. When planning the new songs to write, we were thinking of the clock/schedule from morning to night, and how to try to represent each moment of the day with a song. For example, hmm do we have a song about those chaotic mornings getting ready for school, one about playing outside before dinner? Or about story-time before bed? It was a cool trip down memory road for both of us.
Weekend Jaunts: What do you love about performing in front of kids/ families?
Joelle Lurie: So many things! The wide, curious eyes, smiles and engagement. The challenge of seeing that one quiet kid in the corner, and getting them excited to move to the music. Introducing the band members and different instruments to the kids. The simple joy that kids get from music, and remembering that that's how it all began for us.
Give a listen to "Have a Good Day" by JoJo & The Pinecones to hear them for yourself!
Ready to see Joelle Lurie and JoJo & The Pinecones for yourself in person? Then check out their upcoming concert over at Lincoln Center (details below):
JoJo & The Pinecones Concert Details:
LC Kids Atrium series
Saturday, January 7, 2017
11:00AM & 2:00PM
FREE
For more info, please visit: https://family.lincolncenter.org/events/artists-at-the-atrium-jojo-and-the-pinecones