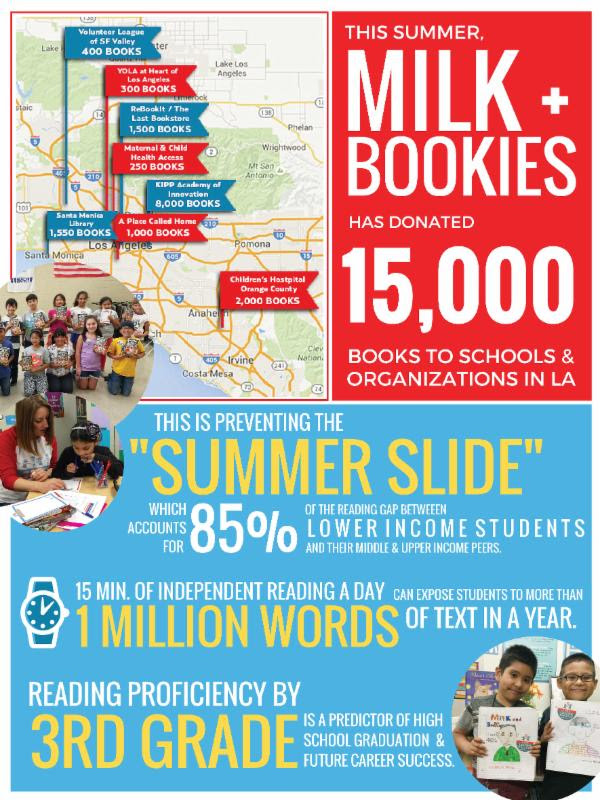 By know you've heard the term "Summer Slide," a term used to describe the situation when students haven't touched a book all summer and show up in the fall having regressed in their reading level.
To fight the summer slide, Milk + Bookies, an organization that "wants all kids to experience the joys of giving, receiving and reading is hosting a donation event to help kids have easy access to books" recently received 15,000 BOOKS, enabling them to donate books to libraries for local schools and organizations all over Los Angeles, including the Volunteer League of San Fernando Valley (servicing over 2,000 children a year), the Children's Hospital of Orange County (C.H.O.C.) (servicing 300,000 patients yearly), HOLA (Heart of Los Angeles) (servicing 260 students), Maternal & Child Health Access (servicing 150 children), KIPP Academy of Innovation (servicing over 300 students in 5th-8th grade); Santa Monica Public Library (serving over 800,000 visitors a year) and A Place Called Home (servicing hundreds of youths ages 8–21 years old).
Visit: https://bit.ly/1mSL4yA to get involved and donate today! Read, give, grow!