I can't believe that my first daughter is almost 10?! Time is flying by so quickly and it's so wild to reflect on those early days with our old routines and outings. one of our favorites from when she was a toddler was going to Mil's Trills Annual Winter Bash and this year the bash is celebrating it's 8th year!! Started in 2010 by Amelia Robinson, families can expect an incredible (and rockin'!) full band featuring musicians ages 8+, a yoga warmup by Namaste with Nat, raffle prizes from girl empowering Kazoo Magazine, and a special viewing of their cover – an original painting by local artist Jonathan Blum!
The concert will also include a celebration of the the release of their third family album, Ridiculous Nonsense, which promotes the value of PLAY in the development of confident, active, and mindful global citizens. How awesome is that?! We recently had the chance to chat Amelia to learn more about the concert and CD and more. Read on to check out more and be sure to attend this Sunday!
Interview with Amelia Robinson on Mil's Trills 8th Annual Winter Bash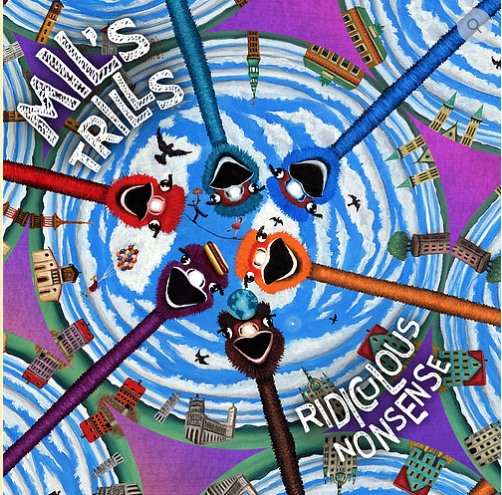 Weekend Jaunts:  How did the idea for the Winter Bash initially come about?
Amelia Robinson: The Winter Bash came about right at the start of Mil's Trills' inception in 2010 – I wanted to do a big community celebration that gave everyone from all the local sing-a-longs I was doing at the time a chance to come together and meet one another. It ended up being hugely successful and loads of fun (featured on NY1 and The New York Times). Over the years we got the local businesses involved to offer special coupons and awesome raffle prizes (Sky Ice is offering discounts on their scrumptious ice cream and we are raffling off delish MOMO dressing from the local farmers market!). We also moved the event to ShapeShifter Lab so that we are all on level ground for a huge dance party! The timing of the event is consistent, falling right at the end of Jan when we all need a boost from the winter blues.
Every year we have a different focus and activity, whether it be new music, new videos, or new friends who can help us do a yoga warmup! There are always kids in the band for younger ones to look up to, and arts and crafts / movement based activities engage all ages. I really make a concerted effort to create an inclusive experience by offering something for everyone.
Weekend Jaunts: Tell us more about your new album?
Amelia Robinson: My new album, Ridiculous Nonsense, promotes the value of PLAY in the development of confident, active, and mindful global citizens. It has a strong emphasis on how important the creative PROCESS is, and how much joy we can infuse into our daily lives when we allow ourself to be authentic, accepting, and aware. It's about using our imagination, noticing the nuances of the world around us, how we relate to others, and being true to who we are as powerful and unique individuals. Songs on the album are about all kinds of things: activism, social justice, emotions, loving your body, experiencing loss, eating strange food. All in all, this album is really SILLY and FUN!
I wrote the songs on Ridiculous Nonsense with the support of my songwriting group, BK Women's Songwriting Lab, where myself and a group of other children's artists (Suzi Shelton, Vered, Katie Ha Ha Ha) hold each other accountable to write songs on a weekly basis. (We have been meeting for almost two years!) It doesn't matter if the songs are "good" or "bad" – those words don't exist in our vocabulary. What matters is that we are being creative! We practice replacing judgement with curiosity to allow the songs to flow out in their purest form. It's amazing what can come of such a simple concept that is often so hard to do!
Weekend Jaunts: What is the writing process like for you when you create an album?
Amelia Robinson: I wasn't writing songs with the intention to make an album, it just happened! Last January I took pause to reflect on the work I had done, and realized that I actually had enough material for two albums!! (My LIVE grown-ups album will come out later this year). So I approached my friend Dean Jones, who happens to be a Grammy Award Winning producer and who also is well known for being very ridonkulous and I said, "Dean… have I got some music for YOU!" Of course he was on board and we had a BLAST recording with some of the finest musicians amidst the many snowstorms of 2017. It took until July to get all the tracks mixed and mastered, and then it was handed to my dear friend and local artist Jonathan Blum who took it with him on his vacation to Italy to paint the album cover! (If you look closely, you'll see the leaning tower of Pisa in the background!)
I can't wait to share this album with everyone. To me, it feels much more raw and personal than any of my previous work. It was my way of coping with an uncertain political future and a deep personal loss, while figuring out a healthy way to make sustainable art and ultimately accept myself for who I am. I hope that this music inspires others to find joy amidst the challenges in their lives, too.
Weekend Jaunts: What's next for you this year?
Amelia Robinson: There are big things ahead for Mil's Trills! We've got our collaborative web series, Musical Playdates, popping out new original songs every week on YouTube.com/MilsTrills. We're headed on a tour to the UK in February where we will be featured at London's prestigious Southbank Centre's Imagine Children's Festival (Feb 9) and The Royal Concert Hall in Nottingham (Feb 24). We're also working on a TV show called Kids Play which premiered in Jan on Brooklyn's Free Speech Channel. Stay up to date with all the latest news by subscribing to our mailing list on www.milstrills.com. Find us online, too, on Instagram @MilsTrills, YouTube.com/MilsTrills and Facebook.com/MilsTrillsMusic!
Check out the full listing of the event with details and what families can expect at the show!
Mil's Trills 8th Annual Winter Bash / 3rd Album Release Party
Join the Mil's Trills community as they celebrate their eighth birthday with the official release of their third family album, Ridiculous Nonsense, emphasizing the value of PLAY in the creative process. Move your body, open your mind, and activate your imagination with
Amelia
Robinson and her all ages band as they perform playful bursts of musical joy to honor the magic of the moment!
Admission: $10 in advance / $15 at the door. Family rate $45 day of show. Babes in arms free.
Closest train: R to Union St.
Notes:  This is an all-ages show that is especially suitable for children 0 – 10. Stroller parking and refreshments available. Disabled ramp access at venue.
This event is sponsored by Fruit Bliss, Park Slope 5th Ave BID, My Gym Park Slope, Sky Ice, Sotto Voce, Dime Community Bank, Diana Kane, Momo Dressing, Kazoo Magazine, Park Slope Copy Center.