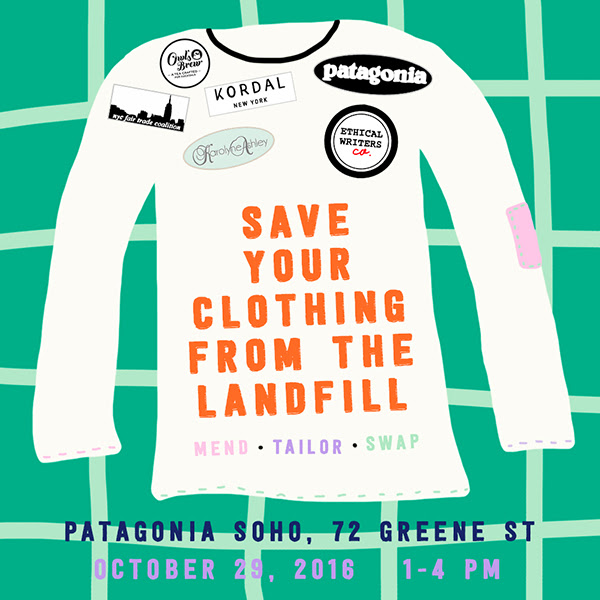 We are so excited about a really fun event that's happening this Saturday with the Ethical Writers.  Their annual Fashion and Costume Swap held at the Patagonia store in SoHo will give attendees the opportunity to donate and swap clothing and Halloween costumes. Since we all have clothing from our past that festers in our closet that we never wear, we think this is an incredible way to do a fall-clean up where you can have the opportunity to save your clothing from the landfill by mending and tailoring old wares, donating, and swapping.
Held at Patagonia in Soho, ethical businesses Kordal Knitwear and the NYC Fair Trade Coalition will be there to teach those in attendance how to mend sweaters, replace buttons and re-fashion t-shirts. You can even bring in garments that need a little extra love to be mended or tailored by Patagonia and Karolyne Ashley. Whether you are in need of a cool, last minute costume or an expert to take in that dress – you know, that one you bought last year but have never worn because it's just a little too big – you won't want to miss out on this!
All you have to do is bring up to 10 items for swapping, throw in those old costumes, and even clothing that not has holes in it.  They will also have a Halloween costume swapping area, sparkling wine, and the awesome opportunity to hang with NYCs sustainability community as you update your wardrobe.
Fashion Swap Details:
Saturday, October 29th
1-4pm
Patagonia SoHo
72 Greene Street
New York, NY, 10012
Get tickets here: https://swap.bpt.me/?mc_cid=5091f4f547&mc_eid=4cc5308b6f