We are so excited about Oran Etkin's first flagship class location for his Timbalooloo music project (check out more about the grand opening celebration here.). Created in 2005, the Timbalooloo method highlights understanding music and instruments from the jazz and world music scenes, which with having a flagship location, will allow more NYC families to participate and to help shape its growth and evolution. As Etkin stated, "It is my dream that with the active involvement of parents, children, musicians and artists, the Timbalooloo Soho Space will become a unique bridge between the community of families and the rich and vibrant scene of music, arts and culture in New York." Check out our latest interview to learn more about Oran, Timbalooloo and Timbalooloo Soho below:
Interview with Oran Etkin, Creator of Timbalooloo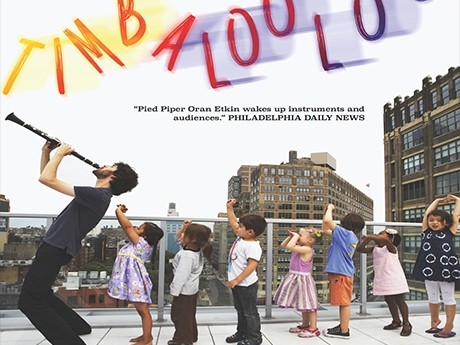 Weekend Jaunts: How did you get into music?
Oran Etkin: I think my love for music started when I was a baby, influenced by my parents who are not practicing musicians, but just love a good melody! My father is still always walking around humming a song to himself and that innate love of music is infectious! I discovered I could play music by simply trying to do everything my older brother was doing including playing the piano. I began piano lessons at age 5, violin at age 8, saxophone at age 9 and clarinet at age 13. However for me the big turning point that made me truly fall in love with music was when I heard a recording of Louis Armstrong when I was 9 years old! I think that it was the way he made his instrument really come to life and sing that amazed me… he is a rare natural musician who plays his horn like he sings… and sings like he plays his horn! For the next 5 years, I tried to get my hands on any recordings I could of Armstrong and his peers. My parents took me down to New Orleans several times because of my love for this music and as a young teenager I had the good fortune of being mentored down there by Tuba Fats, the last remaining member of the original Olympia Brass Band and one of the founders of the Rebirth Brass Band. Later I would go on to have periods where I became very curious about classical music, African music and many other styles, but I think that the beauty of what made me fall in love in Louis Armstrong's unique voice is at the root of my approach to developing Timbalooloo as well!
Weekend Jaunts:  Tell us more about Timbalooloo! How did you start this method?
Oran Etkin: I am extremely grateful to my musical mentors who have taken the time to pass on the tradition of music to me, and I see it as a part of my responsibility as a musician to continue passing that tradition on to the next generation. While I love teaching all ages, including high school and college age, I found that I can have the most impact reaching children when they're in that prime young age when they can learn languages so fluently — speaking with perfect grammar without having to think about the rules of grammar. I wanted to develop a method to teach children to learn music in the same natural way and I started thinking about what I wish my older students had experienced when they were 2 years old!
My sister is 10 years younger than me so I have been experimenting with how to most effectively share my love of music with young children since I was 10! In 2005, after finishing my graduate studies, I got the perfect opportunity to deepen that experimentation and development of my own approach to teaching through a position as the music specialist at the Washington Market School in Tribeca. At first I was teaching 12 20-minute classes per day! That enabled me to bring in new lesson plans that I was developing and really refine them from class to class, taking out any unnecessary parts in the lesson and reinforcing the parts that engaged the children the most until I had a set of lessons that really reached the children deeply 100% of the time. I brought in stories about Herbie Hancock, Tito Puente, Mozart and other great Artists that I loved and I started really thinking about what the fundamentals of music are and how children could internalize them through movement and games that I created.
Weekend Jaunts: What's the ideal age to start the program?
Oran Etkin: Our youngest classes are for children starting at 4months old, but really any age is good to start. I think there is a special way that young children learn and you can see very clearly in the way they learn languages. Timbalooloo is all about empowering them to learn music in that same fluid and natural way, so I think the younger you start the more that gets internalized deeply.
Weekend Jaunts:  Tell us more about your Timbalooloo Soho location. What are some of the classes that are being offered?
Oran Etkin: I'm very excited about Timbalooloo SoHo! We designed every detail of the space with the child in mind – lots of instruments from all over the world for them to explore in a warm comfortable setting. We have different classes for each age group – from 4 months old up through 9 years old. In addition to the classic Timbalooloo classes for the younger ages, we also have a class called the Growing Glockenspiel for ages 4 and up. Each child gets their own Glockenspiel to keep forever and take home between classes (a glockenspiel is a xylophone-like instrument that is laid out like a piano with the black and white keys). However, at first their Glockenspiels only have the note middle-C on them, and are "one note old". Each time that the children learn how to write a note on the music paper and play a new song with it, they then get a new note, and their glockenspiel grows up (the kids say "my glockenspiel is 9 notes old today… it's almost a teenager!", etc). Each song is introduced through a fun story that gives historical and cultural context and a familiarity with the great composers from different cultures. For example, the story of Curious George Gershwin discovering rhythm in the basement of Duke Ellington's castle leads to learning the Gershwin classic "I've Got Rhythm". The children learn to write music, and when the glockenspiel has grown all the way up, it looks just like a piano, so any song that the children know on the glockenspiel is then directly transferable to piano or whatever other instrument they choose to pursue.
We're also offering some new special classes for older kids including "Let's Form A Band" for ages 6 and up, in which they form a band, learn to compose songs together and really play as an ensemble (no prior musical experience necessary, though it's also great for kids who are taking private lessons already). We are also offering an African Drumming class for older kids as well as adults – a fun Sunday activity for parents to do with their children taught by a master drummer from Guinea, West Africa.
Weekend Jaunts: The grand opening concert at City Winery is going to be super exciting! Tell us more about what we can expect.
Oran Etkin: The concert tells the story of my sleepy friend Clara, whose last name is Net (my Clarinet) who was so tired that she came to the concert in her bed. The kids help wake her up and she calls for her mother, Big Mama Tuba, who answers from the back of the audience with a rumble! The kids sing "Big Mama Tuba" as she marches through the audience onto the stage. Together with the full band of drums, piano, tuba, clarinet and two singers, we take the kids on a trip around the world, meet Duke Ellington, Herbie Hancock, Miriam Makeba in South Africa and end the concert with a dance party! We've done this concert all around the world (just returned from concerts in France, Germany and Turkey), so it will be a joy to bring the show back to the community where Timbalooloo first got its start! City Winery is one block away from our new Timbalooloo SoHo Space, so right after the concert we'll all parade down the street one block to Timbalooloo SoHo for a ribbon cutting and unveiling of the new space!
Weekend Jaunts:  What's next for you?
Oran Etkin: On January 14th at 8pm, the day after our City Winery concert for kids, I'll be performing for adults at one of my favorite jazz clubs in the village, Mezzrow, with a great pianist from New Orleans and a special secret surprise guest singer! Our concert in Paris was chosen as one of the top 6 musical highlights of the year by French paper Libération, and we're going to get ready to record an album with that project. This will be a fun glimpse into the music that inspires me to share the love of music with children. It's important to me even as I grow Timbalooloo to continue touring as a jazz and world music artist, composing, recording and adding to the international artistic conversation. On the Timbalooloo front, we're also going to get ready to record another Timbalooloo CD in 2018 and I want to also develop ways to share my experiences when I tour with kids back home through live-streaming and other new technologies. Parents can follow Timbalooloo on Facebook and Instagram to follow along with those tours. We're also going to be continuing our monthly Timbalooloo Duo Series at National Sawdust in Williamsburg, Brooklyn – Saturday morning duo concerts for kids with a different duo partner from a different part of the world each month!
January 2018 kicks off with classes for various age ranges starting at 4 months old up to 8 years old as well as special classes such as parent-child African drumming and the popular "Growing Glockenspiels" class for ages 4 and up. 
Visit Timbalooloo Soho at 131 Varick St. Suite #935 and at https://timbalooloo.com/soho-location/ for more information and class descriptions. In addition to the City Winery concert, Timbalooloo is presenting a monthly duo series at National Sawdust in Brooklyn and Etkin will perform with West African musicians at Jewish Museum on Dec 25 as well.