We are so excited about the Big Umbrella Festival, an upcoming international event that will bring performances across New York City for children on the autism spectrum while also aiming to provide inclusive art that engages, educates, and inspires. Kicking off in April 2018, during Autism Awareness Month, the festival is the first of its kind dedicated to arts programs for young people on the autism spectrum and their families.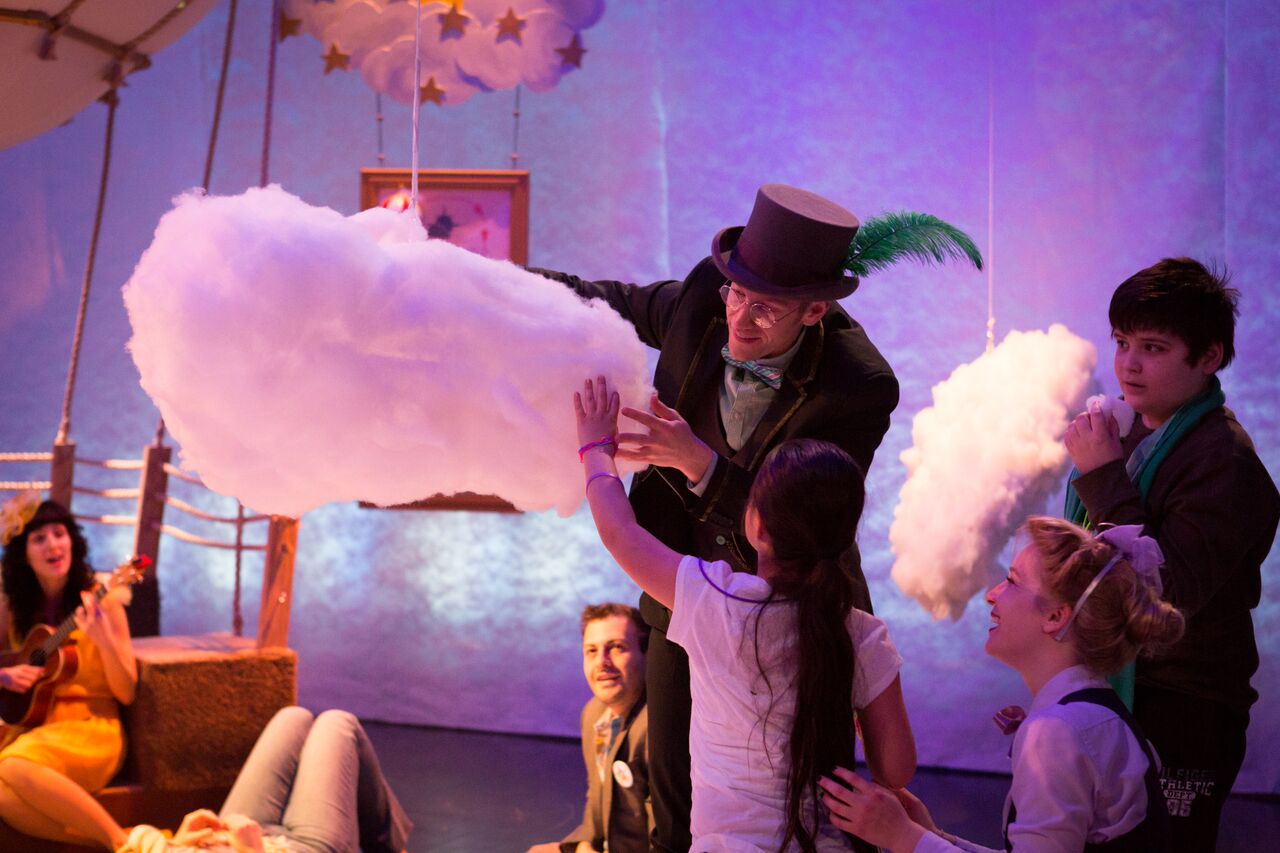 Held from April 10 to May 6, 2018, the festival will include a wide range of performances, including three original interactive theater works on the Lincoln Center campus and performances at the Queens Theatre for school groups from around the city.
Special presentations will be offered by Lincoln Center's resident organizations throughout the festival, including film screenings, concerts, and interactive music and dance workshops by The Chamber Music Society of Lincoln Center, Film Society of Lincoln Center, Jazz at Lincoln Center, New York City Ballet, New York Philharmonic, and The New York Public Library for the Performing Arts .
Professional development for artists and administrators will span five days and bring together participants from across seven countries and 13 U.S. states and territories. A day-long symposium will provide a platform to expand the learning community around neurodiversity and the arts, bringing together leaders in the field and participants to explore best practices, analyze successes, and identify challenges related to artistic work that impacts the autism community at large. Read on to check out more about the programming and how to get your tickets:
Big Umbrella Festival Schedule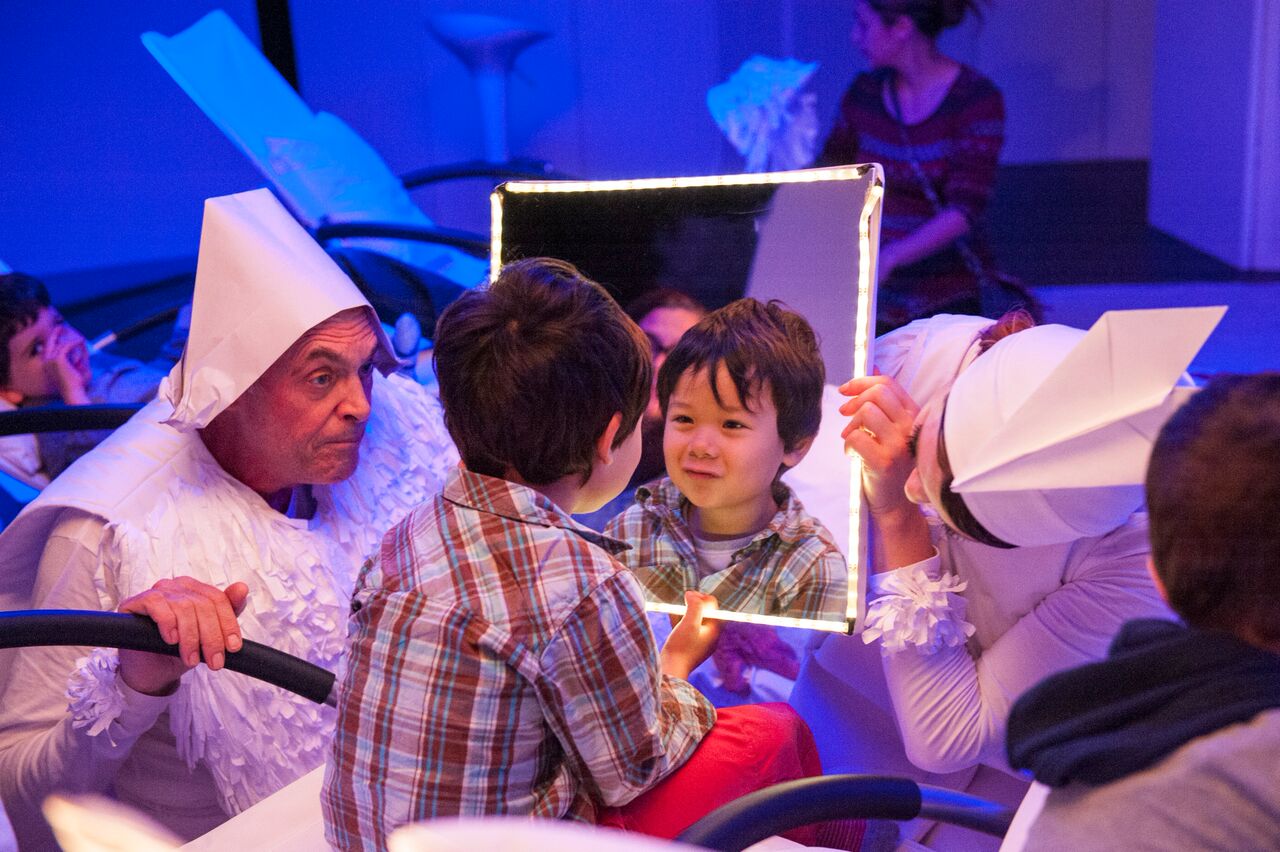 Up and Away
Trusty Sidekick Theater Company
New York, NY
April 14, 12:30 pm and 3:30 pm
April 15, 21, 22, 28, 29, May 5, 6
11:30 am and 2:30 pm
Clark Studio Theater
Tickets $25
Up and Away is at once a story and an interactive experience, inspired loosely by the imagination of Jules Verne and his famous book Around the World in 80 Days. Seated in hot-air balloons, audiences join the Fogg Family Balloon Society on their 1,000th balloon ride. Featuring puppetry, live music, and interactive play, this "flight" travels through extraordinary places such as the Fog Bog, the Arctic Aviary, and Cloud Canyon, all with multisensory experiences. Each child in the audience has a one-on-one guide from the Fogg Family for the trip through the clouds.
Light Show
Oily Cart
London, U.K.
April 14, 12:00 pm and 3:00 pm
April 15, 21, 22, 11:00 am and 2:00 pm
Samuels Teaching Studio
Tickets $25
Creating distinct silhouettes in an exquisite play of light and shadow, Light Show brings audiences to a magical paper palace. The serene papery white landscape transitions from a beautiful warm day at the beach to a dreamy moonlit wonderland, creating a multisensory journey of textures, smells, and tactile experiences accompanied by live music from a virtuoso double bass player.
Oddysea
Sensorium Theatre
West Australia, AUS
April 28, 29, May 5, 6, 11:00 am and 2:00 pm
Samuels Teaching Studio
Tickets $25
Set within a beautiful undersea world, this immersive tale of best friends Crab and Turtle's oceanic adventures comes alive through touch, smell, taste, live music, and stunning imagery. Nestled on beanbag sand dunes, audiences become part of the "oddysea" unfolding around them. Starting at the shimmering gold satin sands of the beach, they journey with Crab and Turtle through sparkling blue-sequined waves to a kaleidoscopic
Big Umbrella Festival Kickoff Event
April 14, 10:30 am
David Rubenstein Atrium, Free
Brady Rymer and the Little Band That Could
Grammy-nominated singer and songwriter Brady Rymer leads a whimsical Americana mashup, bringing his rootsy, accordion-laced pop and rock tunes to Lincoln Center for a relaxed Saturday morning show.
Actionplay Chorus
Made up of a group of young performers on the autism spectrum, and led by music therapist Gabriel Lit, the Actionplay Chorus performs their own original music in professional settings. In recent years, the Actionplay Chorus has performed with Weird Al Yankovic on Comedy Central's Night of Too Many Stars, with the Greenwich Village Orchestra, and at the Brooklyn Conservatory of Music.
Silent Clowns Film Screening
The New York Public Library for the Performing Arts
April 14, 11:00am
Bruno Walter Auditorium, Free
The Silent Clowns Film Series is NYC's longest-running regularly scheduled showcase for classic silent film comedy, presenting the silent movies of Chaplin, Keaton, Laurel & Hardy, and others, with live musical accompaniment by renowned silent film composer Ben Model. This family-friendly program also features a Q&A by film historians Ben Model and Steve Massa.
Very Young People's Concert: "Make-Believe"
New York Philharmonic
April 14, 4:00 pm
Stanley H. Kaplan Penthouse
Tickets $18
Musicians from the New York Philharmonic invite audiences on a playdate—where musical instruments are toys, songs become games, and kids can make believe whatever their hearts desire! Philippe the Penguin and host Rebecca Young lead audiences on a journey to make new friends and share in the fun of music. Designed by Philharmonic musicians together with faculty of Columbia University's Teacher's College, Very Young People's Concerts combine games, storytelling, and music in one fun-filled hour that unlocks children's imagination and talent. This Very Young People's Concert includes pre-concert musical games with musicians and a half-hour hosted performance of Martinů's La revue de cuisine, including audience participation and story with Philippe the Penguin.
Film Society Kids Screening and Discussion
Film Society of Lincoln Center
April 18, 5:00 pm
Francesca Beale Theater, Free
This special showcase presents a selection of ten of the best short films made by students in Film Society Kids, a program that supports literacy learning through visual storytelling. These shorts will immerse viewers in the art of the silent film, as seen through the eyes of children of all abilities from neighboring public elementary schools. The screening, welcoming community members of all ages and abilities, will be followed by an audience discussion with the Film Society's Director of Education.
Hello Lighthouse by Sophie Blackall
LC Kids Storytime at the Atrium
April 21, 11:00 am
David Rubenstein Atrium, Free
At this relaxed story hour, Caldecott Award–winning illustrator Sophie Blackall (Ruby's Wish, Ivy & Bean) explores the life of one lighthouse through shifting seasons, changeable weather, and the tenure of its final keeper.
WeBop
Jazz at Lincoln Center
May 5
Patron's Lounge, Jazz at Lincoln Center's Frederick P. Rose Hall
Registration $25 (includes child and adult)
WeBop is an early-childhood jazz education program for families which invites participants to stomp, strut and swing to the joyous rhythms of jazz as they learn about the core concepts, instruments, and great performers of jazz. With participation from both child and adult, these 45-minute classes offer a creative outlet for families to explore jazz through movement, songs, storytelling, and play.
Class 1: 2:00-2:45 pm | High sensory (teacher + accompanist, plus drums, bass, trumpet/saxophone) Recommended for children ages 5–7 years
Class 2: 3:00-3:45 pm | Low sensory (teacher + accompanist)
Recommended for children ages 2–4 years
Class 3: 4:00-4:45 pm | Low sensory (teacher + accompanist)
Recommended for children ages 5–7 years
NYCB Access Workshop
New York City Ballet
May 6, 1:00pm
Samuel B. and David Rose Building, 7th Floor
Tickets $14
This one-hour movement workshop specially designed for children with autism will feature the music, movement, and themes from New York City Ballet's treasured repertory. NYCB Teaching Artists guide children in a ballet warm-up and movement combination, concluding in a lively performance for accompanying family and friends. No prior dance experience needed.
CMS Kids
The Chamber Music Society of Lincoln Center
May 6, 2:00 pm
Rose Studio
Tickets $25
Explore the up-close and friendly world of chamber music in the intimate Rose Studio. Host Rami Vamos and CMS artists show that the most personal of art forms speaks volumes to even the youngest listeners.