KB Whirly's "One Man Band" at the Symphony Space
March 10, 2018 @ 11:00 am
$14 – $17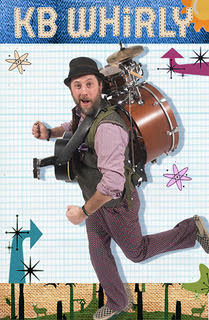 Looking for a fun family concert to check out this weekend? We found the perfect option for you and your little one's with the KB Whirly  Held at the Symphony Space as part of their "Just Kidding series," KB Whirly is a magical, groovy, get up and dance performer who sings with passion, charm, and humor who's one man band is often compared to Dick Van Dyke's character from Mary Poppins.
He's a folksy, hand clappin' toe tapping' troubadour with great lyrics, serving up comedy, poignancy, and irrepressible fun for all. The show will feature his backpack drum kit, foot-powered percussion, a musical loop machine, and eco-friendly song craft. KB's multi-instrumental performance will create an entire band before your eyes using just his own two hands (and feet).
Featuring traditional and original songs, and incorporating lively storytelling and interactive music-making, KB Whirly will perform tunes from his latest albums Songs from the Whirly House, Camp Songs Vol. 1 and Greetings from Cloud 9.